POV Holder:
?
POV Competition
Sept 5th
POV Used
?
POV Ceremony
Sept 7th
HOH
STEVE
Next HOH
Sept 10th
Original Nominations:
? and ?
After POV Nominations:
? and ?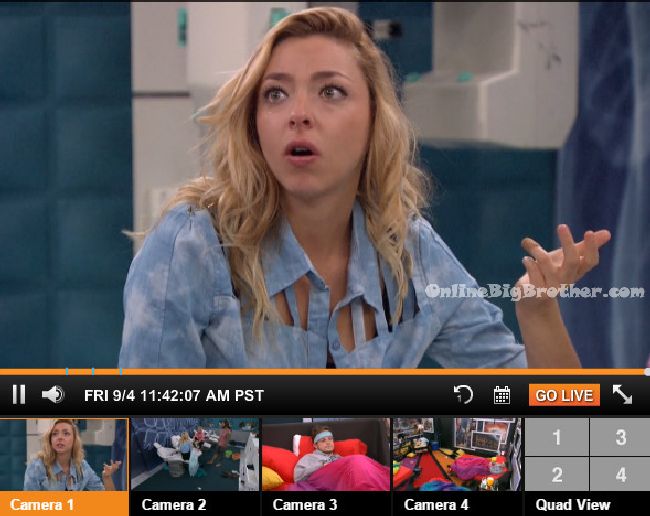 11:30am – 11:50am Havenot room – Liz tells Julia that Steve is putting up Austin and I. Liz tells Julia you have to win the veto. If you win you can take me off and then we control the votes. Liz says its just so f**king annoying! I was just HOH and I would never put him up. Liz starts crying. Its a compliment .. obviously he is threatened by me. Julia says I just wish we had kept James. Its going to be so hard to be nice to him. Liz says he said he loves me and you and that the one thing he could do is not put us up together. Julia says it just proves he is closer to Johnny Mac. Liz says Duh! Obviously he is the low man on the totem pole with us. We just need to play our hearts out tomorrow. If I win it then you're going up. Julia says I can't believe you're more of a target than Austin he is the super fan. Is Vanessa going to vote his way? Liz says she would do what is best for her game but she'll keep Austin over us. Liz says look at me its twins versus the rest of the house. Julia asks why does he want us out? Liz says we're two people who always have each others back. Julia says its fishy he isn't putting up Vanessa. She's won more than us and call him fake. Liz says we're three people. It makes sense from a game perspective. Liz says I thought maybe just maybe he wouldn't put me up because I just won hoh and couldn't play. Him and those nasty f**king gumboots. Those that the nastiest things I've ever seen in my life! I just really want to win this! Austin joins them. Austin says you (Julia) need to win the veto or one of us is gone. Liz says I know I'm the target. Austin says he could switch that at any moment. Julia says Steve was so dry and rude to me last night. Austin says anything can happen ..Its a miracle we made it to 6 and we're half the house. Liz says he is a little sh*t head! Like go sleep with your stupid f**king teddy bear! Julia says stop. If that motherf**ker wins I am going to be so mad! I am not voting for him! If Johnny Mac is next to him I am not voting for him. Liz says if she leaves she will tell Steve, he just lost 3 vote in the jury house! Austin leaves. Julia says that fact that Johnny Mac is going to scoot on my another week makes me livid!
FLASHBACK and watch everything you missed: Live Feed 7 day FREE Trial!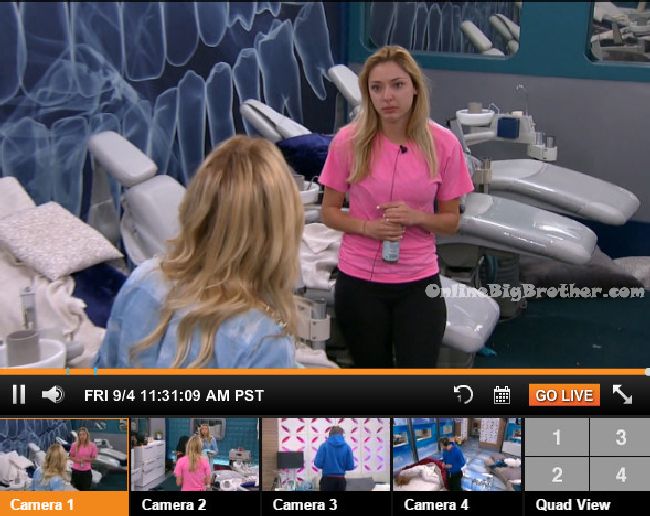 11:45am – 12pm HOH room – Steve is listening to his music and says to himself. I feel good about these nominations. Steve heads down stairs. Austin, Johnny Mac and Steve are in the kitchen making breakfast / eating.
12:10pm Vanessa tells Steve that Liz was crying and I calmed her down. I said she has two tickets in this thing. And if Austin wins this she'll probably get married to him and spend his money. I said at this point its a game move and anyone that would have won would do the same thing. She understands it a game move. Steve asks should I talk to her? Vanessa says no. Steve says okay, I'm going to leave before Austin gets freaked out.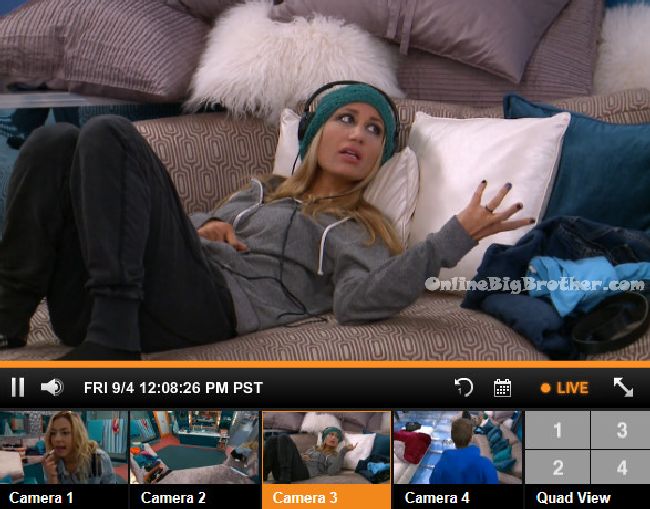 12:20pm – 1pm Julia pulls Steve into the cabana room. She says she I heard about your decision and I just want to tell you that I obviously I am not going to lie I am a little mad about it that you're putting up my sister but I respect it as a game move. You're breaking up a trio. I just hope things aren't awkward. It will take me a bit to get over it. Steve says I think we're both mature enough to know why. Julia says I think this week will be fun. They hug. Steve says his door is always open. Meanwhile – Liz tells Austin – I am just mad I didn't take him out when I had the chance. Austin says I know. Julia joins them and tells them about her conversation with Steve. Liz says whatever this is a stupid game! Julia says its our own worst enemy. We're in an alliance but.. our own worst enemy. Liz says I am more mad at myself. Julia says because you won HOH and didn't backdoor him. Liz says yeah. You have to think you're going to win. Don't let that nerd a$$ motherf**ker beat you (in the veto). Okay!?! A girl needs to win this season, not them. Liz says if you stay here over me. You have to get him out for me. Julia says I want his head on a silver plater. Clay wanted Shelli to be here .. but he (Austin) is being so selfish. He wouldn't put you in front of him. Liz says Its twins versus the rest of the house. If I win it puts me in a terrible situation because he will put you up. Julia says I haven't won anything, they would be stupid to vote me out over him (Austin). Liz says I hope and pray that guy hides up there all week. I don't want to even look at him. Liz says people are stupid for keeping us here for so long. Liz says I feel like putting on war paint. Julia says we should. Its war! We just declared war! I don't care if I go up. I think you have a better chance to win this game. Liz says no, your chances are better because people aren't threatened by you. They're going to take you to final 2. Liz says I am not cooking for anyone or doing dishes this week. Julia says Steve can go eat fruity pebbles and play in traffic. Julia says I am so pissed at Austin .. do you think Clay would have left Shelli right after she found out. Liz says shhhh. he's coming. Austin joins them. Liz says I can't believe this stupid nerdy Mc'nerdsters are still floating on by. Julia says don't say that the feedsters don't like it. Julia says she is pissed that Johnny Mac is still here. Austin says he or Steve need to win or one of them is gone. Liz says if I am gone you guys better take out Steve. Julia says if you go. I am a lion going after a gazelle. I am hungry as F**K BRO!! I am going to eat that gazelle!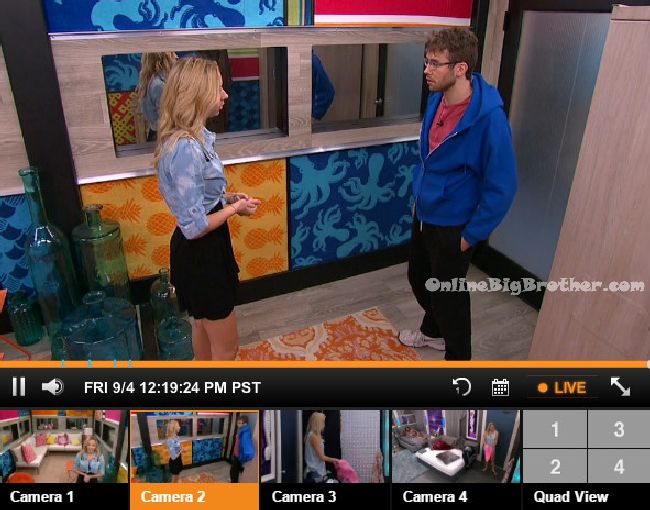 12:30pm – 12:45pm HOH room – Vanessa tells Steve that Austin told Liz that he isn't the target. Its okay. We just need to win veto this week. You're in a great spot no matter which one goes. They're going to go for Johnny next week. Liz was completely reasonable. Its much more level especially if Liz goes. You're in a great spot. You're guaranteed to make top 5. Hopefully I am too. Steve says lets win veto. We're all f**ked if Julia wins. Vanessa says I am working hard for you. Its bad for me if they target you. Vanessa says Julia has to be the one to go .. because if not she is too weak of a player that people will choose over us. If I win I will do what you say. I am not going to go against you. Steve and Vanessa agree they're good with Johnny Mac. Vanessa leaves.
1:05pm – 1:40pm Liz, Austin and Julia head to the kitchen where Vanessa and Johnny Mac are chatting. Liz tells them that this week she is going to be Audrey with a blanket and sunglasses. Liz asks what the veto comp will be. Vanessa says maybe the counting one because we haven't had it yet and its a big brother classic. Vanessa starts cleaning the kitchen. Johnny mac does the dishes.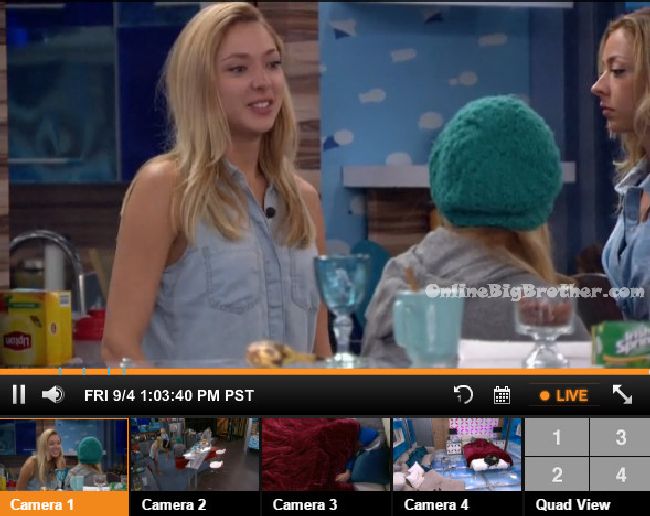 1:15pm – 1:40pm Bathroom – Liz and Austin in the bathroom. Austin says he (Steve) doesn't think she (Julia) will win the veto that's why he didn't put her up. Maybe this will be her win. Liz says its okay for you because you're not the target. Austin says I could be if Julia goes up. You're only the target if Johnny Mac or Steve wins the veto. Otherwise you'll probably come down. Liz says I should have gotten him out. Austin says you can't think like that. You're going to drive yourself crazy. This is a show .. its entertainment. None of this is real. Lets have fun with it. We still have each other. They can't take that away from us. Liz says If I win tomorrow then Julia goes up. Austin asks you don't want to win? Liz says I don't know. Austin says wait and see who is winning. Liz says Then I would be the reason she goes. Austin says you guys will have each other no matter what. Austin and Liz go to lay down. Liz says if Vanessa wins she will not use it because then she would be the replacement. Austin says she can't be the replacement if she wins it. Liz says oh yeah that's true. You or Julia going is bad for her game. Liz says remember yesterday Steve pulled me and Julia into the parlour room and made us swear on our family we would not put him up. Why would he do that and then the next day put us up! Austin says these are all things you could say to him. Liz gets up and goes to talk to Steve.