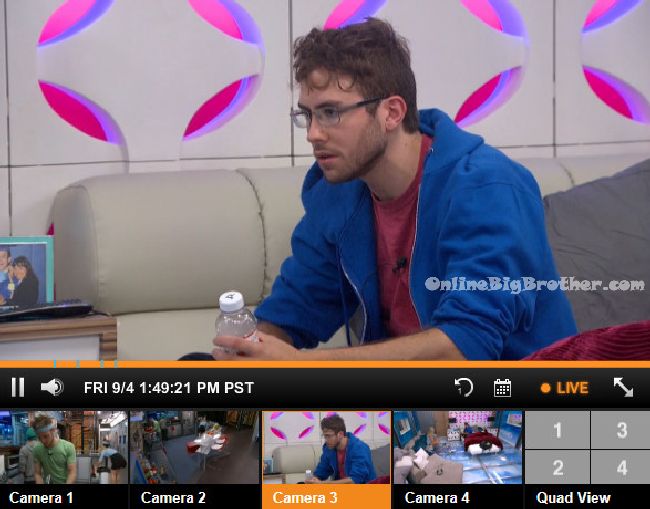 1:50pm HOH room –
Liz comes up to talk to Steve. I know you're asleep but this is part of the game. And you're sleeping with your teddy bear .. I can't! Obviously I am not going to sit back and not defend myself. I feel like I've gotten a really raw deal. Yesterday you pulled me and Julia into the parlour room and made us swear on our family we would not put him up. Steve doesn't remember asking her to swear on their families. (He did but they didn't actually say we swear on our families. They shook his hand saying they wouldn't put him up.) Liz says I just feel robbed! I didn't put you up. I know you have to do what is best for your game. I know I'm not the biggest threat to you winning this game. Steve says apparently I was more of a wreck that I thought I was. If I did that I apologize because it was totally unnecessary. That was wrong. That was totally wrong of me to bring in family. Liz says its okay. Its already 2pm and I just want to get it over with. Liz leaves. Steve says to himself you're fine. I know you think you're my target but you're not. Things only get hairy if Julia win.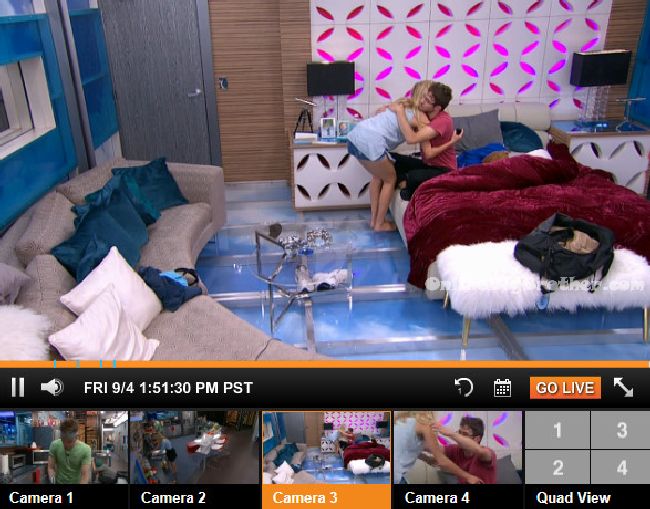 2pm Liz tells Austin her conversation with Steve. Austin says sh*t. Liz says he didn't know he brought family into it. I would never make someone swear on their family. Its stupid! Austin asks how did it end. Liz says he said we're going to play pot ball with wine tonight. He couldn't even be a man about it. Its hilarious you're going to go to such depths to insure his safety and then turn around and put me up. I hope you can live with yourself. Verbatim I am going to need you to swear on your family. Austin says geez. Liz says well big brother you have it on camera so you can see who the a$$hole really is!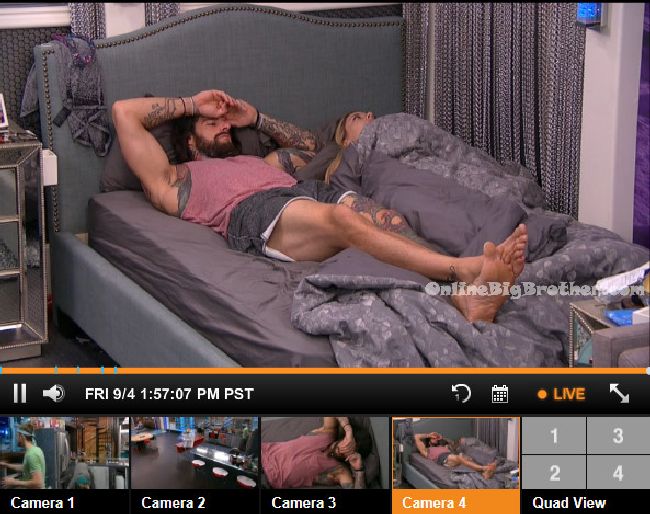 2:15pm In the kitchen – Julia is making chocolate covered bananas.
2:25pm HOH room – Steve talking and mumbling to himself says if she wins veto she will find out she's not. Frankly I don't care. Here's the thing if Julia… The decision is made and it was a sh*tty decision. Steve heads back down stairs.
2:30pm In the bedroom – Liz tells Julia about her conversation with Steve about making them swear on their family. He is going to look like the jacka$$ for making us do that. He didn't need to call me in there. Liz says America this guy made us swear on our family so he is the one that is going to look bad. Julia says I can't believe he made us swear on our family. Liz says and he says he doesn't remember. And then go right behind and put them up. Julia says it is just a disgusting move. You could have put him up but you didn't! Liz says I am so glad he asked me to swear on my family because now this is personal. When I win the veto tomorrow I am going to say its for him.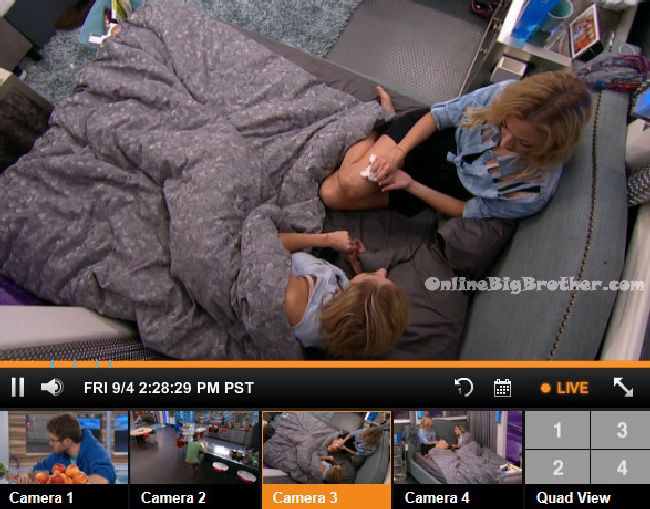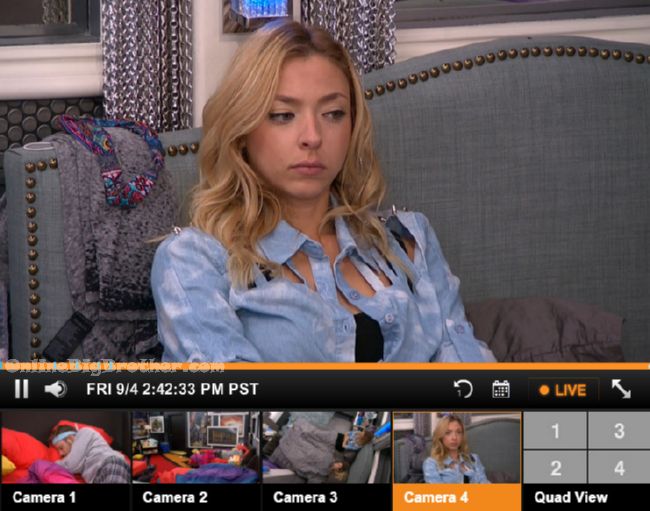 2:38pm Twins talking about how pissed they are at Steve. Liz says Steve makes her sick to her stomach.
Julia thinks Austin might have a deal with Steve to throw the veto.
Liz – Do you trust him? I wouldn't expect him to use it on me that's stupid.
Julia – there's no more Austin's angels there's no more scamper squad theres me and you thats it
Julia – I can't stand Johnny mac I can't stand Steve I can't he's so awkward.
Julia is pissed that they were doing Vanessa's dirty work. During the double they would take out Steve not James.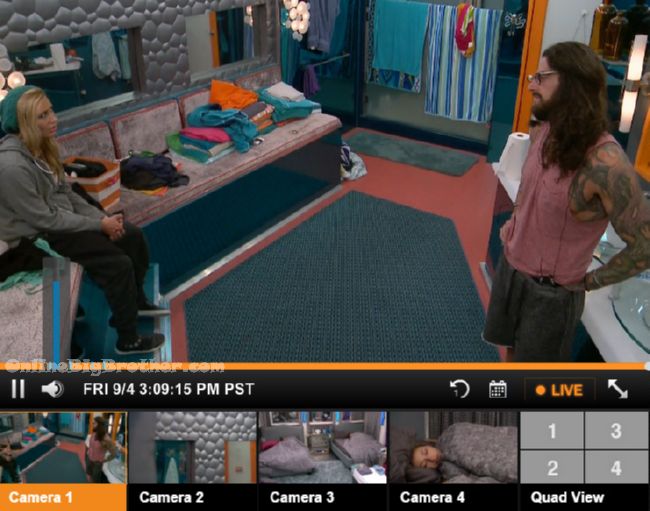 3:05pm Vanessa and Austin
Austin says he's counting on Vanessa.
Vanessa – Julia wins she takes Liz down and I'm up on the block
Austin – we're f****D
Austin – Even if Liz wins it doesn't mean I'm going..
Vansess – girls are mad at Steve
Austin – OHH ya they want to kill him.. they feel really betrayed
Austin says yesterday Steve made the twins swear on their families they wouldn't put him up and now he's claiming he never did.
Vanessa – the odds are in your favour
Vanessa says Steve controls Jmac's vote
Austin – this could be the week they throw a box or button… a lot can go down this week.
Austin worried about Jmac's vote if he's up with Julia. Austin says he can offer Jmac safety for the next week and Julia can't
Vanessa is worried if Julia wins the veto they have no play.
Austin says they can always force Steve to put up Johnnymac up instead of Vanessa.
Vanessa says the chances of him doing that are slim.
Vanessa says he will need to blow up with the girls if Julia wins the veto.
Austin – I could tell them I was OK with one of them going.
4:02pm Austin and Liz
Austin tells her they have to be strong.
Austin – we have to overcome adversity every hero has to do that
Liz – I'm crying so much I'm such a baby
Feeds cut for Nominations ceremony
If you've enjoyed the spoilers please consider a donation using the drop down box below. Simon and I work 24/7 all season long to keep you updated on everything that happens inside the Big Brother house.
[polldaddy poll=9059938]
Share it YO!
Tweet