If you plan on buying anything from Amazon. Use this link Amazon home
Doesn't cost you anything and we get a small cut.
10:30am
Big Brother wakes up the house guests. They slowly wake up and get ready for the day. Jason heads out into the backyard to run. Paul – I had an anxiety attack in my sleep last night. Its the second time its happened this season. Alex – you're lucky my mom has had them and we've had to take her to the hospital. Paul – you wake up and you feel like you're having a heart attack. I had it a lot last year. Your heart starts pounding so fast and you can't breath.

See what they can't show you on TV Try the live feeds for FREE!

11:15am Paul – someone made a noise and then she makes it right after. Or she just gets a lot louder .. like she ligidimately blew out my ear yesterday. Christmas – yes! Paul – she screams. Christmas – like she is the constant center of attention. Paul – she says she is down like four flat tires. Like alright house guests are you ready for the competition .. she's like I'm down like four flat tires. Alex – in the beginning she kept talking about how much her surgery costs and I couldn't be around her and then she stopped talking about it. Paul – did you hear what she said the 5K is nothing to her but then she says that she could use money for da daa daa. And then she said she could use any dollar she got. First of all 5K is a lot. Raven joins them.
11:20am Backyard.
Jason and Kevin do their daily walk around the backyard.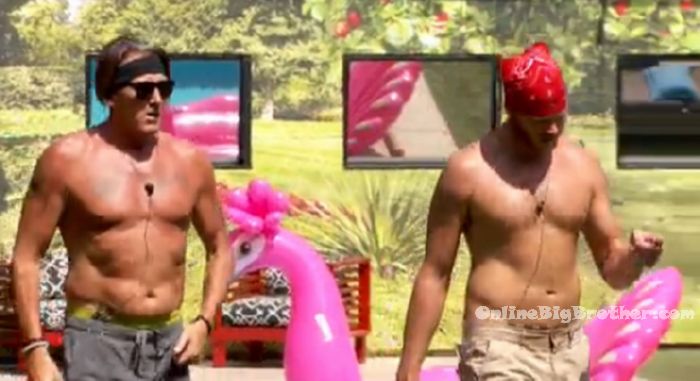 Paul, Kevin and Jason are all working out. Christmas and Alex talk about kids and pregnancy. Christmas – I think being pregnant would be the coolest thing ever.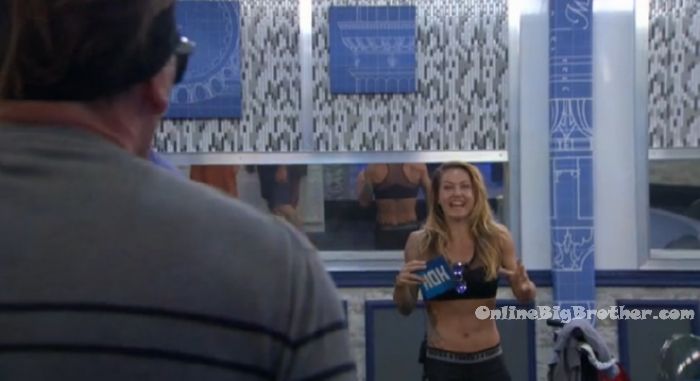 12:06pm – 12:27pm Big Brother blocks the feeds. When they return – its time to pick the havenots for the week. Christmas reads the card – this weeks havenots are …NOBODY! Congratulations havenots are over for the summer! They all erupt yelling and screaming dancing around the kitchen. Jason – my a$$ slammed shut like a bear trap because I knew I was going to be on it.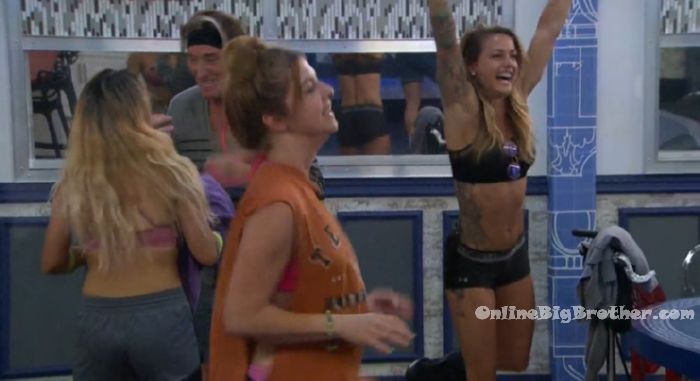 12:40pm Paul and Christmas playing chess.
Paul – I did more thinking and I think .. what was his main concerns just taking the heat? I think he just felt uncomfortable with the conflict. Paul – then I'll take the conflict. Christmas – I calmed him down. He was just seeing this week and jury. Paul – what do you mean jury.. like who is getting their jury votes? Raven joins them and the conversation ends.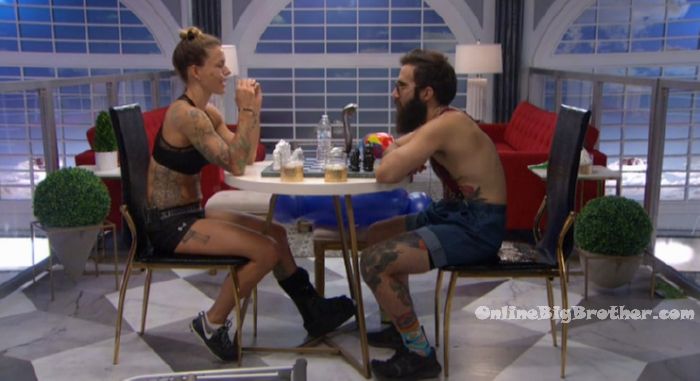 12:50pm Pool time..
1pm Paul and Christmas playing chess and talking.
Christmas – the only way we will f**k up is if we lose our sh*t. I don't think in the history of big brother has there been a trio (Paul, Christmas and Josh) like us that is just slaying.. Paul – stacked against all odds and just slaying. Christmas – just planting seeds and people are just doing whatever we tell them to do. Paul – we're all playing off each other … like sure I can plant seeds but it doesn't work if you can't sell them on it. We all literally using each other to get farther. Christmas – to be able to go to top three blows my mind. Paul – I don't know if its happened where the final 3 actually all like each other. Its usually at least one enemy. Alex joins them and the conversation ends.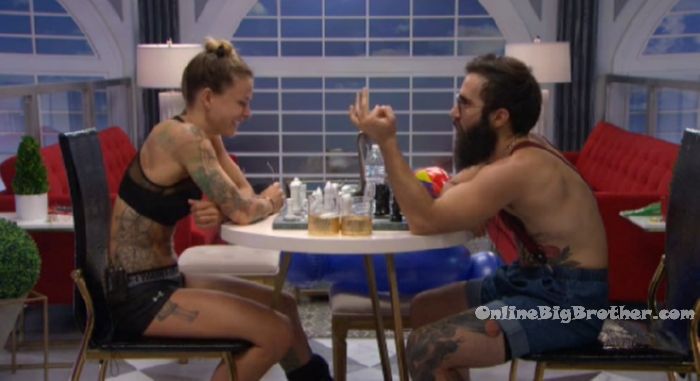 1:10pm – 1:20pm Christmas – she (Raven) was saying I can't gain weight. Paul – correct me if I'm wrong because I don't want to sound like an ignorant piece of sh*t but I used to date a girl that had thyroid problems. She (Raven) said that her metabolism is extra active. But your stomach can't digest .. so how is your metabolism… Alex – this is what I don't get .. the name gastroparesis means gastro, something in your gut and paresis, paralyzed. So the gut is paralyzed. The pacemaker would make sense to jolt it to process food. But if she had a hypo-thyroid she would be super skinny … she has a dancers body. She is lean. But hyper-thyroid, she would be really skinny because she would be processing food. Christmas – she wouldn't be a thick as she is. Paul – and your poop is weird. I know about thyroid problems, I dated a girl. So I was like why don't you just get your thyroid removed? And she said because then it leaves it to the other thyroid problem. I'm like no it would no longer exist if you removed it.. you would have no more problems with it.
1:20pm – 2:15pm Suntanning / chess.

2:24pm Storage room. Paul and Josh.
Josh – Kevin and Raven aren't going to win anything. Paul – the only heat you had is from me .. and we're playing them and maybe Jason but he'll get over it. We have to pull it off, we can't f**k it up. Josh – I don't know why but I feel if she (Raven) wins my a$$ is going to walk because I don't trust Raven or Kevin. Paul – I don't either but I have Raven's ear. Why would she put you up. I will tell her if you put Josh up, I am gunning for you. There's no way, she wants to get to four with us. Josh – Alex and Jason linked us already. Paul – Jason is going to be gone. She's not afraid of you and Christmas, she thinks you guys are easy to beat. Paul – its a matter of swindling her. The three of us are ping ponging her in between us. Josh – so Alex, Raven and then Kevin. Paul – yes. Paul – because once Alex is gone, then I can tie in Kevin. And then I convince him that we have to take a shot at Raven. Josh – if I make it to the end, there is no way I win. All of jury hates me. Paul – all of the jury hates me.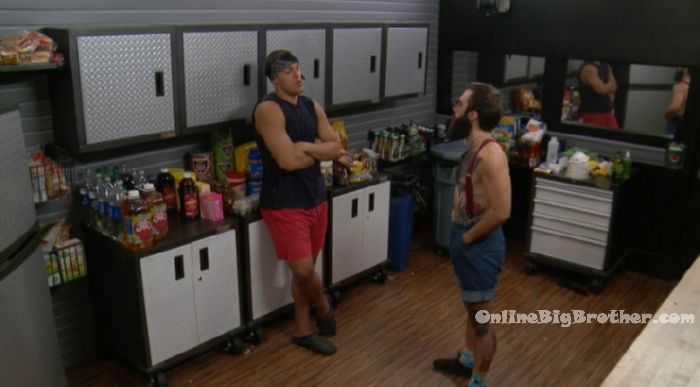 2:40pm – 3:27pm Lounge room. Paul and Josh.
Paul – okay, so home girl definitely threw it yesterday. Josh – Raven? Paul nods. Josh – why? Paul – because she didn't want to be the one to have to say she is not using it. Josh – I don't get their game. Just come in here and play nice. Paul – yeah, to get to the end. Why would anyone vote against her. Josh – I think she would win. Paul – MMmhhmm. probably. Mark, Matt, Elena will vote for her. Paul – we just can't f**k up. I need you. Do you want me to take the heat and not use the veto? Josh – no I don't want you to do that. Paul – we're a team. I did it on my own. Last season I got the then end on my own .. imagine what we can do with 3 people. Josh – I don't see myself winning. Paul if Raven wins the next one I thin kit would be good. Josh – I don't trust her. Paul – the only person I shook my hand with is you. And I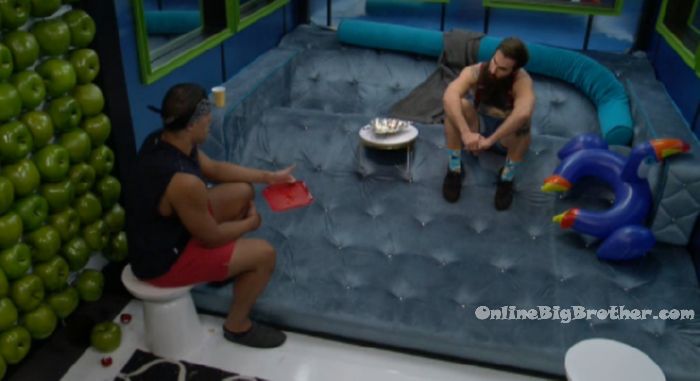 If you've enjoyed our live feed updates this season, please consider donating.
Simon and I work 24/7 all season long to keep you updated on everything that happens inside the house. Any amount is greatly appreciated! Your donations go directly to paying the fees required to run this site.
Paul and Raven head out into the backyard. Paul – you've got to win HOH next week. Raven – I know. Paul – are you going to put your big gypsy pants on or what?
Links to the ranking system
Rank your house guests here
For those of you that like Statistics here are some expanded reports.