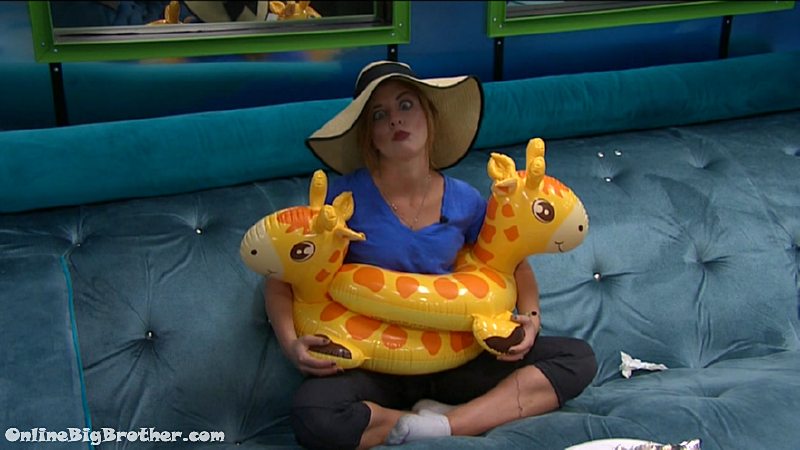 Raven .. WTF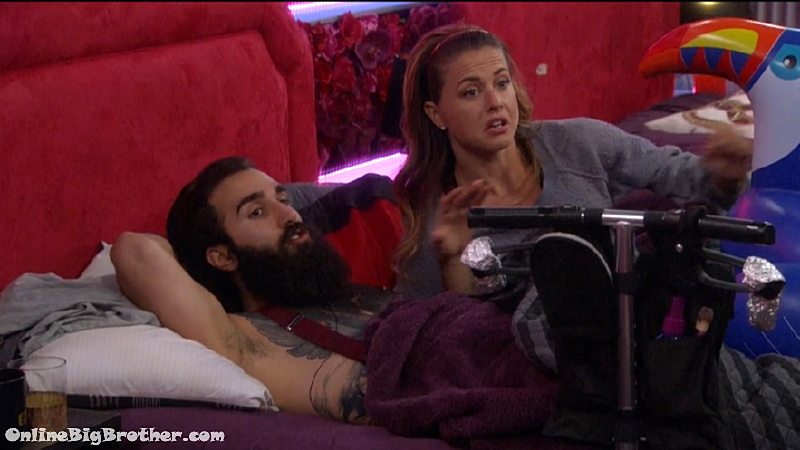 9:00pm Paul, Josh and Xmas
Xmas says Raven is in the HOH dancing by herself, "I can't even look at her"
Xmas – Why did we get rid of Matt first (see image above )
Xmas – we f*ed up so bad
Paul – Josh, trust that we're all better than everyone
Paul – I will protect you
Paul – you're forgetting you have us, you think we're going to let anything happen to any of us..
Paul – You gotta be confident fool, no pussy footing around
Paul – if you want to get to final 3 now's the time to strap up and seriously win sh1t
Paul – I've calculated everything a million times.. Trust me..and if anything goes wrong I'm the one that's going to take the heat. And I know you don't want that
Paul – Also understand that we all play in the veto now so even if me and you are up or you and xmas are up, I win the veto pull one of you off and it's done because we have the votes.
Paul – there's no tie next week .. we have the numbers no matter what happens..
Paul – we also have Raven so it's virtually impossible for something wrong to happen. (sounds like a fun final 3 weeks)
Paul – even if Alex wins guaranteed one of them will be Kevin (nominations)
Xmas – Raven will be gone before Kevin
Paul – I don't know what you're trippin
Josh – I'm not tripping .. I'm not tripping
Paul – you can be apologetic.. I'm sorry I'm sorry it's the game I'm sorry (when he tells Jason and Alex he's voting Jason out this week)
Paul – and then me and you have to fight
Paul – after 2 days we can link back up it doesn't matter .. after the veto doesn't matter..
Paul – we've dealt with Mark/Elena, Cody /Jessica
Xmas – we've ben f*ing lethal
Paul – we're in the final steps why would we freak out now.. WHAT THE F*
Paul – I understand it's hard but do you know what's harder? seeing one of us go then you'll be f*ed up.. Trust me, I've been there literally.
Xmas – we haven't dealt with that yet
Paul – you'll cry I'll cry you'll cry we'll all cry
Paul – You'll be pissed off and your game will be thrown off
Paul – if it's not them it's one of us you'll have to think of it that way
Paul – even if she thinks you are doing something you're not a threat in her eyes (Alex)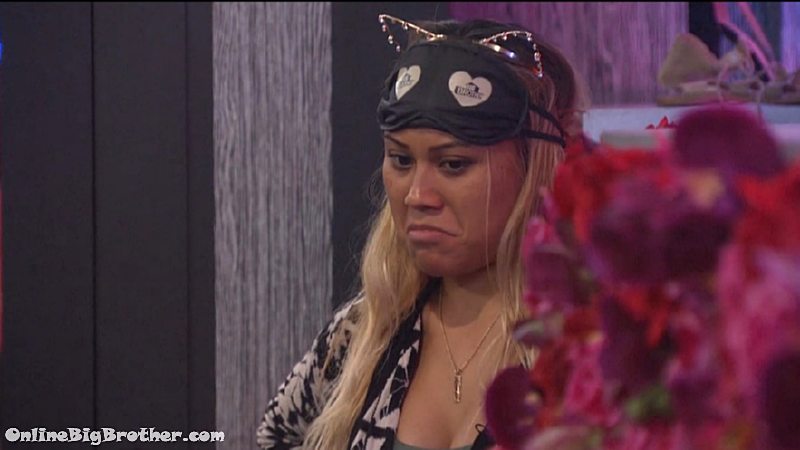 Alex comes in.. Complains about Kevin looking for Jason
Paul – it' doesn't matter all the stupid shit that he's doing
Paul – I understand you getting pissed but if we call him out then what get him f*ing hyped again
Paul – it doesn't f*ing matter
Josh – yeah
Alex – wait, we're not doing that
Paul – if we're going to call him out we should call him out on
Alex – Game play
Paul- gameplay
Alex – I don't know how he doesn't see the writing on the walls , Like how stupid is he
Paul – pretty stupid
Alex – how does he not see it coming
Alex – he thinks she's 100% safe
Alex – he thinks me and you (xmas) are stupid because we're women
Xmas – yes
Paul – he thinks that all women are stupid (no he doesn't)
Josh – he thinks we're all stupid
Paul – he talks about his dad but his mom raised him
Alex – his dad is a scumbag
9:08pm Alex retells a story from Kevin about his dad, "He use to take me to the park until 2am we use to sleep at the bar you're so cool f* off you dumb"
Alex – you're dad's a scumbag
Paul – he has respect for that so weird
Xmas – he had 7 kid..
Raven comes in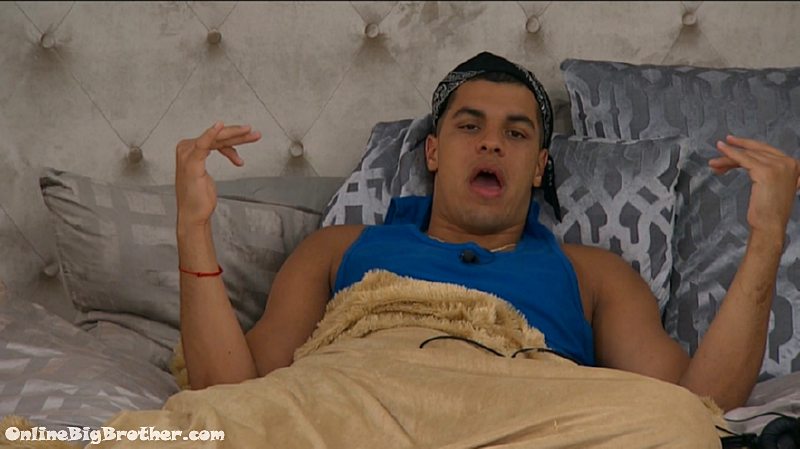 11:35pm JOsh camera time.
Josh – the only benefit I see from this for me..
JOsh – the only way to make this work to my benefit ios if I have a conversation with Alex and Jason.
Josh – they (xmas/Paul) don't want me to have but I'm going to f*ing have it
Josh – if it pisses them off f*ing send me next week
JOsh – I don't give a single flying f* at this point
JOsh – I'm going to have a conversation and make it clear why I'm sending out Jason
JOsh – Hopefully, when Jason gets to Jury he'll say JOsh and Xmas vote me out
JOsh – they see the clip and they respect the game move.. this is the only way I see this happening jury being fine
Josh says this is a way better plan than the "Fight blow up" Paul wants to create
Josh – does it say stupid written on my forehead, what the f* do I look like..
Josh – my old man use to tell me to tell people how smart you are but at this point I'm like f* that
Josh – these f*ers really think that I'm a dummy
JOsh – these meatballs they think they're playing me like what the flying f*
JOsh – stop trying to pull a fast one on me pal.. chill relax..
JOsh – he's (paul) playing such a good game, such an aggressive game
Josh – for these people not to catch wind to it, I'm mind blown..
JOsh says Paul will continue to be an ally of us
Josh – now he's doing things that affect him.. touch the breaks
Josh – I've never questioned his motive until now
JOsh says Paul is trying to pull a quick one on him and is messing up what they had.
JOsh – You pull a quick one.. I'll pull a f*ing quick one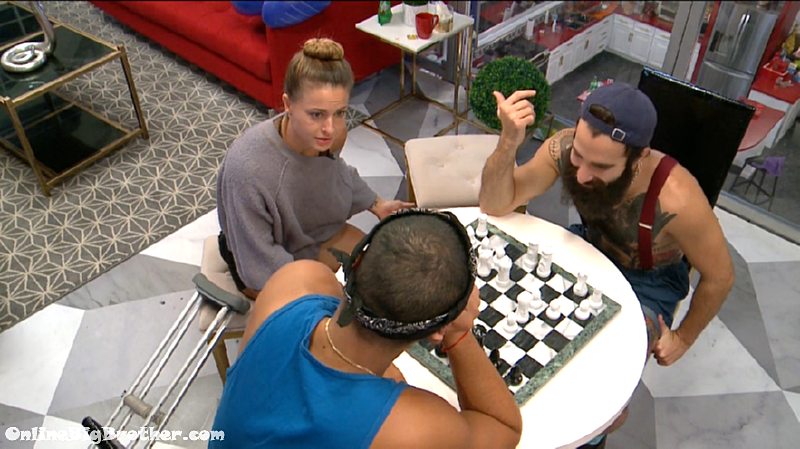 1:33am Josh and Paul playing chess
Josh – you didn't tell jason me and xmas might be a thing
Paul – are you stupid why the f*
Xmas joins them "Where is everybody"
Josh – in bet
Paul – tell her what you just ask me ..
JOsh – I was asking if he told Jason we were together..
Paul – you are the only person left alone.
Xmas says Alex thinks she has her and Josh in her pocket.
Paul – you know what else hse has in her pocket?
Paul pulls out his middle finger
Xmas says Kevin is freaking out and spreading paranoia to Jason.
Paul – Kevin thinks I'm not using the veto it makes sense why he's telling Jason "I have your back I have your back"
Paul explains that Jason and Kevin will team up if Alex goes.
Paul – when I pull Alex off he's (kevin) is going to sh1t his pants
Paul says when Kevin confronts him he'll be like "taking Alex out is not good for my game is it good for your game"
Paul – dude, Raven is the worst
Xmas – I miss matt
Paul – no no no we did right
Paul – remember when she said she wasn't born with gastroparesis
Paul – when she was 12 she stopped eating and people thought she was doing it on purpose
Paul – she told Alex that she was born with vomiting that caused gastroparesis
Xmas – what
Paul – you said it was onset when you were a teenager you weren't born with it
Paul – she told Alex when I was born I was born fine
Xmas – can we get a montage of her contradicting lies (houseguests are fully onto raven)
JOsh says raven never talks about that with him
Xmas – when she was 15 she got her first pacemaker
Paul – she said the Doctors were denying it they thought it was all in her head
Xmas – yeah
Paul – I remember having that conversation with erh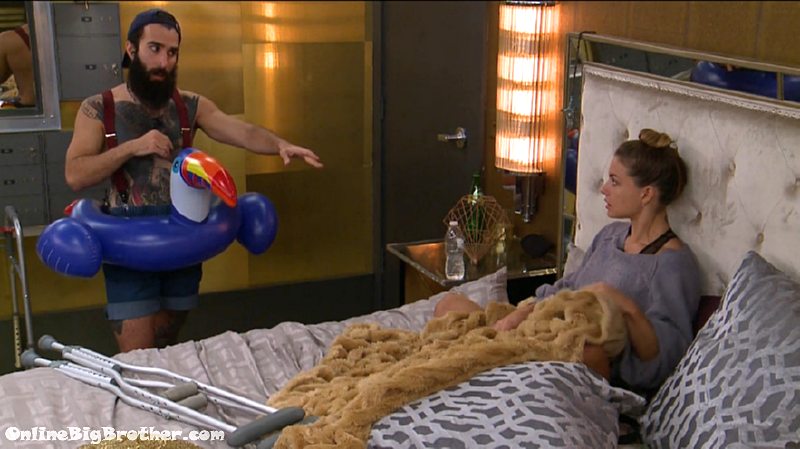 2:05am Paul and Xmas going over them having to talk to Josh becuase he's been tripping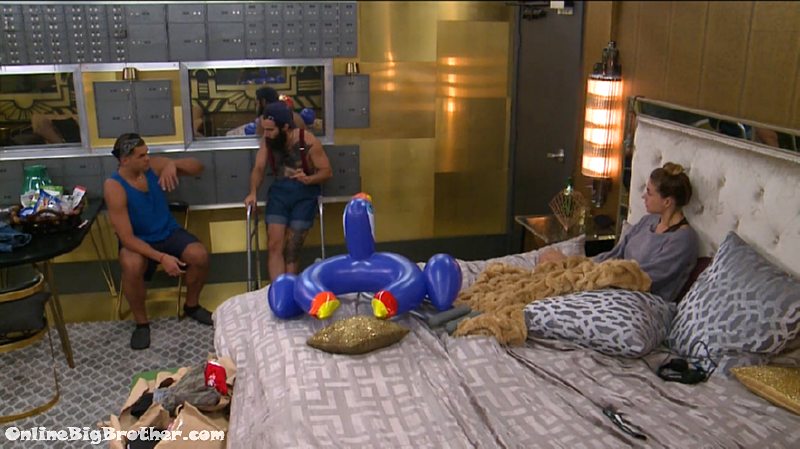 2:09am HOH josh, Xmas and Paul
Paul – you gotta stop trippin
Josh – I'm not tripping and I'm not paranoid.. If I ask questions..
Paul – don't be pissed off
Josh – if I ask questions and if I have a different approach or another plan why can't I voice that
Paul – you gotta wait for the right time
Paul – when you asks me did you tell Jason.. that's trippin dawg
Josh – no ..
Paul – when he mentioned it It was the first time I've heard it to and I looked at you
JOsh – if it didn't come from you it came from Kevin..
Paul – don't say Paulmas and sh1t bro that's the stupidest thing you could do
Xmas – why would you do that
Paul – in the rose room.. you played yourself..
Xmas – you can't whisper that anywhere .. especially to Raven
Paul says now Raven will suspects that Paul is with xmas and doesn't care about her.
Paul – you gotta think bro
Xmas – she's annoying and she's yappy but she's not stupid
Paul – I'm already in a bad mood with her
JOsh – I slipped up
Paul – Food you can't slip up we're at the end of the game.. at this point of the game there's no slipping up
Paul – you have to get your head on right bro.. you have to play stupid you have to play the JOeh like week 4.. just play dumb that's your role that's your character
Paul – you gotta play dumb, what is saving you is the underestimation.. if you start gassing up and doing crazy sh1t you will be a threat to Alex..
Paul – you know why you're not a threat to Alex because she thinks she has you in her pocket and she thinks she can beat you..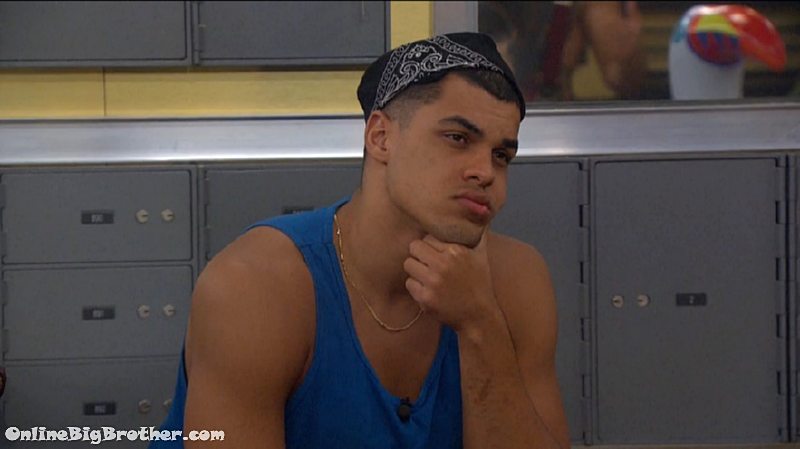 Paul explains to Josh how he can convince Alex to take a shot at Kevin and Raven not Josh,Xmas as longs as they keep up the act.
They agree Alex has cracked under pressure but Paul points out that she almost won the veto this week.
Paul – if she thinks she's getting f*ed she'll turn up
Paul – we need to bamboozle Alex to beat her she is a warrior she'll fight
Paul tells him they've almost made it to the end.
JOsh – we're locked in with the plan right.. JOsh – i know what's coming my way
Josh – they are going to eat me up
JOsh – they are going to blow up on me
Paul – they are not.. they are going to blow up if you blow up.. what are they going to say
Josh – i'm thinking we don't use the veto right.. She told Alex she was a pawn and she told JASon he was the target she's been honest. (Xmas)
JOsh – you can still tie in Alex.. she can tie in Alex (xmas)
JOsh – like Alex you're the pawn these are the reasons why
JOsh – that gives the house the option to take out Jason..
JOsh thinks Paul's plan is genius but says Paul's now the one close to Alex and him and Xmas are instantly associated.
Josh – my game is exposed at that point
JOsh – if she takes the shot and I voted with her .. there goes my game.. they'll know where Josh stands
Paul – you'll tell them the day before.. I can't beat you it's not personal
Josh – you honestly don't get any blood on my hands because she's asking you guys not to use the veto
Josh – I'm going to get blood because I'm going to tell him.. (Jason)
Paul – then next week when I take a shot at Alex i'm not getting blood on my hands..
Paul – if you don't want blood on you hands Josh just say it and I won't use the veto
Josh – we'll go with your plan ..
Josh thinks Alex wants Jason to go
Paul – we can assume that but it might be her plan so we disassociate them.. they could be swindling us just like we're swindling them.
Paul – you are saying that Alex and JAson who have been together since day one like us don't give a f* about each other
Josh – my way we're all going to get heat..
Paul – why would we all want heat if that is what we're trying to avoid this f*ing thing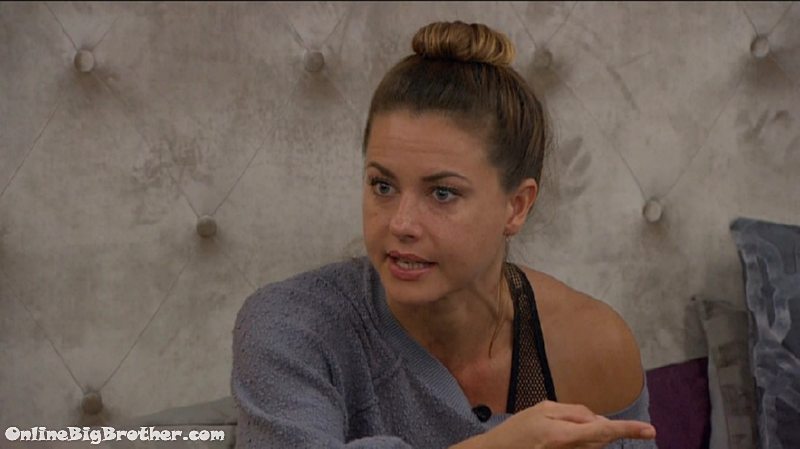 2:39am HOH
Josh says he's 100% ok with then plan
Josh – it's hard for me to do that to whistle
Paul – it's part of the game
Xmas- I know.. you think i want to be in this position
Xmas – I'm having the time of my life this week
Xmas – Ravens being a f*ing psychopath and Kevin's being a f*ing flip flopper
Josh agrees with her
Xmas – let me finish.. PLEASE .. you think I wanted to put him up.. he's got a f*ing baby on the way.. he forfeited 50 thousand dollars to be here..
Paul to Josh – it's a hard game hommie
Xmas – I cried by myself today so I know you are in a tough space.. but we all are.
Xmas – we have to share that burden
Xmas – toher you get into you feels and you lose this f*ing game or you get your head in the f*ing game.. trust this team and we go all the f*ing way
Josh – I trust you guys 100%
Paul – you know what's even harder.. when you are sitting on the block next to me or when you are sitting on the block next to xmas that's even harder.
Paul – you know when that will happen? when we f* up
JOsh – I'm over it, I'm sorry, I love you guys
Paul – love you buddy..
2:45am they agree that Raven will vote out jason because he's the stronger competitor over Kevin.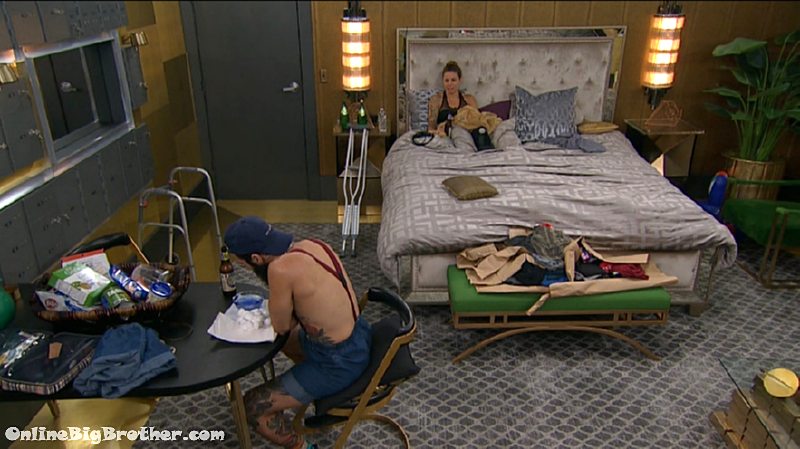 3-4:20am Paul cleaning his nose drinking a beer with Xmas.
Paul and Xmas chit chat.. family, careers, business, church, tatoos.. etcetcetcetc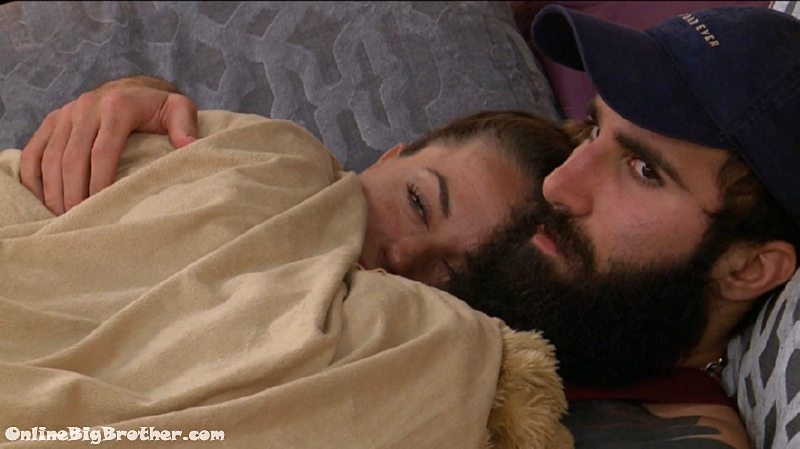 4:40am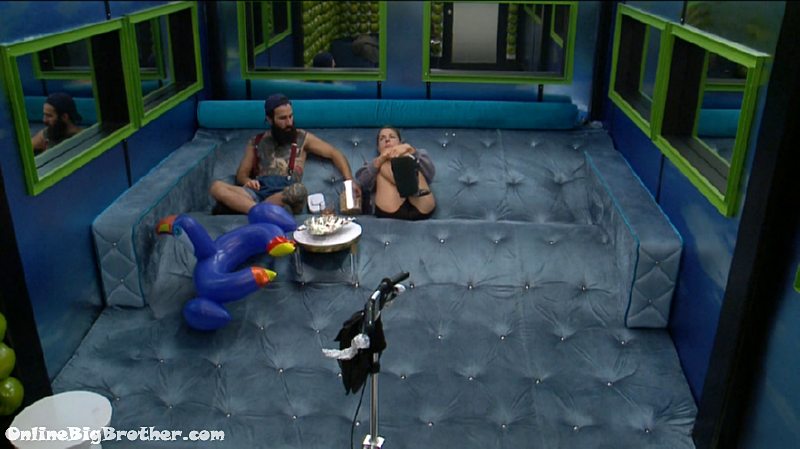 5:11am Paul and Xmas
Still up .. wtf go to bed people
Paul says last year was more hostile and there was clear enemies.
Paul says this year everyone is a pussy except for them.
Paul says last year they were mean to each other.
They start complaining about Mark splashing the cup of hot sauce in josh's face.
Paul – I was super disappointed with have nots this season.. it was boring.
Paul says last years have nots got to eat things like Garlic bread and beans.
Paul thinks the fans didn't like that so they made it tougher, "it was more miserable"
PAul says Kevin isn't as hard as he plays to be.
Paul – if you try to check me I'll check you back..
Paul calls Kevin a b1tch
Paul – I hate that he thinks he's hard and can mad dog on you.. hommie I will sh1t all over you
Xmas says Kevin use to be a big shot caller in life he's arrogant.
Xmas – we'll keep you around and kick you out when we need to
Paul says Kevin thinks he's playing them all.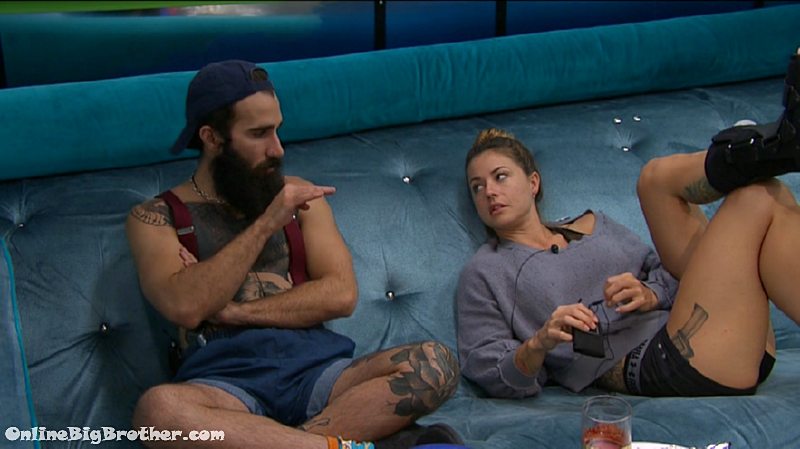 5:23am Xmas and Paul
Xmas says the storm watch night was one of her favorite nights
Xmas – everybody was hanging out.. it was fun
Paul – Jessica and Cody just sleep.. ok
Xmas – so much disrespect for this game. (yet never a peep about matt)
Paul – that's why I had no respect for them because they had no respect for the game.. (what a tool)
Paul – no speeches.. they made a fool of themselves and they tried to make a fool of the game but really they just showed they were f*ing idiots
Paul – why come on Big BRother .. you say you've been watching since you were kids yet you were absolute dipshits this season.
Paul and Xmas give Cody and Jessica ths cuk award.
Paul – cody in jury is funny..
Xmas – he's probably really fat now (what a inspiration)
5:41am Paul and Xmas still up talking about Raven now. They agree she's a pathological liar
Paul brings up Raven's mom being hit by lightning
Xmas – that will fry her pacemaker
Paul – that's what I said.. she didn't have a pacemaker than
Paul – it's Raven's Believe it or not.. (LOL that's funny )
Paul – inverted spine, Olympic athlete, LIghtening .. what's next..
Xmas says she use to watch that show, "You should tell her she should have her own show because she's so amazing"
Paul – did you not hear me.. [Raven said] I have a family member that was on the titanic.. I said Wow raven you're a exceptional Human being ..
Xmas – she said Thank you .. you didn't say exceptional you said anomaly and she said thank you without missing a beat
Paul – you have a disease that only 2 families in the world have, Your mom was struck by lightning, you had a family member on the titanic but you don't know their name, your spin is inverted, your in Mensa you graduated at 16,
Xmas – olympic athlete
Paul – and you have rough kneecap syndrome
Paul – that's so many things
Xmas- and there's so many smaller things
9:16am People are starting to wake up. JAson making Coffee. Xmas in the HOH brushing teeth.
If you've enjoyed our live feed updates this season, please consider donating.
Simon and I work 24/7 all season long to keep you updated on everything that happens inside the house. Any amount is greatly appreciated! Your donations go directly to paying the fees required to run this site.
Links to the ranking system
Rank your house guests here
For those of you that like Statistics here are some expanded reports.