POV Holder:
?
Next POV
April 17
POV Used
?
POV Ceremony
April 19
HOH Winner
Zach
Next HOH
April 22nd
Nominations:
? and ?
Have Nots
Godfrey, Sarah, Jordan, Bruno
POV Players
?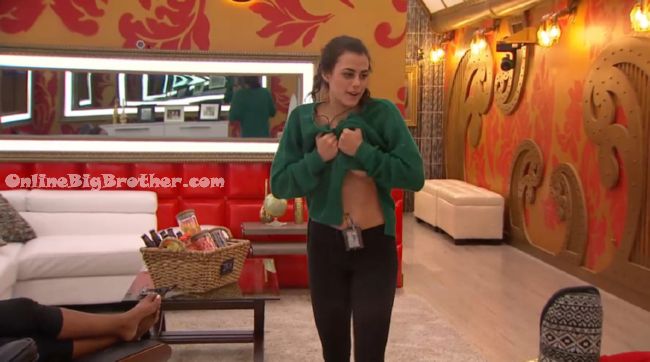 10:07pm HOH Zach won HOH you can tell from the HOH basket
Willow, Ashleigh and Pilar talking abut who should get the next HOH's. Willow says Sarah should get won so she get's a letter from Scott.
Bobby comes in and nervously asks if they are sticking with last weeks plan. AShleigh listening to music doesn't reply Willow says yes. Pilar and Brittnee come in. PIlar starts to try to twerk, "How to you move your a$$ without you hips… I think I can twerk on the wall"
Zach comes in Brittnee, Asheligh, Pilar and Willow tell him it's the best ipod music ever. Brtittnee says it's the same tunes she listens to at home.
Willow calls Zach "honey" when she suggests he put the beer in the fridge.
Pilar, Willow, Ashleigh are on the HOH bed gyrating around to the music. Brittnee is on teh chair everyone figuratively s*cking Zach *ff.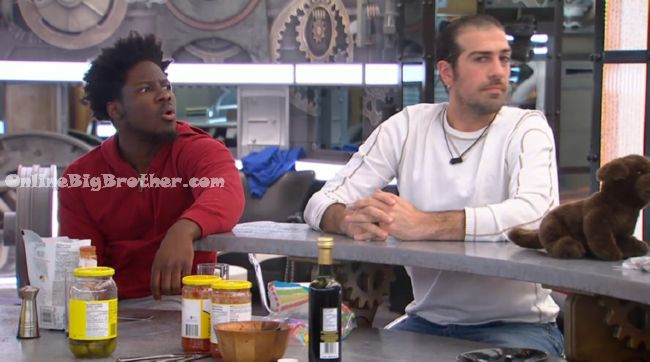 10:33pm Kitchen Chit chat about the double eviction and the possibility of someone coming back into the game.
They wonder if Canada will have a HOH. Jordan seems convinced there will be.
Pilar comments on how quiet the house is now. They all agree all the Houseguests who are "Catalysts" are gone. The ones that start "stuff"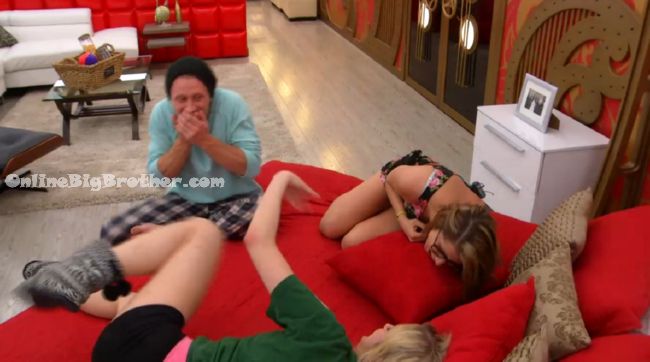 10:40pm HOH Bobby, Willow and Ashleigh
Bobby saying he cares more about the Chop Shop something they've created since day 3 than winning the money. He want to go down in history. Says it sends shivers down his spine thinking about it, "We could be one of those brigades that everyone talks about." when Bobby leaves willow whispers to Ashleigh "I Love him when he's like that"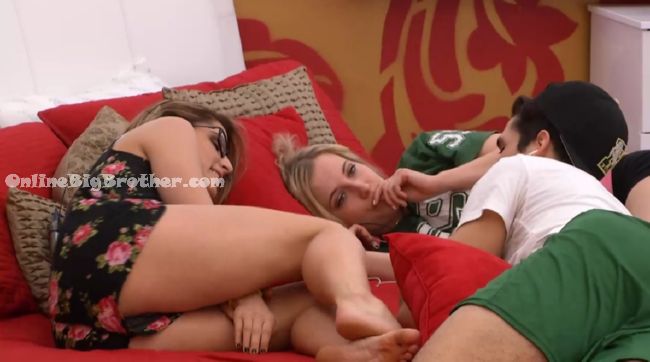 10:50pm HOH Zach, AShleigh and Willow
Talking about HOH competition Sounds like it was either Zach or Godfrey. Sounds like Pilar made it far then was boasting she guessed with all the answers.
Willow mentions that Pilar hadn't even 'Locked in' her answer and they just kept going with the answer.
Zach – thank god Brittnee didn't win again
Wilow -I know
Zach – B's definitely going after you girls.. I don;'t know who she's loyal to she's going to flip flop this whole game
Willow – whose your target B
Zach – She's a waste of HOH
Zach wants to targets someone that can rally the other side someone with power
Willow -someone that can flip the other side
Zach – so we have a good group of people.. I'm going to Nominate Jordan and Godfrey.. b@ckdoor someone.
Zach thinks the next HOH will be a physical. AShleigh hopes it's endurance not mental endurance because she can't win those. .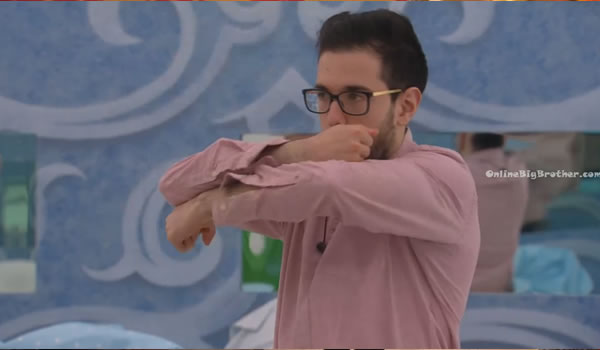 10:57pm Jordan and Kevin
Jordan says Zach should put him up as a pawn it'll fool the house, "I have the votes no matter what"
Jordan says he's going to act mad at Zach tell everyone he hates them. They are going to sell to Bruno's group that the plan is to b@ckdoor Kevin.
Kevin says that Brittnee told him she's targeting Zach and Jordan
Jordan about Brittnee – She's so f*cking stupid"
Jordan – She (Britnnee) sucks
Jordan starts to impersonate Godfrey.
Kevin – we have the best shot of winning this game.
Jordan wants to get Bobby and Bruno out these next two week "Oh my gosh man we're so good"
Kevin – Could Sarah and B ever rally with Godfrey
Jordan – F*** no Sarah hates Godfrey.. B hates Godfrey
Jordan bring sup talking with Godfrey where he said he's putting up Sarah and Britnee. Jordan believes it thinks Godfrey is stupid.
Jordan brings up that Zach is loyal to them so lets keep him around use him as a shield.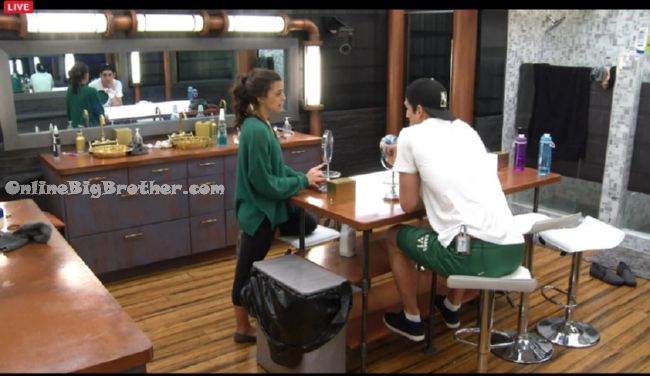 11:08pm Bathroom Zach and Pilar
11:20pm Diapers talking about b@ckdooring someone this week either Bobby or Bruno but making them think the target is kevin. The pawns will be jordan and Godfrey
[polldaddy poll=8803897]
[polldaddy poll=8797487]
[polldaddy poll=8803903]