POV Holder:
Jon
Next POV
?
POV Used
NO
POV Ceremony
March 31
HOH Winner:
Canada
Next HOH:
Apr 3
Original Nominations:
Andrew and Sabrina
Current Nominations:
?
Have Nots
Jon and Adel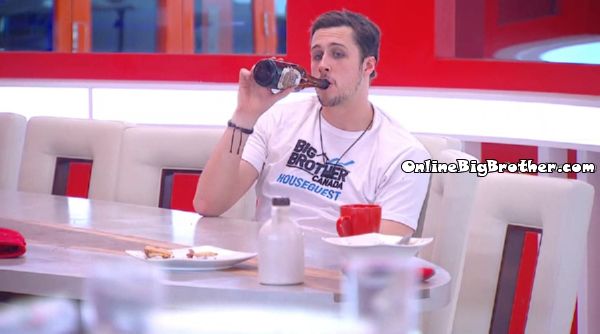 11:25pm Adel and Jon
Jon doesn't trust Kenny, Right now it's 5 vs 5 so it comes down to who wins Head of Household. Jon – "we have to make sure if we win HOH we put 2 of their side up every time"
Jon asks what are they going to do with Sab's
Adel explains if he wins HOH he'll put up Allison and Kenny If Rachelle or SAbrina win Veto adel is going to "Threaten" them if they take down Kenny he'll put one of them up.
Jon – "tell me the truth about your power… straight up"
Adel tells him he has one week left and if he doesn't use it he gets a prize, "I'll show you anytime you want I have it in my room.. I don't want to use it though I want the gift"
Jon tells him that Neda is a smart girl when she can keep her head cool but the problem is she has problems under pressure.
Jon – "I guarantee Heather is F***ing smart.. she knows every date in the game"
Adel leaves to chat with Neda and Heather.
Jon tells the camera – "Wake up Canada wake the F** up"
Cam flips to the bathroom. He tells them he trust them. Neda and Heather only trust their side of the house.
Adel tells them they have to win the HOH and do the right thing because he wants to win the prize, "If one of us go up I'll have to use it.."
Adel tells them they know it's the 31st because each picture the camera takes is time stamped.
11:36pm Neda and Jon talking about Rachelle
They talk about how it's OK when Rachelle is clinging onto KEnny but it's not OK for Neda to hang with Jon. They mention how Rachelle's t1ts are always out because she never wears anything under her tank top. They agree she must like it because everyone has told her she's flashing the camera.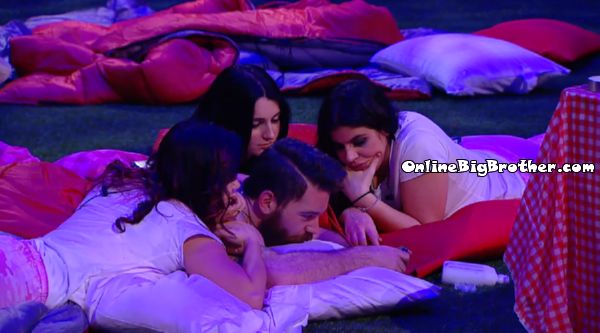 11:45pm Backyard Sabrina, Sarah, Andrew, Allison and Kenny
Sabrina says Heather won't tell her the dates .. she told Sabrina she is her competition and will therefore not tell her anything.
Sabrina says she's telling the truth about Heather, "swear to god on my head… "
Sabrina – "I cannot believe what a f*** loser F**king ugly stupid clown put me up again I don't' care"
Sabrian – She's such a fuking ugly loser.. I swear to god on my head..
Sabrina "She a loser ugly f*** loser.. canada can put me up again cause I think she's a f*** loser".
12:00AM Hot tub Sarah Sabrina and Rachelle
Sabrina is pissed at Jon for calling Allison Liza. . (Lots more but I never listened to it)
At one point Jon joins them and starts talking about how in the Diary room it's Hashtag this and hashtag that.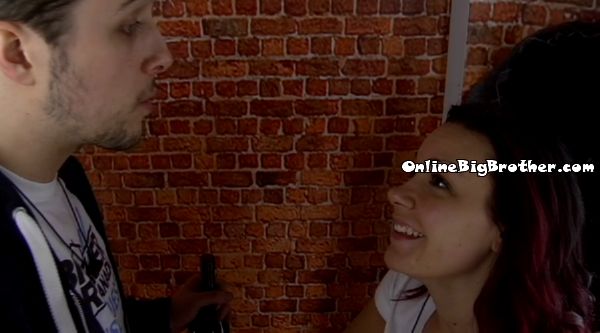 12:010AM Hot tub Sarah and Jon
Sarah tells him Sabrina is on his F*** case big time.
Jon – "Ohh hundo.. she's on my case to.. and Neda"
Jon wants her to promise him is she hears anything about Jon to go to him right away.
Jon – "If I hear anything from you I swear on my dogs life I will come to you first"
Jon tells her he wants to work with her more than anyone else.
Sarah is worried about Neda, "You f*** love NEda"
Jon – "It's emotional with NEDA it's not game.. Please trust.. please"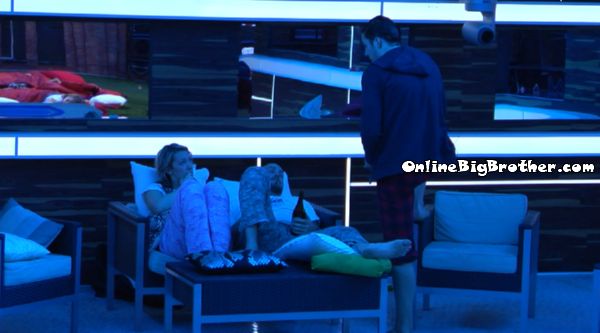 12:00am Allison and Andrew
Allison saying that Canada may not be liking her game move and that is why they nominated Andrew. Andrew says it was a good move to stick close to him.
Jon joins them, Jon says he's not a guaranteed vote to evict you.
Andrew thought he was because he never used the POV
Jon says he didn't want to risk someone he cared about going up. Andrew doesn't think Neda would have been nominated
Jon says Neda really hasn't done much in the game he thinks she would have and he didn't' want to take the risk.
Jon thinks in this game every couple weeks Canada will have power..
Jon – "Don't count your chickens"
Andrew won't campaign against Sabrina.
Join remind him it's up to how much he wants to stay in the game.
Jon – You get votes and if the house is split i'll vote to keep you 100%..
Jon – Do not roll over and die because of the way you feel about Sabrina'
Jon explains that Andrew can get the votes,
Andrew says he appreciates what Jon is doing but he's not sure what to think.
Jon – I think Sabrina will lie to my face and say f*** you" Jon doesn't trust Sabrina.
Jon reiterates that for his game Andrew is better in the house.
Andrew – You and I were working together before this happened.. I thought you would use the veto"
Andrew – "I genuinely love Sabrina. " Andrew will not screw her.
Jon just wants him to think about it and not give up he's got 48 hours.
Jon leaves..
Andrew wonders what is up.. Allison thinks Jon might want to keep Andrew around to keep the target off him.
Andrew doesn't want that conversation with Jon to come back to get him.. They start deconstructing Jon's motives.
Allion – I want beleive him so badly.. "
Allison tells him she can get further in the game with Andrew than Sabrina. Allison isn't sure Sabrina will stick with her. "I love her"
Andrew says he's not going to fight against Sabrina
Allison – "I respect you so much for that decision"
They wonder if Jon is trying to start trouble in the house.
Andrew calls Arlie a floater, Allison agrees says she doesn't really feel that Arlie is as close with the 4 boys.
Andrew calls Adel dumb but he doesn't think he's dumb enough to vote out Sabrina. Andrew knows he doesn't have Adels, Racehlle or Sarah's vote.
Andrew tells her "Lets go touch each other"
Allison – "OK"
Andrew blows out a giant burp
Allison blows out a giant burp
Andrew – "Sexual"
they head upstairs

(Video coming.. as GAry would say It's long)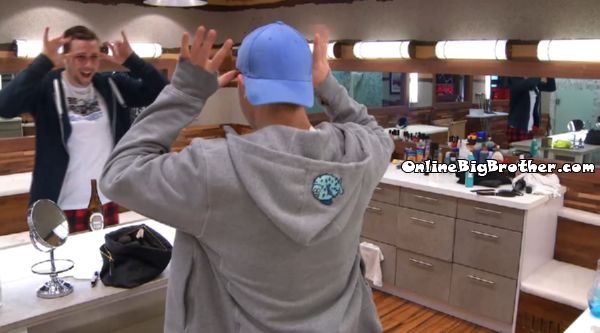 12:30 Arlie and Jon Bathroom
Final 2 dealings and a special move to solidify it. Arlie tells him Andrew is gone this week and next week Kenny is gone.
Arlie – "There's nothing they can do next week kenny, Or rachelle ro Sabrina are gone"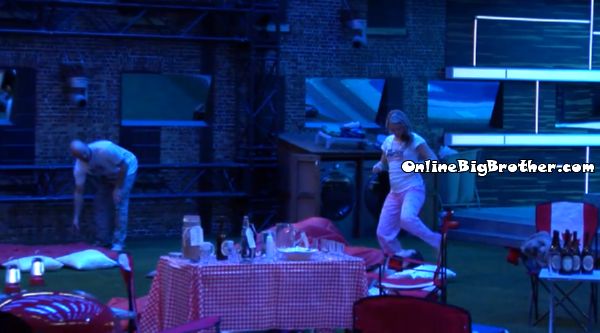 1:00am Everyone is sleeping
Allison dancing over Jon's face before bed.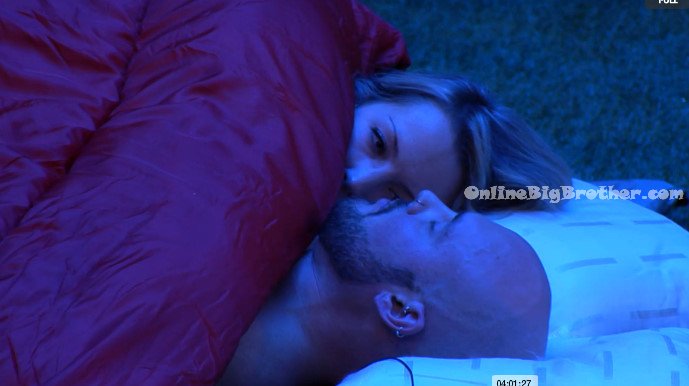 1:15AM
Allison gives Andrew a h*ndj*b
Andrew – "My face did it look weird."
Allison – "No"
Allison – "I didn't think it was going to work"