POV Holder:
JohnnyMac
Next POV
?
POV Used
?
POV Ceremony
July 5th
HOH Winner Team 1:
Becky
HOH Winner Team 2:
Shelli
Nominations 1 :
Steve, Jason
Nominations 2:
Day, JohnnyMac
Battle of the Block Winner
Steve & Jason
Next HOH/ Next BOB
July 9th / ?
Original Nominations:
Day, JohnnyMac
Current Nominations:
?, ?
Have Nots
Steve, Jason, James and Meg
TRY the Big Brother 17 Live Feeds FREE for 1 WEEK:
Click here to ensure your live feed subscription supports OnlineBigBrother.com at no extra cost to you.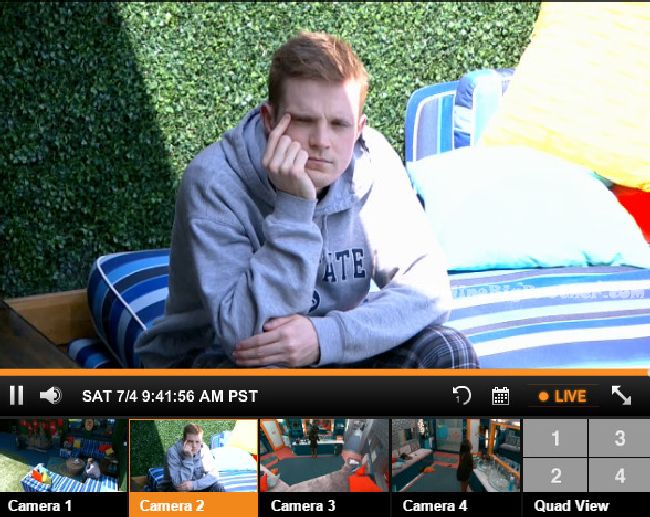 9:40am Backyard – Jason says I'm waiting to see who they put up. Johnny says if Audrey goes up I guess that's it ..explosion. Jason says clash of the titans. Her vs Day! But I'm sKeptical of everything in this house. So I'm expecting her not to go up honestly. But then who else are they going to put up. Johnny says something just doesn't feel right. Jason says I love Mamma Day but it will be very hard to keep her over most people .. even against Audrey because there are going to be some that want to keep her. Johnny says Audrey has calmed down a lot too. Johnny asks do you think Jace is at home watching. Jason says he's either sitting at home watching or in sequester waiting to come back. I hope he doesn't though.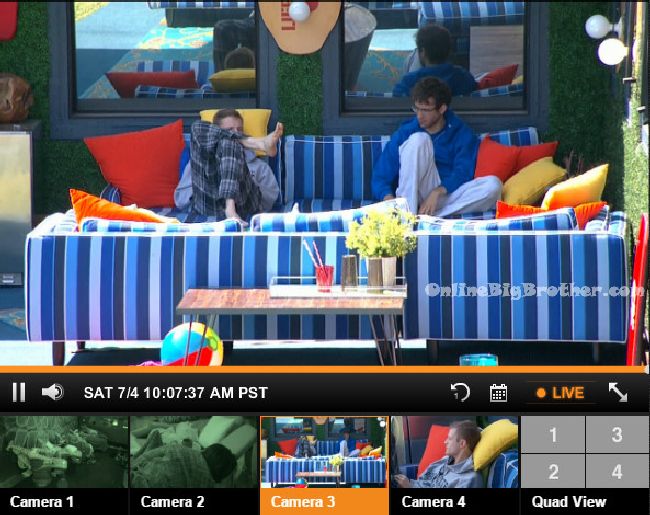 10am – 10:20am Steve
tells Johnny happy 4th of July. Steve says we were talking about doing a slipin'slide out here. They've done it frequently in the past. Hopefully we can hear over the fireworks and get some music. Johnny asks how bad do you think me winning this is going to hurt me? Steve says not bad just fade back into the background. Johnny says I just didn't feel safe. Steve says when you're on the block you save yourself. Johnny says there is going to be chaos. Steve says it sounds like Clay and Shelli want to be a part of the outside. But hey, I'd love to have them. Johnny asks what do you think about me hanging out with Becky. People started to make showmance jokes and I was like uhh Oh! Steve asks is Liz flirting with Jeff? She is flirting with everyone. Steve says you have nothing to worry about because I've won two. Johnny says I've won a BOB and veto too. Steve asks you didn't throw the BOB did you? Johnny says no, I just had a bad feeling. Steve says I am just really happy with the way Shelli's HOH is working out. I hope this alliance works out I just can't be the one to suggest it. I'm hoping Shelli or someone will do it. Steve says its so interesting she put up Day. Steve asks you're saving yourself right? Johnny says yes. Steve says its expected that you'll use it and you would raise more eyebrows if you didn't. Steve asks if I'm ever too much or annoying. Can you tell me? Johnny says he will.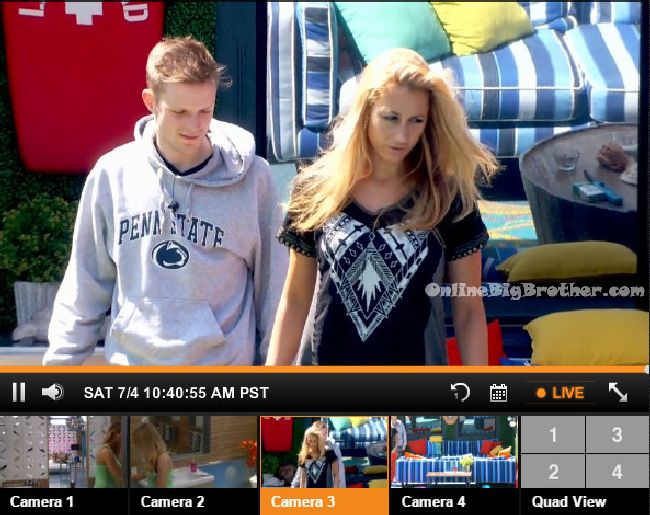 10:20am – 10:40am
Big Brother wakes up the house guests. In the backyard – Vanessa joins Johnny. She tells him about how she burnt the inside of her mouth and now there are little bumps. Johnny says I'll take a look at if for you.
11am Clay joins Johnny in the backyard. Johnny asks how are we looking on the veto front, is everything's layed out? Clay says yeah we're all good. Johnny says we just need to kill the HOH. Hopefully this twist isn't too bad. Johnny says you were saying you would go up to Shelli. Dude, don't do that. Something crazy might happen with that twist. Johnny says it could be something stupid too like the HOH get honey rained on them. Jason joins them. He tells them about his guess where the evicted house guest throws a grenade (punishment) at the person they hate the most. Like so and so you're on slop for the rest of the summer, or you do all the dishes for a week.
11:15am – 11:45amClay tells James that Giselle (The giraffe) has 4 pending sexu@l assult charges against you from last night. Vanessa asks James what his background is? James says my real parents are Korean bug I didn't know them because I was adopted by some nice white folks. They talk about how the ants are everywhere.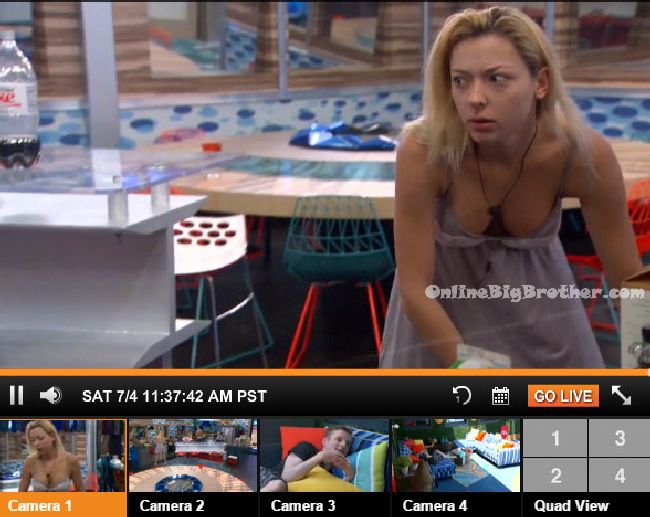 11:50am James says Im a little worried about this week. Johnny says I know thats why I didn't want to still be on the block. James says they said someone gets the last laugh.. which means to me that the person going home doesn't actually go. Someone else has to go up against Audury or I mean what's her name. Johnny says Day. James says yeah. It could either be Audrey or someone else. Clash of the titans. It could be me for all I know. Johnny asks did you give them the same deal you game me? I'm not putting you up so don't put me up. James says I'm on pretty good terms with Clay and Shelli. I hope they see that when I say I'm going to do something, that's what I'm going to do. Johnny says you're good with me, I'm not putting you up. James says I don't expect you to never put me up.. Johnny says at least the first part. Jason joins them. They talk about whether or not they'll get something for the 4th of July.
12pm – 12:15pm In the kitchen – Austin and Liz are talking in the kitchen. Liz asks who's in this alliance. Austin says I don't know. Austin says I'm sure James is making some type of deal with the HOH. He's a snake. He's a snake. Liz says I saw him talking / whispering with Johnny Mac. Austin says everyone sees him as a free agent. Austin leaves. Shelli joins them. Liz says by the way thank you for not telling people because I don't think anyone knows. Shelli says oh yeah because people have asked me and I'm not going to say. Liz says Day last night asked me if she puts up Audrey would I have your vote? Shelli asks did you say yes? Liz says yes. Good thing you didn't say anything because that would work against my favor.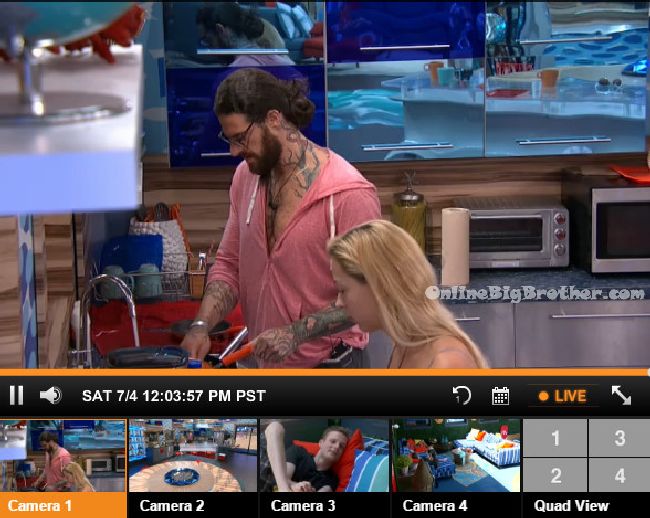 12:25pm – 1pm Backyard – Jason says I hate to say this about Steve but he is a snitch for a lot of people. Johnny says I've heard that a lot too. Jason says he won't leave people alone because he doesn't want people to talk game. …you have to just let people talk. Jason talks about Audrey. She plants a seed with one person and then blames it on that person. Jason says that day in the havenot room when Day pull everyone in there. I would have yell at anyone if they were making up lies. Johnny heads inside to eat Liz's pancakes. Jason says I don't want to eat slop. Why don't we have bonus food… America what the hell else are you voting on?! It's got to be something. It's so crazy that I'm here! I've been google mapping this place for so many damn years! Meg joins him. He says by not giving us food its so obvious they're voting on something. Jason & Meg talk about Vanessa being the new Steve. She popped her head out 5 times and just brought 1 towel out at a time. She is talking game with someone but its not me. Who do you think Shelli is going to put up? Meg says I think it would be brilliant if she put up Audrey. Jason says she's not going to do that. Meg says I hope its not me. Jason says I don't think it will be you or James. Johnny Mac and Jackie join them.
Jason "There are plenty of gifs ..trust me there will be ones of him humping that giraffe"
This is why they can't have nice things… @bigbspoilers #bb17 pic.twitter.com/JGGt9OQOrU

— Dawg (@DawgsBigBrother) July 4, 2015
1:20pm – 1:30pm Clay says Day has been very positive about being put up. Shelli says I'm not going to put it out there who's going up because then it gives Day a chance to to campaign against Liz. I told Liz I'm not going to tell anyone. Liz said thank you. Clay says even if you put up Liz Jason might vote for Day. Shelli says I told Liz this morning that I looked at the board and totes got the votes. Shelli says I won hoh this week and she's still up .. it looks like its going to happen. Shelli talks about how she strategically didn't tell Becky who my target was or that Johnny was going to throw it. Clay sweet talks Shelli "You're not old.. you're aged … I like your withered body"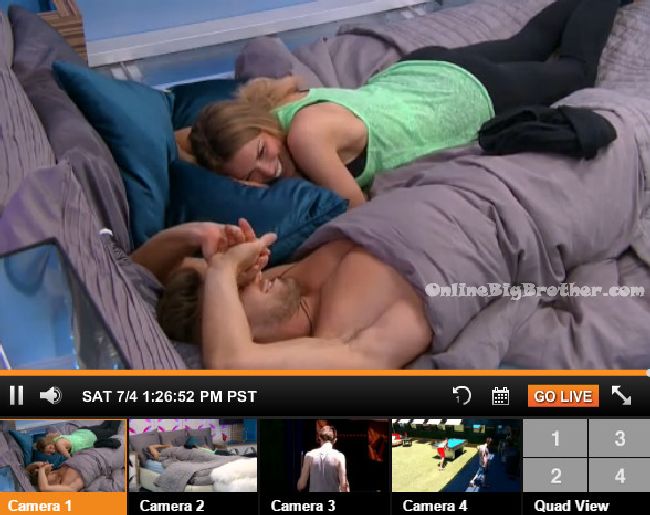 Live Feed subscription gives you CBS All Access thousands of archived shows. Live Shows like Big Brother, all the Big Brother Seasons, and 24/7 coverage of what is happening inside the Big Brother House. Plus there's flashback that lets you go back to any second of the feeds and rewatch what happened. Simon and Dawg will index the season just watch the parts worth watching. All this for $5.99 a month try it out 1 week free. Support our efforts and get your feeds via a link on this site. Live feed subscription Sign up
[polldaddy poll=8961340]cript>
Share it YO!!
Tweet