POV Holder:
JohnnyMac
Next POV
?
POV Used
?
POV Ceremony
July 5th
HOH Winner Team 1:
Becky
HOH Winner Team 2:
Shelli
Nominations 1 :
Steve, Jason
Nominations 2:
Day, JohnnyMac
Battle of the Block Winner
Steve & Jason
Next HOH/ Next BOB
July 9th / ?
Original Nominations:
Day, JohnnyMac
Current Nominations:
?, ?
Have Nots
Steve, Jason, James and Meg
TRY the Big Brother 17 Live Feeds FREE for 1 WEEK:
Click here to ensure your live feed subscription supports OnlineBigBrother.com at no extra cost to you.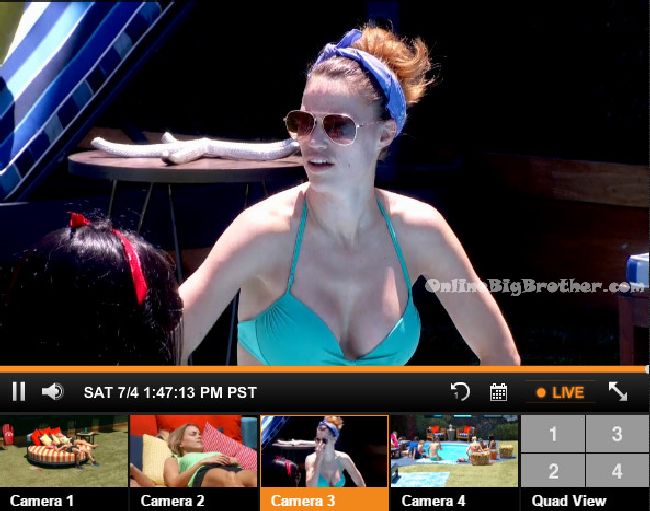 1:40pm
By the pool – Jason, Clay, Jackie, Becky and Meg. The conversation turns to talking about James raping the giraffe and his late night graphic story of when he went down on a girl that had a yeast infection. Jason tells Steve that he would have walked out the front door if he had heard the story.
On the backyard lounge – Shelli asks Vanessa so they think I'm going to backdoor Audrey? Do you think they're going to be mad when I don't. Steve definitely thinks it because when I asked him not to throw it he said oh so you can backdoor Audrey. I just hope people don't get mad when I don't. Does Becky think I'm going to backdoor Audrey? Vanessa says haven't talk to Becky. She hasn't ever talked game with me. Shelli asks does Jackie. Vanessa says same, I've never talked game with her.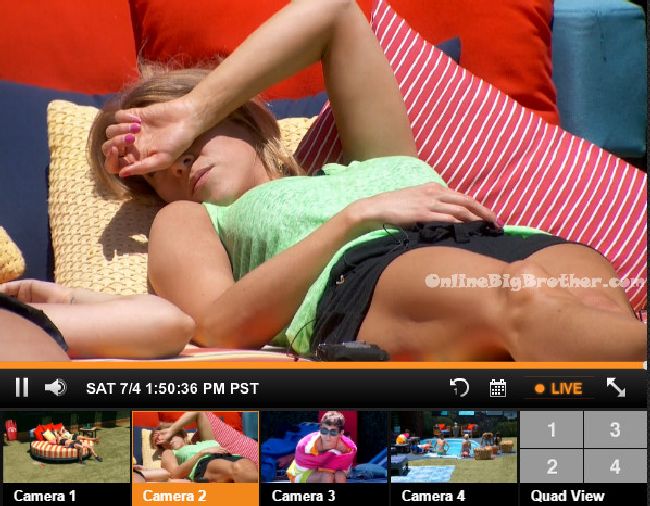 2pm Big Brother the house guests this is a lock down please go inside and close the sliding glass door. They all head inside and speculate on if they're getting something for the 4th of July. Meg says I can't wait to watch the story. Jason says they (production) asked about that meeting (Audrey / Day blow out in the havenot room) Jason says is that right?! You're barely involved bit*h! Day says if she (Audrey) is next to me I think I know what I'm going to say .. if its someone else I'm gunnin'! Day says I can't wait for tweedle dee and tweedle dum get dethroned and have to come back down here. Jason says I'm bleeding to get up there. Day says if the lord blessed me and she's still here! child!! Day says I think he (Clay) is playing her (Shelli)… to the thirtieth power. Meg agrees. He has a demeanor when others are around that he is running this place. Jason comments on how her letter told her to watch out. Day says that every time Becky & Liz walk past him .. he's looking at them. Day says I just need something to happen to keep me in here. Jason says trust me I'm pondering. Day says I was talking to the feeders… Ya'll think he's cute?! He's taken like 4 baths since he's been here. We've been here 17 days. Jason says he's disgusting. Meg says if they don't put up Audrey they are losing Becky. Day says Austin is going to eat up all the food. All bark and no bite .. he's just a big a$$ girl.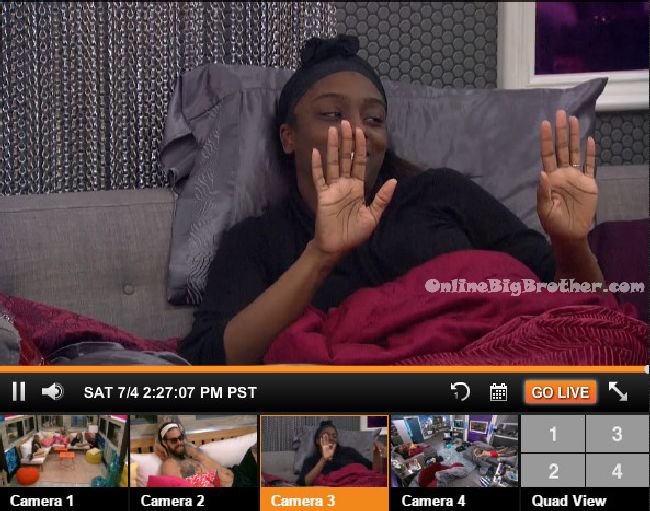 2:25pm – 2:35pm In the cabana room. Austin and Vanessa are talking. Austin says they're trying to get Johnny Mac. Becky's with us. Me, Liz and Becky had a talk. I don't think they're being truthful to Shelli. Vanessa says I'll tell her. Austin says we can't lose Liz or we're f**ked. Vanessa tells Austin to tell Shelli that you trust me the most. I'll do the same. Austin says perfect. Austin says I think Jeff will vote to save Liz. Unless its a real screw job. We need to warn her about the late night crew.. because they're (Clay & Shelli) not a part of it. They need to know that crew is always laughing and joking with wild card Audrey too. I think Shelli needs to know because there's a huge chance it could backfire if she puts Liz up. Austin talks about how rude and mean the others are being so loud when others are sleeping.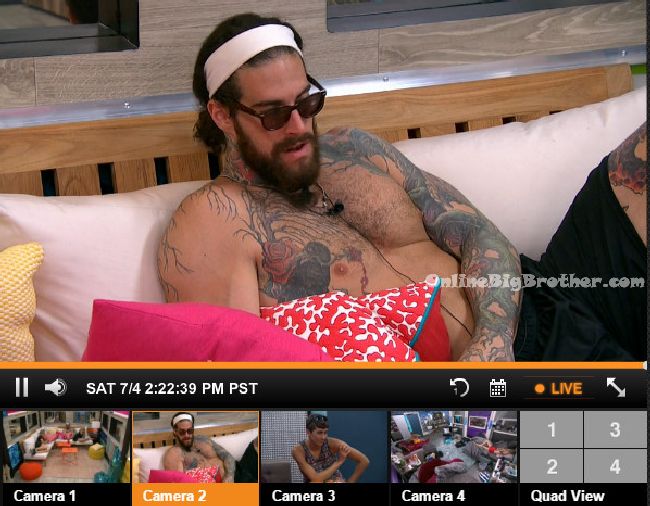 2:35pm – 2:50pm In the bathroom. Austin tells Clay the late night crew are talking about flipping things. I can hear them. Meg, Jason, James.. and they were talking with Johnny Mac and Becky. They'll be laughing and joking and then they'll start talking game. Austin leaves. Jeff comes into the bathroom. Clay asks Jeff about what Austin just told him. Jeff says he hadn't heard anything but would keep is ears open.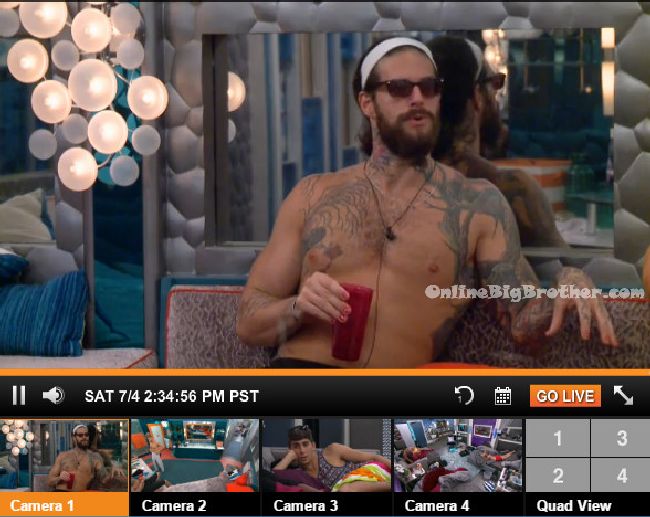 Live Feed subscription gives you CBS All Access thousands of archived shows. Live Shows like Big Brother, all the Big Brother Seasons, and 24/7 coverage of what is happening inside the Big Brother House. Plus there's flashback that lets you go back to any second of the feeds and rewatch what happened. Simon and Dawg will index the season just watch the parts worth watching. All this for $5.99 a month try it out 1 week free. Support our efforts and get your feeds via a link on this site. Live feed subscription Sign up
[polldaddy poll=8961340]
Share it YO!!
Tweet