POV Holder:
JohnnyMac
Next POV
?
POV Used
?
POV Ceremony
July 5th
HOH Winner Team 1:
Becky
HOH Winner Team 2:
Shelli
Nominations 1 :
Steve, Jason
Nominations 2:
Day, JohnnyMac
Battle of the Block Winner
Steve & Jason
Next HOH/ Next BOB
July 9th / ?
Original Nominations:
Day, JohnnyMac
Current Nominations:
?, ?
Have Nots
Steve, Jason, James and Meg
TRY the Big Brother 17 Live Feeds FREE for 1 WEEK:
Click here to ensure your live feed subscription supports OnlineBigBrother.com at no extra cost to you.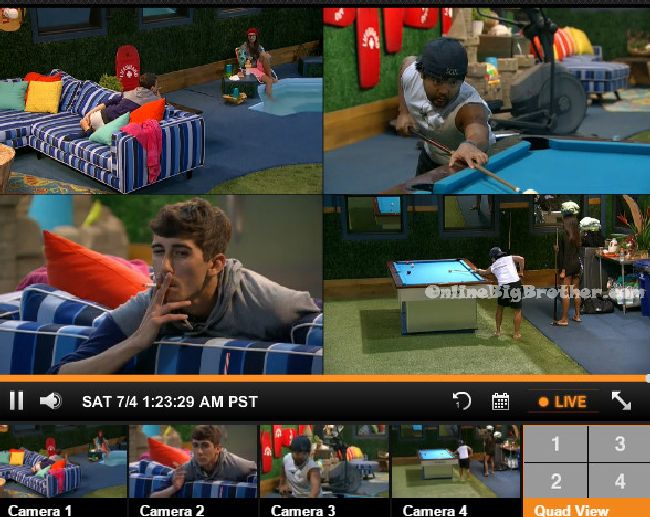 1am Out in the backyard –
Clay is acting like the personal trainer for Steve and Johnny Mac showing them different workouts. Austin is helping Shelli. Meanwhile James and Day are playing pool. Over by the couches / hot tub – Audrey and Jason are talking about their personalities, life, religion.
In the bathroom – Jackie and Becking are talking. Backy says when she made that decision I had no idea. And I felt it was her HOH and I Jackie says I'm okay with it if we have the opportunity now. Becky says I don't trust Audrey. Jackie agrees. Becky says I just hope that people don't start trusting her again. Becky leaves the room. Jeff comes in and talks to Jackie. Jeff says it seems like the crazy girl gets to stay another week. She hates me. They're not going to do it this week they're too focused on Day. Hopefully that doesn't come back to bite me. Jackie says at least it will be good to have a clear target next week.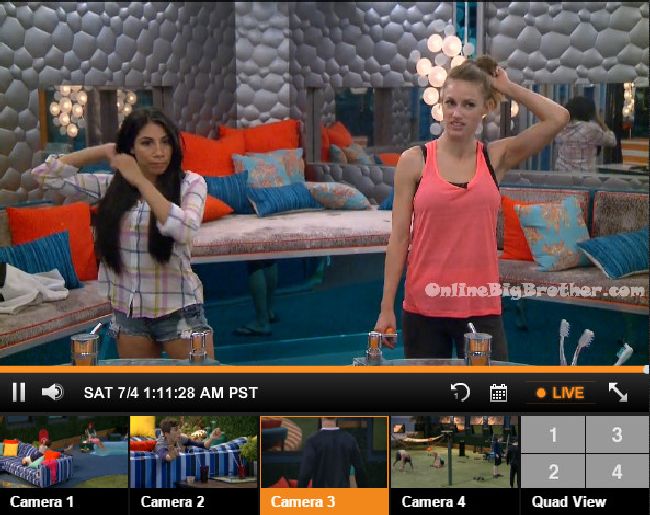 In the storage room –
Jeff asks James how is Day doing? James says she's good you know? Jeff says I hope she doesn't think I was okay or on board with it. It sucks it wasn't my choice. I have to go along with it. James says if I win HOH I'm gunning after her. Clay told me he was going after Audrey. Jeff asks how are you going to feel if he doesn't. James says he told me and Meg if Day goes this week Audrey goes next week. They head to the kitchen. James asks why did I volunteer to be a havenot during the week with the 4th of July. I'm a dumba$$! Becky says but a cute dumba$$. James says you're not so bad yourself. Johnny joins them.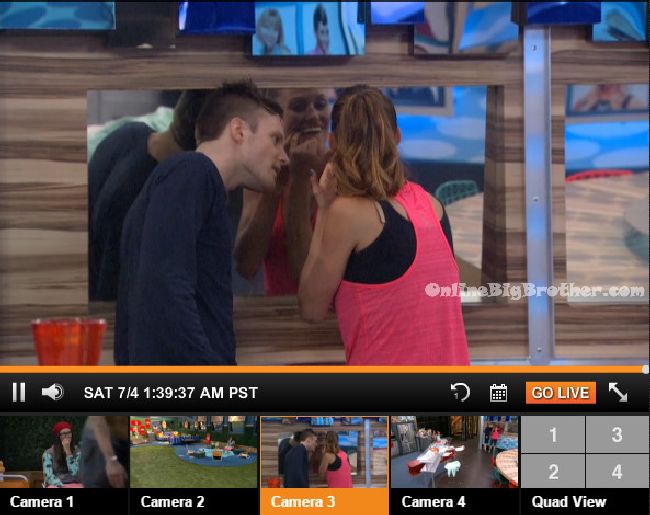 James brings out Giselle the giraffe to join the hot tub party. Liz kisses the giraffe. James says man he's gotten more action than all of us!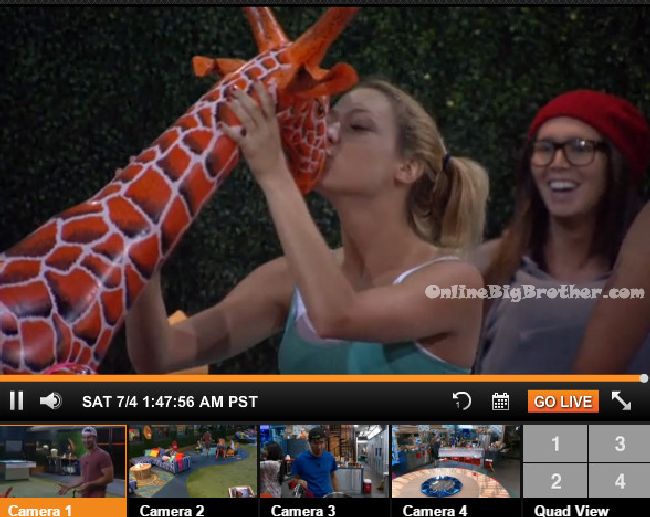 Late night feeds @bigbspoilers #BB17 pic.twitter.com/uSNbuIy9h4

— Dawg (@DawgsBigBrother) July 4, 2015
2:15am Johnny asks Liz how is it not being a havenot? Liz says it was they hardest thing she's ever done. I complain a lot but that sh*t was hard! Meanwhile in the backyard – Jason, Meg, Audrey and Jackie. Jason says if I'm going out I'm going to sh*t in everyone's sheets. Fine sleep in the hoe! Meg tells Jason he is foul!
In the bathroom – Steve asks am I the only one that wears a bathing suit to shower? Austin says yes. Steve says its an extra level of safety. Steve says other than when he was a baby and medical people no one has ever seen me naked. The conversation turns to Steve's pledge name "Pu$$y Thrasher" its the complete opposite of reality. They head to the kitchen.

Out in the backyard –
Becky talks with Jason, Day and Jackie. Becky says the anticipation is the hardest thing about being on the block. Day says I already know what's going to happen, lets just get to it. Becky says even if I'm on good behaviour she (Audrey) will find something wrong with my good behaviour. Jackie says I don't want her to use something against me. Becky says what worries me is why someone befriends her and then another person and all of a sudden she has 3 friends. Day says if she gets put up, then perfect. If not they we know what game we playing. Jason says if you're really the target then I don't know if it was preplanned. Jason tells Day to just relax and chill. Jason says she's (Audrey) confident ..she's talking about who's going to be havenots next week. Day says wow! Jason says she keeps trying to connect. Honey that roadblock is up! Day thinks Audrey wants to take out her and Meg to get closer to Jason. Becky says my idea of partying is Jasons idea of going to the grocery store. Jackie asks what do we do with him? Day says I look at him as a friend, if I go Thursday .. can ya'll look out for him for me. Jackie says I want him to stay.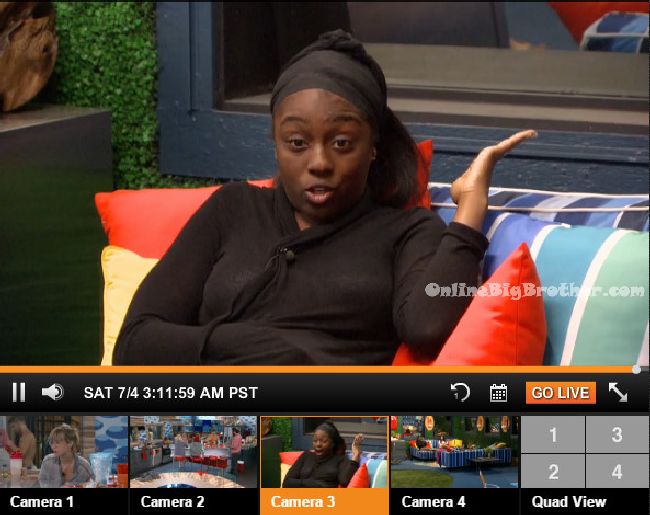 James claims he was giving CPR to Giselle the giraffe @bigbspoilers #BB17 pic.twitter.com/sItSpseDAC

— Dawg (@DawgsBigBrother) July 4, 2015
Test out the Big Brother 17 live feeds with the 7 DAY FREE Trial:
Click here
to ensure your live feed subscription supports OnlineBigBrother.com at no extra cost to you.
3:50am – 4:20am In the bedroom. Audrey asks for the dirt about Clay and Shelli making out. Clay says I'm not making a move in the big brother house. Audrey says if you don't tell me I won't tell you if she said you're a good kisser or not. Clay says We didn't and we're not. Clay tells Audrey you have every right to be here. We talked about that. Audrey says I think I'm the perfect meat shield. James is going to go for me. Jeff is going to go for me. Eventually you're going to need me as a number. The only people I think will target me are James, Jeff and Becky. I don't think I have bad blood with anyone else. Clay says just know you're still here because of Shelli and I. Because she was pressured. Audrey says I know, that's what I like about her. She has her own mind. Audrey asks who do you think I can trust. Clay says nobody. Nobody trusts you. Clay tells her Jeff showed me I can trust him with his actions. Clay says Shelli is risking her game by not putting you up. Audrey says good always prevails over evil. I know I will beat the people that did me wrong. And its happening this week. I think you guys can use me. Clay says you can't argue you brought some of this on yourself. I feel I have more actions that reflect my loyalty. Clay says all you've given is information. Clay tells her she needs to start talking to people. Clay says I told them you would not go after them if you stay. Audrey says basically you're telling me if I stay I have to do what you say. Clay says no.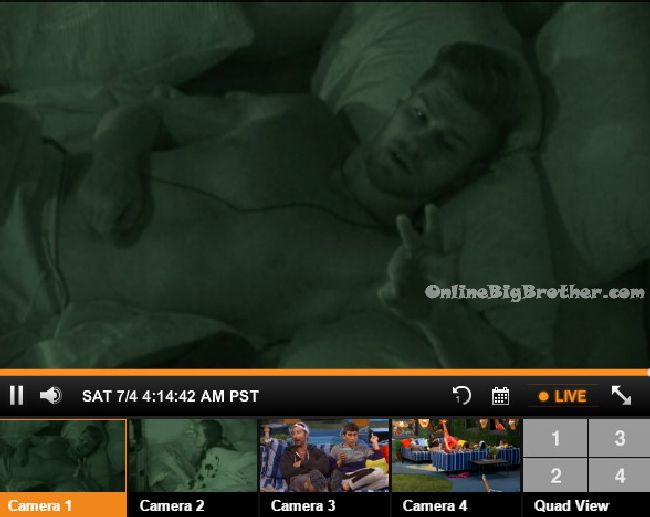 4:20am – 4:30am In the storage room – Audrey tells I feel like I need to reassure you. Jeff I really believe it was not you. I understand why you felt concerned. Jeff says thank you, I appreciate that. With us helping you, we expect loyalty in return. We're completely good. Me, Clay and Shelli are taking a huge risk in helping you. Audrey asks is James pissed. We're going to have to go to way. We're not necessarily taking out a strong target but a well liked person. We're not even necessarily expecting loyalty for the rest of the game .. as long as you cannot target us till after jury. Jeff says basically we're going to help you out and anyone else is open game. I don't care if your game is about manipulating just as long as its not with us. Jeff says I didn't want you to have to go through the house feeling alienated. They hug and leave the room.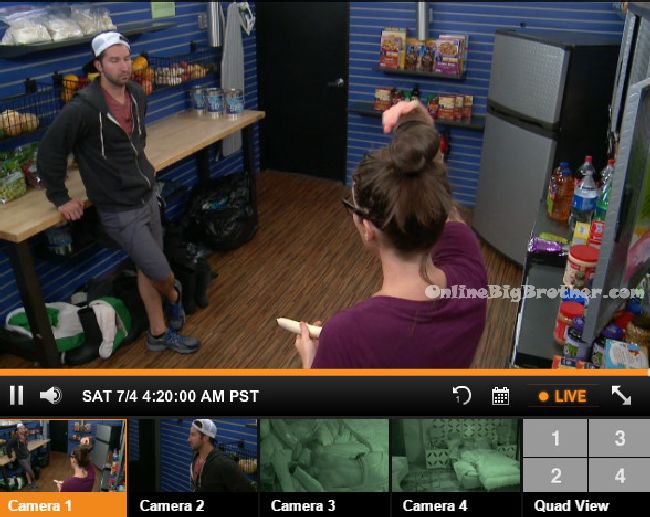 4:30am HOH room – Clay and Shelli are talking about Audrey. Clay says he doesn't trust her or anything she says. Shelli asks okay who would you rather she target next week James or you. That's why I tell you, you need to be careful when you talk to her. Clay continues to talk about his conversation with Audrey. Shelli warns Clay about the way he talks to Audrey and what information he gives her.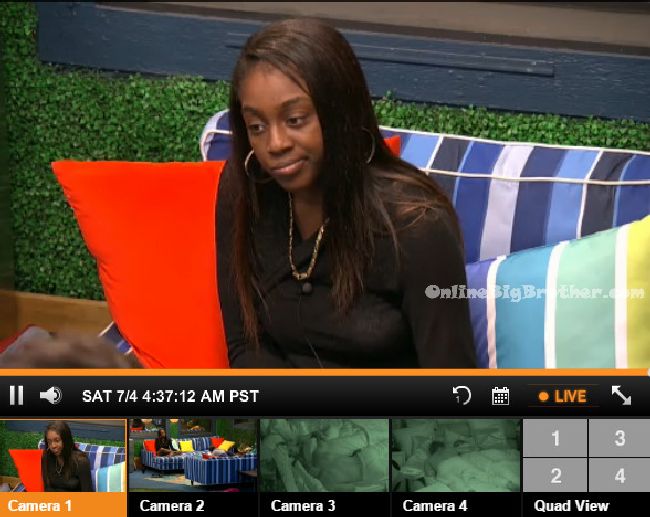 4:35am Backyard. Jason talks to Day about Johnny Mac having a twin in the house. Jason says that he and Meg were having a conversation last night about a twin named Mathew. Jason says the one person in here that could be doing that is Johnny Mac. MAC is a nickname for Mathew. He does sort of look different on certain days. The people that have done the twin twist before have always kept a subdued personality so that they're not seen as something .. everyone here has a very distinct personality. You could tell if we were different. The only person it could possibly be is Johnny Mac. Day says but he doesn't go to the DR often. Jason says but that could be part of the long scale of it, every time you go you're switching because they switch in 3 or 4 days. Because something about him in the middle of the night he looked way more handsome than he usually does. Just check his face some times. Meg and I were doing it and laughing. If there was a twin twist this season, he's the only one it could be. Day says I'll have to look at that.

4:45am
Day and Jason talk about Audrey. Day says every time I walk by Jeff shuts up or starts stuttering. Jason says f**king trash bags in here! F**King trash bags!! Good People like you are going to go home and these trash bags are going to hang out all summer. Nobody's built with nothing but marshmallow. Jason whatever she'll have her day. Days says she was done! Jason says she's good. Day says she hit a bump in the road and she turned it around.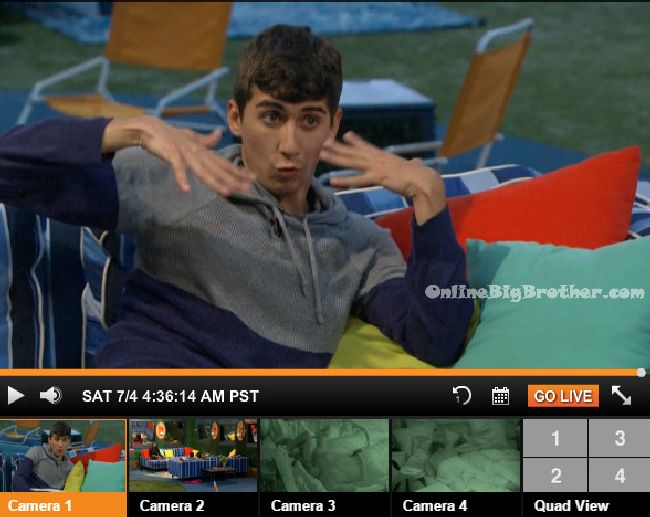 5:15am – 5:50am Bedroom –
James, Audrey, Jason, Meg, Jeff and Day are talking. Jeff explains what type of girl he likes. One with a bubble butt. James says he like a girl with green eyes and big ol'boobs! Audrey says I get the feeling James is a chivalrous guy. Open doors / pull out chairs. James says no I don't do the chair thing. Day asks why!? Jason says because a bit*h know how to sit! James says sorority girls are rachet. I know one that ran through a football club. Jason asks didn't they run through her. James asks Meg when the last time she had a one night stand? Meg says none. Jeff says he's had under 10. Meg says that's 10. Jeff says no probably 3 time. James says I'm aggressive .. I be trying to plow through the wall. I beat the brakes dust off of her. Beat them side walls up. James starts telling his graphic close call with a girl he was dating.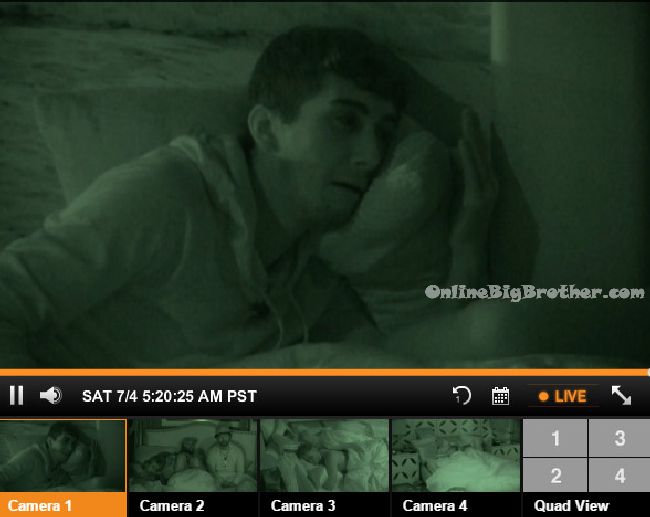 Live Feed subscription gives you CBS All Access thousands of archived shows. Live Shows like Big Brother, all the Big Brother Seasons, and 24/7 coverage of what is happening inside the Big Brother House. Plus there's flashback that lets you go back to any second of the feeds and rewatch what happened. Simon and Dawg will index the season just watch the parts worth watching. All this for $5.99 a month try it out 1 week free. Support our efforts and get your feeds via a link on this site. Live feed subscription Sign up
[polldaddy poll=8961340]
Share it YO!!
Tweet