POV Holder:
JohnnyMac
Next POV
July 11th
POV Used
?
POV Ceremony
July 13th
HOH Winner Team 1:
Vanessa
HOH Winner Team 2:
Austin
Nominations 1 :
James & Johnny Mac
Nominations 2:
Jason & Meg
Battle of the Block Winner
Jason and Meg
Next HOH/ Next BOB
July 16th / July17th
Original Nominations:
James & Johnny Mac
Current Nominations:
?
Have Nots
No HAve nots this week
TRY the Big Brother 17 Live Feeds FREE for 1 WEEK:
Click here to ensure your live feed subscription supports OnlineBigBrother.com at no extra cost to you.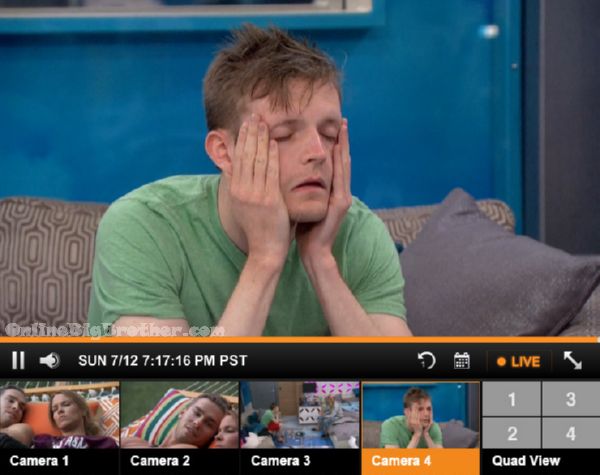 7:17pm VAnessa and JohnnyMAc
Vanessa continues to explain the drama that happened last night. He tried to tell everyone in the
house VAnessa started an alliance when it was him. He tried to get the house to come up to the HOH and threaten her if Audrey doesn't go up they are all targeting her. Jeff was telling people they cannot trust Austin he knew about the change of plans. Austin found out about this and confronted jeff. In the what of all that cames out that Jeff is lying to Austin. At this point Austin tells Clay and Shelli that Jeff is saying he's targeting Shelli.
Vanessa says Jeff threw everyone under the bus except for JohnnyMac.
Vanessa – Everything Audrey is being accused of He is a mastermind of
Vanessa says her target is Jeff, "It's going to be one of the weeks there shouldn't be much guilt"
JOHNNYMAC – that's what you gotta do.. my mind is blown right now.. "
Vanessa says all this Drama with JEff wasn't Audrey's fault it was Jeff. She knows Audrey can't be trusted but she has not reason to put her up.
JohnnyMac – she messes with my head
The Gronk party music starts.
VAnessa – what are we doing.. where are we going
JohnnyMAc – we're going to party
[envira-gallery id="120975″]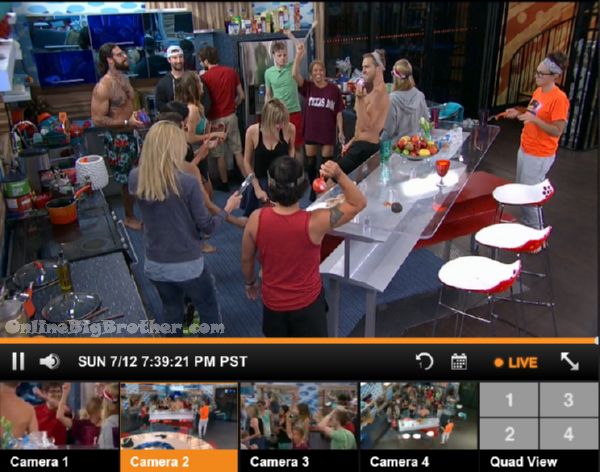 Gronk party Another flop
Audrey caught casting a spell #BB17 @DawgsBigBrother pic.twitter.com/VHbxMZr88e

— OnlineBigBrother.com (@bigbspoilers) July 13, 2015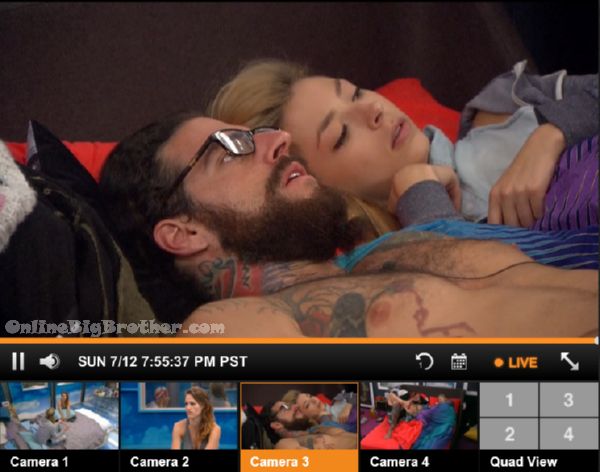 7:57pm Austin and Julia
Instructs her to tell Jeff they don't know where the vote it. Austin promised James last night during the argument he would vote for him.
Julia says Jeff talked to Vanessa today she wonder what happened. Austin reassures her Vanessa isn't buying Jeff's bullshit. Points out Jeff is a great salesman.
Austin says he cannot believe Jeff blew his game out like that.
Austin tells her Vanessa is really good at cornering people getting the truth
Austin- She's coming out pretty intense this week.. if you're that dominate people get nervous makes you the target.
Julia agrees.
Austin – Audrey is up there too much
Austin doesn;t know of Vanessa's strategy was the best her needing to have reason for every nomination in this game reason don't really matter.. nothing is real I don't think these people care about reason enough .. people play with their emotions
Austin says Vanessa was power tripping a little coming up with crazy reasons.
Austin says JohnnyMAc's plan is to fly under the radar, "He knows he's set up to go pretty far as the pawn.. her'll be around for awhile"
Julia brings up JohnnyMac saying he only went into dentistry for the money. She thinks he's only driven in the game but the money, 'He's playing it smart"
Austin says in the heat of the argument with Jeff I took the mouthwash and took a shot. They agree VAnessa is really good at remember all the conversations.
Julia – are you cool with James
Austin – on the surface.. he might be talking but he's gotta be careful what he' says he's on the block he could go
Austin – If Clay and Shelli can hang out all the time we can hang out all the time
They talk about recording a three way goodbye message for Jeff. Julia says that is what Jeff gets for being a a$$hole.
Austin explains that Vanessa didn't want to put up Jeff she was going to put up Jackie so James would go. Clay wanted Austin to do all this leg work to get Jeff up. Austin did it he's not sure if it's damaged his game. "How knows what all these people are thinking about it" (the Drama that happened last night)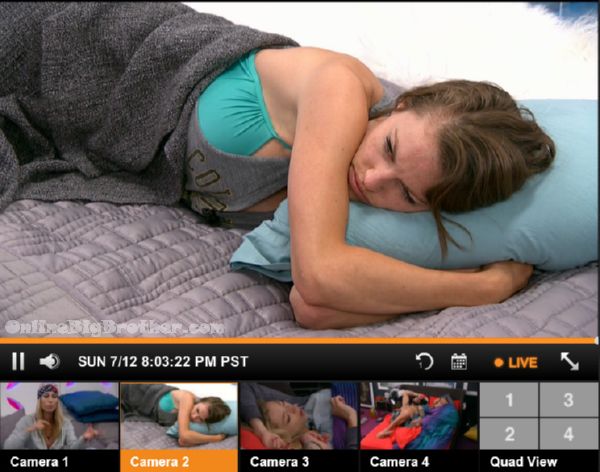 8:00pm HOH Vanessa and Becky
Vanessa filling Becky in with the same story as JohnnyMac.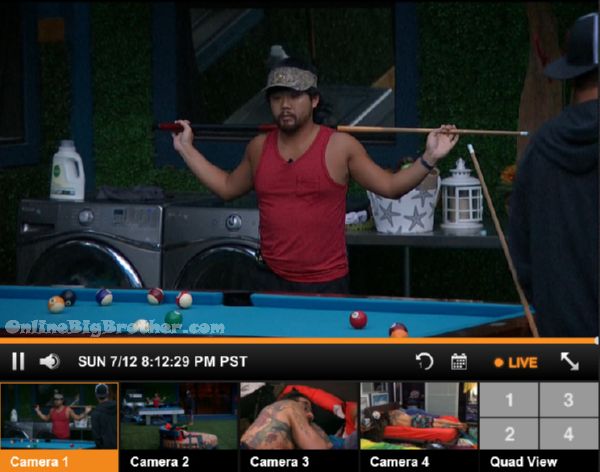 8:12pm Pool table Jeff and James
They agree they don't want to campaign against each other.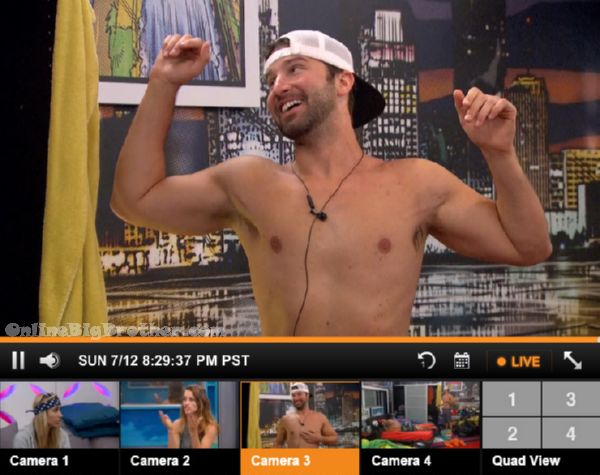 8:31pm Austin, Jeff and Julia
Jeff says he doesn't know what to think about last night. Adds that he didn't sleep last night he's getting a really weird vibe from everyone around the house.
Jeff leaves, Austin says Jeff is going to give him a lot of information.
Julia asks him if he can work with Jeff more than James. Austin can but Jeff really has f** himself more than ever "There's too many Lies"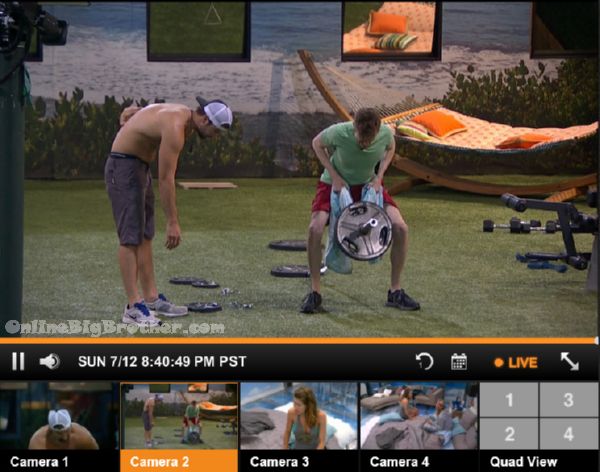 8:35pm Jeff and JohnnyMac
Johnnymac wants to work out Jeff wants to campaign for a vote.
Jeff says he might have to start campaigning against James
johnnyMac tells him the less he say the better.
Jeff – If I leave bro stick with the people you are aligned with bro.. Dude i'm like so pissed this is happening to me now.. the thing that pisses me off the most the way Vanessa is talking she tries to talk all logical there's nothing logical about what she is saying (bro dude bro)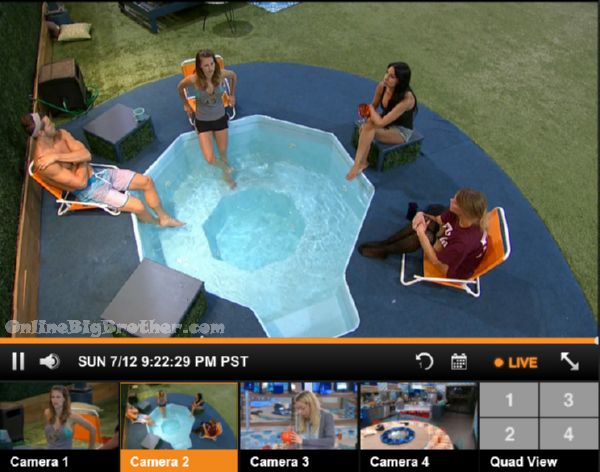 9:23pm Nothing much going on.. Everyone's a little wonked out from last night's 6am drama
Share it YO!!
Tweet