POV Holder:
Clay
Next POV
July 25th
POV Used
?
POV Ceremony
July 27th
HOH Winner Team 1:
Jackie
HOH Winner Team 2:
Vanessa
Nominations 1 :
James & LIz
Nominations 2:
Clay & Becky
Battle of the Block Winner
James and Liz
Next HOH/ Next BOB
July 30th / July 24th
Original Nominations:
Clay and Becky
Current Nominations:
?
Have Nots
Shelli, Clay and Steve
TRY the Big Brother 17 Live Feeds FREE for 1 WEEK:
Click here to ensure your live feed subscription supports OnlineBigBrother.com at no extra cost to you.
9:24pm – 10:12 Vanessa and JAckie
Vanessa playing up she's still putting Austin up.
Vanessa asks if people were upset when Clay won the pov.
Jackie doesn't think they were people weren't trying to be overly happy because they didn't want to upset Jackie.
Vanessa's – if you won HOH next week who ouel you put up
Jackie would put up a twin and a pawn, "Like one of us someone we can trust.. depends who's the next HOH.. like one of us, it's going to come down to that top make these plays work "
Vanessa- right
jackie says the worst case for them is if the twins win HOH. Jackie wants them to stick true to their 8 person alliance (Some fake alliance they made with Meg, James, jason etc.. basically everyone but Austin and the twins)
JAckie says as long as they all stick together they can have three easy weeks getting the twins and AUstin out.
Jackie says she doesn't feel safe. For the first time she doesn't
Vanessa says she's never feeling safe, "Why"
Jackie – No i'm good.. this is why he has to go home.. you know what I mean
Vanessa – you trust them all
Jackie – mhh hmm
Vanessa says Liz doesn't like Austin the same way Austin like her. He said he was falling in love with her.
Jackie doesn't understand why he thinks that. How do you fall in love with someone that doesn't like you
Vanessa says Liz is flirty and he thinks he does love her and she does like him.
Talking about the POV Competitions and how it was tailored for Clay. Becky was really hard on herself for not winning it. Jackie was trying to make her feel better about it telling her she can't compete against Clay a football player.
Jackie adds Becky feels like she was put on the block to win so she's taking it hard that she's not. Vanessa – Right
Jackie says Austin is already campaigning but that it expected, "We're going to have to go through this every week.. Just with a different person.. A different story you know.. Now we have to break up sisters it's like it's just going to get harder.. but it's OK they'll see each later you know what I mean"
Vanessa – Right (Ohh shit )
10:06pm Bathroom Liz and Austin
Austin going over why he talked to Jason. says he did it to help Liz she told him JAson was someone they could trust and how Liz was getting closer to him.
liz – I know, There such little liars.. Jason trying to sweet talk me he's coming after us.
Austin tells her to stick with Vanessa tonight. Tell her all night
Liz – we got all tomorrow
AUstin – tomorrow is going to be hell
Austin – I'm a good person VAnessa's got to know
Liz – I know
Austin – what is she thinking.. oh my god
Liz – Give me a second chance Vanessa.
Austin – I said that I really would do anything for you in here, what does that mean to her
Liz – people are jealous and they want to get rid of the couples
Austin says they(Jason, jackie, Meg) promised Vanessa safety for one week but next week Liz will go and after that Julia.
10:25pm Clay and Shelli HOH
Sheli says James flip flops on his word, "Ultimately he's someone to look out for"
Agreeing Austin is someone they can work with
Clay – Jason and Meg are not workable.. they are playing this game and are workable
Clay – JAmes is workable he's not playing the game mentally
Liz comes up
Liz says Jason and Meg are being fake to her.
Liz says jason came up to her and apologized for saying everything austin told him he said to her "I'm gay I always run my mouth"
Liz trust Austin more than anyone on the other side.
Liz says Julia doesn't like Austin and if he stays she'll be at odds with that. But Liz likes him and trusts him more than anyone else in the game.
Clay says Austin is too emotional he's not playing a good game, They do trust him though.
Austin comes up (They see him in the HOH camera Liz says he follows her around like a puppy)
Austin tells them about his conversation with JAckie
Says he made a mistake trying to protect Liz and not filling Vanessa in on his plans. He was just trying to help them all, "I messed up and I was scared"
Austin – I fu**ed up you guys were right.. I was thinking with my heart not my head.. I'm, sorry.. it was a small thing I didn't think it was going to impact us
Austin – I'm with you 100% if there's a backdoor target next week they'll jump on
Shelli "our group is morally solid that side of the house is not strong they are flighty"
Shelli wants this season to be considered the season of alliances because they always joke they have alliances come and go. She thinks it will be neat if their alliance is the one that makes it to the end. (Shelli is good)
10:39pm Jackie, Meg, Jason
Complaining about Vanessa. Meg is driven Nuts that Vanessa keeps saying she didn't want to be HOH. Jackie wanted to be HOH if she was HOH she would have gotten it done. "Bam bam bam.. stick to the plan"
Jackie is pissed Vanessa told Liz tonight when the plan was supposed to be late tomorrow night. Now Austin and Liz get an extra day to scheme. (She think they told Liz Austin was going up)
Jackie – now it's all awkward
Jason says it was Vanessa's plan to cause dissension in their group
Clay and Shelli join them.
10:44pm Meg, Shelli, Jason, Clay and Jackie
Jason scheming against getting the Twins out after Austin.
Jason jokes about the bet with JAckie if the twins come in he'll fart in her mouth
10:47pm HOH Austin and Liz
She can go put Jackie up flip this whole thing
She's scared she's got so much blood on her hands.
Austin – you gotta appeal to her somehow
Liz – I'm trying Austin
Austin – I know I know
Liz – Stupid Fu*k head Jason
Liz – this is the worst thing that could have happened
Austin I know our own person it putting us up
Liz – does she not get that when you go we're down to 5 we have no power
Austin – Clay and Shelli are down they want to keep me right
Liz – ya
Liz – should have f***g known that Jason can't keep his mouth shut
Austin – I'm ready to draw a line i'm going after them..
Austin says he should have told Vanessa about the vote
Liz – what the f**k does that vote matter it's so stupid.. I was HOH I would think it was funny.
AUstin and Liz agree it makes sense now Jason, Meg are spending so much time in the HOH because they think they're all buddy buddy with Vanessa.
Austin – I cannot go down there right now
10:52pm Jason and Meg
Jason says they need Austin out this week. Meg feels that Clay would protect the sh121t out of her.
Jason agrees says Clay and sHelli are good to take to final 4 or 5
Jason says they are shaping up to be in a really good spot. Jason calls them the Goblins.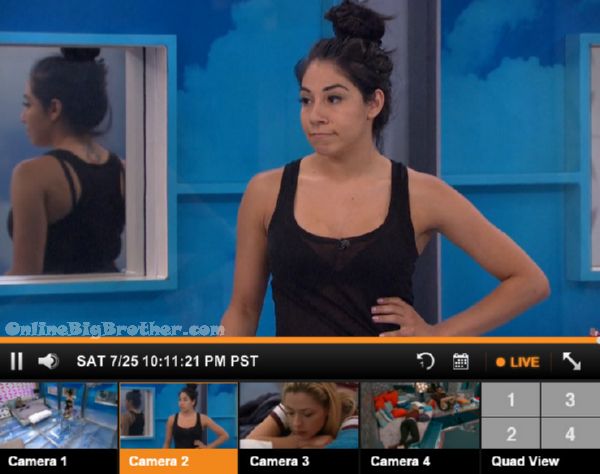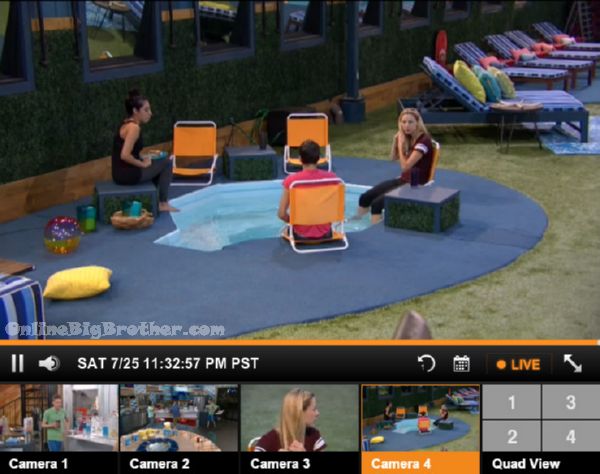 11:32pm Liz, Jason and JAckie Chatting about Season 15
They talk about Julia openly. (I guess it doesn't matter now)
11:43pm – 12:11am HOh Austin and Vanessa
Jason sold out an emotional moment with me that had nothing on game at all.
Vanessa thinks Jason was playing her and Shelli
I'm hoping you can pull something out of your' ass I don't know what to say.. I like you I think you're a cool guy I trust you more than most people in here
Vanessa – Unfortunately you lied to me and put me in a position
Vanessa – I'm going to make an enemy out of people unless you make it I don't make an enemy out of people
Austin brings up that Clay and Shelli want him to stay.
Vanessa asks if Clay is willing to stay on the block.
Austin – no he's not doing that.
Vanessa says she needs something a credible reason she can't trust someone to put them up. "Someone talking shit about Clay and Shelli
Austin – JASON.. if fu**ing gong after them I told you guys this.. he's doing it.
Liz comes in.
Vanessa – sucks Austin
Austin says he did not tell Jason he wanted to go to Jury with liz and get Julia out before swears Jason is making things up.
Liz chimes in says Jason took it and ran with it
Vanessa – your intentions were pure but you lied and that's a problem.
Vanessa says he needs to figure out a way to stay in the house.
Vanessa – you gave Jason a loaded gun and I don't know why.
Austin – I see what you say now.. the only thing I can think about is the lie about clay and Shelli right now.
Vanessa tells him he needs to go downstairs and come up with a solution she really thinks he can do it.
Liz – just between me and you if you put him u I'm OK about it.
Vanessa – I trust you more than anyone.. you and me we're straight shooters.
Vanessa warns that Austin can blow up their game he's got to think there's a chance.
(She doesn't want her to tell Austin she doesn't have feeling beyond friendship)
Liz says if they get rid of Austin who do they select to replace him.
12:15am Jackie comes in
12:27am Jackie claiming she would have put up Liz and James if she wasn't HOH with Vanessa. Jason comes up.
[polldaddy poll=8994045]
Share it YO!!
Tweet