8:30pm The feeds are back again – Nominations still haven't happened yet. HOH room – Joel, Nikki, Tim, Phil and Ramsey are chatting about how nominations haven't happened and how its been a long day.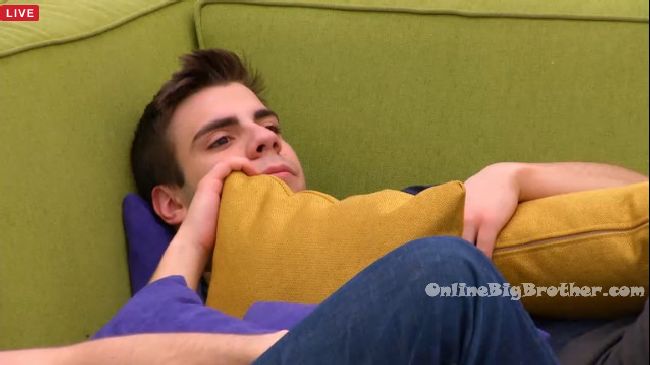 PHIL FREAKS out on Nick for continuing to cuddle with Maddy
By the high roller room –
On the couches outside the HOH room – Phil tells Nick that he wouldn't even talk to Maddy at the bar if he was drunk. I've worked so hard to get here and you're going to f**k it up. You're literally a f**king idiot! …sometimes! It would literally be hard for me to be friends with you outside of here if we went out because of it. I've told you 26 million times. I'm tired of being mister nice guy. She hasn't even done nominations. F**K off that girl .. f**K off every girl .. all you you need to do is coast till the end. Why are Jared and Kelsey a target because they're together. People are going to think we're a 3. I'm wasting my breath because as soon as I'm done you'll go lay down with her again. I wish I could go and tell big brother to split us up so I could get power and evict you. They head to the bathroom – Phil says she seems cool though. Why are you all quite now? Nick says because I'm in my head. Phil tells Nick he can't tell her my brother said we can't hang out either… because then we would be out.
8:50pm – 9:15pm Living room –
Loveita says I really have no idea what I'm going to do. I've had two sets of two going through my head. Phil says go with who is going to keep you safe long term. Nick, Phil and Loveita head to the HOH room. Loveita says I need long term security. Next week I'm not safe. Phil says that Cassandra and I were your strongest campaign last week. Jared and Kelsey wanted you out. You nominated them and they nominated you so they felt threatened by that. Loveita says I don't see it as a smart move to put those two up again. Phil says so put up two randoms. Put up Nikki and Christine. Loveita says this game isn't meant to be played emotionally and if you do you're going to lose. Loveita asks do you have my back. Phil says you've asked me that 12 million times. I've got your back. If I get HOH I won't put you up. Loveita says everyone's attitude in this house needs an adjustment. She says she doesn't like how some people acted last week. Phil says then make an example of it and say it in your speech. Nick tells Loveita that all he knows is that Raul has bigger targets. A blonde lady .. Maddy. Phil says that Loveita is going to look back and see how it was Phil and Nick that made it so she stayed in the house. Loveita asks am I really going to say that guys? Nick says swear on my grandmother. They shake her hand. Big Brother blocks the feeds again.
9:25pm Big Brother tells the house guests to go to the living room. Then blocks the feeds AGAIN!
Use the Hide My Ass VPN and watch the live feeds on your mobile phones and tablets. One subscription pays for all. It works on any device. Including internet enabled TVs and games consoles. You can even use it on two devices at the same time. HideMyAss VPN
If you're using an Adblocker, you're making a kitten cry! PLEASE consider disabling it for www.onlinebigbrother.com by adding us to your whitelist.
This is very easy to do: simply load www.onlinebigbrother.com in your browser, left click the adblocker and click "disable for this site"
If don't want to but want to stop the kittens from crying, please consider making a donation.
[polldaddy poll=9341582]
Share it YO!!
Tweet