POV Holder:
?
Next POV
March 19th
POV Used
?
POV Ceremony
March 21th
HOH Winner:
JOEL
Next HOH:
March 24th
Original Nominations:
?
Current Nominations:
?
Last Evicted Houseguest
Paige, Sharry, Christine
Have Nots
?
Want to watch the Big Brother Canada 4 live feeds but live outside of Canada?
Bypass the geoblocking with HideMyAss VPN and be Canadian Anywhere: VPN Help Guide
ALLIANCES IN THE HOUSE
There will likely be a lot of alliances during the season – keep track with our alliance help guide.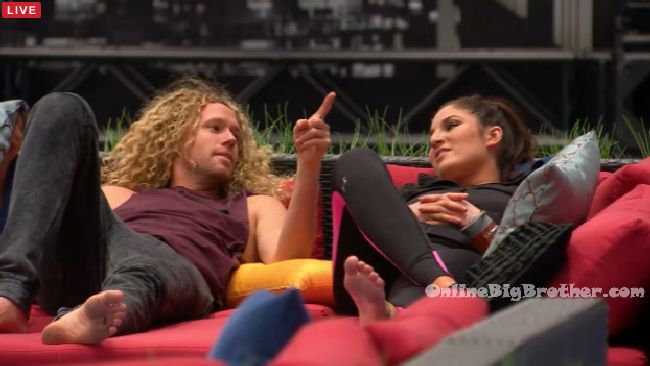 9:05pm The live feeds return after the episode aired. Hot Tub room – Raul Dallas, Kelsey and Jared are chatting. Dallas says that he's really surprised there's no booze. Tim says I can't believe Maddy and I were the only ones that kissed tonight. Cassandra says yeah you kissed a lot.
In the backyard – Tim and Cassandra are laying on the couches. Cassandra says she wants to celebrate. Jared says I thought we had that. We had it from the get go. Mitch told me they had us by 5. We were doing so well.
In the bedroom – Loveita tells Maddy she just needs to talk to him. Maddy says yeah we're f**Ked. Loveita says we were havenots for 7 days. Then we were friends all through my HOH. Maddy says you know your relationship with Joel. It doesn't matter what everyone else thinks. All I know is that Me, Dallas and Ramsey are shaking in our boots. Loveita says you just need to get together and talk to him tonight because nominations are tomorrow. Maddy says I just don't know what to say to him. Joel I'll have your back for a week, two weeks, whatever. Look Joel I'm here to make a big move so if you keep me here long enough I can make the big moves.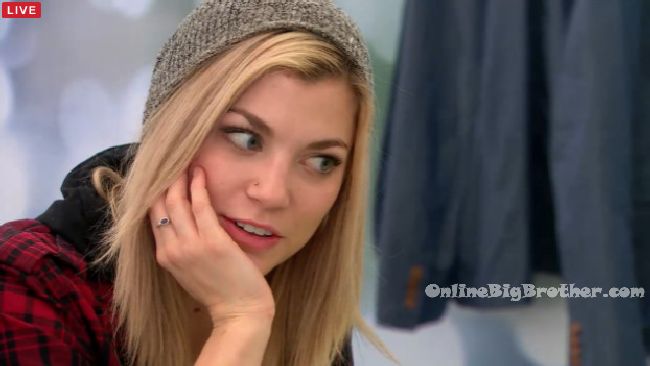 9:25pm In the bedroom – Jared says if they're willing to do that in front of me, what are they doing behind my back? Kelsey says I've been single for a long time. I'm just flirty. Jared says so have I. Kelsey says You're the person I care about and I don't want to do anything to make you look foolish at all. Jared says you didn't do anything wrong. It's not you. Kelsey says I don't want to do anything to f**k up your game. Jared says you're not. Kelsey says it wouldn't affect me if Phil and Nick left but it would if you did. Kelsey says as much as you don't want to look like a fool I don't want to be the person to be treating Canada's sweetheart like sh*t. Jared says you're not. Kelsey says I'm sorry. Jared says you didn't do anything wrong. Kelsey says If it comes down to it I would do what's best for our game. If it came down to it I would even give up my game… Jared says no I don't want to f**K up your game.
9:35pm Hot Tub Room – Joel is alone he says to himself "I'm safe for the week but I have to be smart with this." He heads inside to the backyard.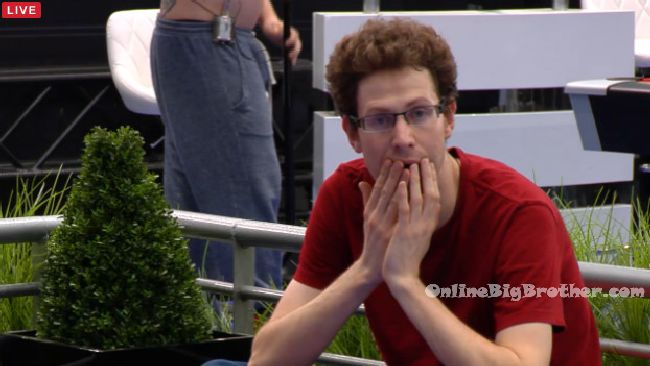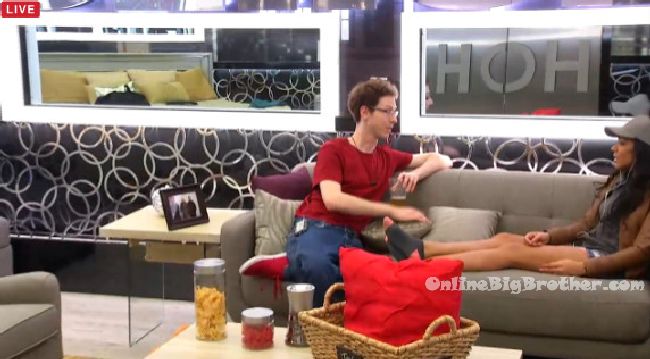 9:40pm – 10:05pm HOH room – Loveita tells Joel she is happy for him and says that she wants him to do what is smart for his game. Loveita says sorry for her freak out. She says she was just worried if Cassandra stayed and won she would be on the block. Joel says just know that you are safe this week. We just need to be smart with who to put up because we need to make a dent. We need to make a dent somewhere. We need to ensure that whoever goes home that we're safe next week. Do you think its a good idea to make a move through a backdoor this week? Loveita says she thinks it pisses off 2 people that stay in the house. Instead of just 1 person. Joel says he is going to play hard in the POV. Loveita says I'm pretty sure Tim voted for Christine to stay. Joel says he did. Loveita says I'm petrified of Cassandra now. What are you thinking? Joel says potentially put up Tim as a pawn. Maddy interrupts to talk to Loveita. Loveita talks to Maddy, Ramsey and Dallas. Maddy says that someone told Joel that I was after him. Maddy wants to go talk to him. Loveita says not yet. Loveita goes back to talk to Joel. Loveita tells Joel that someone maybe made you feel that Maddy was gunning for you and she's not. Would you ever want to work with them? Joel says yeah. Loveita asks if it's okay to go get them? Joel says yeah. Loveita clears it up that it was just Joels feeling (she was after him) and not what someone said it. Joel leaves. Loveita tells Maddy that this is Joel's HOH and I'm not going to tell him what to do. He's going to do what he wants to do.
10:15pm Jared, Raul, Mitch, and Kelsey are in the bedroom talking. Raul says he's pissed. Kelsey says she (Loveita) always put him (Joel) in a horrible position. Telling him that he was put in this game for her. That she loves nerds. nerds, nerds, nerds.
10:15pm In the kitchen – Nikki is finishing up Phil's birthday cake. Raul comes down and is mad because they were supposed to do it together.
10:30pm In the kitchen – Ramsey asks Jared where Joels head is at? Jared says I don't know. I talked to him the other day and asked him where he stood with all the guys. He said that he reached out to you in a time of need and you were there for him. So you're good this week.
10:40pm – 11pm All the house guests were waiting for Mitch to get out of the diary room to celebrate Phil's birthday but decided to go ahead with it anyway because Mitch said not to wait for him. Nick does a speech for Phil. Tim says two weeks ago I didn't know you Phil but now you're my brother. They cheers to Christine.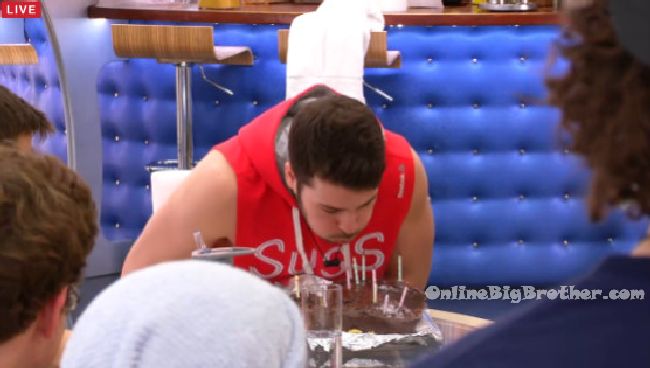 11:13pm Loveita and Cassandra Cam 10-2
Cassandra calls Loveita cuckoo
11:18pm HOH Joel and Ramsey
Followed by Maddy and Joel.
12:31am JAred, Kelsey and Raul

Joel holds court in the HOH the following conversations happen in part 1.
1:03am Dallas, Loveita and Joel HOH
1:21am Joel and Loveita
1:26am Joel and JAred
1:39am Cassandra and JOel
1:43am Brother and JOel (mitch is they're as well)
1:48am Joel, Raul and Kelsey

1:50am Ramsey and Maddy

1:58am Dallas and Maddy

2:15am Joel and Loveita HOH
Loveita and Ramsey talk / Joel, Tim and Cassandra talk / Tim and Cassandra talk / Joel alone talks out his nomination options
Help Support Online Big Brother
Show your support and appreciation: Support OnlineBigBrother.com
HELP keep the spoilers coming. Show your support by making a donation.
[polldaddy poll=9352143]