POV Holder:
DAN
Next POV:
Sept 1 (Saturday)
POV Used
Yes
POV Ceremony
Sept 3 (Monday)
HOH Winner:
Ian
Next HOH:
Sept 6 (Thursday)
Original Nominations:
Jenn and Frank
Current Nominations:
Frank And Joe
Last Evicted Houseguest
Britney
9:09pm Cam 1-2 Joe and Ian
Joe: "Any word from Dan"
Ian: "Tight lipped.. "
Joe: "No Game talk"
Ian: "nope.. I think it's going to be a tie.. But thats alright.. "
Joe: "YUP thats alright.. it's kinda what we expected"
Ian:" at this point that's all you can ask for.. a tie"
Joe: "Yeah.. the numbers keep going down"
Ian: "Yup"
9:38pm Cam 1-4 Cards Feeds are on fire yo (Bring back Willie)
9:53pm pm Cam 1-2 Dan has a bag of things he's trying to hide from Big Brother. Everyone under the covers to see what it is.. (Candy)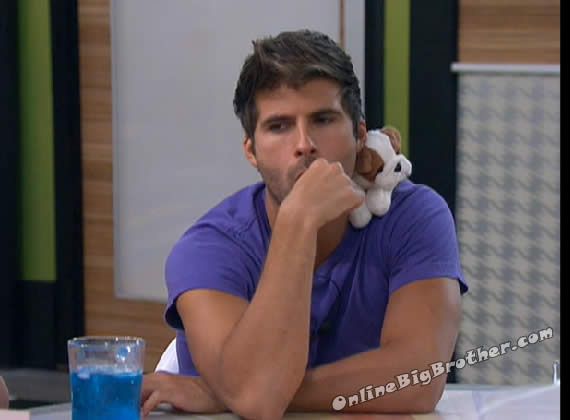 10:00pm Cam 1-2 Jenn outside by herself with her feet in the hottub
cam 3-4 CARDS BLASTED CARDS
10:03 Cam 1-2 Backyard Jenn and Joe
Jenn asks him how dinner went. Joe says it was good.. Jenn says it smelled very good.
Joe: "Sh!t on a stick probably sounds good to you at this points"
Joe doesn't understand what they are doing in the kitchen. Danielle and Dan are playing rummy and Shane/Frank are just watching. Joe doesn't want to sit around for 2 hours watching people play cards. Joe adds that Ian is up in the HOH room. (Ian's crunching some mad scenarios up there)
Jenna and Joe decide to play "Bags" .
10:37pm Off Camera Dan and Ian The cameras are on Joe and Jenn playing bags.
Dan and Ian are talking off camera whil playign pool.
Dan: "2012 staying in a hotel for 2 weeks and not paying"
Ian: "2012 nit buy chalk"
(I believe Ian and Dan are misting each other right now)
10:53pm Jenn and Joe played a hour of Bags.. They both comment how how they "Got a sweat going"
10:57pm Cam 1-2 This seasons last showmance
11:12pm Cam 1-2
Danielle complaining about Frank. saying he deserves to be in the house, he's fought hard to get on the show, He's going to carve a W in his water bottle. Danielle doesn't understand why Frank would say those things to her.. he's trying to get votes.
Dan: "His game inside the house now is horrible"
Danielle: "I've had it I can't even pretend who says those things.. I can't do it Dan I can't be nice to him anymore"
Dan: "People who go out 7 say that"
Dan: "Just make sure Bieber (Shane) vote him out.. "
Danielle: "I don't think he will"
Dan: "I don't want to take that chance"
Danielle: "I'm so mad.. at him"
Dan tells her to just tell Frank he's got her vote just to get her out of his hair. Danielle: "He's constantly flirting with me.. he tells me he wants to get Shane out so it's just the 2 of them..No thanks shave your head.. shave your chest"
Danielle goes on about all the BS frank has been saying to her.
Dan: "You are getting me angry listening to the crap he's saying"
Dan: "What Ian said in the hot tub is right … If Frank doesn't win POV every week he goes home.. how does that make a great game player. he's great at comps but horrible inside the house"
Danielle says she never met someone as delusional as Frank. Dan see's people like that all the time. They think they are great at something but they really are not. Dan doesn't think Frank is aware that his actions piss people off. Dan thinks Frank is starting to see the writing on the wall and is resorting to trying to strong-arm Danielle for her vote. Danielle: 'Hell no he's not going to intimidate me"
Shane joins them helps them make the bed.
Dan tells them that the quack pack is there best chance to get to final 4. Shane says that Ian has Joe under control. Shane mentions that Ian has a fake final 2 with joe.
11:33pm Cam 3-4 Dan and Joe Bedroom (Image Link) Joe says he not going to get Jenn's vote but he's feeling good about Shane and Danielle. Joe is feeling very confident however there is a bit of him that is still worried, "As confident as I am shit still can go wrong" . Ian isn't worried there is no way the players are going to keep Frank in the game. Ian cannot imagine Frank getting more than 2 votes.
Ian knows that Dan and Jenn are in cahoots. Ian thinks there could be a decent chance that Dan votes out Frank.
11:46pm Cam 1-2 Frank, Joe and Shane
Having a good laugh at Frank carving all his wins into his water bottle. Danielle adds that Frank told her that he's going to get rid of "Captain America" next week. They all start laughing at this. They have trouble believing that Frank would say that to Danielle.
Joe brings up one thing Ian was saying. The trick for Big Brother is to be a powerful player but don't look like you are a powerful player. Joe points out that Frank walks around the house bragging about hi achievements make sure everyone knows how good he is at Competitions.
12:23AM Cam 1-2 Ian is rocking the hammock Cam 3-4 Jenn and Dan are talking about musical equipment. Mixers, drum machines and software.
12:46Am Cam 1-2 Dan and Jenn
Jenn saying that Danielle is really sensitive. Jenn is worried that Danielle is getting too wrapped up with Shane. Jenn is sure she's just playing him but still Jenn is s abit worried about Danielle's level of play right now.
Jenn: "I'm that type of chick.. I'm with this mofo.. I'm with this mofo… I'm with this mofo.. I'm with this mofo" Jenn thinks Frank needs to stay for at least one more week. Dan says that eventually everyone has to go.
I'm not going to lie i'm worried for Frank. Jenn thinks that Jenn is feeling like he might go. She was playing bags with him this afternoon and he seemed down.
Dan points out that Frank doesn't trust Dan and that is one thing that Dan is worried about. Dan is also worried that Danielle really doesn't like Frank and will probably vote him out. Dan doesn't want to go against Danielle because she has a great chance to win the HOH. Jenn likes Frank. Dan asks her if Ian has backtracked a bit from nominating her earlier in the week. Jenn doesn't' talk to Ian she doesn't feel like she has anything to talk to him about. Dan: "He can play in the next HOH" Jenn knows says that Ian should have listened to Frank when he offered Ian a deal to roll with them .
Jenn goes on and on about how mature she is compared to Ian. She claims Ian has o social game because no body is hanging out in the HOH room with him. Jenn hopes she wins HOH so she can put him up.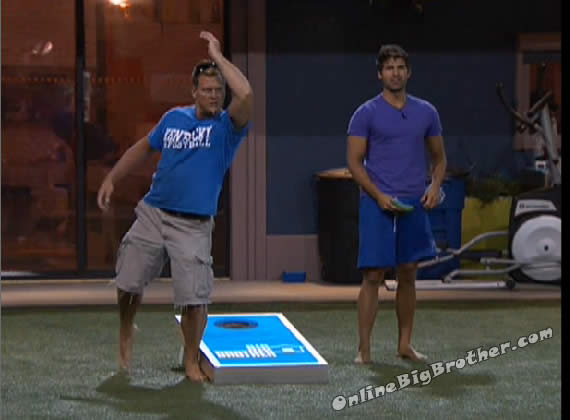 1:01Am Cam 1-2 Joe and Shane playing bags
1:22AM Dan and Ian Cam 1-2 Talking about fights of the season. Dan thinks that Big Brother 14 had more fights than Big Brother 10.
Share it YO!!
Tweet