POV Holder:
DAN
Next POV:
Sept 1 (Saturday)
POV Used
Yes
POV Ceremony
Sept 3 (Monday)
HOH Winner:
Ian
Next HOH:
Sept 6 (Thursday)
Original Nominations:
Jenn and Frank
Current Nominations:
Frank And Joe
Last Evicted Houseguest
Britney
Superpass Big Brother 14 Live Feeds: 3 Day FREE Trial!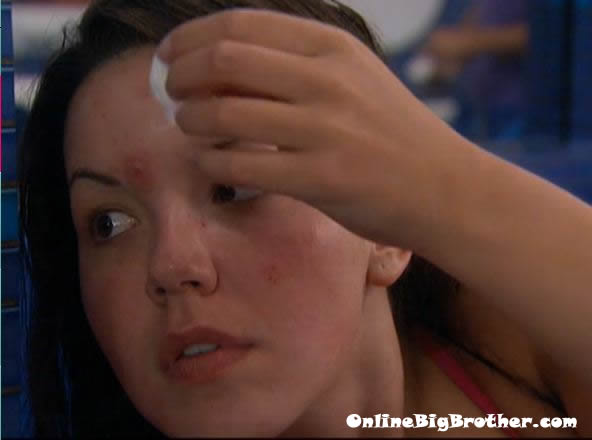 1:30am In the backyard Joe and Frank are shooting hoops across the backyard. Meanwhile, Jenn, Shane and Danielle are in the bathroom talking. Danielle just took off her face mask and is now picking at her zits until they started to bleed. Jenn tells her to stop it. Shane tells her she is digging hard, you're just going to irritate it more. Dan comes into the bathroom from being in the backyard and brings in a grasshopper. Danielle screams when he holds it up to her. Jenn wanted to see it before Dan took it back outside. Ian then comes into the bathroom with the creepy monkey behind his back. He then reveals it and holds it up at Danielle. Danielle screams. She grabs the monkey from Ian and goes out into the backyard. She heads over to the gas grill and tells Ian that she is going to burn the monkey. Danielle then runs through the house with the monkey as Ian chases her. She runs up to the HOH balcony and throws the monkey off the side. Ian goes back down stairs to get it and apologizes to the monkey. Danielle then goes back into the bathroom and tells Jenn how much she hates that monkey. She says that it's the creepiest thing I have ever seen in my life! Jenn and Danielle head to bed. They tell the guys that they are going to bed and Shane tells Danielle that he will be going to bed soon too.
Big Brother Live Feeds FREE 3 Day TRIAL: Try them and see what's happening right now!
1:50am Shane, Joe, Frank and Ian are in the backyard. Shane tells then that he is heading to bed. Joe tells him don't forget to vote Joe! Shane heads inside. Ian finishes blowing up a plastic blow up ball and tells them he is going to bed too. Meanwhile in the kicks bedroom Danielle and Shane are talking to Dan about his wife. Danielle asks Dan how long after he met his wife did he know he wanted to marry her. Dan says that he knew right away. Dan tells them that his wife was a virgin when they got married and he wishes he could have told her the same thing. Dan says that he feels bad that she was able to wait for marriage and he wasn't. Shane says that he waited until he was 21 to lose his virginity. Danielle asks Dan if his wife was Catholic before they got married? Dan says yes. Dan says that his wife is hot, she's very strong in her faith but not preachy and says that she is a great dancer. Shane says that he would be psyched if he could get that lucky. Dan tells him you will. Joe joins them. Dan looks through the bible and starts reading them verses from it.
2:10am Frank and Jenn are in the stereo room getting into bed and whispering. Jenn tells Frank that she hasn't gotten a chance to talk to Danielle or Shane about their vote, yet. Jenn says that Joe is such a bad liar. Frank tells Jenn that this morning with he talked to Danielle and she asked him if Dan offered him a final two deal. Frank says that he told her that Dan brought it up. He says that pissed Danielle off. Frank says that at this point I'm not worried about Dan's vote. He says that he is more worried about Danielle's vote. Jenn says that she doesn't think Shane wants Frank in the house. Frank says that he honestly thinks the votes are going to go in our favor this week. He says that they just need to deal with the Danielle situation. They talk about how they think Ian has been like a lost puppy since Britney left. Frank says that he thinks he should try and work on Ian a bit tomorrow. Frank and Jenn go to sleep.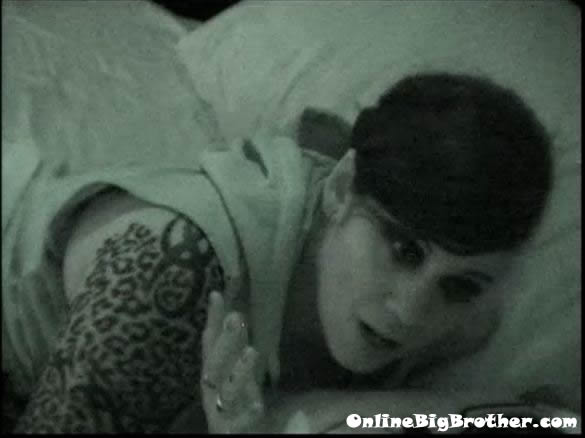 2:50am
Shane and Joe couldn't sleep so they got up and headed out into the backyard. They talk about how the fast forward works. Joe says that Frank has such a big ego. He says that Frank thinks he only needs Jenn to win this game. Shane talks about how Frank has gotten a lot of camera time. He says that he thinks Frank might come back for an All-Stars season. Joe says that they don't know how he is being portrayed. Shane says that it might be a double eviction tomorrow or two fast forwards. Shane says that he thinks it's crazy that they are sharing the same hot tub as Brendon & Rachel and Jeff & Jordan. They talk about how grateful they are to have this opportunity. They talk about how Frank seems really confident about staying. Shane tells Joe to talk to Dan about the vote tomorrow. Joe says that he tried a few times today but that Dan was playing rummy and talking with Jenn. Joe says that he will make it clear to Dan that he thinks of Shane as his Memphis. Joe tells Shane about how you have to have blind faith in this house. He says that he has it with Shane and that he appreciates that. Joe says that Ian is the biggest surprise in the house because he really likes him. Shane says that Ian has never been nominated. Joe says that he thinks it will be a lot easier for him to win competitions with Frank gone. Shane agrees.
3:20am – 3:50am Shane says that he doesn't want to be the next one to jury because he will have to deal with Frank. Joe tells Shane that if that were to happen, just tell Frank that he didn't have the votes. Shane that he hopes Julie says by a 3-1 vote or 2-2 vote, Joe…. You are safe! Frank you have been evicted. Shane says that Frank came so close to winning that veto. They talk about how cocky Frank is and how he probably won't even pack his bags Shane says that if there's a Pandora's Box, it would probably be bad for the head of household. Joe says that he wouldn't open it if he were to win. Shane says that he would have to because it's always been opened. Joe says that he wouldn't risk the game at this point because what if Frank could come back. Joe tells Shane how the finale works because Shane has never seen the finale before. Joe says that Britney is going to be so happy when she sees Frank. He says that it will make her season. Shane agrees and says that Frank is going to be miserable. Shane and Joe head back to bed.
5:15am All the house guests are still sleeping..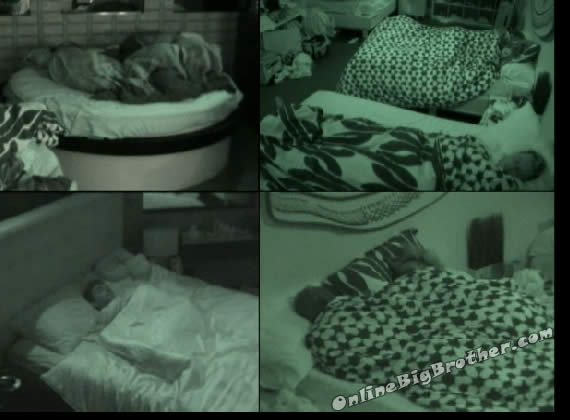 9:21AM All 4 Cams show houseguests sleeping
Simon and I work 24/7 all season long to bring you all the live feed updates and spoilers, please consider donating. Any amount is greatly appreciated, your donations go directly to paying the server and bandwidth fees needed to run this site. Donation Link
Share it YO!!
Tweet