Quick Big Brother Spoilers
Head of Household:  Taylor
Nominees: Indy and Terrance
POV Players:
POV Winner:
Veto Ceremony:
Havenots: 
Lock your ranks in before midnight
The Situation
Taylor is telling the girls Monte is her target and she's looking at a backdoor. The real plan is for her to nominate Indy and Terrance. Terrance is the target but the door is open for Indy to be evicted if she "POOCHES" herself. Alyssa could also be in danger but it's more remote than Indy / Terrance at this point. Jasmine is safe. (only a savage would nominate her on the week her birthday is on)
The twist
Wording from the Thursday night show
For the first time ever the game will completely change as the house splits into two groups. These two groups will have no interaction and in a Big Brother first, two completely separate games of Big Brother will play out simultaneously all week long all of it culminating with a double eviction like no other"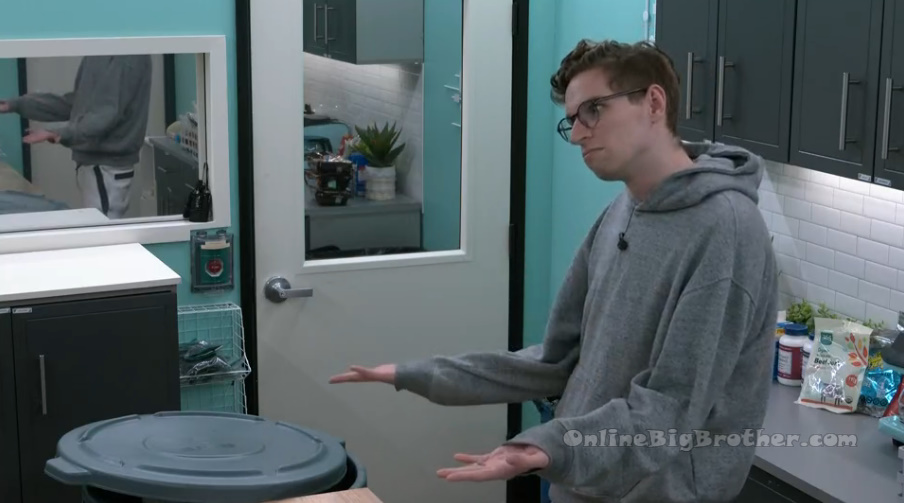 9:40pm Storage room – Brittany and Michael.
Brittany – what conversations have you been in today? Michael – I'll fill you in on if the veto is used. Taylor might put Joseph up as a pawn.. and he is on board. He volunteered. Which I am like, on one hand joseph is being a team player and willing to stick his neck out which we've been concerned about … Brittany – I wonder what Turner and Monte would think? Michael – and what Kyle would do… because I get the feeling that Kyle might be on board. Brittany – yeah. Michael – and obviously I am not saying we should definitely do this .. Brittany – yeah, this plan just changes by the minute. I was just going to fill you in because he was just pitching why he should be doing this covert thing .. and I am like there is Taylor and Joseph doing this covert thing and then there is Monte and Turner taking all the heat for it and we're right here in the center.. and then Kyle some half way in there. Michael – if Indy, Alyssa and Jasmine want to keep Terrance and Indy comes down, Joseph goes up… they would be very happy with us. Brittany – they would. Taylor would be very mad. Michael – that's the thing I don't want to f**k Taylor over on her HOH.
Brittany – I don't know Joseph has been causing a lot more headaches than not. Its too like overplayed. Like just stick with the plan. Michael – I am not going to say sh*t until the meeting is done because if she (Taylor) gets any sense that he could go home she won't put him (Joe) up. Brittany – why do they even think that's.. Michael – because she made promises to Alyssa and Jasmine ..so that keeps her on their good side. And then within the alliance Monte, Turner, you and I have all taken heat and Joseph said that the girls would all probably push for you to be evicted. Not that, that would happen but that would cause a split. Brittany – Joseph could be a big target to get out. And Joseph is so close with Taylor it would cut that off. Michael – and you and I would be with them. Why not lose one number to gain two. Brittany – yeah I would definitely be up for it. I just won't want the retaliation of Monte, Turner and Kyle on us. Michael – yeah if Kyle and Turner are on board. I don't think Monte would want to but he has to see what's going on. But if there is a world where we can get Joseph out this week and be good with The Left Overs and be good with the other side of the house… Brittany – yeah we will see how it plays out. Michael – I really don't want to jeopardize what we have going on with Taylor. Its also like are you going to risk Joseph over Jasmine!? Brittany – I know. I know!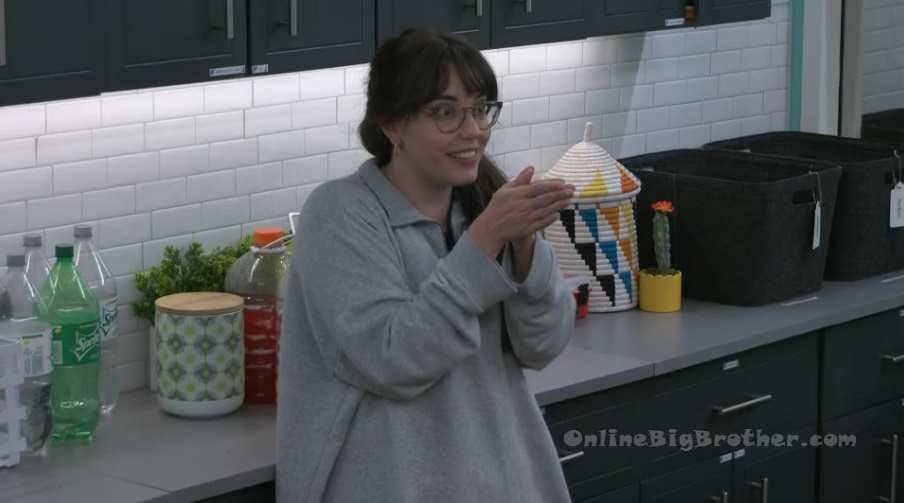 10:05pm Bedroom – Taylor and Terrance.
Terrance – me and Jasmine cleaned out the bathroom. While you were watching that (chinese checkers)… before the checkers before everything they knew what we were back there doing. And not one person offered to help. Taylor – let me step up and offer to help. Terrance – I just happened to pop back there and was like na let me help you. I was like f**k that, I'll help you. And we knocked it the f**k out. It was just the simple fact of they knew what we was doing .. and it was just a half hearted thank you. And that is some petty f**King sh*t to me! And it was just like you've got her doing it and moving around in that stupid boot and you know how slippery that is in there. That just lit even more of a fire up under me to win. So I am pushing. Taylor – I need you to come down. Terrance – what are you going to do as HOH if the HOH wins? Taylor – Indy asked me to take her down and I said yes. Terrance – okay. Taylor – it might be a lie. Terrance – you gonna make me spit.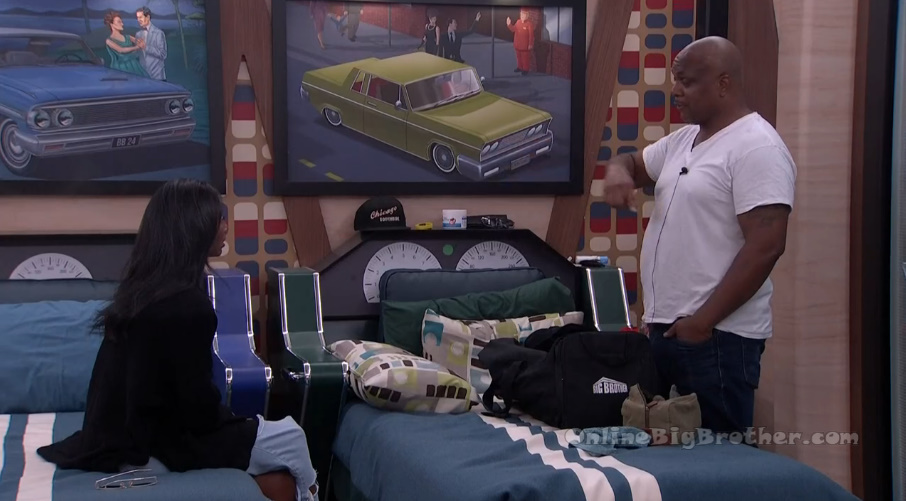 10:15pm HOH room – Taylor and Brittany.
Taylor – I just talked to Terrance. Brittany – how did that go? Taylor – I am in a position where I am fine with either Indy or Terrance going home. Terrance asked me if I win, what am I going to do.. and I told him Indy asked me first and I told him I would take her down and then I said that might have been a lie.. so we will see what happens. I didn't tell him that Monte is my target. I just said that its a big move. I said its a cannonball. He will see Joseph go up in the place of whoever comes down he will feel like oh this b***h is crazy! Then depending on who is still up on the block.. They're the ones that will go home. If I win I just can't keep the noms the same. Brittany – that's good. I am so curious to see what the veto comp is tomorrow. Taylor – sure Terrance might be my personal target but you've heard how much I've wanted Indy gone for a long time. I can handle Terrance. Things will be quieter and more secrets will come out with Indy gone. And I can make it look like I was trying to take big shot and I missed.. Michael joins them.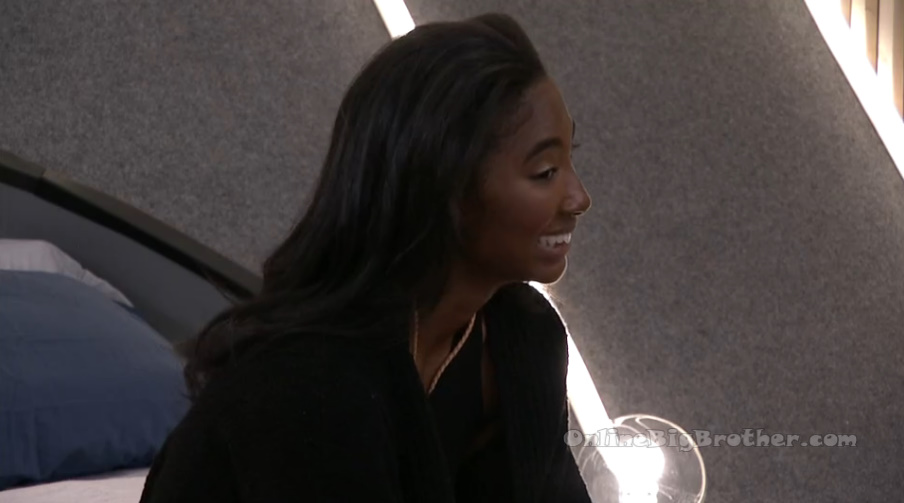 Taylor – Ah Terrance feels some kind of a way about nobody volunteering to clean the bathroom. Michael – Jasmine volunteered to do it. Did he volunteer to clean the shower? Brittany – I actually don't feel bad about it because they are the two that do the least amount of work around the house. I was like I am not even going to offer to help with this. Michael – I cleaned it last time. Brittany – you made a nice ask of hey if you haven't really been pulling your weight now is your time to step up. I can say that they worked on that for an hour or an hour and a half .. that still does not equal the amount of time doing the dishes and.. Michael – if they did the shower and sinks .. that's not a 6 person job. Brittany – she did one big thing whereas a lot of people do daily medium things. This also isn't the game of who cleans the most. You can be a chef and get voted out, we will figure out how to make dinner as we've seen.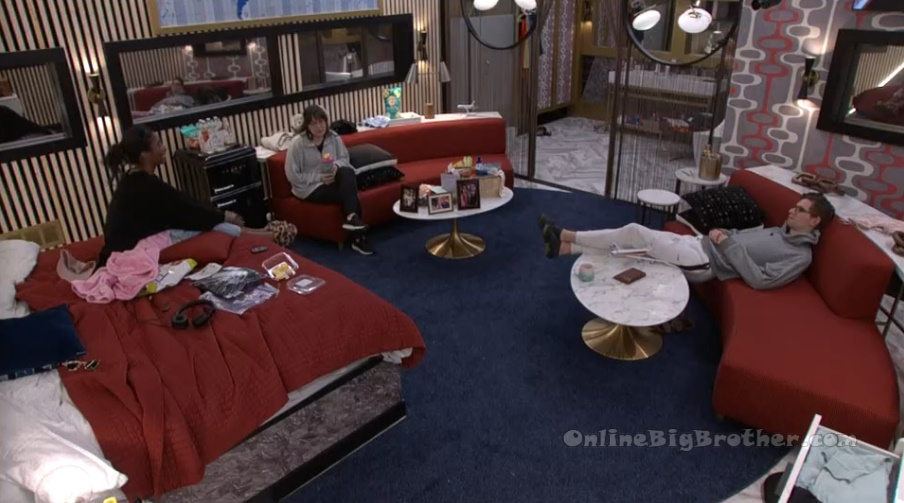 11:30pm HOH room – Taylor, Michael, Turner and Brittany are hanging out and chatting. Taylor – depending on who wins it, I will just be like use it and keep who you want.
11:45pm – 12am HOH room – Terrance, Monte, Brittany, Turner and Michael.
Taylor – before you (Monte) walked in (to the bedroom when she was talking to Terrance earlier) I told him to win the veto. He asked me if I win would I take him down. I said Indy asked if I would take her down first and I said yes. Then I said that might have been a lie. I said just make sure you win because regardless of what happens.. everyone thinks they know who the target is .. f**k what did I say… Its going to be a cannonball. And he said awww really!? I am talking about Joseph of course .. he thinks I'm talking about you. oh well! Monte – interesting. Taylor – I don't even want to keep the noms the same I just want one of them to come down. Monte – so if I do win? Taylor – use it on whoever the hell you want. Monte – okay. I think for optics taking out Indy makes the most sense because she is a bigger comp threat than Terrance is. And since Terrance has been playing this card of wanting to talk to me more recently. You know that whole joke of us keeping him around even though he doesn't want to stay.. I kind of like flirting with that idea.