Quick Big Brother Spoilers
Brochella HOH (Inside the House):  Michael
TEAM BroChella:  Brittany, Jasmine, Monte and Taylor.
Nominees: Jasmine and Monte
Dyre Fest HOH (Backyard):  Terrance
TEAM Dyre Fest: Alyssa, Joseph, Kyle and Turner
Nominees: Joe and Turner
POV Players:
POV Winner:
Veto Ceremony:
Havenots: 
Lock your ranks in before midnight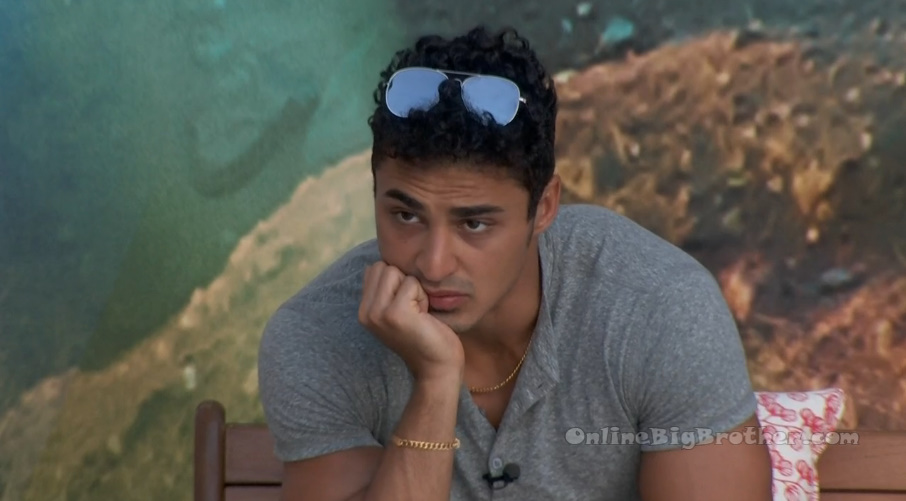 Backyard – Terrance and Joseph.
Terrance – you're good here. I just need you to win the veto. Joe – well I'll try bro. But if I don't win veto or you don't win veto.. I am out. The only thing that I can tell you and show you is that we both know like if I sit at the end its me who leaves. Like similar to you I probably have the least lock-ins out of everyone. I wished we could kick something but I feel that is not where your head is. The only thing I can hope to show you is that I am at least trying to play the game any time one of my friends were up. Terrance – I got you. Just like last week with Taylor putting me the f**k up and its just like who the f**k was in the room with her when she was making those decision. Joe – I think I am just dead in the water. They're just tighter. This time it is not looking so good.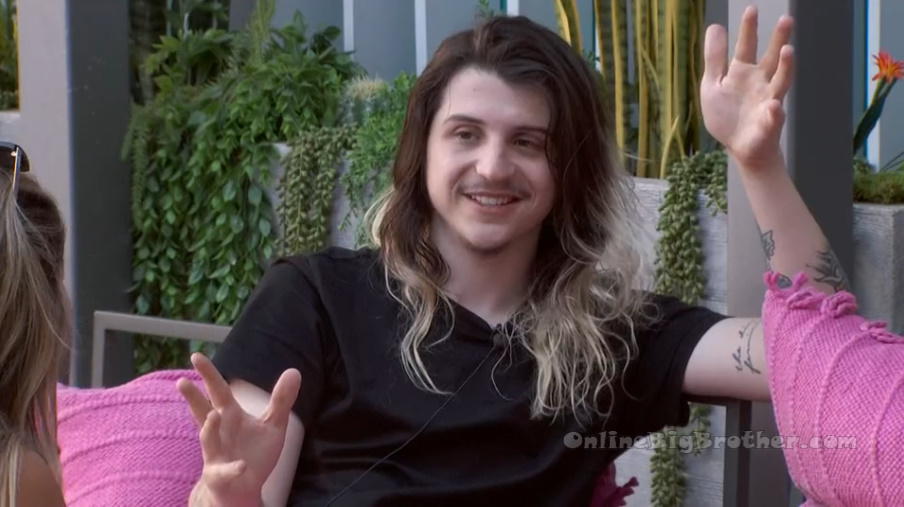 5pm Backyard – Turner, Kyle and Alyssa.
Alyssa – how was your conversation right now? Turner – Really good. I feel fine. I was like granted at the end of the day I put you up on the block and you didn't end up going home so if I am up on the block .. like you put me up and I don't end up going home I am not mad at it at all because I did the same thing to him. Like I get it dude. If it ends up being me and Joseph.. if there is anyone in the house I believe would have my back its you two. Kyle – its not even a question honestly. Alyssa – of course. Turner – and if you guys change your minds at any point just let me know. Alyssa – it would just never happen. Turner – that's what I thought, if anyone in this house has my back its f**king you two. Kyle – yeah. Alyssa – and if you win and I go up next to him.. Turner – you two I would never vote against. So yes, I would not vote you (Alyssa) out and I would not vote Kyle out. Alyssa – I agree. Turner – lets f**king go! I do hope that he does not win because I don't want to be sitting next to one of you two. Kyle – oh my gosh for real! They wonder if they will have the same veto as the inside of the house or if they will be different. Kyle – we just have to win. This week is going to suck balls! Alyssa – the night time will be fine. Kyle – this house just got depressing. I think because we have a good good group of four and these decisions shouldn't be made till final four.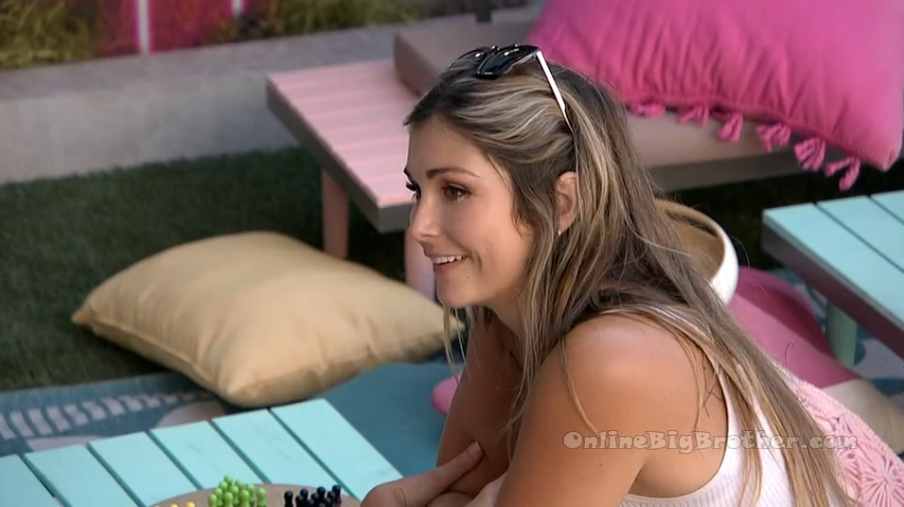 5:30pm Backyard Couches – Turner and Joseph.
Joe – what did you tell Terrance. Turner – about what? Joe – like in your talk. I didn't say anything… he put me up because he was talking something about game and I just said FACTS because I didn't hear him and then he was like they're working together. Joe – yeah, I just told him .. he said that the plan is to put up Kyle. And I said okay! Turner – yeah. I didn't out you about anything. I didn't say anything about you. Joe – me neither. I am not going to betray you guys. Turner – yeah 1000% BRO!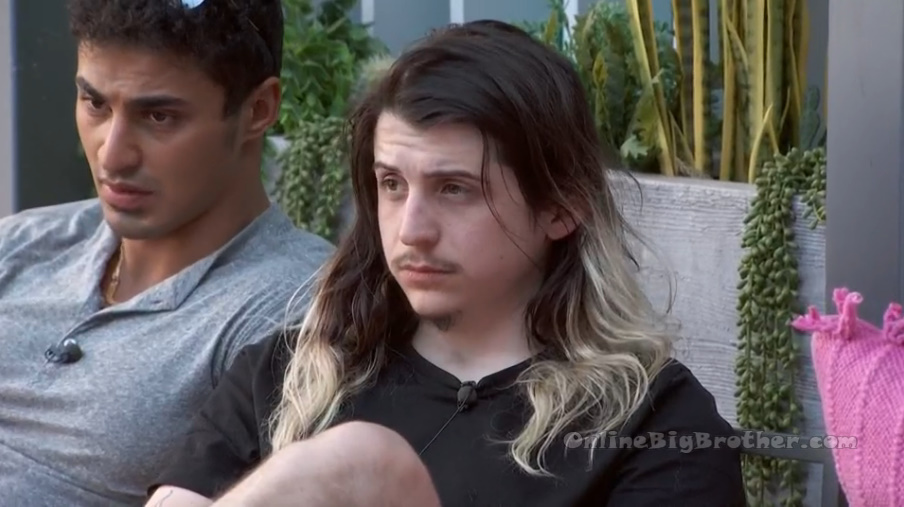 6pm Outside the HOH room – Brittany and Taylor.
Taylor – its weird to think that the noms already happened. Brittany – I know, its crazy! I just don't know where her head is at. You hope that it goes the way that we.. but also they could be getting the most pressure from us to have it go that way. And we're not there to pressure. Scary. Taylor – I literally can't sleep because I am so afraid of those gate opening up and Joseph not walking through. Because that means that everything bad that happened, happened. And that's not even a me personal thing, that's game. If he doesn't walk through that gate.. everything bad that happened happened. Brittany – yup. Taylor – so I would really like him to win the veto. Brittany – I am sure he (Joe) is having the same thought .. but he is so good. His social game in phenomenal and he is close to Turner. I feel like lots is going to come down to Turner. Taylor – and Turner delivers. Brittany – he does but also I don't know where his head is at all the time either. Do you think he is closer to Kyle and Alyssa or Joseph? Taylor – Joseph. Definitely Joseph even though they just clown all the time. Brittany – I could be wrong but I think Kyle thinks he has more of an influence on Turner than he may. Taylor – oh yeah. I think Kyle realizes how much he messed up not using the veto. Like we told him. I don't think he realizes how deeply that cut the rest of the alliance. You have to keep doing what is best for the alliance first especially when you have clear reasons right in front of you. Brittany – Mmmmhhmmm.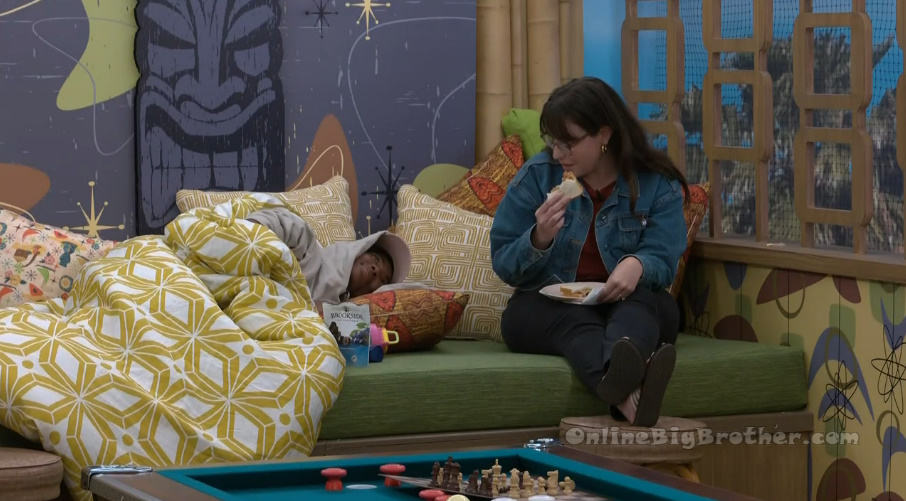 6:50pm Backyard – Turner and Joseph
Turner – How you doing my boy? Joe – I am pretty sure this is it for me my boy. Turner – that's exactly how I feel. I am just coming to terms with it. Joe – and I am not going to try and send one of you two home. Turner – I am at no point going to campaign against you. Joe – yeah me either. I am not going to campaign against you and I'm the target so.. Turner – I am going to campaign for myself if that makes any sense. But not against you. Joe – yeah. Turner – are you just as bewildered at Mike's picks as I am? Joe – yeah. Kyle joins them and they start a game of Chinese Checkers.

8:05pm The feeds switch to the kitten cams..
8:40pm Still blocked.
9:50pm Still kittens..
10:39pm No feeds for you…
Show your support 🙂 Without your support this site and these spoilers wouldn't be possible.
Please consider a donation to keep the madness going.
Thank you to those that have already contributed! We really appreciate it!