Quick Big Brother Spoilers
Brochella HOH (Inside the House):  Michael
TEAM BroChella:  Brittany, Jasmine, Monte and Taylor.
Nominees: Jasmine and Monte
POV Players:  Michael, Monte, Jasmine, Brittany, Taylor
POV Winner: Brittany
Veto Ceremony:
Havenots:  None this week

Dyre Fest HOH (Backyard):  Terrance
TEAM Dyre Fest: Alyssa, Joseph, Kyle and Turner
Nominees: Joe and Turner
POV Players: Terrance, Alyssa, Joe, Kyle and Turner
POV Winner:
Veto Ceremony:
Havenots:  None this week
Lock your ranks in before midnight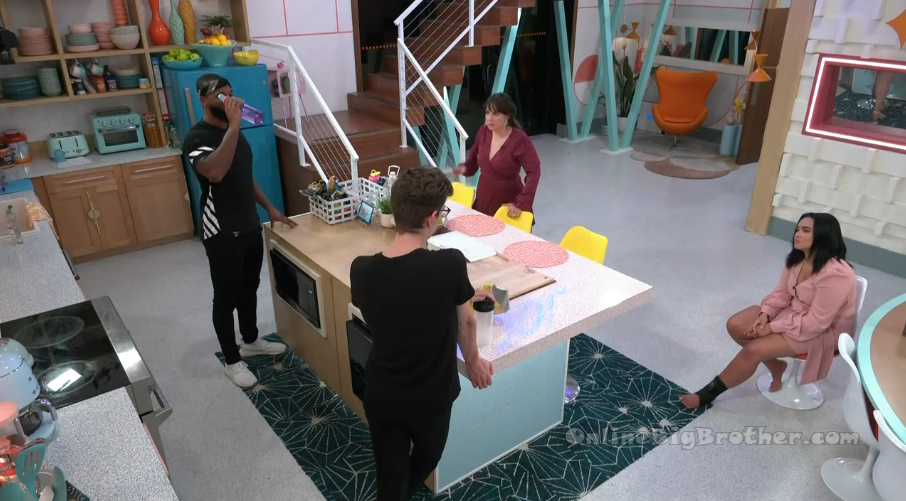 The Brochella (inside of the house) had their Veto competition tonight and Brittany won it. It was the Stay or Fold Veto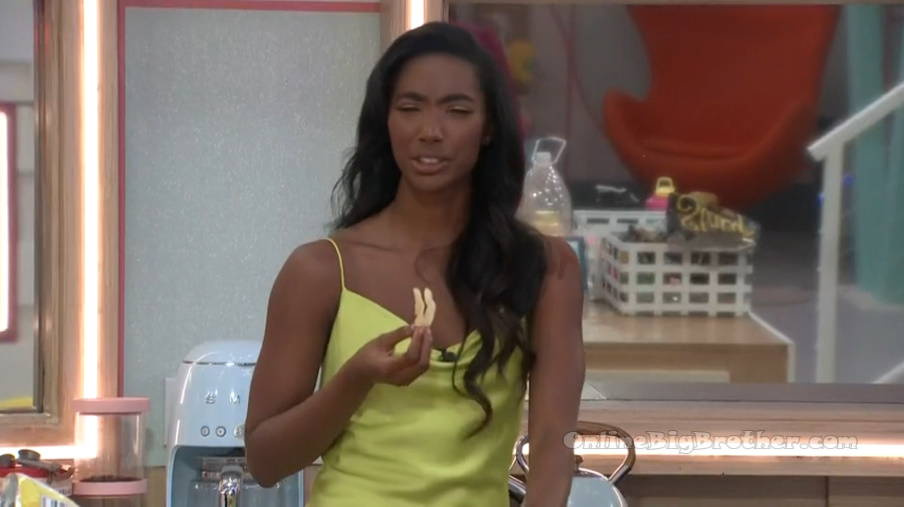 11:14pm HOH room. Michael
Michael – that's my Bestie! YES! I could have had my 5th veto but its okay! The goal was defense not offense. And now Brittany got a comp win. A solo comp win and I am very proud of her. She crushed it! Brittany joins him. They jump up and down and hug. Michael – this is so good. That was perfect! This is perfect. I was as long as Monte or Jasmine don't win. Its perfect. Brittany – at least I won it so we're in control. Have you been thinking any more? We were so focused on Terrance can't play HOH but you can't play HOH next week. Michael – my thoughts today were if we get rid of Jasmine and they get rid of Alyssa. We're still Leftover strong. Its a little bit of a risk that if we win, why would we get rid of Terrance. But if we keep Jasmine and the do something crazy.. Brittany – then the attention is on Kyle and Turner. We do something crazy and they kick out Alyssa. Michael – yup. Brittany – Kyle and Turner are going to be pissed at us. Michael – they might not be .. like I don't think Kyle would. But Turner might. Brittany – and the attention might be put on us. Michael – yup. We don't know, they might kick out Kyle. Brittany – thinking of Kyle's psychology .. what percentage do you think he is going to make a big move if he can and get Turner? Turner seems highly suggestable and Joseph is suggesting. I've always questioned how much Kyle thinks he has Turner in his pocket. Kyle has also been the one that has shown us that he would be the one that would turn on the Leftovers before they get to the final seven. So I think if he had the opportunity he could probably convince Alyssa to help. I just don't know how its going to shake out over there. It would also make Terrance happy to get Joseph out if we can't get Kyle. Michael – yeah. If we did get rid of Monte, do we know for sure they would put us up? If they're against us, they're going to put us up. Brittany – yeah. Michael – and if Monte is here there is a chance the put up me and Monte on the block together. Brittany – yeah, I just think its going to be too enticing. I'm just worried about next week. I mean it would be awesome if I could win HOH. Michael – so are you thinking of keeping it (noms) the same? Brittany – yeah for sure. Michael – so the rest of the week we can weigh our options and discuss. Brittany – I just feel like we can't let this week slip through our fingers. By build more goodwill. I think it is an easy-ish promise to make especially if we want to make sure we're good the next two weeks. That we just say hey guys, Taylor, me you, Monte and Joseph. And if Joseph ends up leaving on the outside oh well it didn't have anything to do with us .. we're so sad.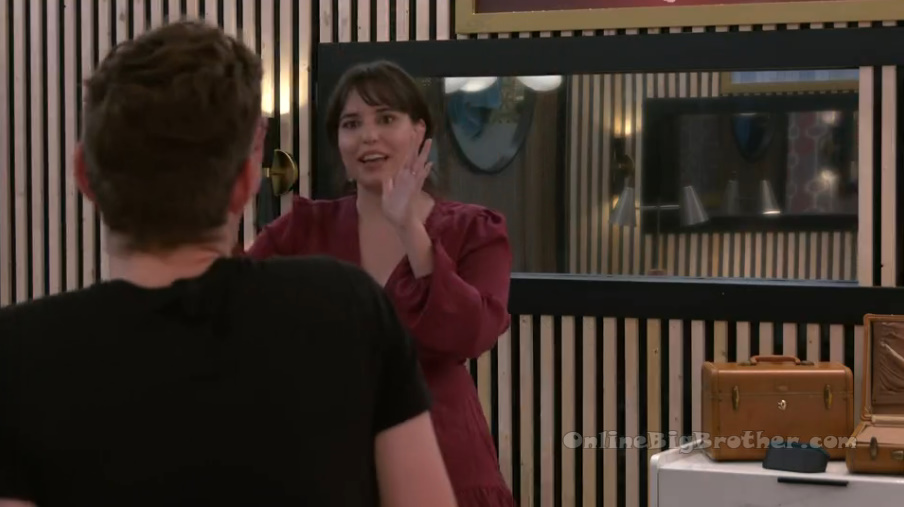 Kitchen – Taylor and Jasmine.
Taylor – is this for a whole week!? Is this going all the way to Thursday? Why the hell was the veto competition today. Jasmine – but you know how one time there is a week were everything comes early. I can't remember if they said next Wednesday or next Thursday.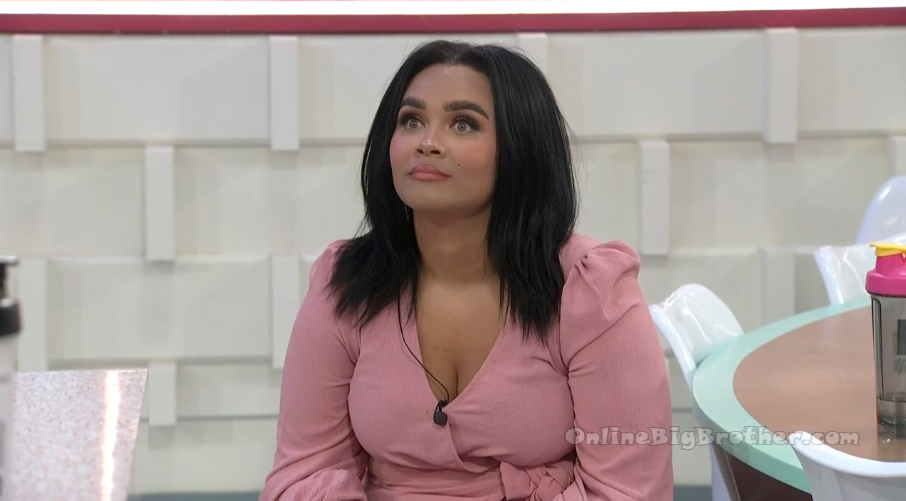 11:47pm Storage room – Monte and Michael.
They talk about the veto. Monte – it worked out. Michael – we just had to make sure she (Jasmine) didn't win. And she didn't win so.. Monte – yeah! So now its up to the vote and we'll go from there.. but I think it might be happening sooner. Like I don't think this is going to last all the way to Thursday. I have a weird feeling that they're going to cut it short. Like why would they do this tonight? Michael – if we can meet with Taylor and all of us we were just kind of talking about what is going on over there and what happens if one of us doesn't come back. We could maybe run scenarios tonight. Monte – yeah. No seriously dude that would be concerning if that's the case. Yeah, we'll chat. Michael – sounds good.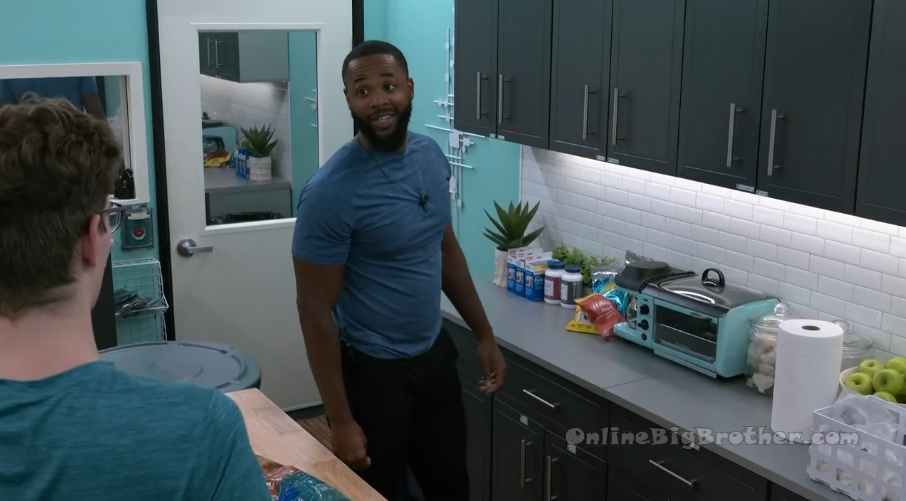 11:48pm – 12am Backyard – Kyle, Joseph, Turner and Alyssa playing Chinese Checkers.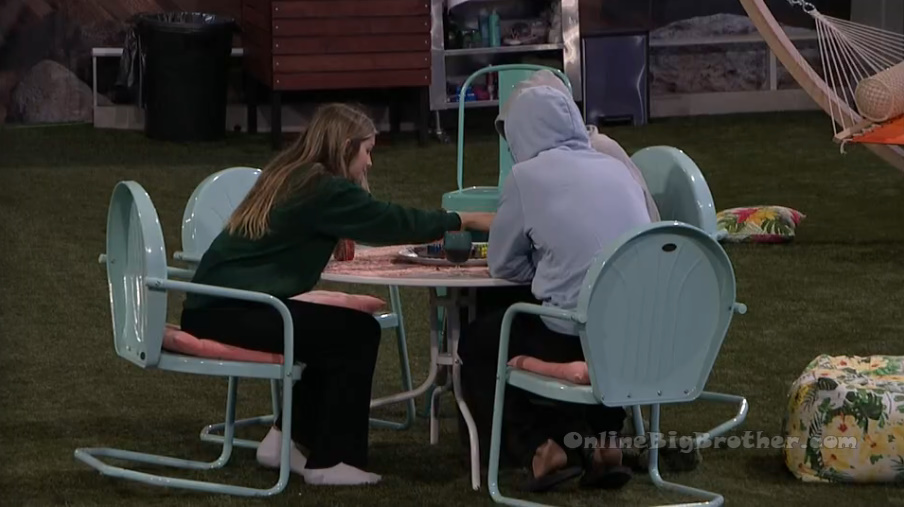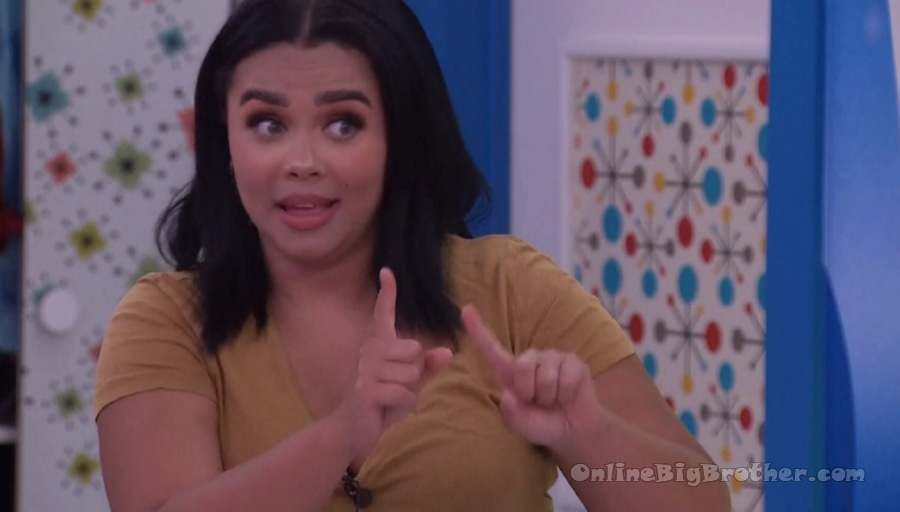 12:30 am Brittany and Jasmine
Jasmine – I want to make it as far as I can not only for myself but in honor of my dad.
Jasmine – you are a fan of the show and I respect that as well.. you know what I mean
Jasmine – I've been loyal so far I hope you can see that.
Brittany – who we want out this week is on the block already it's coming down to Taylor and I voting. I want to talk to Taylor to make sure we are on the same page. Worst case scenario Michael breaks a tie
Jasmine says she will reassure Taylor and Michael that she is not coming for them.
BRitt – in this point in time I'll probably leave things the same.
Britt – who do you think will leave from the other side?
Jasmine – depends on how it goes. He only has so many options right.. the problem is I don't know who he is super close with
Jasmine – he wants to target a big threat.. I don't think it'll be Alyssa or Joe. I really think it could be Kyle and Turner.
Jasmine – I told you my prayers are the opposite. I didn't pray to win I was like 'Lord please let him be out that's all I need. I trust you to let the person win this veto that will help save me that's all I prayed for cayuse it's not about me every time;
Britt – it's interesting thinking of the other side. It feels like Kyle is the target.
Jasmine – could be Joe.. I don't think he will send Alyssa home.
Britt – it gave me vibes that he was picking people that can make his plan happen.
Britt – He picked Joe which was interesting to me… Then Michael picked Monte and Kyle went over there by default.
Britt – Terrance will want to make a big move
Jasmine – that's what he told me.
Jasmine doesn't want to be blindsided this week.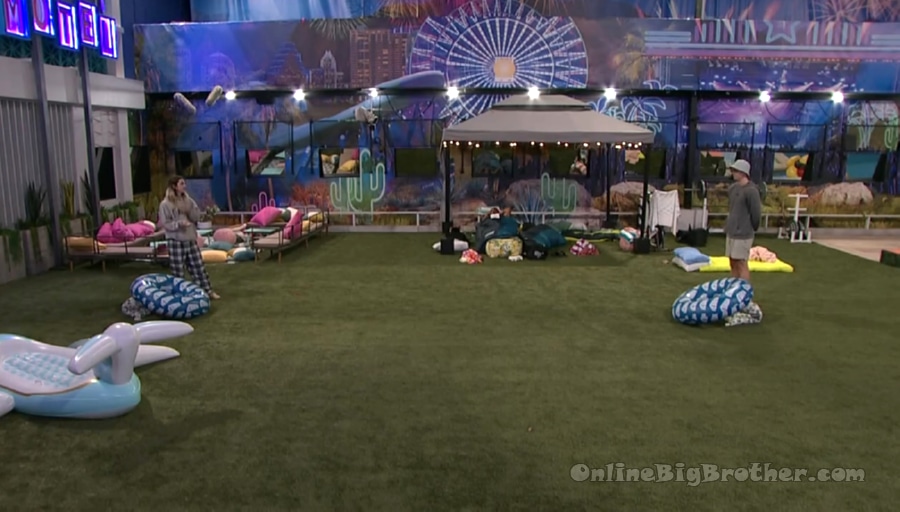 12:55 am DIY cornhole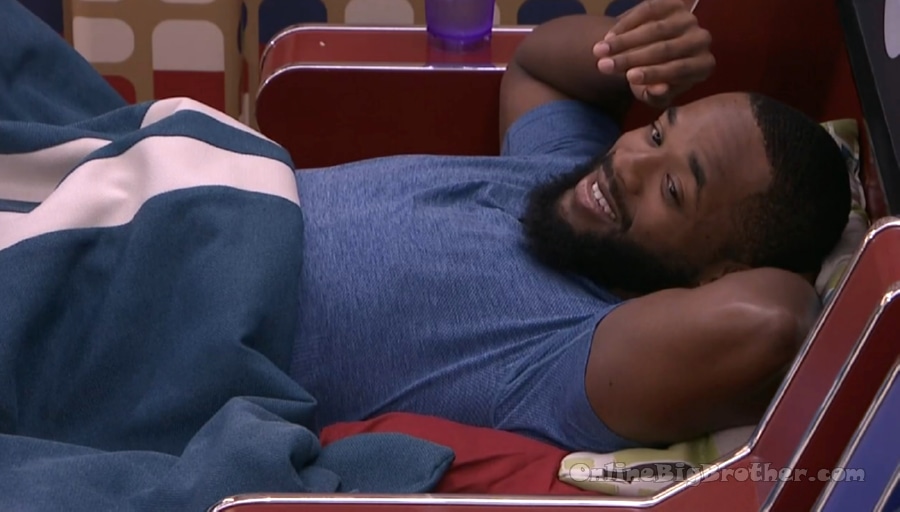 1:05 am Taylor and Monte
They talk about how everything is going as planned on their side. Taylor speculates based on the questions she gets in the Diary room that things aren't going as planned outside.
Monte – if there's any hesitation on TUner and Kyle's side we have to come up with a strategy for us winning a Hoh next week.
Taylor – I can see a scenario where Kyle asks to be sent to Jury first
Monte – really?
Taylor – out of who is out there
Monte – you think so? You think he's that mad in love?
Taylor – I don't know
Monte – my god
Monte – we'll be fine. Michael is the only person at risk next week.
Taylor – who would you put up next to Terrance next week
Monte – Maybe turner maybe Joe.. process of elimination who has been up the least.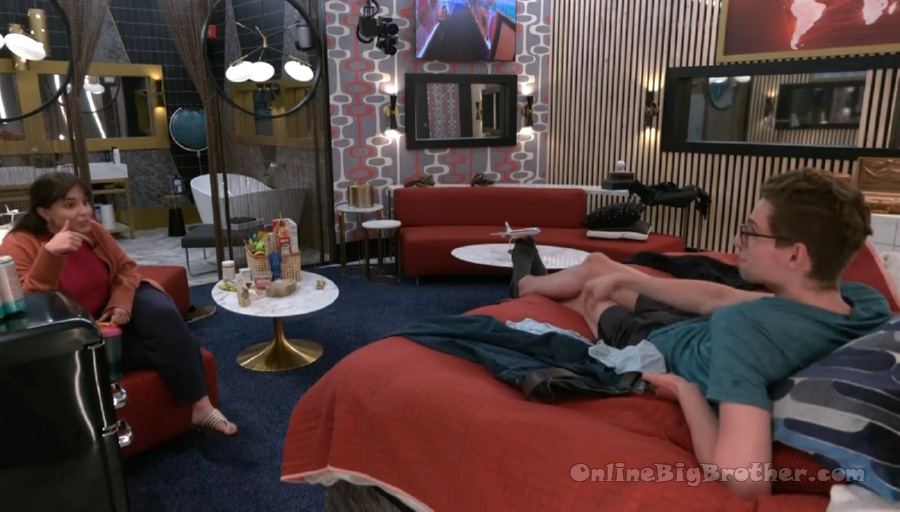 1:12 am Brit and Mike
Talking about not wanting Jasmine in the house anymore.
Michael asks if Monte will really send Terrance out next week?
They talk about throwing Kyle under the bus and exposing that Kyle was ready to take a shot at the leftovers.
Feeds flip to the hammock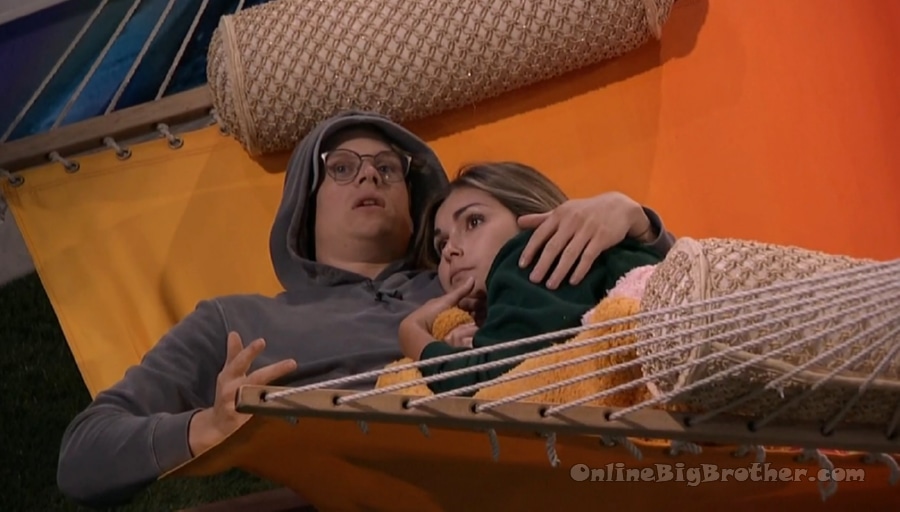 1:17 am Kyle and Alyssa
Kyle – it was either me or Joe this week. I had to do it. I wonder where Michael and Brittany are at.. take one more week get Jasmine out then it's you and Terrance.
Kyle – Turner is really close with the boys now.. Monte and Joe. I think we have Terrance for sure now.
Kyle comments that their showmance started working together a month in.
Alyssa thought they were working together all this time. Says she probably looks like an idiot.
Kyle apologizes.
Kyle – we have to get Michael and Brittany on our side when we get back into the house. If we don't it's me you and Terrance Vs the entire house.
Kyle – if Michael takes a shot? there's no way he will unless Jasmine wins the veto.

1:25 am Monte, Britt, and Michael
Monte says he's fine staying on the block.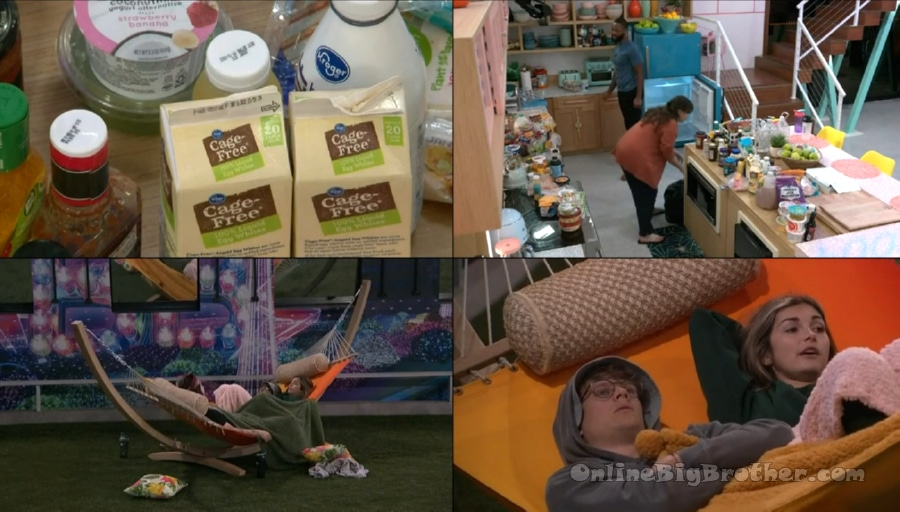 1:50 am chit-chat about past seasons and cleaning out the fridge.
2:05 am Alyssa tells them her mom is a big fan. told her she's fulfilling a life dream by being on the show.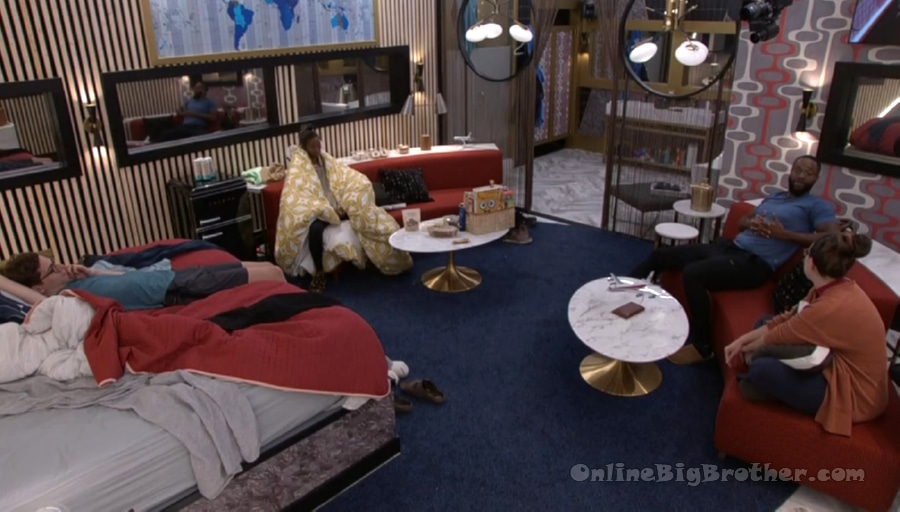 3:25 am Brittany, Michael, Monte and Taylor
Monte – I do feel naturally concerned with both of them last week (Turner and Kyle). Everything that came out of Turner's mouth was
Taylor – counter point.. devils advocate
Monte – I hate to say this but I've been feeling really good about those guys before right after that night.. even during that day I saw the two of them really tight I saw them playing pool by themselves.. they were whispering and all that stuff.
Mont e- I've ignored these signs before when it was Ameerah. I've ignored them when it was Nicole adn Even Paloma to an extent. NOw when you see a sign
Taylor – you run with it
Monte – yeah you take it at face value and move on with it. Joe saw the writing on the wall last week when the both of them were acting that way. he would understand what the situation is if that is the case. We have to see how things play out.
Michael says action speaks louder than words and he trusts the actions of Monte and Taylor. Kyle hasn't won a HOH yet to show them what he's don't. "But what he's done with the veto"
Taylor – Has been very alarming
Britt – we've gotten a lot of blood on our hands.
Monte goes on about how Kyle's ears were "Shut off" when they tried to get him to use the veto. "I've never seen that side of Kyle"
Britt – hopefully, Joe comes back he will give the story of what went on. If something goes wrong and he doesn't know that we're good and we have our sights set on what the next three weeks look like should we win HOH would be really important. If Kyle and Turner win that will be a whole different thing.
They talk about how the outside crew might bond like Have-nots have in the past.
Taylor – if They win we just run with the Leftovers' final 7 if they don't win then..
Monte – if they win are they going to be fine? If they win and Joe leaves are they going to put Terance or Alyssa up immediately or will they want us as pawns?
Michael – if they want to use us as pawns that will be really shady
Monte – what if they do get Alyssa out what do we think is the best? who is the pawn? (To get Terrance out)
Taylor says the only one that makes sense is Kyle and Terrance.
Monte – yes
Britt says Turner would make sense for her because he put her up.
Britt says the only reason Kyle ios p[rotecting Alyssa at this point is he needs a number "Who do you need a number against?"
Britt – it's us! that is scary we're not stockpiling people outside of the alliance we're here.
Taylor – we are fully invested in the alliance.
They agree Kyle messed his own game up not using the veto so they could take out Alyssa.
Britt says if you make it to the jury and you get the leftovers vote you win. "That is what matters"
Taylor – you told him before the veto if he didn't use it would be bad for his game and he didn't do it.
Monte – I feel great about the people in this room I feel great about Joe.
Taylor – maybe there's some crazy snacrio where Kyle outside falls on his sword. Send me to Jury so Alyssa can stay
Monte – I don't think he will but if he did.. he's gone rogue
They go on about how Alyssa gets people to connect with her then she's able to get them to do what she wants them to do.
Monte – how did she get Turner so he's so adamant to keep her?
4:00 am Zzzz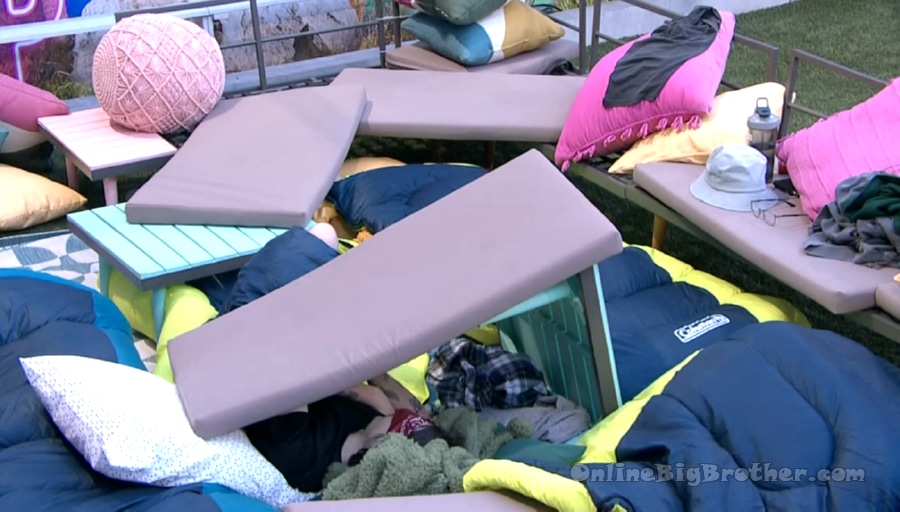 6:30 am Pillow fort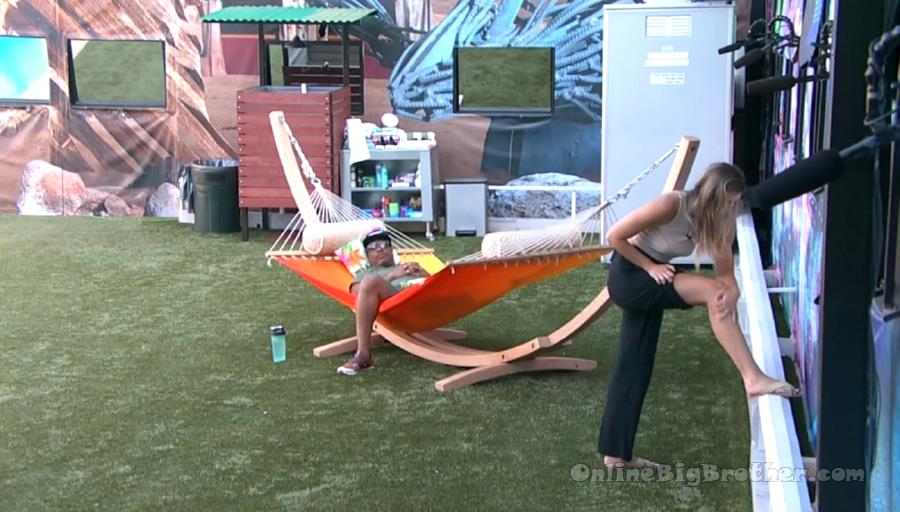 8:56 am Houseguests outside are waking up
Show your support 🙂 Without your support, this site and these spoilers wouldn't be possible.
Please consider a donation to keep the madness going.
Thank you to those that have already contributed! We really appreciate it!