POV Holder:
DAN
Next POV:
Sept 1 (Saturday)
POV Used
Yes
POV Ceremony
Sept 3 (Monday)
HOH Winner:
Ian
Next HOH:
Sept 6 (Thursday)
Original Nominations:
Jenn and Frank
Current Nominations:
Frank And Joe
Last Evicted Houseguest
Britney
Superpass Big Brother 14 Live Feeds: 3 Day FREE Trial!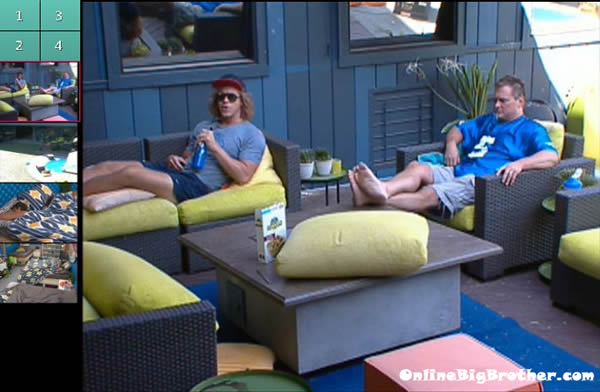 9am – 10:15am Big Brother wakes up the house guests. Jenn and Ian are the only house guests awake. Ian is sitting up in his HOH room. Jenn is out in the backyard. Big Brother then calls Ian to the diary room. Frank and Joe wake up and head out into the backyard. Joe talks about needing to campaign today. Joe says you'll be Barack Obama. Frank says f**k that I'll be Bush. Frank says I would have liked to have had a cookie last night, but Jessie threw them all away. Frank heads inside. Joe talks about how he will be doing a little bit of sweet talking today. Telling them how nice they are and kissing butt. I really don't want to kiss Dan's butt, but I guess I will have to. Frank started getting into my territory by cooking hot dogs and onions last night. Joe says that Frank farted on him last night and he didn't appreciate it, he says maybe I will have to start farting to be more like Frank to get the votes. Joe demonstrates how he will lay out by the pool with the towel by his mouth to campaign for votes without being noticed. Joe says I don't want to go to the jury house, I've got a chance to win this thing. Frank comes back out and tells Joe he is so tired of asking people for their votes. Frank says makes no sense to wake up early, there's no one to campaign to other than you.
10:30am Frank says that he might have to offer up his first born child to these motherf***ers, I got nothing to offer them, I don't got no smokes. I could tell them I will in the veto next week to keep them safe. I couldn't do it this week. Joe says nope, Dan got it and put us in this situation. Frank says the one thing I can say to Dan is that if you vote me out, Jenn won't work with you. If it wasn't for Jenn and me, he would have gone home. Frank starts talking about Britney and how she wanted him out. Joe talks about how Shane wants Frank here because he is a bigger target. Frank says maybe I got two votes. Joe says and that f**king fact that you can't play in this HOH. Joe says that he needs to get Jenn. Frank says it ain't going to happen I've been taking Beano before bed. Joe says that he needs to work on Dan too. He says he just needs to bring out that hatred deep inside him. Frank says you're forgetting I helped him last week. Frank heads inside. Joe says to himself, Frank is one cocky mo-fo. I have got to get the votes and prove him wrong! Joe heads inside. Frank heads back outside.
10:30am – 10:50am
Joe heads back to bed. Frank is sitting on the backyard couch talking to the camera. Frank talks about how if he came into this house and lied it would have caught up to him by now. He says that an alliance only last 6 days in this house so if you lie its bound to get around the house. At this point in the game though I can tell a couple lies to get by, and at this point I feel justified because everyone has lied to me. Frank says that he thinks he can trust Jenn 100%, I think she will go to war for me. He says that Shane and Ian don't know how to go to war; they are too selfish to do it for me. They don't know what I could do for them if they went to war for me. Frank says that he loves Danielle was praying for an endurance competition and it turned out it was … and she was third off. Some people just doesn't understand this game. Frank says that if next week's HOH some type of competition where I can throw it to Jenn, then I will. She would be the only one I would throw it to. That way I can play in the fourth and last HOH. I just need to knock out some POV's to make sure who goes home is who I want to go home. Frank says he doesn't want Joe to go home because I could stroke his a** in the final comps. My best final three would be Jenn and Shane. I really don't want it to be Danielle because she will be good at the questions.
Simon and I work 24/7 all season long to bring you all the live feed updates and spoilers, please consider donating. Any amount is greatly appreciated, your donations go directly to paying the server and bandwidth fees needed to run this site. Donation Link
Share it YO!!
Tweet