POV Holder:
DAN
Next POV:
Sept 1 (Saturday)
POV Used
Yes
POV Ceremony
Sept 3 (Monday)
HOH Winner:
Ian
Next HOH:
Sept 6 (Thursday)
Original Nominations:
Jenn and Frank
Current Nominations:
Frank And Joe
Last Evicted Houseguest
Britney
Superpass Big Brother 14 Live Feeds: 3 Day FREE Trial!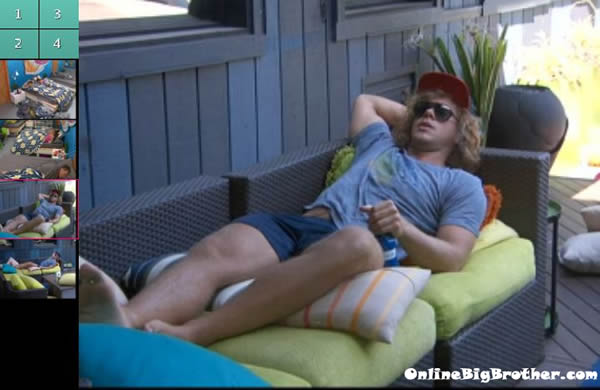 11am – 11:30am
Frank says that he needs three votes to stay, I think I have Jenn and Shane and I should have Dan's vote too. He says that this is pretty much déjà vu for me, it was just a few weeks ago when I was in the same situation. He says that they lied to me then and I hope they don't do it again. I don't want history to repeat itself, unless I don't go home but you see what I am saying. I really do hope that it's a 4-0 vote, at least that's what I am told and if that happens then I have just pulled off a huge turn around. Frank says from what I am told I am fine and maybe I am stressing out for nothing. "Dirty Scallywags, the whole lot of them, except for Jenn, she's a good girl." Frank talks about how Ian screwed him over and how he made a dumb move. Ian was such a disappointment to me that he flip flopped on me. No one wants to work with him since Britney left. The last two people I want to see win this are Dan and Ian. I would rather someone who deserves it less than someone who lied to people to get to the end. Frank says he has only told a couple lies. Frank says that I lied and told Joe that I would help him get to the final two. And then there was Dan and Shane, hopefully they will go at each other and then I won't have to worry about having lied to them. I will then take whoever is left standing. Frank says that if it was Jenn and Dan as a final two, I would vote for Jenn to win and so would Britney and Ashley. I am so close it makes my mouth water, if I do go home this week it is going to kill me that I was two weeks away from winning. He says that the one thing he regrets is wasting his one HOH on sending Wil home, he wishes he had used it to get out Britney or Ian if I had known what he was doing. That s**thead was lying, double agent, secret spy, sneaky little rat.
11:35am Danielle is awake and in the bathroom. She grabs her stomach and looks at it in the mirror and then gets on the scale to weigh herself. Frank is getting ready to workout.
Try the Live Feeds FREE: 3 Day Trial
11:40am – 12:15pm Frank asks Danielle how she feels about this Thursday. Danielle asks what do you mean. Frank says that he is a little worried about Dan. Danielle says that Dan hasn't said anything to her about voting him out. Frank asks but would you tell me if he did? Danielle says absolutely I would. Frank says really okay. Danielle says we haven't been that close anyways since the funeral. Frank asks if he can tell her something and she will keep it quiet. Frank talks about what Dan did to her at funeral. He says that he knows Dan did that coach thing early in the season. Frank says he knows Dan meant it when he said what he did at funeral. Danielle says so he said he meant it? Frank says yes. Danielle asks exactly what Dan said to Frank. Danielle asks was Dan really mad at me? She asks it wasn't an act? Frank tells her that he was the one who told Dan to go smooth it over with Danielle. Danielle says that she's glad Frank told her. Frank says that he was nervous about saying anything to her because he didn't want to stir up anything.
Frank brings up how Shane wants Dan out and he should be able to do if for us. Danielle asks if Frank is sure he doesn't want her out? Frank says no. Danielle says that it's hard to trust people. Danielle says that she needs some time to let it soak in what he said about Dan. Frank starts to tell Danielle that he has played an honest game. Danielle says come on now, don't act like you are holier than thou in this game. Frank says that he thinks he has played a more honest game than most. Danielle says come on now don't act like you don't tell a fib here or there to get votes. Frank says you're right I have told a lie here or there but I have played a more honest game than most. Danielle says that the fact that you know all that information just makes me think he said all that. Frank says that he couldn't make all that up even if he wanted to. Frank says knowledge is power in this game and we just got a little more. Frank leaves to go work out.
12:30pm – 12:40pm Dan and Danielle are in the bathroom talking. Danielle tells Dan her conversation with Frank about how Dan is just using her and doesn't care about her. Danielle says that Frank said you really did tell him that you were mad at me. Dan says no I was mad at my situation not you. Dan says that he was going to leave a good goodbye message to him, but now I am going to waste him. Danielle says that he said knowledge is power, like he was trying to threaten me. He was trying to tell me that if I don't keep him around people will pick up on how smart I am. Danielle says now he is trying to get me and Shane against you. It's not going to happen but he is going to try and get Shane to work with him and Shane. Dan tells Danielle to find out if Frank is going to tell Jenn that because if he does I am screwed. Dan asks do you think I should tell Jenn that I made a fake final two deal with Jenn or not. Danielle says let me talk to Jenn first, I don't think he will tell her, he didn't even really want to tell me. Dan says that he is trying to think if there is any way of preventing it from going to Jenn. Danielle says that she doesn't think he will tell her because it will piss her off because he has a final two deal with her. Dan says I just don't want you to not trust me because he knows he is going home. Danielle say I do trust you and if you stabbed me in the back then it would just make you look like a bad person. Dan tells her to use that relationship with him (Frank) now. Dan leaves.
12:55pm Dan tells Frank that he tried to talk to Danielle when she was a little bit tipsy. Frank says that yeah I talked to her a bit this morning too. Dan says that he tried to go at her a little bit but not too hard but I think we've got the vote; it should be 4-0. Dan says that he doesn't think he has Shane because I am not that close to him. Dan tells Frank that I know Joe is going to be stirring s**t up this week but I hope that you will realize after this week when you get the votes that you realize that you can trust me and that we are golden. Frank says that he does it's just tough when you are up on the block. He says that he just reads too much into his diary room sessions. Big Brother then switches all four cams to the bathroom and says twice that you are not allowed to talk about your diary room sessions with other house guests. The feeds switch back, Dan and Frank talk about Mike getting $16,000. Frank tells Dan that he needs to start getting up earlier so that they can talk.
12:55pm – 1:10pm Dan and Frank are talking in the backyard. Dan says that when he went at Danielle for her vote for you and she was aloof it makes me think that she isn't going to tell me everything. Frank says yeah. Dan says that there is a part of him that wishes he talked to Frank last night. So that way I wouldn't get to thinking like what if Frank doesn't trust me, ya know what I mean. Frank goes back to working out. Dan talks about how Joe thought he was Shane the other night. Dan says that he wished he had played along with it to see what he was going to say. Frank says yeah but everything he says is bulls**t anyways. Frank says that's why Shane doesn't trust anything he says.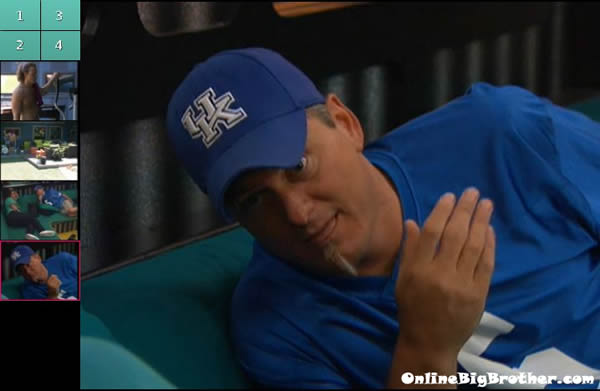 1:20pm – 1:40pm Joe and Danielle are talking in the arcade room. Joe tells Danielle that he thinks the more Frank thinks he is safe the better because he harasses people when he thinks he's not safe. Danielle tells Joe that he is fine, that he has Shane and her vote. She says that she just needs to get Ian just in case it's a tie. Joe says that he is going to talk to Jenn too. He says that he will have a short talk with Dan too to tell him how Frank is coming after him and that this is our chance to get him out. Joe says that Frank thinks he has Shane and Jenns vote. Joe and Danielle leave. Joe gets Jenn to come into the arcade room to talk. He tells her that Frank came to him and told him that he has you 100%. Joe says look I got Ashley to flip and voted out my own partner to save you. Jenn says yeah I know. Joe says and obviously I voted for you, during that week he campaigned against you. Joe says that he really likes Frank and this week is going to be hard for me. My pitch is called "features and benefits", Joe says that he has tried to keep her here in the game. Jenn says that she has heard her name come up from others wanting me out during the veto thing. Joe says I don't know about that, that's hear say. Jenn asks who Joe is going after. Joe says that he is going after Dan. Jenn says okay my names Jenn. Joe says that his promises not to go after Jenn until after final four. I would ask you to ask around about the veto thing to get a clear picture on that because I fell hard for you. Joe asks if she can tell him if she is voting him out. Jenn says that she will let him know.
2pm Frank and Jenn are in the kitchen alone. Frank tells Jenn that he talked to Danielle this morning and told her about the whole Dan funeral thing, just to lock down that vote. Jenn says uh huh. Their conversation is interrupted when Shane, Dan and Jenn come into the kitchen. Photo day continues..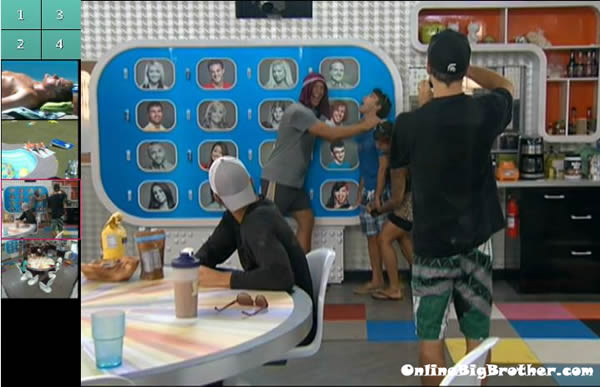 Simon and I work 24/7 all season long to bring you all the live feed updates and spoilers, please consider donating. Any amount is greatly appreciated, your donations go directly to paying the server and bandwidth fees needed to run this site. Donation Link
Share it YO!!
Tweet