POV Holder:
DAN
Next POV:
Sept 1 (Saturday)
POV Used
Yes
POV Ceremony
Sept 3 (Monday)
HOH Winner:
Ian
Next HOH:
Sept 6 (Thursday)
Original Nominations:
Jenn and Frank
Current Nominations:
Frank And Joe
Last Evicted Houseguest
Britney
Superpass Big Brother 14 Live Feeds: 3 Day FREE Trial!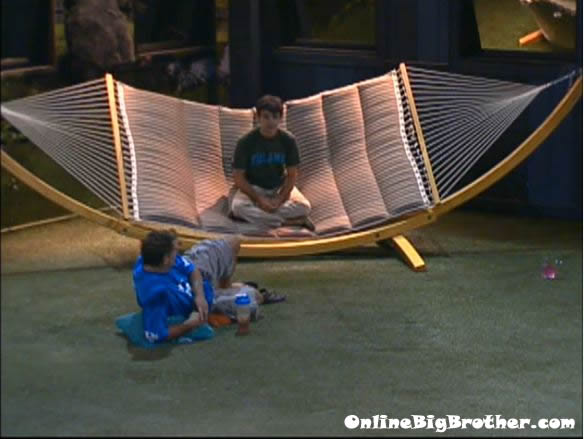 12:15am Out in the backyard Joe and Ian are by the hammock talking. Joe is complaining to Ian about how Frank is trying to steal his thing by cooking for the others. Joe says that he isn't happy about it! They talk about wanting to evict him. Ian says that he wishes he could get the blood on his hands sending Frank home. Joe brings up how many people have tried to evict Frank unsuccessfully. Joe says that when he walks out of the house Thursday I'll s**t myself! Ian and Joe notice Frank cleaning up inside the and say that he is trying to do everything he can to stay. They laugh about sending Frank to the jury house. Ian says that this is for Britney! Joe says that Britney will be just as happy to see Frank walk into Jury as they are to see him walking out of the house.
Watch it ALL on FlashBack:
Pick the Day, Time and Camera View!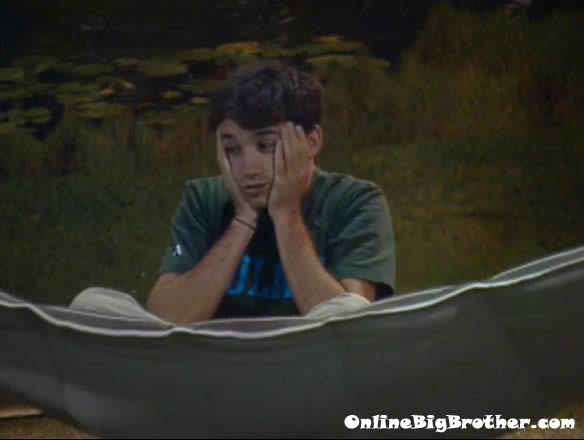 Joe says that the game saved you Frank, I don't think it can save you again! Ian says that it's over! Joe says that he thinks Frank thinks he can get Danielle's vote. Joe says that he doesn't get it! Ian tells Joe that he should lay low and he'll be fine this week. Ian says that Frank could possibly get Dan's vote but not Danielle and Shane's. Ian says that he hopes the vote will be a tie so that he can send Frank out of the house. They talk about how Dan says he will stab you in the back and kiss you in the front. Ian tells Joe that Boogie asked him about who to pick. Ian says that he picked Joe, but that Frank said to pick Jenn. Ian says that if they had picked Joe, they would have won the first HOH. Shane joins them and tells them that he is voting Frank out but that he will tell him what he needs to hear before the vote.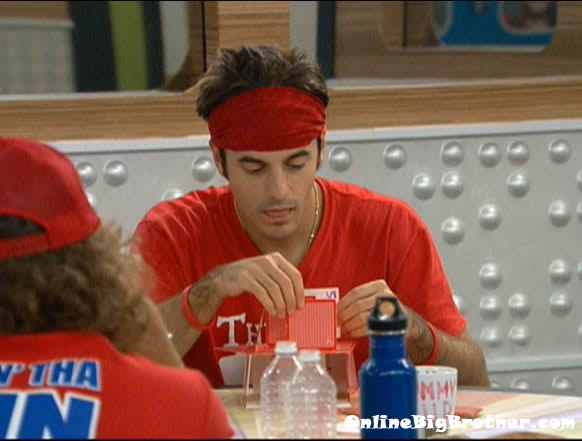 12:45am Dan, Jenn and Frank are in the kitchen sitting at the kitchen table. Frank tells Dan that Joe said he is going to start his campaign to stay tomorrow. Frank says that Joe thinks the vote is going to be close, but Frank says we just can't let it get close. Meanwhile, Danielle and Shane are in the backyard with Ian and Joe. Danielle whispers to Ian and asked him if the quack pack is still their real alliance. Ian says yes and tells her to get her head in the game. Danielle says that she is but that she drank a bottle of wine. Danielle says that she trusts Ian and asks him if he trusts her. Ian says that he trusts her and says he just wants it to be the four quack packers. Ian says that when the last nonquack packer leaves they should all start quacking! Danielle heads inside and goes to the kicks bedroom. Danielle and Dan are talking. Dan tells her that he messed up in front of Frank. Dan says that he made a comment to Frank asking him who he thought Joe would put up if he wins HOH. Dan says that Frank was like what the f**k! Dan tells Danielle that he wants to win this HOH and not the next one. He tells Danielle how winning HOHs at the end need to be thought out so you can still play in the final HOH's. Dan says that Shane should win the next HOH. Dan tells Danielle that he thinks Shane likes her in the house but tells her Shane is a d**k to her. Danielle tells Dan that Joe thinks Dan is going to try and pull a fast one on Thursday and try to keep Frank. Dan says it is too risky to try and keep Frank, he wouldn't do that.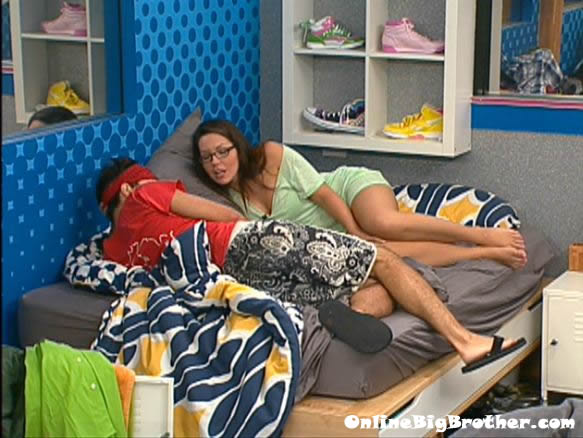 1:15am
Shane, Dan, Danielle and Ian are in the kick's bedroom. They talk about having the vote 2-2 so that Ian can make the final cut on Frank. Ian decides that they should just all vote Frank out. They talk about how they will talk again tomorrow but as of now they are all voting Frank out. Ian and Shane leave. Dan says that he is glad that Shane doesn't know how the game works when it gets down to the end. Dan ask Danielle to reassure him that she is with him to the end. Danielle reassures Dan that she would never do that to him. Danielle asks him if he would do that to her, after his funeral stunt. Dan says he won't. Shane comes back into the room. Danielle complains about how Shane wants separate blankets to sleep with her. Danielle tells him that he makes her feel like she's nasty because he won't sleep with her under the same blanket. Shane tells Dan that Joe said Dan would be coming after him. Dan calls him a f***ing liar! Shane says that is why Joe needs to go next. Shane and Dan talk about how Joe is a floater and has no allegiance to anyone. Dan tells Shane that he, Danielle and Shane are final three. Shane agrees and tells Dan that he shouldn't just assume that he would choose Danielle over Dan. Dan says that Frank has to win every week because he doesn't have anyone. Shane says that we have a strong alliance and says that Ian has proved himself. Shane says that Ian still hasn't been on the block. Dan says the best thing that happened with Ian was that Britney left.
Watch it ALL on FlashBack:
Big Brother 14 Live Feeds – FREE 3 Day Trial!
1:45am Frank and Joe are talking in the backyard. Joe says that this is a big week for them there isn't a reset to save them. Frank says that he wishes he had a coup d'état. Frank tells Joe he has one vote for sure. Joe says he doesn't have any votes yet and says that no one wants to commit. Joe says that tomorrow he will try and work on at least one commitment. Joe says maybe he can get Dan because he doesn't like you enough. Frank laughs. Joe says Dan will have to pick between the lesser of two evils this week. Joe laughs. Joe asks do we have a shot at a half a million dollars? Frank says I guess. Joe says he will probably be sitting with Britney by the end of the week. Frank says he hope so, lay down Joe, do me a solid! Joe laughs. Frank says f***ing four votes to campaign for. Joe says ain't that the s**t! Frank says that he thinks he has Jenn's vote. Joe says he thinks he has Jenn. They both laugh. Frank farts a then says as long as I don't do that in bed I has Jenn's vote! They both laugh. They head inside to go to bed.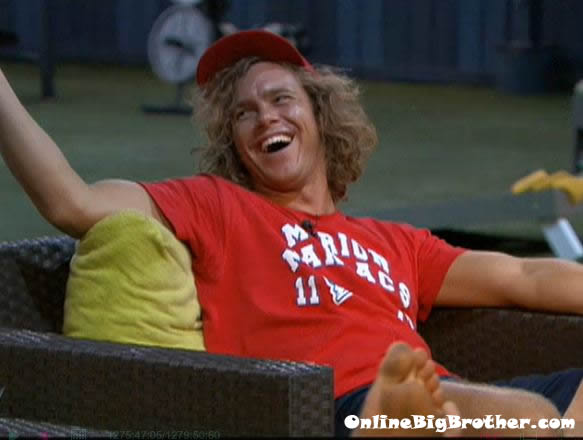 2am Frank and Jenn are whispering in the stereo room. Frank tells Jenn what Joe told him about how he didn't have any votes secured yet. Frank says that Joe said he was going to work on getting Dan's vote tomorrow. Jenn tells Frank that she thinks they are good on Frank staying. Frank mentions how Dan slipped up Dan and asked who Joe would put up if he won HOH. Frank says that he caught it and wonders about it. Frank says that he thinks if Dan won HOH he would put up Ian and Shane. He says that the best scenario would be though if Shane won HOH because he thinks Shane would put up Dan and Ian. Frank says that he wants to trust Dan. Jenn says she wants to trust him too. They go to sleep.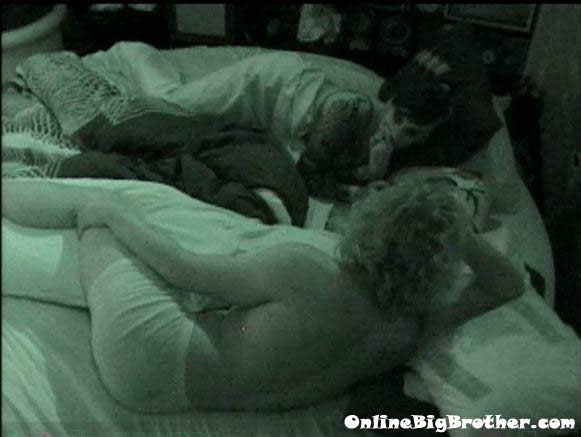 3am – 4am Shane and Joe can't sleep and both head out into the backyard. Joe tells Shane that Frank told him that he has Shane and Jenn's votes. Joe says that Frank asked him to lay down. Shane says Frank is going to be so surprised on Thursday when he goes. They talk about how its better to let Frank think he is safe. Shane says that this week might be a Fast Forward week. He says that it's got to be, can you imagine if Frank goes home Thursday and Dan goes home Sunday?! They talk about how many times Frank has escaped eviction. Shane tells Joe he needs to start winning competitions. Joe says that with Frank gone, it's just you and me versus the rest, no one can touch us. Shane says that if Frank gets saved one more time… Joe says that he quits. Shane says he quits too. Shane tells Joe he should sulk around the house tomorrow and pretend he is going home. Shane and Joe start studying the events of the house. Joe is impressed the Shane remembers it all. Shane and Joe head to bed.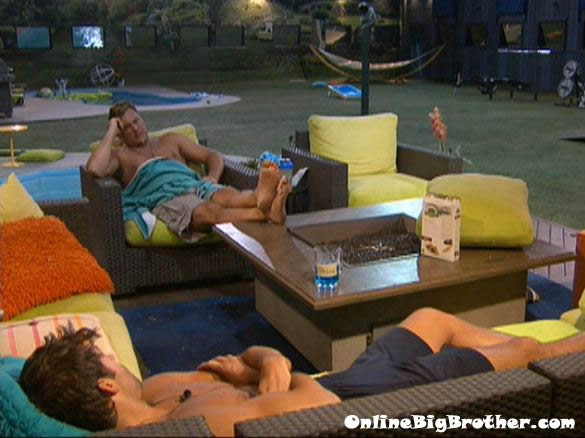 6:35am All the house guests are still sleeping..
8am Still sleeping..
Simon and I work 24/7 all season long to bring you all the live feed updates and spoilers, please consider donating. Any amount is greatly appreciated, your donations go directly to paying the server and bandwidth fees needed to run this site. Donation Link



Share it YO!
Tweet