POV Holder:
DAN
Next POV:
Sept 1 (Saturday)
POV Used
Yes
POV Ceremony
Sept 3 (Monday)
HOH Winner:
Ian
Next HOH:
Sept 6 (Thursday)
Original Nominations:
Jenn and Frank
Current Nominations:
Frank And Joe
Last Evicted Houseguest
Britney
6:04pm Cam 1-2 Danielle and Shane
Danielle mentions that Frank was telling her that he's got Shane's vote. Shane is starting to feel bad for Frank. Shane lists off some of the reasons
1) It's Frank's dream to be on this show.
2) Frank has tried for 3 years to get on Big Brother
3) Frank is a huge fan of the show and Shane knows hardly anything about it.
Shane: "with that said .. it is what it is.."
Danielle: "You are still voting to keep Frank"
Shane: "NO no way"
Dan joins them and they go back to playing cards.. laughing telling jokes it's as if the funeral never happened and Dan and Danielle are close again. (Does Shane notice? not at all he's still trying to figure out the rules to the card game they are playing.. I think it's rummy)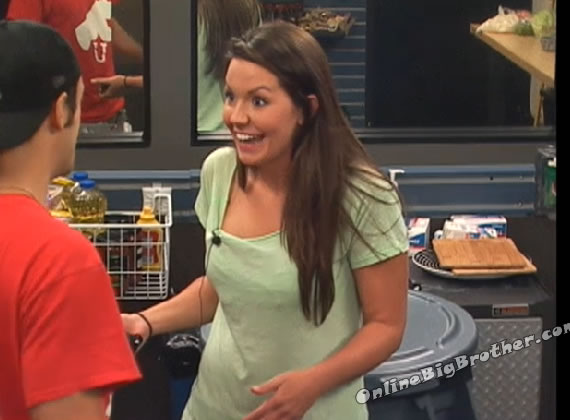 6:30pm Cam 1-2 Storage Room Dan and Danielle
Danielle acting pissed because Dan is pushing the point about Janelle hating her and Janelle's fans booing her. Dan says she's doing a good job of appearing to be angry with him in front of Shane. Danielle says she's not acting she's genuinely mad and she wants Dan to stop.
Once Dan realizes that Danielle is actually mad at him he starts to apologize and say that Janelle's fans will probably like Danielle. Danielle isn't sure that they will like her because she's the reason they got Janelle out. Dan thinks they will love her. (There is very strong evidence to support what Dan is saying. SOME of Daneille's fans are engaged in large scale cat ownership)
6:48pm cam 1-2 Joe Hammock Drawing lines in the sand, Sh!ting on dreams and forming powerhouse Final 5 alliances all in one day tires the powerhouse out
6:54pm Cam 1-2 Danielle and Shane Kitchen
Danielle is playing up that she's mad at dan for always bringing up Janelle and being so sarcastic. She feels like Shane does it enough already and now to have Dan on her it's too much.
Danielle feels like both Shane and Dan bug her about sensitive topics like Janelle. Shane says he's already stopped doing it.
7:00pm Cam 1-4 Frank Jenn arcade room
Jenn: "Joe must feel busted after Dan's POV speech"
Frank is curious to know what Joe thinks the votes will be. Frank thinks it's going to be 4-0. Jenn says they'll find out soon. She points out that Dan and Danielle have been playing cards all day. Frank: "This house gets boring with only these people in here"
Jenn says that Ian is really starting to get worried. Jenn has "Laser Beams" out for him. Again frank talks about the vote being 4-0 and how Ian is going to be shocked on Thursday. Jenn: "Ian slipped up he wasn't thinking down the road"
Frank says it's too late for Ian now he should have started getting people on his side when he still had power as a HOH. Frank mentions that when he was Head of Household he pulled people into his alliance. Frank hopes that Dan wins the next HOH and takes a shot at Shane. He's suggested it to Dan a couple times. Jenn wants Joe gone this week and Ian gone after that.
Jenn is going to go check her laundry
(This conversation is worth listening to if you have the feeds.. Frank is the most misted in the house)
7:24pm Cam 3-4 Joe talking to the camera.
Joe starts off by giving us a rundown of whats going on. He's nominated against Frank and he needs to start gettign the votes.
(A collection of things he said.. )
Joe:" maybe Frank will fart on someone again.. Maybe he'll get mad and yell again"
Joe: "Joe has to play it cool.. kiss some butt.. cook some good food"
Joe: "Shane and Danielle have to be happy and as long as they are happy I have 2 happy votes"
Joe: "Gotta work on Ian.. he's the swing vote.. I know Ian doesn't like frank that's going to help me"
Joe: "Gotta work my ass off.. I need 3 votes so I gotta steal 1 vote from either Dan or Jenn.. Dan I don't know where his evil heads at.. and I don't know about Jenn.. but I gotta try"
Joe: "3 Days baby 3 days to really campaign.. to get the votes.. Joe has to win the HOH I gotta get something out of the wheel house here.. tough up in here.. tough time livin.."
Joe: "I'm going to keep cooking keep working… I got a snowballs hell chance of winning this.. got a bit of luck.."
Joe:"A boy can dream… A Boy can dream.. anything can happen.. you get so tired so worn out.."
Joe: "Gotta get these young strong men out of here… Let Joe win something.. "
Joe: "thats what lifes all about right.. kickin it.. just kickin it"
Joe look at Frank's bottle says that Frank has carved into the paint every HOH, POV, nomination and vote he's gotten this year. Joe calls him a egotistical SOB says there's a social game to not just competitions.
Joe: "I personally think Frnak should have gotten Dan out when he had the chance.. what was he thinking got sweet little Brit out..kept Dan.. DAN Creeping around the house reading the bible while he stabs you in the back.."
7:42pm Joe still talking about everything under the sun.. Cooking, love, labor day, southern hospitality, working, family, bills.. etc etc..
Production tells Dan to "Stop That"
Joe: "Dan causing trouble again.. I'm sick of that man causing trouble.. he breaks something almost ever day… he breaks or destroys something "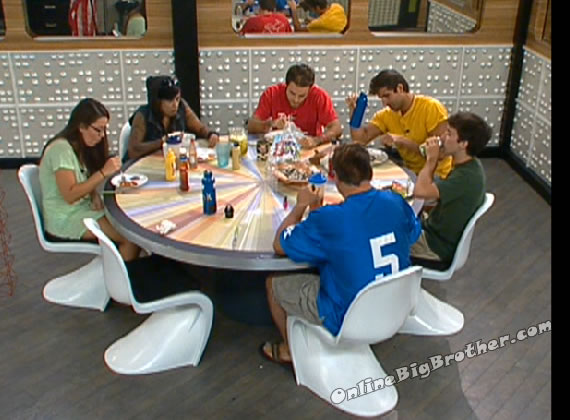 8:06pm Cam 1-4 Dinner
Share it YO!!
Tweet