POV Holder:
DAN
Next POV:
Sept 1 (Saturday)
POV Used
Yes
POV Ceremony
Sept 3 (Monday)
HOH Winner:
Ian
Next HOH:
Sept 6 (Thursday)
Original Nominations:
Jenn and Frank
Current Nominations:
Frank And Joe
Last Evicted Houseguest
Britney
2:56pm Cam 3-4 Danielle and Dan
Danielle says she's been telling Shane that Ian is targeting her because she'll win in the mental competitions. (They want Shane to nominate Ian next if he wins HOH)
Dan stresses the good spot they are in the only thing they have to worry about is if Joe wins the HOH. Dan: "Even if he wins HOH it will be Me and Ian or Me and Jenn nominated"
Dan: "What do you and Ian talk about"
Danielle:"We talk about our DR's and how much he hates Frank"
Danielle also mentions that Ian is still onboard with the final 4 (Dan, Danielle, Ian Shane). Dan warns her if Ian gets to that final 4 he will win the POV and advance. Danielle: "I know"
3:05pm Cam 1-2 Dan and Frank
Dan is worried about the possibility of another twist that could destroy everything they have worked on.
Frank: "Even if Shane wins and puts Dan up.. they still can play for Veto" Frank points out that with Dan and Frank both hammering out Veto wins they should be good. Frank is also sure that unless they both go up they have the votes to keep each other in the game.
Dan says at this point all a HOH win gives you is immunity. Dan doesn't want to go out because of a crap shoot, it's his biggest worry right now. Dan: "I can deal with getting beat… I guess a crap shoot is still getting beat.. But to go out in a crap shoot.. "
Frank thinks the next comps coming up are going to be things that "Little man" is good at. Frank knows that Ian has to go, He tells Dan that if he wins HOH Ian should be put up.
Frank doesn't want Shane to win HOH this week because he's their plan B if they cannot get Ian out. Frank figures if they get Ian and Joe up and unless Ian wins POV he goes hom. If Ian wins POV Shane goes home. Dan: "Hmmm hmmmmmh mmmh hhmm" (He's eating while passively agreeing to Franks madness) Dan heavily plays up Ian's ability to win comps. Dan thinks Ian can "win it out", win the next POV and HOH.
Frank laughs: "There's no way Ian's winning out"
Frank says he cannot wait to see Britney's face when Joe walks into the jury house. Frank laughs at Ian says when the vote is 4-0 the look on Ian's face will be priceless. (This is shaping up to be one GIANT blindside)
3:20pm Cam 1-2 Dan attaches a US Flag to a pool cue. He marches around the backyard saying to Ian "these colours don't run"
Dan and Ian head inside to set up the flag. As Dan secures the flag to a chair to keep it up Ian says "these colours don't run and they don't fall off their poll cue" (The flag was falling off the pool cue but Dan has fixed it)
A indoor lockdown is temporarily called because Dan breaks a vase outside.
3:32pm Cam 3-4 Jenn Backyard Seems to be fully misted..
While Jenn is resting in the mist Dan is int he kitchen teaching Danielle how to play cards. acting like nothing really happened during the funeral.
3:42pm Cam 3-4 Ian on Hammock (Hammock is starting to creak on every swing. Took a couple of days and Ian busted up the Hammock) Ian is mumbling things to himself.. mentioning Joe's name a couple of times. Ian's logical mind is working hard to get out of the mist.
4:20pm Dan, Danielle and Frank Playign cards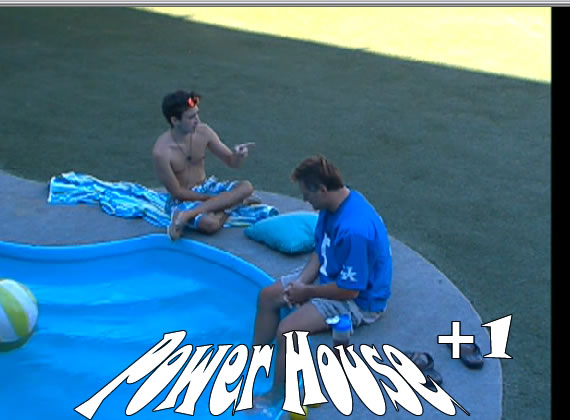 4:13pm cam 3-4 joe and Dan
Ian tells him he's sorry for putting him up but he had made a promise to Shane and Danielle. Joe understands. Joe starts warning him about Dan that he's with Frank and has pulled Jenn in.
Jor says that they're group of four needs to stick together (Shane, Danielle, Ian and Joe). Joe: 'Jenn wouldn't even be here if it wasn't for me" Ian: "Same here"
Ian: "That's what galls me the most.. she never took any accountability with what went down last week.. She was clamouring to get Frank sent out before the double eviction"
Joe: "Who in their right mind would keep Frank in the house right now"
Ian agrees he's sure that Danielle and Shane will not flip their vote. Joe thinks Dan and Jenn will vote to Keep Frank meaning Ian makes the final decision. Ian has no problem sending Frank home.. can't wait to see the look on Britney's face when it happens.
Ian starts building up Joe.. Says that Joe is a contender to win this game.
1) He's survived the block 4 times
2) He gives it a honest effort which is more than Jenn does
3) He won a teddy bear the first competition "That was a good litmus test"
4) The first 2 weeks he was instrumental in flipping the house
Joe: "Jenn doesn't play the game.. she walks around and sleeps"
Ian: 'She sleeps the entire time.. I'm going to make sure I get rid of her.. the only thing she's done is put herself on slop for no reason.. " Joe: "For no reason.."
Ian laughs that Jenn was walking around like she's king Sh!t when she won the veto like she was doing something big. They both laugh about Jenn winning the Veto by default and taking the slop for no reason.
Ian: "She can go off on anyone in the house and by just saying I KEEPS IT REAL .. she acts like she can get away with it"
Ian: "Ya ya you can Keeps it real right to the jury house"
Ian and Joe both agree that they will never vote for Jenn in the final 2. Ian stress to Joe that he had a chance to win against certain people in the house. He points out that Ian is disliked by a lot of people. Joe and Ian agree that Dan wants to take Jenn to final 2 that gives him the best chance of winning. Joe says his only hope in this game is Ian.. He wants to go to final 4 with Shane and Danielle then final 2 with Ian. They plan to break up Shane/Danielle as soon as they get to final 4. Ian explains the POV competition at that point is usually face morphing or memory based. Ian goes on to explain how the competition works. (Dan had warned Danielle that this will be the critical competition that Ian wins)
Joe mentions how he really liked Britney wishes she could have stayed. Ian heads up to his HOh to grab Joe and him some pop.
4:47pm Bedroom Cam 3-4 Jenn and Frank they are getting ready to take a nap. Frank points out that Dan and Danielle are playing cards in the kitchen and Ian/Joe are playing "Bags" int he backyard. Frank: "Weird ..Dan and Danielle have been playing cards for half a hour"
5:34pm
Cam 1-2 cards shane, Danielle and Dan
Cam 4 Joe sleepign
Cam 3 Ian rocking the hammock mumbling
off cam Frank and Jenn sleeping.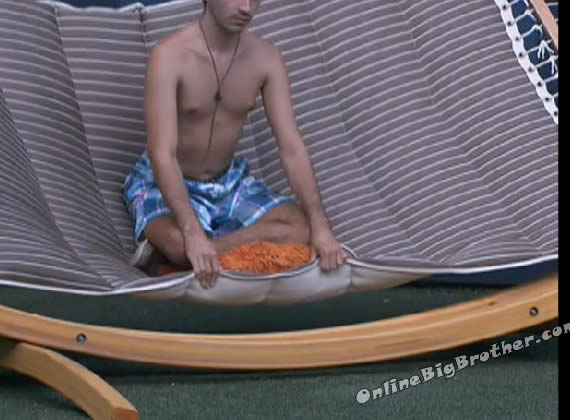 5:51pm Hammock Ian Cam 3 Ian is riding that hammock
Share it YO!!
Tweet