POV Holder:
DAN
Next POV:
Sept 1 (Saturday)
POV Used
Yes
POV Ceremony
Sept 3 (Monday)
HOH Winner:
Ian
Next HOH:
Sept 6 (Thursday)
Original Nominations:
Jenn and Frank
Current Nominations:
Frank And Joe
Last Evicted Houseguest
Britney
8:10pm Cam 3-4 Frank Backyard talking to the camera
Frank thinks he's safe this week and thinks that he'll probably go at least one more time before this show is over. Frank says the pattern of the HOH's have been he wins one then doesn't for 2 then he wins one again. So as long as he survives this week he'll have a good chance to win the next HOH.
Frank: "This fu**** Ian kid.. I can't stand his voice.. I know it sounds a bit harsh.."
Frank: "Tough in the streets YO"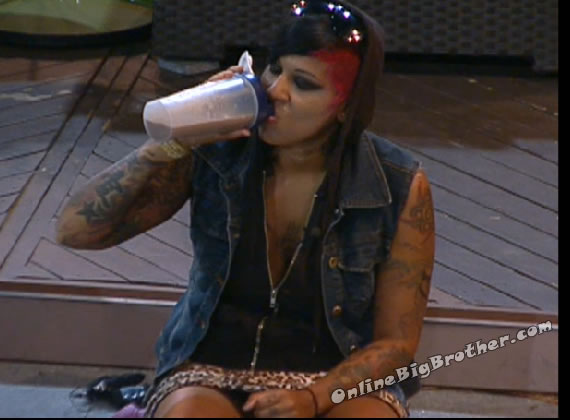 8:21pm Hot tub EVERYONE
general chit chat about alcohol.
Jenn: "If you can fly a f**** plane with it you shouldn't drink it"
8:36pm Cam 1-4
Danielle saying that JOJO told her in the hot tub that the reason Danielle's relationship do not last is because Danielle isn't adventurous enough in bed.
Danielle "just because I Don't like a*** S*** all the time.. Actually where I'm from guys like girls that are more modest"
8:49pm Dan and Shane say that Ian has logged some serious hours
8:56pm cam 1-2 Shane and Frank
Shane saying he thinks there will be a fast forward.. tomorrow might be a eviction for all they know. Shane says that when he found out Dan was using the POV he thought he was going up. Shane says he talked to danielle a little but he doesn't know where her vote is he thinks she's waiting for Frank to talk to her. Shane: "If there is something I can do let me know".
Shane says if he won HOH he really doesn't know who he would put up.. Shane has a bit of a idea
Shane saying that Joe was pissed when Dan used the POV to save Jenn. Frank tells him that it's obvious that he has Shane and Jenn's vote they just need to get Dans. Shane says he never talks Game with Dan ever since he threw Britney under the bus but he's willing to talk to him to help out Frank. (Shane is bull Sh!tting Frank)
Shane saying that Joe cannot hold a deal for a week. Frank agrees. They are both pretty pissed with Joe/ (At least Shane makes it out to be like that) Shane adds that Joe is running around the entire house making side deals with everyone. They both agree that Danielle is smart and loyal in the game. Shane says Joe is the least loyal.
Shane says they need to get joe out this week then Dan out next week. Frank: "As long as this little guy doesn't win POV.. we're golden"
9:21pm backyard Jenn getting ready to win some HOH comps
9:20pm Bathroom Danielle, Dan and Shane CHIT CHAT
Guess what Danielle brings up throwing up during the competition.
9:43pm Hardcore night in big brother .. beer shots
10:00pm cam 1-4 hot tub fun..
10:24pm Cam 1-2 Kitchen Dan and Frank
Frank says that Ian is denying he graduated when he was 16 and was done his undergraduate when he was 20. Dan says he's smart as hell they all no that it's not a big deal. Frank knows just wondered why Ian was denying in from of everyone in the backyard.. Frank claims Ian told him week one.
Frank: "You think we are golden right"
Dan: "If you think you got Shane then.. everything is gravy.. you know what I'm saying"
Dan: "It will be easy to get Danielle's vote if we have SHane.. not that it's going to be hard to Danielle vote.. but. you know what I'm saying"
Frank telling Dan that he had a final 3 with Shane and Joe. Frank only made that deal so that he could ensure they would vote out Britney because that was the last thing they wanted.
Dan: "It just sucks that you can't play in the next HOH"
Frank: "It's not that.. everyone wants Ian gone"
Frank says he's pretty nervous this week..
Frank: 'You're serious about us going to the end right.. "
Dan: "Ya ya obviously"
Frank: 'YOu know I have been burnt a lot this season… people putting me up on the block"
Dan: "Do you think there is a power floating around"
Frank: "If there is a power Ian's got it.. but if he had a power he wouldn't be walking around stressed all day"
Dan brings up again how he really wished that Frank could play in the next HOH. Frank doesn't think that it's a big deal. Frank doesn't think that Danielle will make a big move against Shane or Dan. She's good at this game but doesn't have that killer instinct.
Frank: "Jenn is a loyal trooper"
Dan: 'People underestimate her so much"
Frank says that Shane offered him a final four, Shane, Danielle, Jenn and Frank. Dan thinks Frank should just agree to it because at this stage if he says no they will just target him. Frank says if Jenn wins the HOH she'll put Ian up. Dan asks him what if Joe wins it.. Dan thinks if it's a crapshoot Joe's got as good of a chance as anyone.
Frank: "That means he has the votes and I go home"
Dan: "ohh fu*** ya"
Frank: "don't be sayign that Sh!t son you got me worried"
Dan: "Ohh ya what the F**** am i saying"
Frank doesn't think Joe will win the HOH he'll continue to float around. Dan says that as they get down to fewer players the most deadly thing that can happen is someone that is not on the block wins POV and uses it then someone unintentional goes up. Frnak points out if Dan goes up against Jenn he would go home.
11:09pm Danielle checking out belly fat in the bathroom
11:40pm Kitchen Danielle has drank a bottle of wine and is tipsy. Dan is trying to get her to drink water and eat food. She's trying to talk people into playing rummy.
11:50pm Cam 3-4 Ian and Joe talking mad game..
Ian says that when it gets to final 6 it's win or go home.
Joe tells Ian if he wins Dan and Jenn, he would consult with Ian first though.
Ian: "Right now i am trying to watch out for the MIST"
Joe: "He's dangerous"
Ian: "He's dangerous but he's a meat shield.. everyone wants him up.. put them up"
Joe: "Dan more likely to win a HOH or Jenn"
Joe says nobody has a clue that Ian and Joe are working together Dan thinks JOe is working with Shane and Danielle.
Ian points out that Shane has voted against Danielle in the past.. he voted to keep JOJO.
Joe tells Ian that taking Frank out is taking out the biggest player in Big Brother 14. Ian mentions that the last HOH he fired a shot missed and hit a doe but this time he hit a 12 point buck. Joe laughs.
Joe: "Dan's such a wildcard you never know what he's doing"
Share it YO!!
Tweet