Quick Big Brother Spoilers
Head of Household: Daniel
Nominees: Michael & Terrance
POV Players: Daniel, Michael, Terrance, Indy, Ameerah and Turner. Kyle is hosting
POV Winner: Michael
Veto Ceremony:
Evicted:
Havenots: Joe, Michael, Monte and Kyle
Lock your ranks in before midnight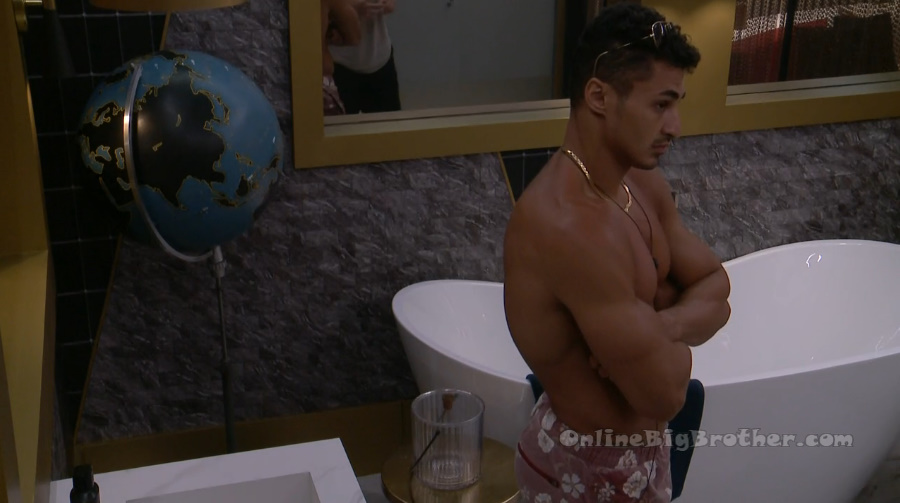 10:07pm HOH room. Joe and Daniel.
Daniel – I am proud of Michael for winning but it puts me in a sh*tty position. Joe – absolutely. Daniel – obviously the target (Taylor) showed themselves. So that is the best case scenario for for what I'm in for what happened last night. I guess my only hope is that I want to talk to everyone so that when we send this person home .. I can't tell you what to say in your goodbye message. I would never tell anyone that but that you guys are just honest about why this person is leaving. Only because that is my voice for why this person is leaving. I am aware of how bad it looks with two black people on the block at the end of my first HOH. I care about that but I also want to play the game. I also know the reasons behind it. Putting a gay white man and black man looks bad. We're all so different so any version is going to look bad but that's the beauty of the mix of all of us. Joe – the cast is diverse. Its going to happen regardless. Daniel – its a game move but I don't know how its going to be portrayed in the game as well. Joe – remember everything here is recorded 24/7 and Monte and hers (Taylor) conversation has to be posted. Daniel – yeah but we don't know until its over. Joe – yeah and I will be completely honest with you she has not done anything to me, we have not talked game really and she won't come near me. She's had her moments where I kind of watched it. I am in the same position as you, that I just have to trust everyone else. Daniel – yeah Monte's vulnerability is what secures me. Joe – I don't look at Monte as a liar. Even if he was, that is on him if he did that to Taylor. But I would put my life that he is not lying .. that is how much I trust that kid. Daniel – dude he was on the verge of tears telling me this. Joe – and everything is recorded. Terrance and Michael fortunately enough for you its not personal. My question to you find out if Taylor had people or alliances because that would be your only backfire. Daniel – before last night everyone wanted Taylor gone. The only other person (Indy) that I was thinking is not even a thought now. Joe – if she (Taylor) thinks for a second that there is no hope anymore. Like I am going home. Daniel – she is going to blow up. Joe – she is going to blow up because she is just sitting here waiting to be evicted. Daniel – she is going to go out with a bang. Joe – she is going to explode! Joe – I would just laugh everything off, like do anything you want. Daniel – props to her for still hanging out.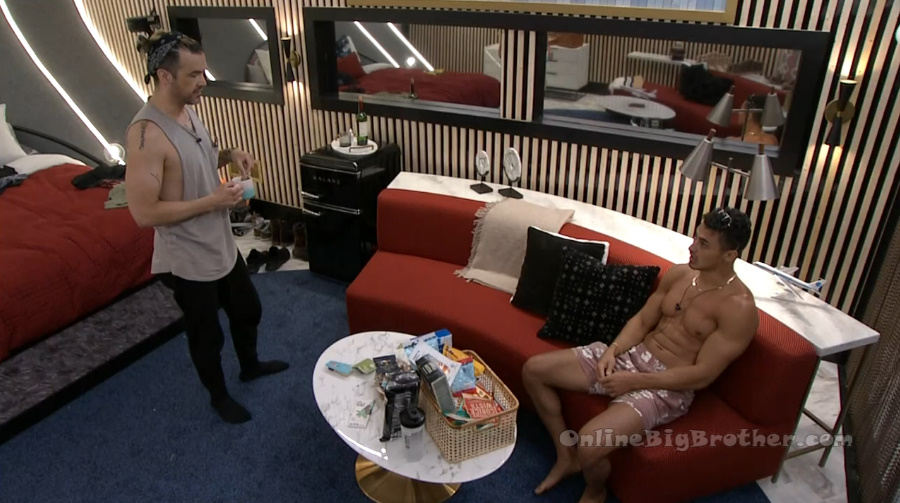 10:33pm Bedroom. Indy and Paloma.
Paloma – the girls are united for sure .. like I know that. You said final three you, me and Alyssa. We need to talk to Alyssa too, she would be down. Indy – not excluding the six. Paloma – no, of course not. Jasmine and Alyssa join them. Indy – if we stay six together, we can make it.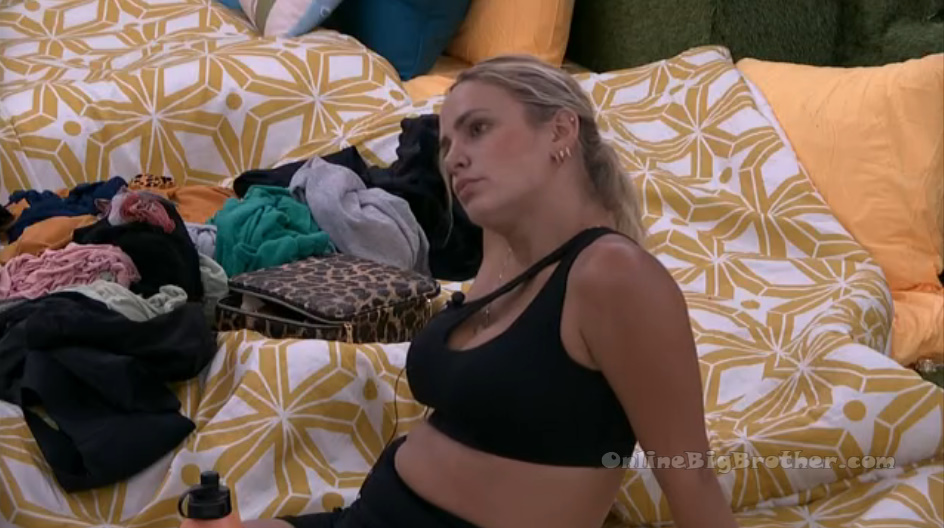 10:40pm – 11pm HOH room. Daniel and Taylor.
Daniel – I did want HOH for safety. I didn't know it was going to play out this way. Taylor – first of all people respect the hell out of you as HOH. Like this is the people's room. How are you feeling? Taylor – Straight up no game I'm kind of stressed. Yesterday was a tough one for me. I know like you said people don't know me and that is something I have always struggled with. So I was like ok, I am going to find people and connect with people because I really want to get to know all these people. I walking from room to room and no one was in those rooms. And I know you've had this happen before where you walk into a room and the conversation wraps up and everyone leaves. Yesterday was an in my head day. I feel like I've been really straight forward with wanting to protect you, work with you and like giving you valid reasons why I feel some sort of connection with you. Taylor – I should just ask you straight up how do you feel about me in this moment? Daniel – I feel pretty solid. I feel for ME our communication has gotten better like this .. the only thing would be and not just you but everyone should be playing socially now. Taylor leaves. Daniel to the camera – Oh my god I don't like doing that but she has to go home .. whatever. Sometimes she is better than you think but her social game is wack! She is going to be pissed! She's got to be a superfan of the show .. she knows how to ask an HOH questions.. but I know how to respond better..
11:56pm Storage room. Ameerah and Monte.
Monte and Ameerah talking about the veto comp. Monte – it probably would have been more preferable if you had won now that I think about it because now we would have two people safe in the alliance and of course Terrance would have gone home because we would have gotten the votes for Michael. It still would have been a safer situation. Ameerah – are you positive we can get the votes for each of us that we think we can get? Monte – I think Jasmine is cool with Alyssa. Rock tight. Joe.. Ameerah – who the f**k is Joe with?! Are you sure he is with you!? Monte – No no I know he is because he comes to me with everything. Ameerah – he talks game to you? Monte – yes about everything. And there have even been bro potential alliances that I've been discussing. Amreerah – stay in that, stay in that. Indy comes in and they talk about having two black people on the block. After she leaves Ameerah says she is psycho! Monte – yeah she needs to go. I would put her up.
12:20am Backyard. Kyle, Michael and Taylor.
Kyle – do you guys get .. like I am just at the point where I am at social overload a little bit. Like you go into any room and you're talking to people. Taylor – to a huge group of people. Kyle – and back home I don't do that. I talk to people maybe 2 or 3 hours a day. And I went up into the havenot room and I couldn't even think.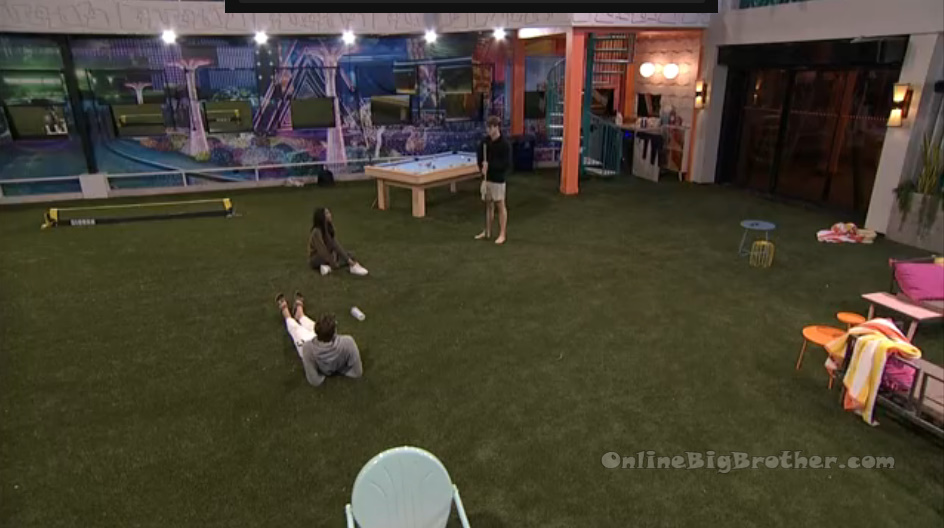 12:25pm Bedroom. Pooch puts two bananas in Alyssa's bed and splenda and garlic salt in her water bottle. Nicole – comes in and says what are you doing?! Pooch – Alyssa banana'd me and I just double banana'd her and I put splenda and garlic salt in her bottle. He tries to sneak out behind Jasmine, Indy and Paloma but Alyssa see's him. Alyssa to Nicole – what did he do? Nicole – I caught him red handed. Alyssa – did he find the banana? Nicole – I don't know. Alyssa goes and finds the banana in her bed and goes to put it in his bed but then says she is going to shove it up his a$$. She goes and puts it back in the freezer.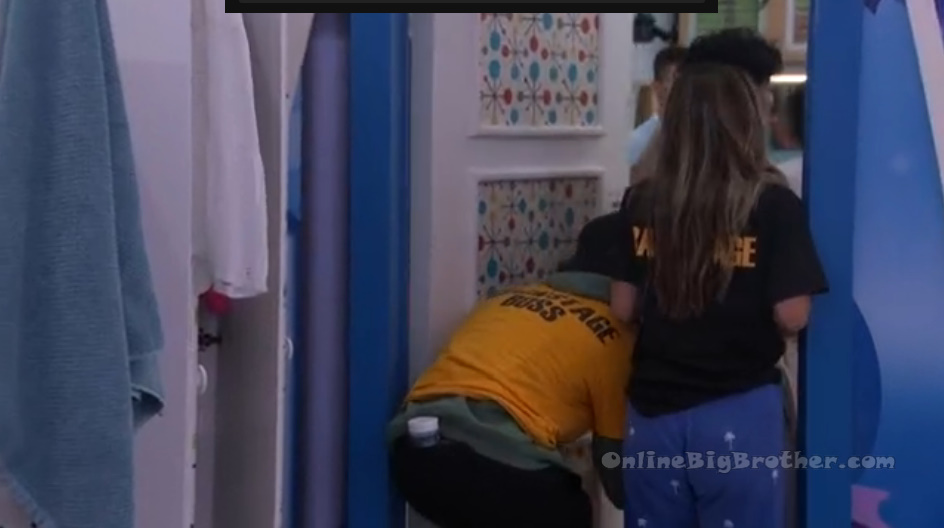 12:47pm Bedroom. Alyssa, Indy and Ameerah.
Alyssa is crying because she's stress and overwhelmed and starting her period. She says that her mom told her she was too sensitive to be on the show. Alyssa – Pooch is going to think its because of the banana.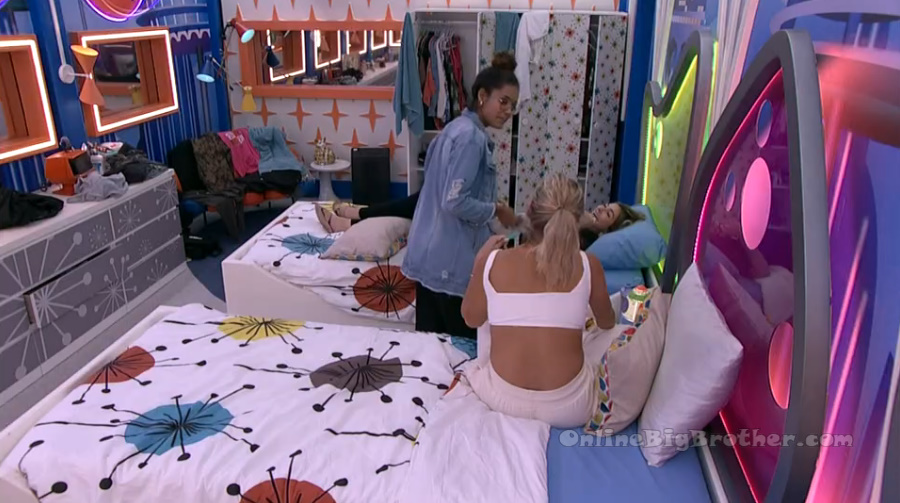 1am Backyard – Nicole, Terrance and Taylor.
They're playing pool and chatting.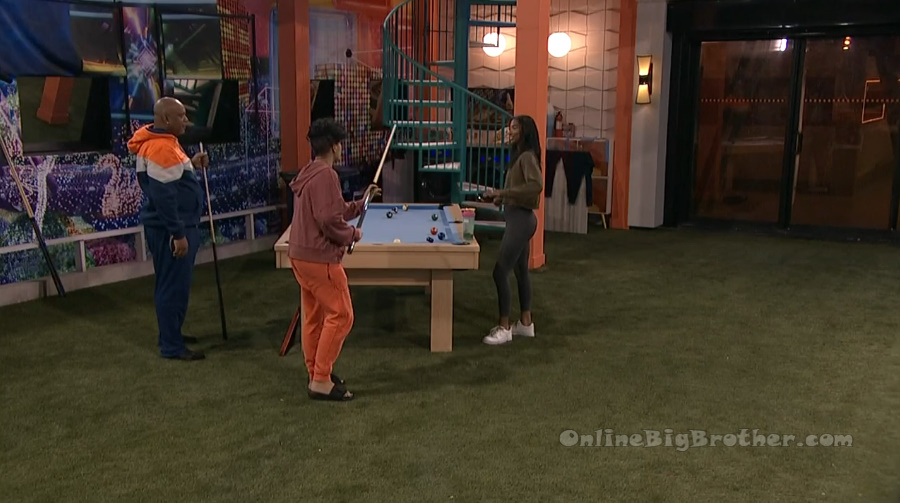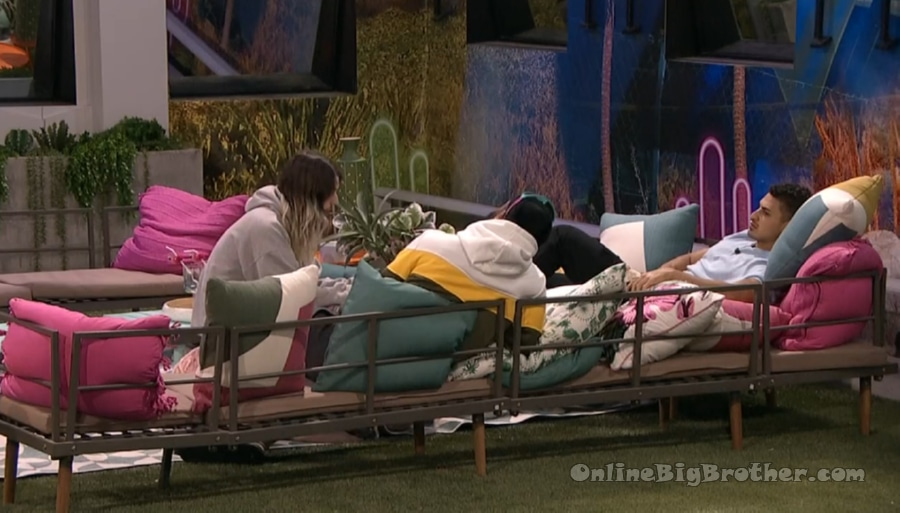 1:50am JOe, Turner and Monte
Joe – we have to look at who is a high threat level
Joe goes on explaining hey need to get who are the next biggest threats and put them against each other
Turner – our group is the dominate competitor in the house.
joe – nominating does not get them out of the house but it does start breaking their alliances.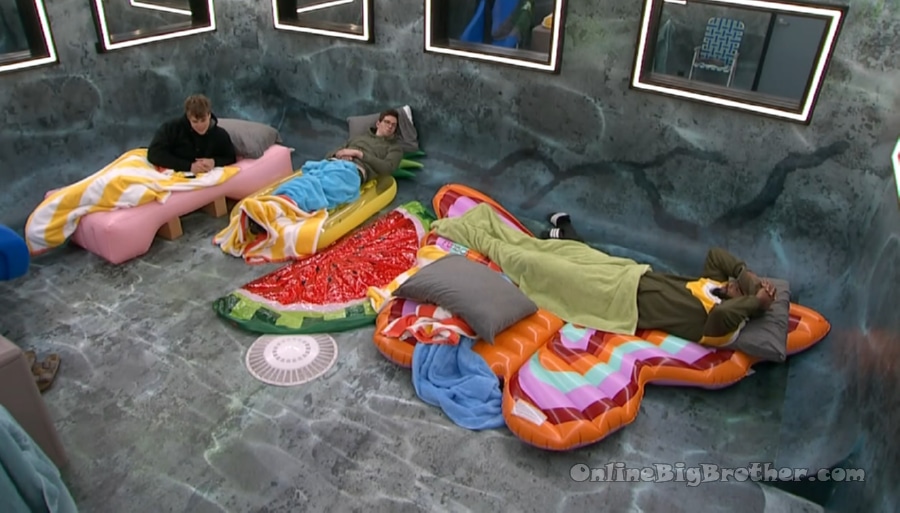 4:00 am Have nots Monte, Michael and Lyle
Monte – when it comes to Paloma I don't know what is going to come out of her mouth at any given moment.
Feeds flip when we're back Monte is impersonating Paloma.
Monte – it's hard to find a sensible conversation with her.. It's hard to find a sensible conversation with anybody outside of you guys. When we tal kWE get to a point.
Michael – I would love to see POOCH and Paloma talk strategy. They do the exact same thing they really didn't say anything.
5:26 am Zzzzz
7:48 am Zzzzzz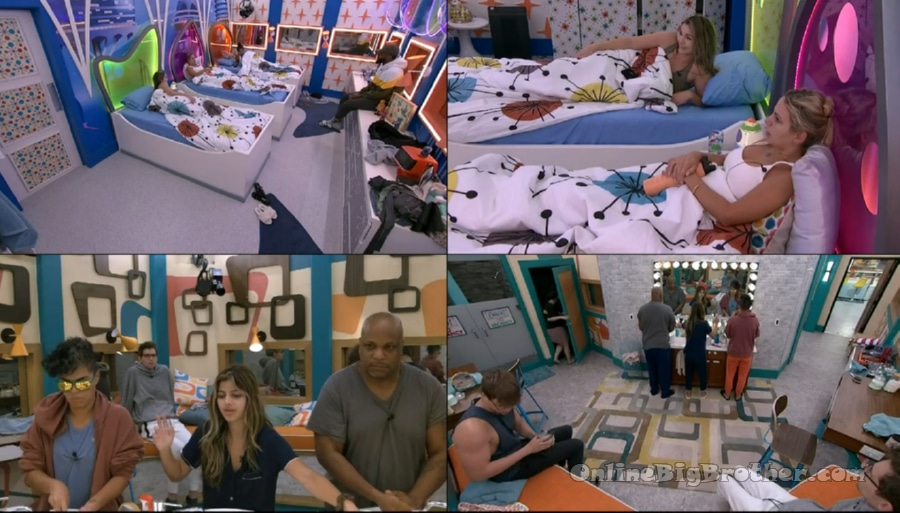 8:21 am Houseguests getting up. The backyard is closed apparently it will be open again tonight.


Girl's Girls (Paloma, Jasmine, Alyssa, Ameerah, Indy, Brittany)
Motley Crew (POOCH, Turner, Daniel)
The Oasis (POOCH, Turner, Daniel, Kyle, Monte, Joe)
MAMBA (Paloma, ALyssa, Ameerah, Monte, Kyle, Michael)
Burner (Turner, Brittany)
TOOCH (Turner and Pooch)
PSL (Paloma, ALyssa)
Rouge Rats (Nicole, Daniel)
Smurfs (Jasmine, Paloma, Kyle, Monte)