Quick Big Brother Spoilers
Head of Household: Daniel
Nominees: Michael & Terrance
POV Players: Daniel, Michael, Terrance, Indy, Ameerah and Turner. Kyle is hosting
POV Winner: Michael
Veto Ceremony:
Evicted:
Havenots: Joe, Michael, Monte and Kyle
Lock your ranks in before midnight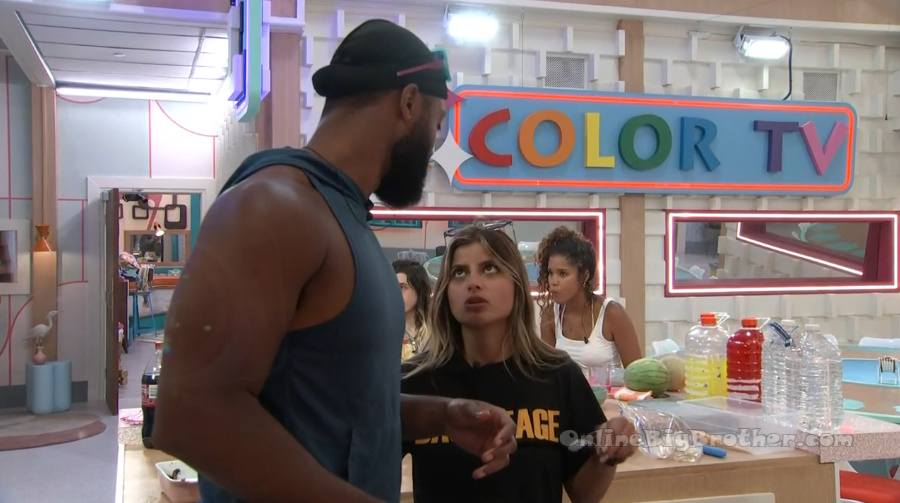 6:18pm Storage room. Monte and Paloma.
Paloma – I have x-ray vision now.. I can see what's going on. Just kidding. I must sound psychotic. Welcome to my chess game. Mamba is six. Me, Alyssa and Ameerah are going to do the buddy system. Did you watch last season? And the cookout had a buddy system. Monte – every person has a person. Paloma – We've figured that out. Paloma – its Jasmine, Indy and Brittany. Monte – you know I've got mine. I've got Joe. I also feel really good about Daniel. Paloma – Daniel, I love Daniel. The only downside about Daniel is he is an emotional player and emotional players have room for error. I wrote this rule book before I came on here. Its a book of chess moves.. divide players into rational and emotional players .. and work with the rational players because they will never fail you. Like Turner, I love Turner but he is an emotional player. He gets very excited and when I told him the sh*t going on with Taylor he was screaming. You need to be low key and he is not low key. As much as I love Turner and as sad as it is I would be okay with getting him out in the beginning because his emotions can f**k up our game. Monte – Pooch, like we know how Pooch is. He is the same way. And he and Turner are buddy buddy.
Paloma – they're loud and they lack self awareness. They're loud and you can't be loud in this game. Just figure out your buddy system. Monte – yeah, yeah, Yeah .. I just don't know who would be good for Kyle. Paloma – maybe Daniel. Monte – we need to get a guy out next week. We already got a female out and I don't think it helps to keep getting a female out. Paloma – I think I have unlocked the key to this game! Everyone is speaking to me. I know everything! I would literally like to say I know everything in this house. That is why I feel so confident. My anxiety is gone. I can tell you the end game results. I am at checkmate. Its me winning the money and investing in all your guy's businesses because I love you guys too much to take the money and run. That is my end goal. I found a way to hack Big Brother! They're like you can't split the money. As soon as that cheque is written to me I am investing in your guy's business. I promise you that. I low key don't want to be HOH this whole game because with the chess board it doesn't work. I don't want any blood on my hands because I am working with everyone. I want everyone to believe I am their friend and if you're HOH you have to put two people on the block. I have unlocked this game with my brain.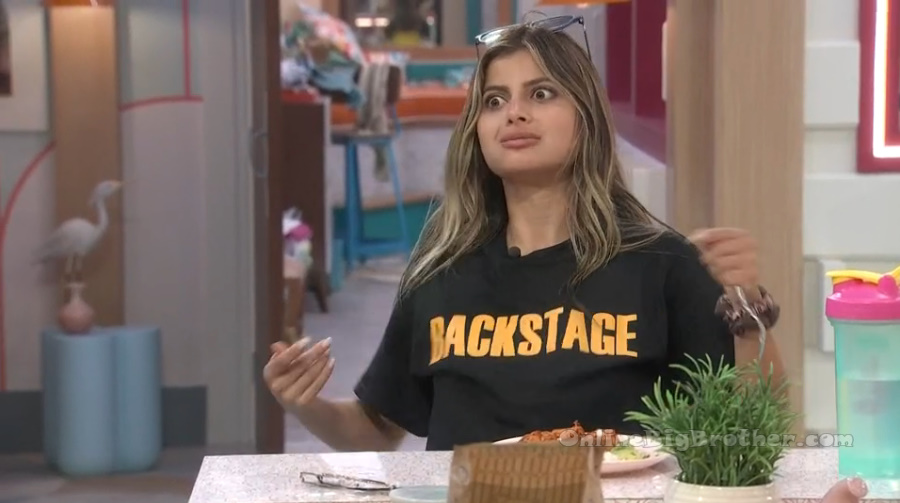 6:50pm Pool in the backyard.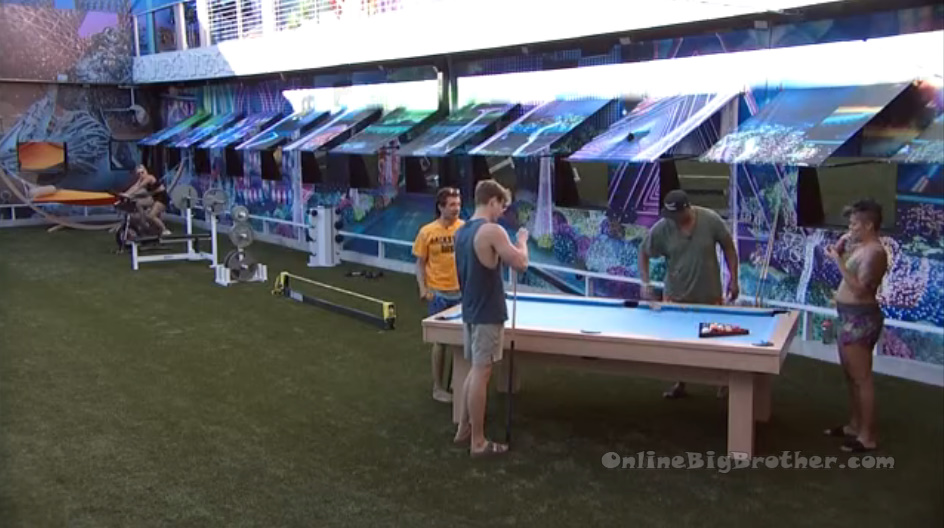 6:53pm Backyard – Terrance and Taylor.
Terrance – he (Daniel) hasn't given me any indication of what he's going to do. Taylor – he doesn't know what he's going to do. Terrance – I am just hoping .. like I need a hot five (votes). Taylor – you've got me, Ameerah and Jasmine for sure. Who else would you feel confident about? Terrance – Turner seems pretty cool.. and Kyle. Taylor – how do you feel about Monte? Terrance – I don't know. I don't know. Taylor – okay. Terrance – cool and we had good chats but.. Taylor – but his game is different. So we just need one more if we're adding Turner.. find one more. Terrance – yeah, it all depends on who he's going to put up though. Taylor – yesterday I was like is he going to put me up? Its just a crap shoot. Terrance – he hasn't said a word though.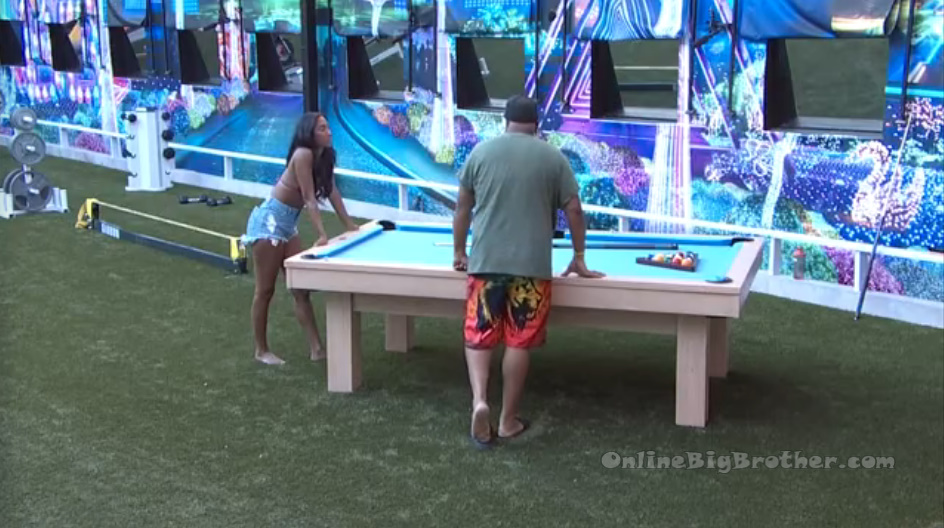 7:03pm Bedroom. Daniel, Nicole and Ameerah.
7:08pm – 7:39pm HOH room. Daniel and Michael.
Daniel – I thought today was going to be an off day. But then with DR and now I feel like I need to talk to Paloma. Anyway what's up pickle man? Michael – one of the few things I can eat. Obviously I am feeling good. Daniel – super proud moment for you. Mad respect! As a fan of the game I am not a fan of floaters. That was dope! My goal was to get Terrance all the votes to stay. And now I can prove that no matter who goes on the block because I can't say yet. Michael – I have a sneaking suspicion I know. Daniel – that was for tv. Today was a good day because Terrance woke up feeling good and you woke up feeling good. Daniel – Before all this went down .. Taylor's name was the number one everyone's said. She's talked very little game with me and As far as I can say along with the theme that these two guys got screwed .. and I believe everyone when the say where their votes lie. So she can either canvas for votes or blow up. Its like weirdly best case for me in terms of a common enemy for me for first week… worst case for outside world but we have to play the game as far as we know it in here. It also solidified it by hearing it from a black man who was also hurt by it. I told him that as a black man I am aware of how this will look with two black people on the block at the end of the week. And he said yup I thought about it but we know the real truth and I am going to say the truth in my goodbye message. Michael – I think this is pretty clean on your part. And if for some reason backstage messes up your plan just know that you have my support. Who knows what could happen..it could be one of the three (Paloma, Alyssa, Brittany) goes home instead, just know we aren't going to jump ship and point fingers at you saying it was all him. And if its one of the three that goes in as the replacement what would you want us to decide? Daniel – I wonder if it was the boss (Pooch) that decides who goes in.. I would be like I'm done. That would be insane. Having to talk to you and Pooch in those moments would be great. You have good ideas and Pooch is in that position… and we would just figure it out.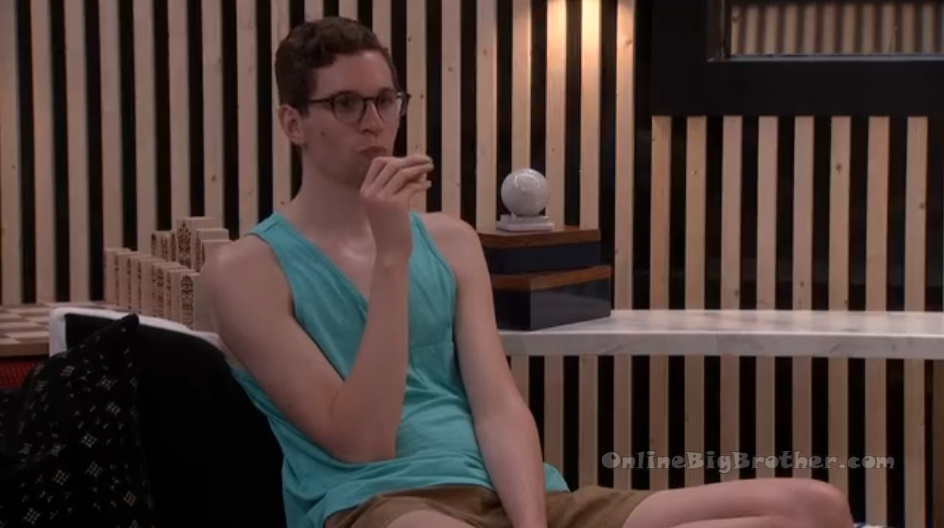 Taylor raging after going on the block tomorrow.. #BB24 @bigbspoilers pic.twitter.com/Iw3xXST4sv

— Dawg (@DawgsBigBrother) July 11, 2022
7:40pm Bedroom. Alyssa and Ameerah.
Ameerah – I think that's what we'll do. Mamba first, Girls Girls and then once we get to the middle we can adjust again.. but right now until we get out 6 or 7 people that is the order. Alyssa – and I think good people to put up would be Terrance and Joe and I would say nothing personal you guys just don't talk game. Ameerah – and then between the three of us I think we could balance them two and split our votes so that it doesn't look obvious we're not voting for them when they get eliminated. Alyssa – yes because I know Monte and Kyle are going to be like we're the strong guys ..like we got each other. Ameerah – oh my gosh, this is it. Us three just 1000% ..We have to be 100% honest with every single move.. and we'll be in the final 3 chairs. Alyssa – and we need to keep Pooch longer because I think we can convince him to go after Monte and Kyle… and then again I have no idea how good of a competitor he is. I love Jasmine too. Ameerah – the top people to get home right now are Joe, Terrance, Indy and Taylor. Alyssa – and then from there we need to start winning and putting people up. And then when its Girls Girls and Mamba left… that is when it gets messy. Ameerah – we can't win after that. Alyssa – I think we have a good plan to make it to the final three.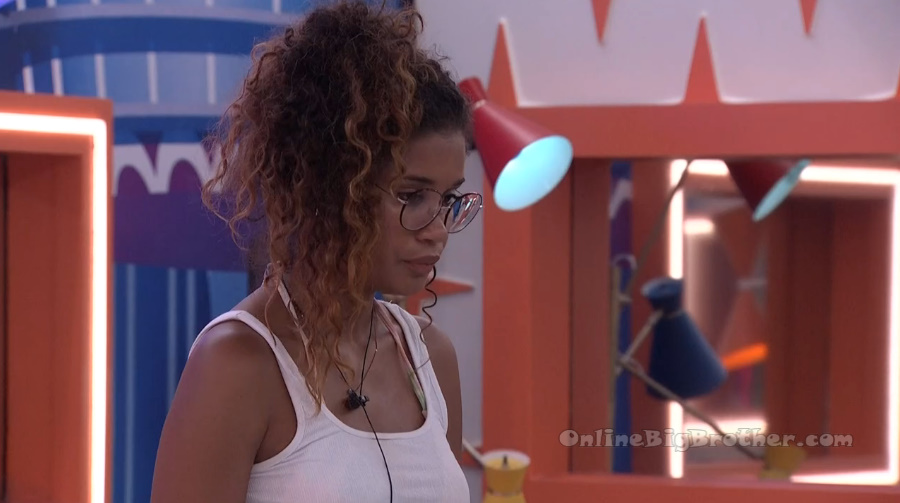 8:10pm Bathroom. Alyssa and Ameerah.
Ameerah – I need to tell you something. Me, You and Alyssa need to be 100% honest with each other for this plan to work. I have solidified us to be top three. (lol day 5) Paloma – you think I haven't already figured this out?! I've already checkmated in this game. I've finished the game. Ameerah – yeah me too. They head to the kitchen. Paloma – you said you know the first four out of this game? Ameerah – Yeah, Indy is next. Paloma – next?! Ameerah – next, people want her out. Pooch even told me. Paloma – Next? I love her. Ameerah – we love everyone. Jasmine joins them. Paloma – let me tell you why Indy should stay. Indy is the definition of a floater. Ameerah – she has a strong comp game and don't let her fool you. She is a strong comp beast. She is faking it. Look at her legs and look at her arms.. she's faking it. She has to go.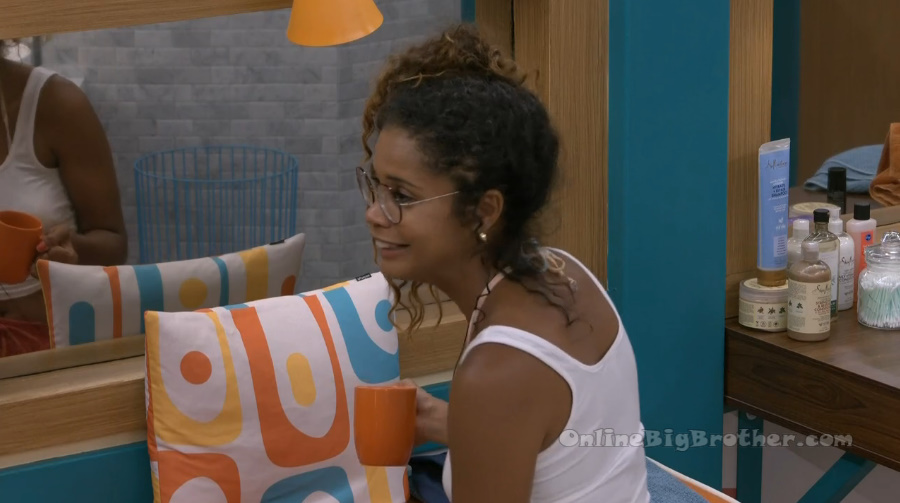 8:56pm HOH room. Paloma and Daniel.
Paloma – when I am staring at someone and looking at this wall its giving me a seizure. And like stuff starts dancing .. like oh my god. You'll see when I'm HOH and you're sitting here you're going to struggle with the wall. Just remember this conversation. Its definitely not going to go into any of my design concepts because it give everyone bad vision. Like your 20/20 is f**ked up for life if you literally have this wall. Daniel – where did they find you?! Paloma – I don't know. In the sewer because I'm a sewer rat. No but I literally look like a sewer rat in the shower .. I mean come on!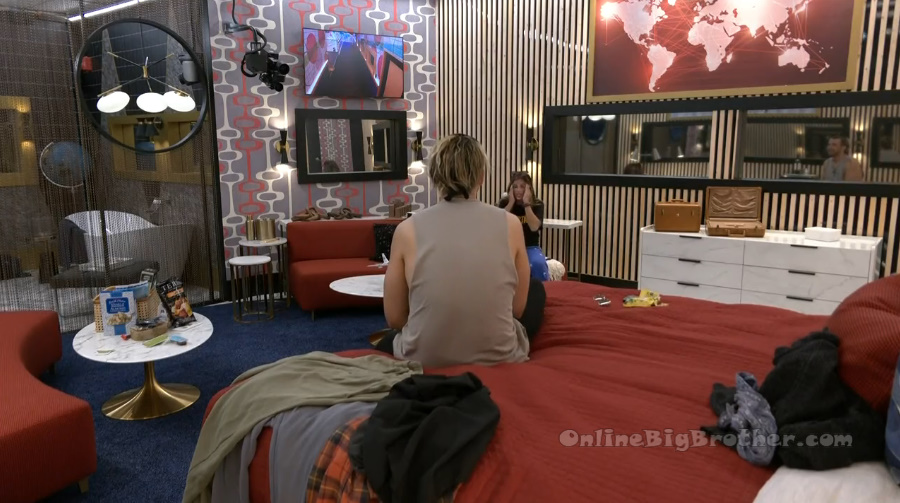 9pm HOH room. Paloma and Daniel.
Paloma – I think that Terrance should be voted out and what people are saying what would be cool is if the HOH puts up the same people that were this week. Daniel – Terrance and Michael? Paloma – I just want to get Terrance out. I section off people from what am I even saying right now.. I section off people that have both a good social and comp game and Terrance is at the bottom of that. Like I don't want to seem ignorant and get hate from voting two black people out.. Daniel – what do you think I am going to get this week. Two black people are on the block at the end of my first week of the summer. Paloma – we need to put that aside. And America needs to put that aside. Daniel – they won't so like.. Paloma – they will.. they're watching the live feeds. Daniel – not the casual viewers. But whatever we need to put that aside because we know what is happening in here. Paloma – it can be explained afterwards we need to play this game.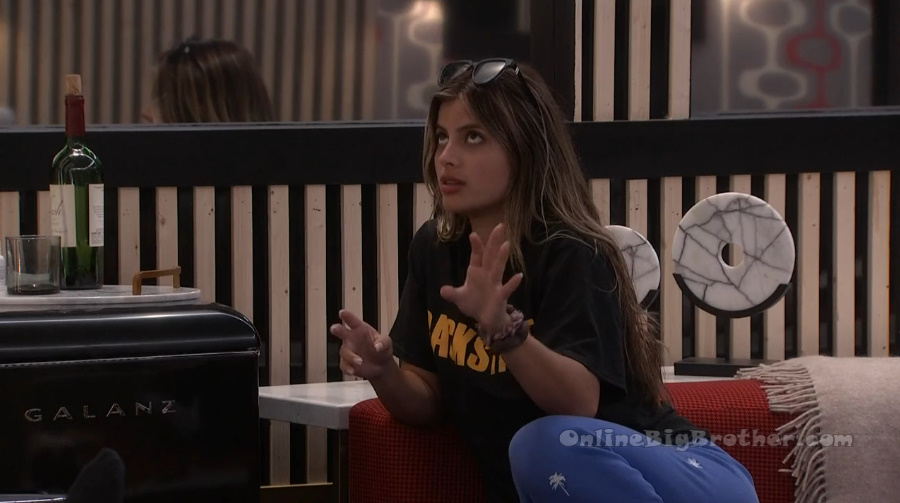 9:40pm Outside the HOH room. Joe, Paloma, Jasmine, Turner, Alyssa, Ameerah, Monte, Taylor, Indy, Daniel, Brittany and Kyle. They're talking about soulmates and whether or not you can have more than one.
Girl's Girls (Paloma, Jasmine, Alyssa, Ameerah, Indy, Brittany)
Motley Crew (POOCH, Turner, Daniel)
The Oasis (POOCH, Turner, Daniel, Kyle, Monte, Joe)
MAMBA (Paloma, ALyssa, Ameerah, Monte, Kyle, Michael)
Burner (Turner, Brittany)
TOOCH (Turner and Pooch)
PSL (Paloma, ALyssa)
Rouge Rats (Nicole, Daniel)
Smurfs (Jasmine, Paloma, Kyle, Monte)