POV Holder:
?
POV Competition
Aug 8th
POV Used
?
POV Ceremony
Aug 10th
HOH
Becky
Next HOH
Aug 13th
Original Nominations:
Shelli and Steve
After POV Nominations:
? and ?
Have Nots
Austin, Liz, Julia
8:42pm Havenots James, Jackie and Meg
Chatting about who got the more TV time.
Meg says Jeff wasn't really involved in anything
Jackie – he never played in comps
Jackie says Jeff was really worried how he was going to be looked at while on the show.
They start talking about Vanessa getting close to the twins lately. They Run through scenarios for POV wins.
Jackie says it would be so fun to watch Shelli and Vanessa campaign against each other.
James says if they put up Steve with Vanessa Steve might go home they'll find a way. Same if it's Shelli and Steve.
Meg says Steve is more likely to be on their side than Shelli.
Jackie – What if Austin and the twins win what if Johnnymac win
James – we never thought this thru
James says to make sure Shelli goes home put Austin up the twins will vote out Shelli.
Jackie says if Shelli wins Veto they put Vanessa up and Jmac will vote her out.
Jackie – The only weird scenario is Vanessa wins or Austin and the twins win and keep the noms the same.
Meg – Ohh shit
James – we need to get Steve down he's a vote in our corner.. All you need is 5 votes you got three right here and Steve that's 4.
They agree that Austin will vote out Shelli.
Jackie – I wish we had sleeping pills… and like a bottle of wine or something. (Holy shit party)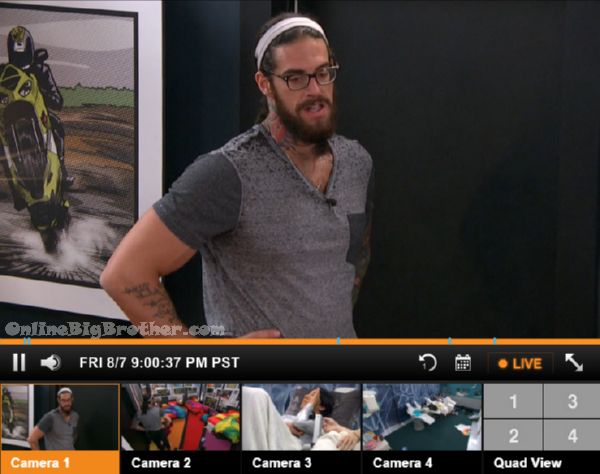 9:00pm Austin and Vanessa
Austin says he's due to get picked in a POV "I want to play it's good to have a little say throughout the week.. keep you in the mix"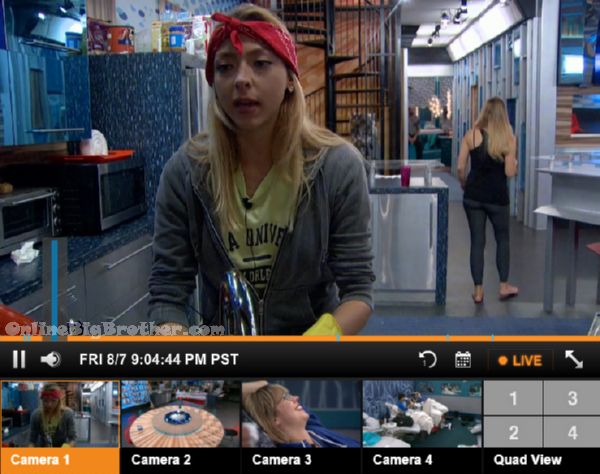 9:04pm Julia continues to clean something they've been doing all day
Julia – "I'm going to crush up a cookie with some ice cream NOM NOM"
Shelli – NOM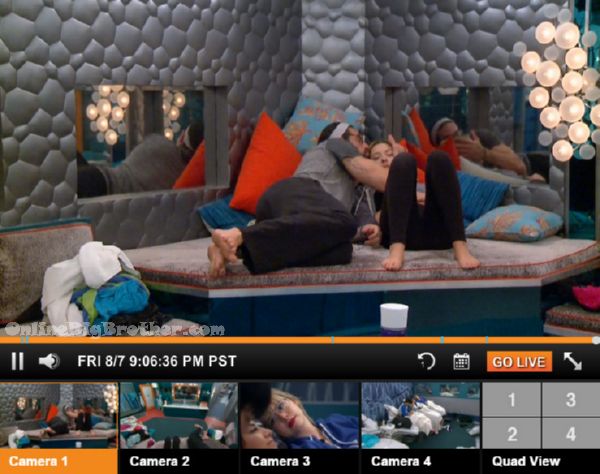 9:08pm Bathroom Austin and Liz
Ausitn – I hope Johnymac goes up
Liz – I know I don't like him
Lilz – I don't want Steve to go
Austin – Right now it's shelli that goes.. she has a better chance of winning
Liz – she can do our dirty work
Austin says Vanessa got really sketchy with that other side making them look good.
They agree Vanessa getting super paranoid
Austin says Becky isn't as down with JAmes side.
Liz thinks she is. Austin points out once they get power Becky will be with them.
Austin – Johnnymac does nothing
Liz – he's been in the DR 3 times today, he's not that interesting
Austin – Cmon Big Brother
Liz says Becky promised her and Julia she's not backdooring them.
Liz – the only person I see her backdooring is vanessa.. I'm really scared for her
Austin says Vanessa got in the middle of that thing with Johnnymac
Neither of them understand what really happened before the vote when Clay and James got in a fight.
9:24pm Vanessa, liz and Austin
Austin telling them how you can tell what is going on in the game based on the Diary rooms. If you not called before the nominations you're not going up. Based on the types of questions they ask you can tell what events were important.
They agree their side is stronger in mental competitions.
Vanessa says she made a "Boo Boo" with Shelli when she told her about Freaks and Geeks.
Austin – unfortunately it's going to be really hard to keep them both
Vanessa – unless Johnnymac goes up
Austin says if Jmac goes people are dumb enough to keep Steve.
Vanessa leaves.
They talk about the nominations staying the same. Austin saying they should keep Steve.
Austin tells her to not be obvious throwing the POV act like she's trying to win it.
Liz – they're not even upstairs with her she's by herself (Becky alone in HOH)
Austin – we should go up they're with ICe Cream..
9:39pm Kitchen dining area
Becky saying she likes Baseball but LOVES hiking
Becky says Boulder is very expensive but a lot of great people live there and a lot of great ideas come from it.
[envira-gallery id="126882″]
9:45pm Jmac and Becky
He says he's had a bad headache all day
Becky wants to make sure he's OK
Kmac – I needed to sleep oh my god
9:46pm Becky, James, Jackie, Meg
They tells Becky their fear about Vanessa and Shelli staying
Becky – I'm not going to panic until after Veto
Becky – me Shelli or Steve need to win the POV. or you guys if you're picked
Meg says They're really worried if the Nominations stay the same Vanessa will be able to do something and Steve goes home.
Becky – we only need 4 votes
Jackie – we need to get Steve off
Becky – then we have Shelli pissed off.. I'm not willing to leave Shelli on the block
Becky Leaves
They want Vanessa and Shelli on the block. The big worry is Steve going home and both Shelli and Vanessa staying. James says Vanessa and Shelli control the house. Jackie wonders if they can convince Austin and the twins Vanessa isn't good for their game, "Or is that too risky"
James says Austin sucks at competitions
Jackie – you think he's just playing that way
James- no he sucks
James – I told Clay i left him a bad goodbye message but I didn't
Jackie – when
James – when I hugged him
They laugh hta Clay would have seen it 10 minutes after.
James says she told Clay if he wanted to get a date he should have stayed at home and gone on tinder.
Jackie says she has a mercedes e500 she just paid it off "But it's old""
JAmes – Meg you're a peasant , Those things are tanks
Jackie – I drive it like a tank
Jackie stretching #BB17 @DawgsBigBrother pic.twitter.com/mc2cY2qBuk

— OnlineBigBrother.com (@bigbspoilers) August 8, 2015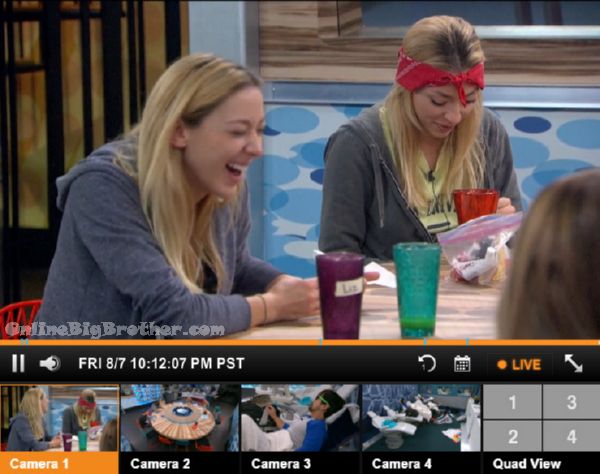 10:11pm Kitchen, Twins, Jmac, Shelli, Vanessa and Steve
The twins find out that "TLC" stands for "The Learning Channel" Steve asks them if there's any Learning on the learning channel
Though They come up with examples they're not very convincing.
[envira-gallery id="126894″]
11:00pm Playing a Celebrity Guessing game. Jmac and Steve are playing chess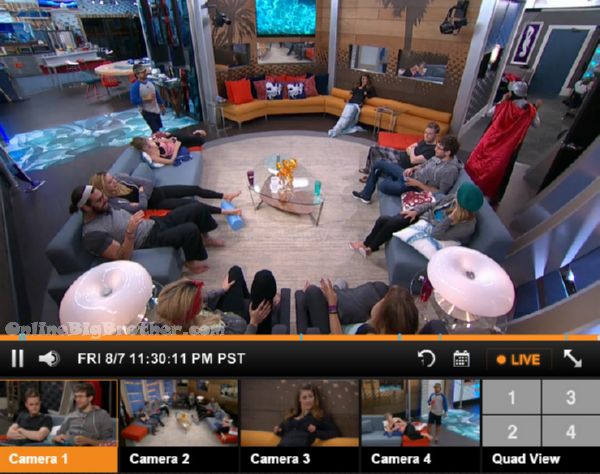 11:40pm The game continues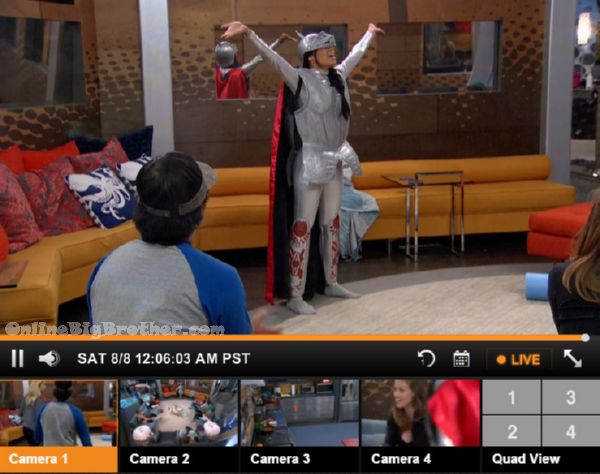 12:03am Jackie removes the costume.
[envira-gallery id="126903″]
12:10am BAthroom Steve and Vanessa
Steve saying he's thinking of picking jmac to play in the veto. Vanessa wants to play but understands if Steve doesn't pick her.
[polldaddy poll=9015303]