POV Holder:
Peter
Next POV
April 13th
POV Used
?
POV Ceremony
April 8th
HOH Winner:
JILLIAN
Next HOH:
April 11th
Original Nominations:
ALEC & PETER
Current Nominations:
?
Last Evicted Houseguest
GARY
Have Nots
No havenots this week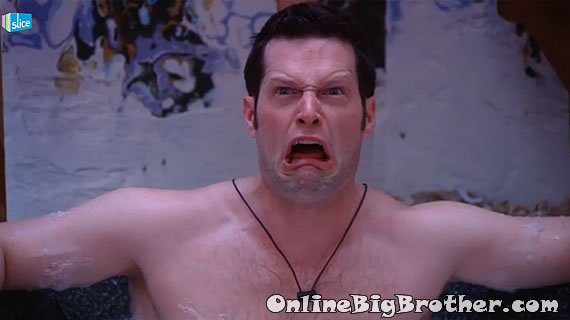 8:35pm Hot tub Andrew, Alec, Peter, Talla
Chit Chatting.. Talla talks about her twin sister a bit..
Talking about suzette and all the makeup she would put on. THey figure every day Suzette and Gary spent 3 hours to get their makeup on. The conversation moves to Make on women. The guys all agree the less the makeup the better
Peter mentions that the women that are all faked out with the makeup, high heels and plastic surgery are the ones always complaining that they want to meet a guy thats real..
They start talking about when plastic surgery goes wrong. Andrew says you put a lot of trust in the hands of the plastic surgeon you can come out of it look like.. (The screen capture shows you the look he made on his face)
Talla adds that you could come out with "Uni-boob" (LOL what?)
They decide to change the subject to US/Canada dollar exchange, Cost of Houses in Detroit, War in Iraq.
Peter says he doesn't know anything about Canadian politics more about US politics. Talla says she's really interested in Canadian politics She did her first year practicum at a MLA's office.
They are all glad that Obama won the election other than John McCain or
Peter: "Stephen Harper has 20 more years for his reign.. "
Andrew says his father ran in politics both Provincially and Federally.
Alec: "I don't vote because I don't know anything about it and I feel it would be a disservice to the country" (Not getting informed is a disservice)
Peter says he doesn't vote for the same reason.
Jillian joins them.. They start talking about the competitions they have had that were similar in other Seasons. Alec: "The human curling was on the real world"
Jillian and Talla leave.. guys start talking about survivor.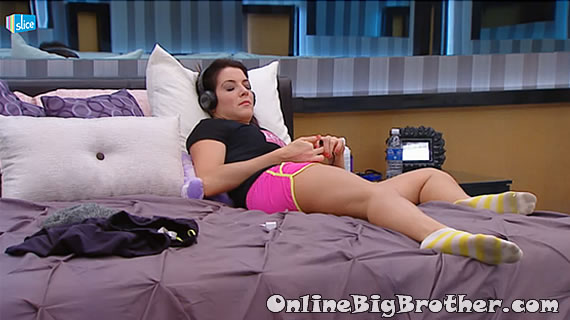 9:00pm Avoiding the house
9:30pm Feeds have been hush hush for the last 30 minutes.
10:00pm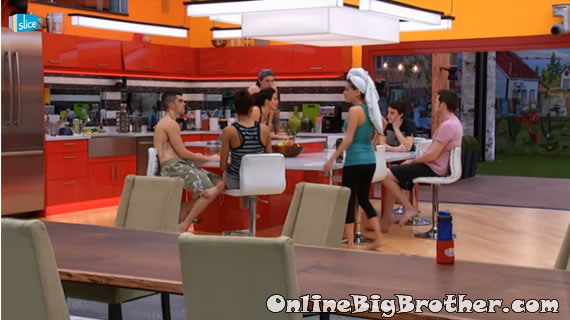 10:15pm Jillian swear on her mother's life she never opened Pandora's Box
Topaz: "I think he'll sneak in when we are sleeping"
Topaz jokes: "Welcome back Tom.. Hey Boyz"
The houseguests have noticed that Tom's picture is now in colour. It's freaking them out a bit cause they think Tom is coming back. Peter says it would be completely ridiculous if TOm comes back after 3 weeks, "On the other had Kat could be coming back there's no rules"
Topaz keeps saying "They want to shake up the house"
Wild speculation about about what is going on with Tom's Memory wall picture.
LOL they all start joking around "Toms great.. Can't wait for Tom to come back.. I really miss Tom.. He was a great guy that TOm.. Hey Talla didn't you say you hated him"
Andrew is pretty vocal about how unfair it is if Tom come back.
Peter: "I think if he comes back this week will be double eviction and he'll be the HOH"
(Again wild speculation from everyone)
10:20pm Talla corners Emmett in the bathroom asks him how she should be acting.. should she be happy or upset. Emmett: "Just relax.. be yourself"
Talla and Jillian think they hear someone at the front door and they start to freak out..
(Video Uploading)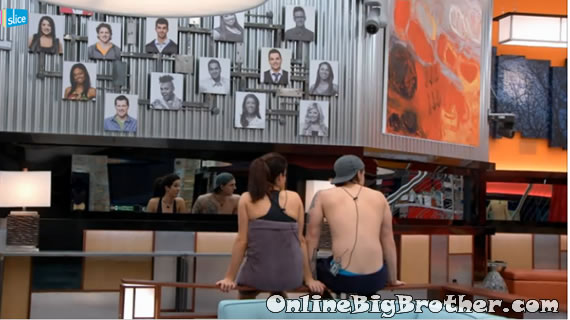 10:37pm Stooges War Room
Talla thinks Canada would vote Tom back because he would stir things up in the house. Talla doesn't think that Tom was popular but will be voted back in to raise some hell. Andrew doesn't brings up the chance of TOm coming back but with no real power.. he'll just spend 24 hours in the house causing trouble.
Andrew: "I'm just pissed that person is coming back.. and they are a big strong guy"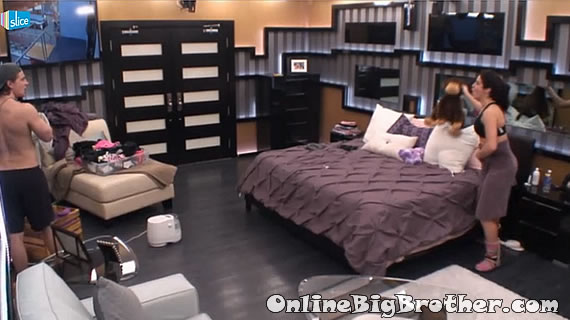 10:40pm HOH Emmett and Jillian
Emmett: "Andrew is shitting bricks.. I told him to stop saying shit because if he does come back into this game he's giving everyone ammo to put you up"
Jillian: "It sure is a twist"
Emmett: "I just hope he didn't see the goodbye messages.. "
They start to notice that the camera is pointing at various parts of the HOH room.
Emmett points out where the cameras are pointing. Jillian: "Why.. are they clues.. "
Jillian discovers a stuffed bear hidden in the HOH bed cushions
Jillian: "It's a hunt.. it's a game"
Emmett: "You get dressed.. don't say a word to anyone.. we'll split up and as discreetly as you can search the house"
They head downstairs to search around. Apparently Talla found shoe polish earlier in the day that was never there before.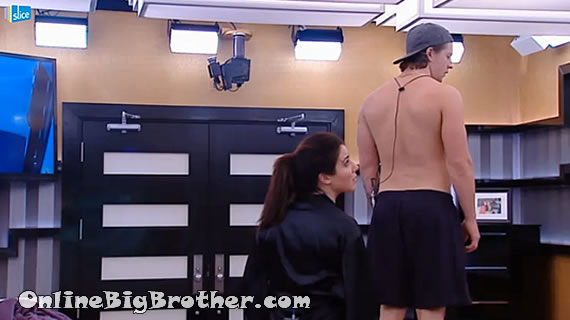 (Notice the camera points up)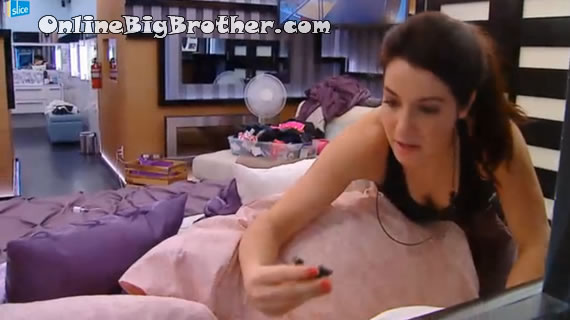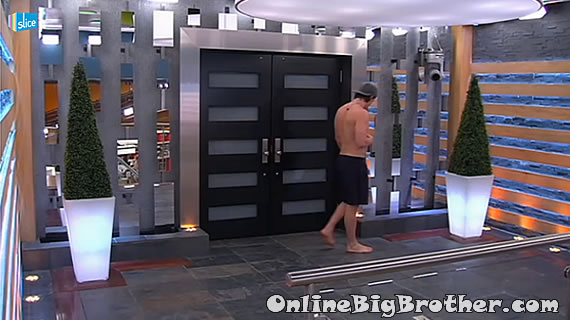 10:50pm Emmett is searching around the house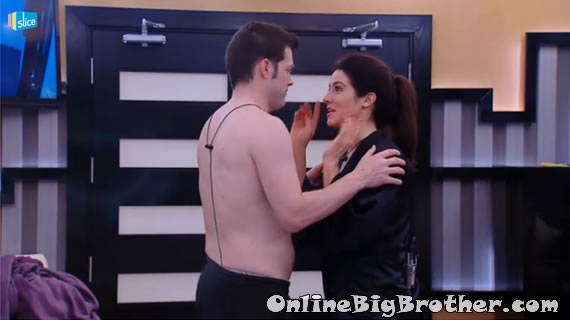 11:00pm HOH Andrew and Jillian Andrew freaking out about the possibility of Tom coming back. Andrew feels like Tom will gun after him. He doesn't think it's fair Tom gets brought back into the game after 3 weeks off. He was happy with their beast coast alliance. Jillian reassures him that Emmett will not turn his back on Andrew if Tom comes back. Andrew comments about the odd position of the camera over the HOH door it's pointing straight up.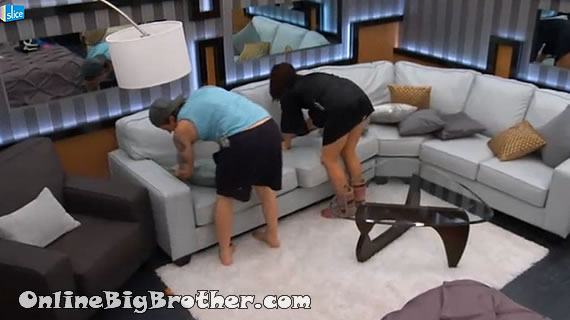 11:10pm HOH Jillian and Emmett
They are going crazy looking for clues.. Emmett tells her she'll have to stay up in the HOH all night. He's going to tell the everyone she is sleeping so they don't come p and notice thee camera pointing up.
11:18pm House guests ripping through the house looking for signs of Tom coming back
Topaz found shoe polish
Andrew found the card
Talla noticed the Picture going colour
Talla noticed there's one extra chair
*They found the monkey but only Emmett and Jillian know about this
Wild speculation throughout the house..
Topaz sounds certain that Tom is coming back
Alec is very quiet
Emmett and Jillian going bananas looking for clues
Talla freaking out every time she hears a sound thinking it's Tom opening a door
Andrew is sounds to be the most worried Tom is coming back
[polldaddy poll=7012892]
OnlineBigBrother.com
Stay connected and interact with other Big Brother Fans on our Facebook page.
And Follow: @BigBspoilers and @Dawgsbigbrother on twitter