POV Holder:
?
Next POV
April 6th
POV Used
?
POV Ceremony
April 8th
HOH Winner:
JILIAN
Next HOH:
April 11th
Original Nominations:
?
Current Nominations:
?
Last Evicted Houseguest
GARY
Have Nots
No havenots this week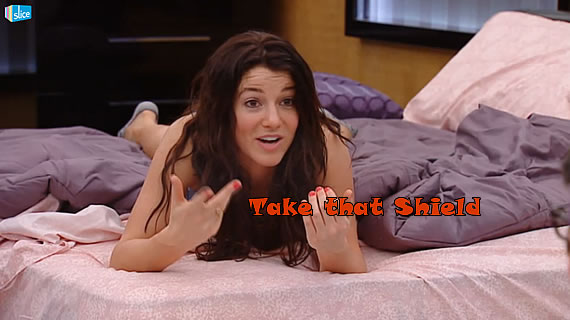 8:40pm HOH Peter and Jillian
Jillian: "I'm in the worst position in my life.. what should I do?"
Peter: "It's tricky.. we have a plan for the 4 of use and that leaves 3 people.. it's up to you which one you want to put up and which one you want to put up with them"
Jillian is concerned about the final 4 deal they have made with Emmett she doesn't feel like she was included in any game talk until tomorrow.
Jillian made a deal with topaz and she doesn't feel that Topaz deserves to go up on the block because she stuck around on the HOH competition while the the guys all dropped.
Jillian: "nobody has talked to me about any final 4.. I'm not putting Emmett or Topaz up.. I have more trust with Andrew.. Emmett is my number one and Andrew is my number 2"
Jillian: "When Andrew was HOH last week week we made a deal .. I would have absolutely loved to have put up Topaz.. but we made a deal and I'm not turning back on that deal"
Jillian says it was obvious how Alec was acting during the HOH that he was shitting himself when Topaz and Jillian were left standing. Jillian: "What was he scared about I thought we were in a final 4.. He should have been happy his final 4 and showmance were left in the HOH comp".
Jillian: "Alec has been lying to me behind my back "
Jillian says she's known for awhile that Alec and Topaz have been together and the entire breakup was a ruse.
Peter: "That was a surprise for even me and i'm suppose to be his best friend"
Jillian: "For my game I don't want to touch Andrew this week".
Peter tells her that he would not be comfortable being nominated up against talla personally.
Jillian says she got herself in a pickle from all the deals she's made she needs to make the decision that is best for her.
Peter: "So here is my questions.. "
Jillian :you guys lost the competition" (she giggles)
Peter: "So reading between the lines your target is Talla.. "
Jillian: "Ya she's jumping between the lines"
Peter: "Who is the most capable to win Veto.. between Alec and me.. the answer is Alec"
Peter: If talla is the objective then put Talla and Alec and if Alec wins POV put up Topaz."
Peter says he's OK about Jillian and Emmett winning but he doesn't want Talla or Topaz to win this game he doesn't feel like they deserve it.
Peter: "I want it to be the four of us and Andrew being the fifth.. Talla is like a kitten chasing the laser point pen"
Peter drives home how good he is at this game and how big of an asset he is to have in Jillian's corner. "I feel like I have the strongest social game"
(It's funny that Peter says that he actually has the weakest social game.. he's got the best stealth game however)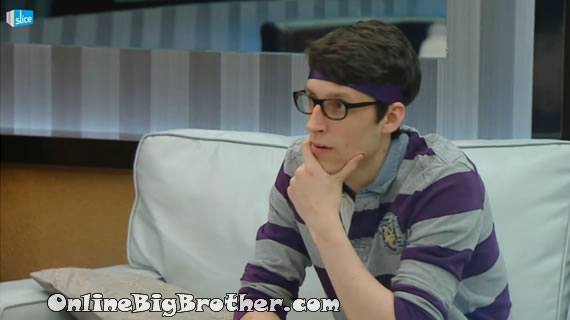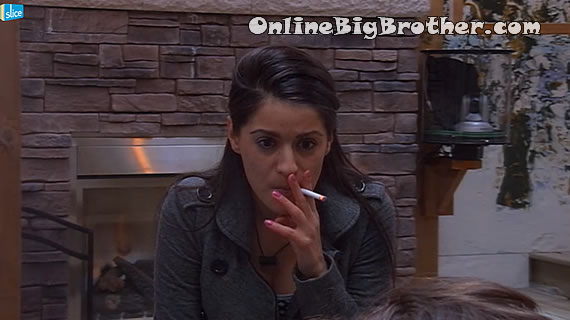 9:04pm Hot Tub Room Emmett and Talla
Emmett saying that he hasn't had the greatest luck with getting picked for POV's Talla reminds him that he's competed in 3 and won 2. Emmett plans on making Alec and Topaz think he's pissed at Jillian for the nominations then they will choose him if they get houseguests choice.
They are both convinced another double eviction is coming up. Talla seems to think it's this week and hopes they can get rid of Alec and Topaz. (Biam biam) Talla mentions that last week Alec and Peter were making plans to put Emmett up and wanted to solidify her vote. Emmett instructs her to keep talking to them. Talla says they stopped talking to her when Gary left.

(Video Uploading)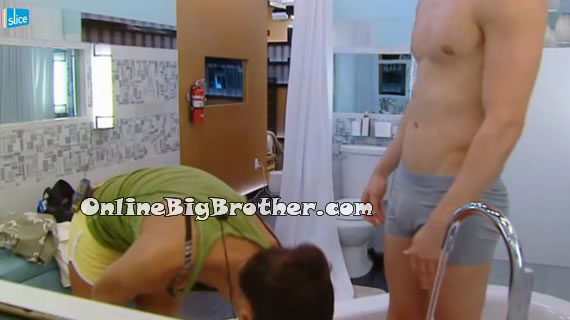 9:00pm HOH Tub Alec taking a tomato bath because he smells like fish.
They are scheming about how to save there asses this week. Alec says if Peter went on the block against Andrew he doesn't trust that Jillian and Emmett would want to keep Peter over Andrew. He tells Topaz she needs to convince them she doesn't like Talla and will target her next week.
(This is a pretty long conversation.. Pretty much Alec knows Andrew is going up and is trying to figure out a way to get Peter and Talla to be nominated. Topaz is fully on board to run Talla's name threw the mud in order to accomplish this)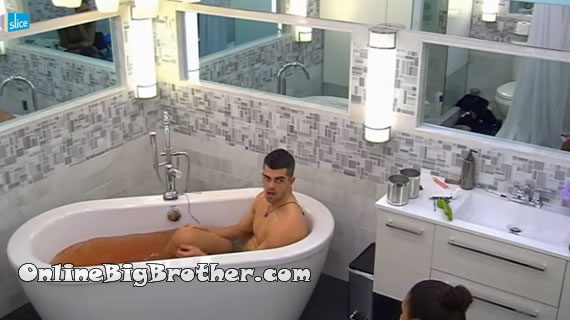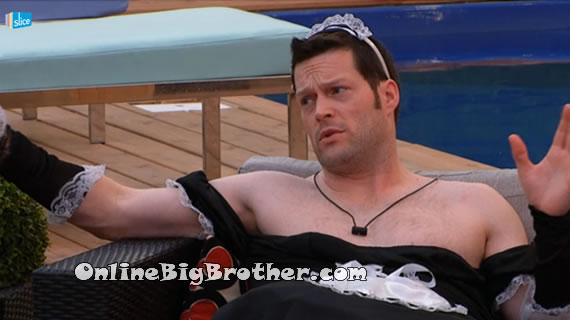 9:15pm Backyard French maid and Jillian
Jillian relays her conversation she had with Alec. Highlights how he was a bully and a douche bag. Confirms that she will put up Alec/Peter and the target is Alec. This conversation solidifies the Beast coasts final three however it appears Talla will need to win some comps if she is going to make it.
Dawg already covered the Alec Jillian conversation earlier today.. It's probably worth watching..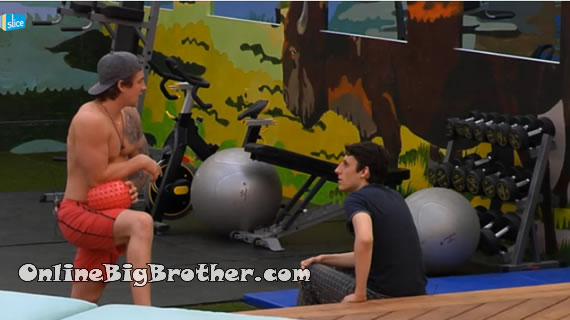 9:50pm Backyard Emmett and Peter Emmett asks him what Jillian has been telling him. Peter relays that the potential nominees are Alec, Peter and Talla with the target being. Emmett: 'He shouldn't have threaten her man.. she's pissed.. What a f*** moron.. He told her what to do and if she didn't do that he was going to come after her and me" Peter: "WHAT.. I had no idea about that.. that makes no sense at all.. " Emmett: "She said he would get really nice then get all quiet and mean"
Emmett pretty much tells Peter that Alec f*/** up by going up to Jillian and threatening her. He says that Alec is acting like Tom and that isn't cool. Emmett: "Alec is weird man … what is he doing threatening her.. what the f*ck man" Peter agrees says that Alec's behavior is highly suspect.
Emmett: "I would be F**** worried if I was Alec right now.. you shouldn't be worried Pete" Emmett points out that Alec and Topaz are back together it's "F**** up".
(Lots of stuff going on.. Alec needs POV to survive.. nominations happen tomorrow followed by the POV)
[polldaddy poll=7012892]
OnlineBigBrother.com
Stay connected and interact with other Big Brother Fans on our Facebook page.
And Follow: @BigBspoilers and @Dawgsbigbrother on twitter