POV Holder:
Andrew
Next POV
April 20th
POV Used
Yes
POV Ceremony
April 15th
HOH Winner:
JILLIAN
Next HOH:
April 18th
Original Nominations:
Andrew and Peter
Current Nominations:
Peter & Talla
Last Evicted Houseguest
ALEC & TOPAZ
Have Nots
Talla & Andrew (Servants for haves)

5pm Andrew tells Jillian the hard thing about all this is that when Talla see's all this she isn't going to want to be my friend, that's for sure. Jillian says yeah I hate that too. Andrew says you know I am being honest about it you know. He says they ask us to say things about each other. You got to be honest, right?! Jillian says yup! Jillian says its a freaking game. Andrew says yes, it is!
Andrew says I want this time to go by because I am really getting anxiousness to go home, you know?! Jillian says I know!
Andrew says the good thing is .. there are only two competitions left. God I just .. I want to win it so bad!
Jillian says me too! Andrew says cuz I don't want her to win.
Jillian says I want you or Emmett.. I can't do it. Jillian says we can't take her to the final three.. what if she flukes out?
Andrew says that's the only way.
Jillian says and wins this competition. Andrew says she will not.. think of it this ..even if she does get to the final three .. which would mean that Emmett or I don't win .. cuz that is the only way she does if she wins this HOH.
Jillian say yup. Andrew says there is still a 75% chance that both of us get to the final because all three of us could win the veto.
The thing is for her she wont get to the final two unless she wins the final HOH .. which she won't do. Jillian says yup.
Andrew says you won't take her, I won't take her and Emmett won't taker her. And I am going to win HOH this week!
Andrew heads back downstairs. After he leaves Jillian says I can't do this! (Not sure if she is talking about her work out or her conversation.)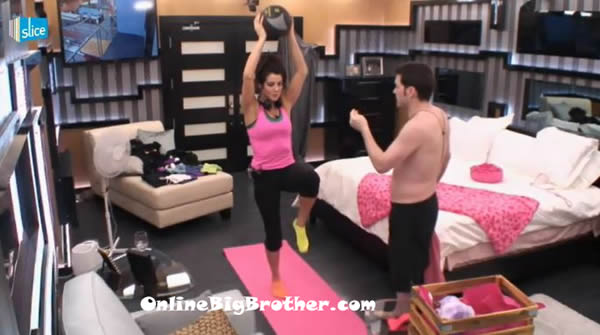 Talla goes up to the HOH room and ask Jillian if she wants to play soccer later. Jillian says she will. They head down stairs. Jillian asks Peter what he is doing? Peter says he is waiting for Emmett. Jillian asks where is he? Peter says the diary room. Jillian says what a loser!

Jillian and Talla head out to the hot tub room and talk about how its almost over and that its day 55 in the house. They head back to the backyard. Jillian and Talla start jumping through the badminton net. Jillian says pretend you are a burglar and try and jump through. Talla tries and fails. I would be a horrible burglar. Emmett and Peter come back out to play. They talk about being nimble & agile. Jillian asks so what if you are nimble and agile. Talla says then you're ambidextrous. Emmett, Peter and Talla laugh. Emmett asks do you even know what ambidextrous means? Talla laughs and says ambidextrous. Emmett says you're better off just being quiet because Canada is going to think you are stupid. She says it means you're flexible. Peter jokingly says YUP YOU'RE RIGHT! Emmett says oh my god. Talla asks Jillian what it means. Jillian asks do you mean contortionist? Ambidextrous means you can use both your left and right hand. Talla says OH SH*T! I just said that? WHY DIDN'T YOU STOP ME Jill! Where did I get that word from. Emmett says don't talk any more. Jillian says Emmett be nice.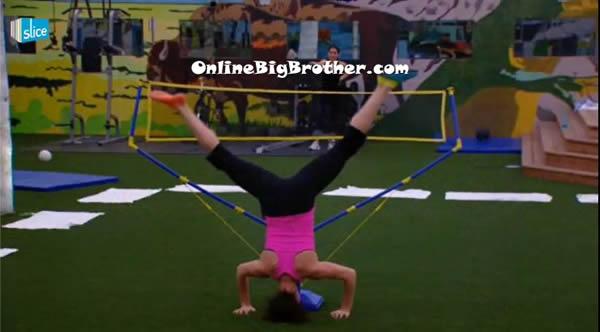 6pm – 6:15pm Andrew, Jillian are up in the HOH room talking about Alec and Peter throwing competition. They talk about how much Topaz slept and would continue to sleep when they buzzed her. Andrew says she had no respect for the game. Emmett joins them. Andrew says lets just get to Thursday.. hopefully you win or I win. Andrew says that it's going to be a mental competition. Andrew suggests that they start a fight with Talla before the HOH competition to get her fired up. Emmett says you start it and I will pour gas on it! Andrew asks what should I say to get her started. I guess anything with Talla.
6:35pm Andrew, Emmett, Jillian, Peter and Talla all head out to the hot tub room. They talk about random things about their lives outside the house. Everyone but Talla head back into the house.
6:45pm – 7:50pm Emmett and Jillian go up to the HOH room and make out / talk on the floor. Emmett says you know what we should do after this is all over.. like in 3 weeks.. Jillian asks what? Emmett says no I will tell you later. She keeps asking then tells her he is thinking of making youtube videos. He says that Peter said he makes $1000 a month just off his youtube videos. Emmett says that he is going to talk to Peter tomorrow .. I want him to campaign to me ..to make sure I am making the right decision. Jillian says that Peter and Alec are sneaky liars. They steal from the rich and give to the poor. I think that they are bad news bears. Emmett says I think Peter would take me and you over Andrew. Jillian says I don't know .. what about Talla? Emmett says she would take Andrew, he says he would take you .. but I think he would take Talla. Jillian says I don't care any more. Emmett says lets see how you feels when you are on the block. Jillian says hey! Why don't you win the veto and keep me safe. Jillian says that she wants to stay off the block to keep up her streak. Jillian says that she has helped him with his game way more than he did. Emmett says his POV wins helped her by him not using them and saving her from being put up. Emmett tells Jillian she needs to get a solid relationship with Talla. Emmett tells her to tell Talla that Emmett is horrible with mental comps. He says that the physical comps are turning into more mental .. that's why you want Emmett in those .. and Not Andrew. You have to bring her in, you have to talk to her. Emmett brings up how Andrew said he would throw the HOH to him but he will never do that. And if I threw the veto to him he would use to save Talla. They start talking about random things and then head downstairs to join the others.

8:15pm Jillian, Emmett and Andrew are out in the hot tub talking about shooting moose and camping.
Meanwhile take a look at a few new photos from the jury house:
Photo 1: Lunching with the 4 jury members and their chaperones! Grilled Cheese and Tomato Soup!
Photo 2: Going through the #BBCAN season with Alec and Topaz. Still decompressing after a long season. FYI Alec and Topaz were chatting about the season in front of our cameras. They weren't watching an episode.
Photo 3: One last shot of the Jury Members before we head off! Can't wait to drop the news that one is headed back in!
OnlineBigBrother.com
Stay connected and interact with other Big Brother Fans on our 
Facebook page
.
And Follow: 
@BigBspoilers
 and 
@Dawgsbigbrother
 on 
Twitter
 for the most up to date spoilers.