POV Holder:
Andrew
Next POV
April 20th
POV Used
Yes
POV Ceremony
April 15th
HOH Winner:
JILLIAN
Next HOH:
April 18th
Original Nominations:
Andrew and Peter
Current Nominations:
Peter & Talla
Last Evicted Houseguest
ALEC & TOPAZ
Have Nots
Talla & Andrew (Servants for haves)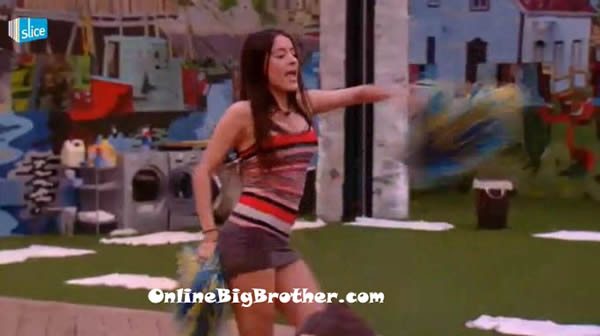 8:20pm – 9pm Big Brother starts pumping music into the house. Emmett and Jillian head into the house to see what's going on. Talla has cheerleader pom poms and is dancing around. They talk about how its the same music as when the cheerleaders came into the house. All the house guests sit on the backyard couches as she dances for them. Andrew says I wants to throw water on her so bad! When the music stops .. Talla says thank you for coming out and watching .. please vote for me.. and um I need a cigarette. Do you love it? Do you want it?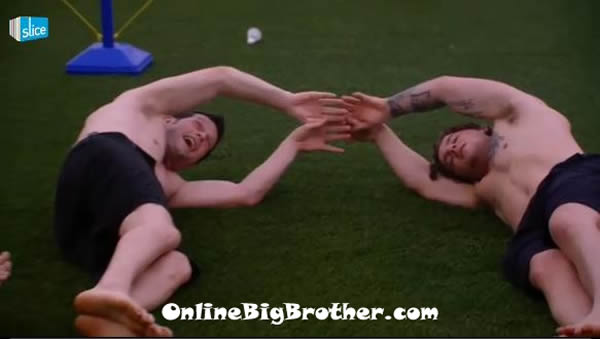 Talla leaves and then comes back out and tells them all that they need to do a cheer together. (They all realize that it's a task.) They are all going to spell out Big Brother and then say final 5! Talla says hey Jillian give me a B. Peter give me an I. Andrew give me a G. Hey MILKMAN give me a Brother! When I say final you say 5! Final! 5! Final 5! Final 5! Talla starts running around and screaming! Talla says thanks for doing that! Andrew and Emmett wonder if that was a task or if it was just Talla wanting to do something.
9:30pm After the cheer, Talla continues to make up horrible cheers. Andrew is in a bad mood. Emmett and Talla start playing a game of puck ball. Jillian is up in the HOH doing her make up. Peter asks Emmett if he wants to work out. Emmett says yes. Peter says he is going to have a pizza pocket first. Peter asks how Andrew is doing. Andrew says lets just say the cheering did not cheer me up. Andrew says that he was one of the lucky ones that didn't have to be on slop ..and I wanted to ..but now I don't. Peter comments that there are a lot of people that never had to be on slop and they aren't here any more.. would you rather be here on slop or.. ? Andrew says here. Talla bets Emmett that she can beat him at a game of puck ball or she has to be his servant for the day tomorrow. Emmett wins! Talla says we didn't shake on it. Emmett says that it was a verbal agreement. Peter is my witness. Emmett says if you don't do it .. I will never play puck ball with you again and you will be thrown in the pool. Andrew says she is a little ball of misery over there. Where's the cheer! Talla tells Jillian that her hair stinks from the egg and rotten avocado. Jillian laughs and says it doesn't do anything for your hair. Peter asks are you joking you got this girl who is on slop to put egg and rotten avocado in her hair?!! Talla is stunned. Jillian says that she is joking it is good for your hair.

10pm – 10:30pm Jillian and Emmett play a game of puck ball with Talla and Peter. Talla and Peter win the game and Talla goes nuts. She starts screaming and running around. Talla starts doing more cheers. Jillian starts to do a cheer but stops and says she can't because she has a problem and has to go to the bathroom. She comes back and does a cheer. Jillian and Talla then do a cheer together. Jillian gets Talla to sit on her shoulders. Andrew, Jillian and Talla talk about Peter's speech. Meanwhile out in the backyard: Emmett and Peter are talking about whether or not they would come back into the house for another season. They both agree that they would. Peter then talks about who the house guests equivalents are compared to the US version. Peter says that Jillian is like Rachel except not personality wise. He says she is similar in how she wins competitions.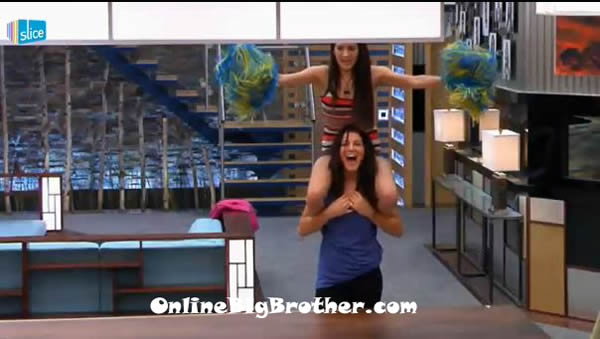 10:50pm – 11pm Andrew, Talla and Jillian are in the kitchen discussing how they came together to form the Raging Cajuns.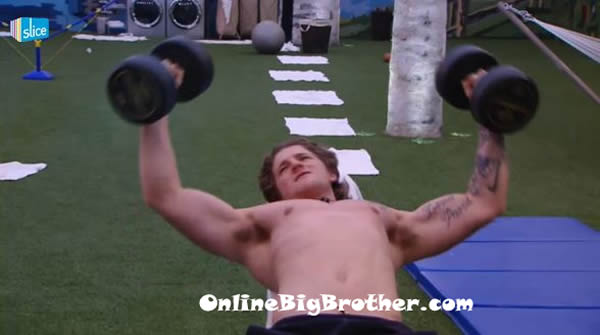 11:10pm – 11:25pm They continue to talk about past event of the house. Andrew says that what a lot of people don't realize is that this is largely a social game. He says that Alec was really bad socially at the game. Andrew says that Alec and Peter thought they were so smart having an alliance that no one knew about and each making alliances with other people. The conversation turns to talking about what Andrew will buy with his $10,000 Brick shopping spree gift card. He says he will buy his brother Pete and his wife Tracy a dishwasher and then he'll buy himself a dishwasher, washer/dryer, stove, TV, bed. Peter and Emmett join them. Emmett and Peter join them. Andrew talks about how things could have changed with different events happening. Andrew gets called to the diary room. Jillian heads up to the HOH room. Talla asks Emmett if Peter was campaigning to him. Emmett says that he thinks he's staying. Talla asks why? Emmett says because we haven't told him he isn't. Talla says that's fine. But has he asked you? Emmett says no not really but tomorrow is the day it will start happening. Emmett leaves. Talla says to herself what if I go home!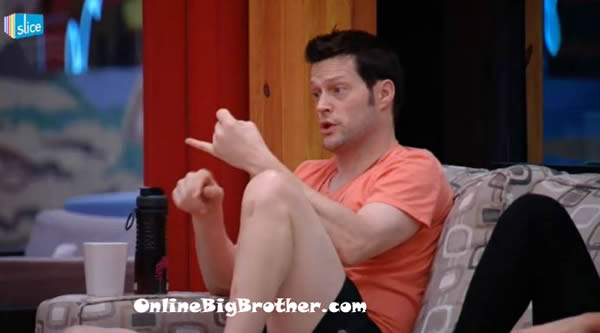 11:25pm – 11:55pm Jillian and Talla head out to the hot tub room to talk. They start going over scenarios. Jillian says lets pretend Emmett puts you and Andrew on the block. I win POV and so I decide who goes home… so I vote to evict you know who. Andrew joins them. Andrew says here is the only thing that matters. Only me, you and Emmett can win. Whoever wins HOH is guaranteed to be in the final 3. Jillian has no guarantee because she can't play in the HOH. This veto has the most power of the season. Talla says oh I didn't know that's how it worked. Emmett joins them. Jillian and Talla head inside to go to bed. Andrew talks to Emmett and mocks how Talla had no idea how the game works. He says I think we have over estimated her and worried for no reason. Andrew talks about he walked in on Jillian and Talla talking scenarios and wonders how close they really are. Emmett jokes that maybe we should send Talla home this week, Jillian home next week and go to the final three with Peter. Andrew says yeah we couldn't do that. Emmett says that what if Jillian and Talla go to the final 2. Andrew says well then it doesn't matter .. we are in the jury and can vote for Talla to win. They both laugh. Emmett says can you imagine being up there and seeing them put out the votes Talla, Talla, Talla.. Andrew says yeah and her speech was Do you love it?! Andrew says that he wishes they could have had this conversation before the one he had with Talla explaining how the game works. He could have not told her how it works. They head inside. Emmett goes to bed.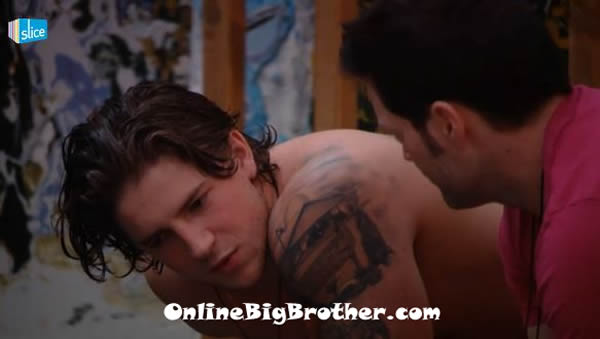 12am Emmett and Jillian get ready and go to bed even though big brother hasn't turned the lights down yet. Emmett tells Jillian that she should have told Talla not to worry about this HOH .. she has another one coming up like she thought. Jillian says you guys really think she is dumb don't you. Emmett & Jillian start studying the events of the house. Meanwhile down in the kitchen Talla tells Andrew how he thinks he is staying. Andrew says well I have one of the votes and Jillian would break the tie .. so unless she isn't really working with us and has been lying to us ..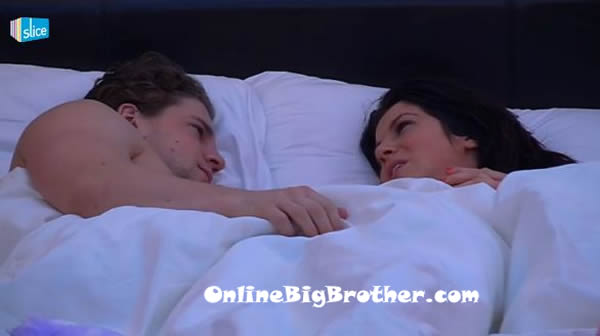 OnlineBigBrother.com
Stay connected and interact with other Big Brother Fans on our Facebook page.
And Follow: @BigBspoilers and @Dawgsbigbrother on Twitter for the most up to date spoilers.