If you don't have the live feed subscription grab them here. BB21 Live Feeds Subscription Link
NOMINATED: Cliff & Kathryn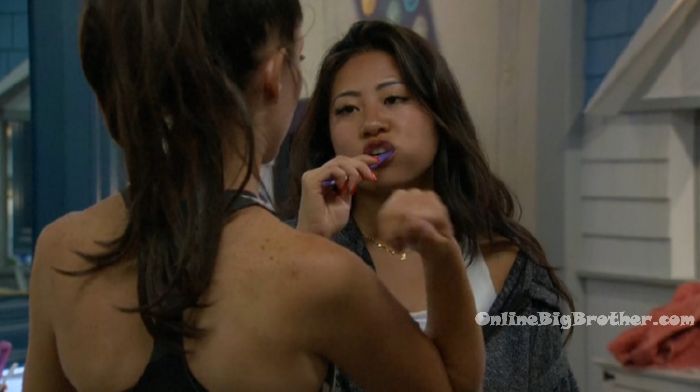 9pm The Live Feeds have officially been turned on for the season! Bathroom – Holly to Cliff – its crazy that people are just waiting for them to be turned on. Cliff – Like in here on online. Holly – online. Cliff leaves. Isa talks to Holly – Kemi just came up to me .. you haven't been hanging out with me and now you want to talk to me. She asked do you think next week ..would they want to put Ovi up? And the way she asked made me think that she wanted me to say yes so that she could go get Ovi. I am like chill the f**k out .. now you're just doing more sh*t to guarantee that you're going home this week. Can you talk to him? If she sees me going up to him then she will know. Holly – yeah. Ok.
9:09pm – 9:20pm Bathroom.
Jackson gets ready to shower. Christie and Jessica watch. Kathryn – were you waiting for the live feeds to start? Jackson – I didn't want to eat without y'all. I didn't want to shower and then eat by myself. Jessica and Kathryn – AWWW! Jessica – he wanted to give a show to the ladies! Jackson – no chance! Kathryn – You're welcome America! Jackson gets in the shower. Kathryn to Jessica – I can't rely on anyone else to win obviously. I'm going to pick Jackson. He says he's going to use it on me. I should go ask him first. Kathryn to Jackson – you said yes? Jackson – if I get picked to play .. I play to win! And I'm pulling you off. I am playing to win.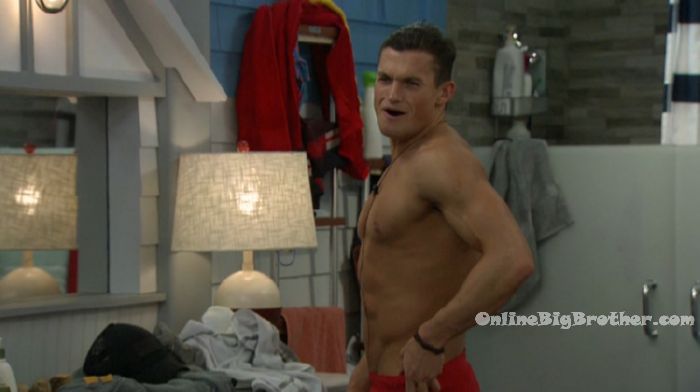 Holly and Kathryn in the bathroom chatting. Kathryn – why is he (not sure who) acting weird? He thinks that Jackson was acting weird to him. I think that what he is doing right now is that he is being paranoid because he thinks the target is being put on the both of us. So he is trying to distance himself. .. I need to stop talking game while I'm on the block. Holly – the game never sleeps. Kathryn – I know. The game never sleeps .. neither do we. I think he is trying to like broaden his like .. I think he is paranoid because we are about to make a big move. I don't think its a smart move but it is like hard when I see him talking to like other people. I'm like wait .. you're my friend. I was just afraid that he was getting all caught up in that so I asked him are you going to play the veto for me and he said he would.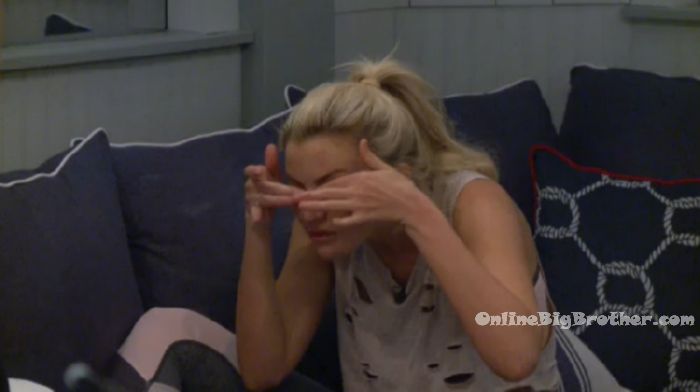 Jessica to Kathryn – I feel like alliances are already forming. Kathryn – who? Jessica – Like.. I don't know. Kathryn – tell me .. I won't tell anyone. Jessica – its kind of like I don't know but I like see it.. I think Jackson has something with Bella (Isabella)… Big Brother switches the feeds to the kitchen.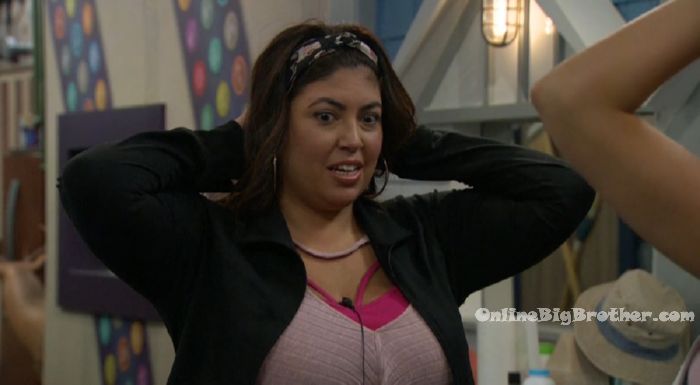 9:40pm The house guests are all holding hands twisted up trying to untwist with out releasing their hands.

10pm – 10:10pm They're still trying to get untangled… Christie comes out of the diary room and they all scatter. Tommy and others start singing and dancing "cut the mozzarell"

10:11pm – 10:20pm Bedroom. Jackson and Kathryn. Kathryn – are you conspiring against me? Jackson – No, I'm actually not. I'm doing everything that I can to try and keep you.. I've tried since day 1. Kathryn – I know. Jackson – to keep the heat off you. I am trying to keep you calm. Why are you asking? Kathryn – I don't know. My stomach kind of just dropped because .. don't over react but I don't know.. because Jess was like I need to tell you something. And she was saying like .. I guess she walked in on you and Bella in the storage closet. And she was like I just had this bad feeling that maybe there's alliances forming. Jackson – yo, Bella and I were talking about living together. Me Bella and Holly. Kathryn – oh. Jackson – no I was talking to Bella about living in LA and how we could get food and not make a big display without making people pissed off. Make sense? Kathryn – no I know, I just didn't want to let anything fester. Jackson – you're good. I'm not plotting anything. I am trying my hardest to get picked for this veto. Kathryn – I'm just nervous. Jackson – because you're on the block. As long as we can get Kemi, Nicole, …Jess but I don't know what she would do. Kathryn – Jess would for sure take me off. Jackson – you're fine. So long as we can keep the veto out of Kemi's hands. Then she is going out the backdoor. Kathryn – I don't trust Bella. Jackson – you don't have to trust Bella .. but I do and I need you to just trust me. Because no one is plotting to take you out. Especially not this week.. and especially not Bella. Bella has not said a word. People want Kemi out. Kemi is going up and she is going home. You have nothing to worry about. Bella and I are close and she has not said a word about you. Just don't get paranoid. I understand when she comes at you aggressively like that. It make sense but you're good. Kathryn – I trust you. Jackson – I trust you a lot too. Jackson – we should slip out. We should be out with everyone. We can't be caught just the two of us and everyone else. Kathryn leaves the room.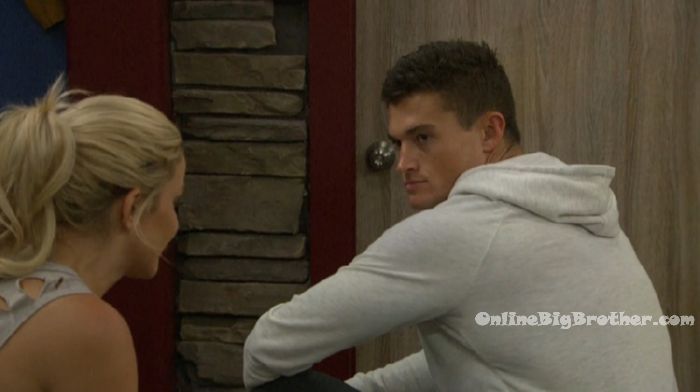 10:30pm – 10:40pm Nicole, Kemi, Bella, Jack, Nick, Sam are hanging out in the boat room chatting. Cliff joins them. Meanwhile in the kitchen. Ovi is doing a cooking show. Christie is talking to Analyse about how she wants her HOH room back.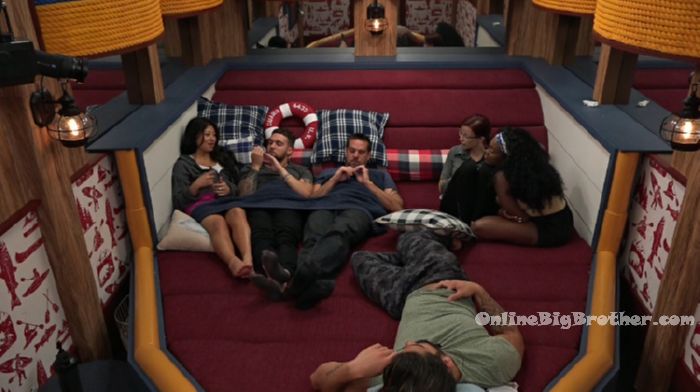 10:55pm – 11:25pm Kitchen. Holly and Jackson. Jackson – don't leave us hanging (talking about living together in LA after). Marina Del Rey is expensive. Holly – that's why one of us has to leave here a little richer. Jackson – yeah. Holly – and we need to start playing smart. Jackson – yup agreed. Holly – very low key. Jackson – agreed. That's what I'm doing. Holly – should I not have let you know that? Jackson – no because I need to know if it comes down to it he will pick her over me. He is smitten. Holly – I wasn't going to .. I was back and forth. Jackson – I'm really glad you did. Jackson – I love Jack. I don't want him to go .. I want Christie to go. Holly – they're both running this house. Jackson – I can totally see them in a relationship. It is as clear as day. Holly – when he looks at her.. Jackson – its like he's found his soulmate. I confided in him one night and he runs straight to her and throws me under the bus.. bro!