Big Brother Spoilers
Jack wins the Head of Household.
Jack has nominated Jessica and Kemi
Power of Veto Players: Jessica, JAck, Kemi, JAckson, Sam, Bella.
Sam won the veto & the Fiji trip.
Jack won the whackdooel power can opt for a POV player redraw.
Jessica is the pawn and Kemi is the target.
Power of Veto Ceremony results = Sam did not use the Veto nominations stay the same.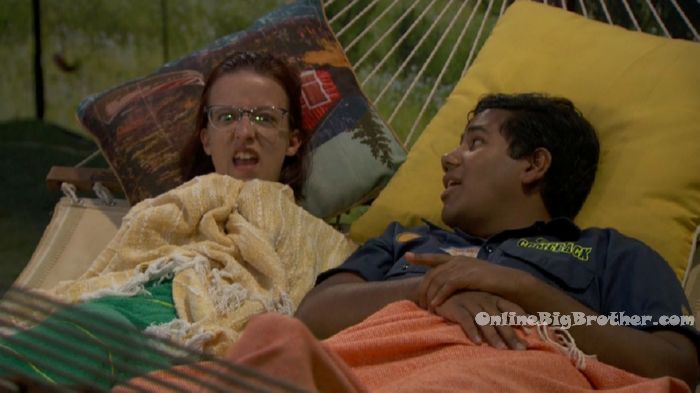 8:17pm Backyard hammock. Nicole, Ovi and David. Nicole – I am telling you, I want the comeback people to be in this house. Ovi – what if we had our own separate place and were challenging y'all? Nicole – I would volunteer. Can I convert!? Ovi – every new voted person goes there. Nicole – YEAH! Ovi – once we have all four we all compete. The twist is that only one of us comes back. And then the other three compete. Nicole – its like a second BB house. Ovi – we nominate one person and y'all nominate one person. Nicole – they should make the season twice as long. HOC – Head of Camp. We should write this show. The conversation turns to talking about how Ovi wants to write a children's book and anyone can get it regardless of financial status.
8:30pm Dinner time…

9:02pm Bedroom. Christie and Analyse. Analyse – I am really, really, really bad at hiding my emotions. Christie – I love you so much. Analyse – I love you so much and I would never choose anyone over you and I would never get mad at you for anything. Christie – If there is ever any information that you want to ask me of if you see him (Jask) say something. Analyse – can you just tell me though when he says stuff to you? Christie – if you want me to then yes. Analyse – no just things that I should.. Christie – if it makes you look dumb. Analyse – yeah in my eyes I look dumb when he says you're my rock. You know what I mean. That's just weird to me. Christie – I am just letting you know that if there is anything that you did want to know … don't feel silly and also just don't pull away from him out of nowhere. You know what I mean?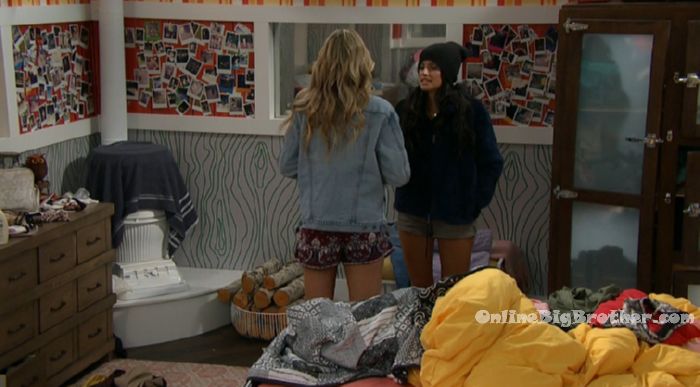 9:07pm Backyard. Analyse, Tommy, Christie and Sam play corn hole.
9:18pm Storage room. Jackson and Kemi.
Jackson – it somehow got turned into I was saying that I was going to put her up on the block. Kemi – yeah, that's basically what she was saying to me. We never even talked about you winning HOH. Jackson – that's what I'm saying. I didn't say it and honestly its not a big enough deal. I'm not upset. This game is literally one big telephone game. And its like one person says one thing that gets misconstrued and it runs this way and then they just take off with it. Kemi – yes. Jackson – I talked to her after to straighten everything up. And honestly I don't care enough. I was just going to let it go. kemi – its just the timing of everything it just happened so quick. And I'm on the block and I'm not the type of person that lies about things. And I straightened it out with her.. Jackson – no you're good. Give me a hug. We're good. I would tell you if I had a problem with you. Kemi – I came in here saying I was going to play hard. Don't tell anyone this but initially if I won HOH, yeah I was going to put Jack up on the block because he said my name. Just thinking about how emotional a person I am if Jack had said its my birthday, I would have been like no. I'm such a wuss.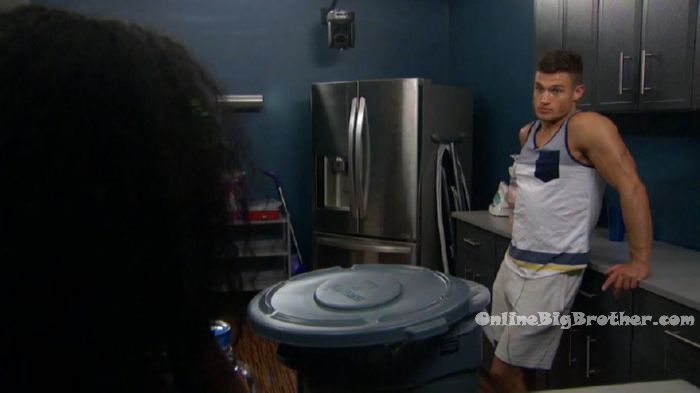 9:30pm Storage room. Kemi tells Nicole about the conversation she just had with Jackson. Nicole – I talked to Christie and she said originally the house was gravitating towards you but on the flip side Jess is not handling this well at all. People are like wow, Kemi is handling this with such grace. Kemi – who brought it up, you or her? Nicole – I did. Kemi – I wonder if like.. because they know we're close. Nicole – I know. I am just going to go with it and keep level headed.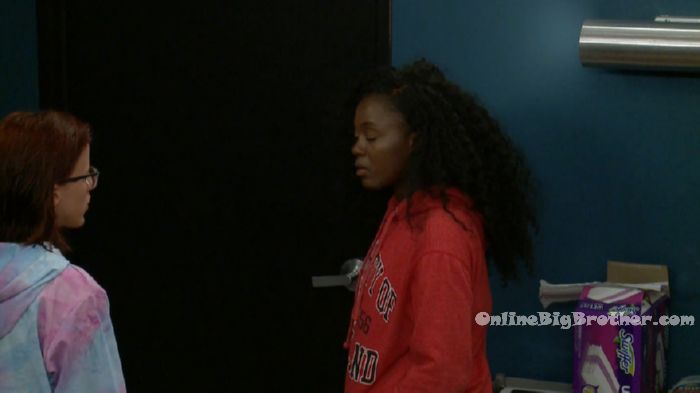 9:40pm Nick and Bella kiss. Nick – are we in a showmance?! Bella -yeah.
Nick and Bella #BB21 @bigbspoilers pic.twitter.com/1tfoyP6mo7

— Dawg (@DawgsBigBrother) July 9, 2019
10:10pm Bathroom. Nick and Bella. Nick – I wasn't trying to be this open but the way it worked out we're allowed to. Bella – why? Nick – because Jackson, Holly, Sis and Jack are on our side and they already know everything anyways. So it doesn't matter. Well it would if one of them wanted to put us up. I told Jess, I really do support everything you do. I'm not letting you go this week. Its about what you're trying to prove. And I was being serious but she opened the gate up at the veto meeting. She was like I'm trying to do stuff for people that look like me. So I was like alright, I'll play off that. I was like you're from puerto rico, I'm from puerto rico. We have that connection. I was like I'm keeping you. You're staying this week. I got you. I don't know if she believe me. I don't know if she believed me but I just don't want us to get put up next week if she wins. I feel like I have a better chance to beat someone over you. Bella – yeah you do.
10:25pm Jess and Cliff. Jess – I just need to hope that the majority of the people want me to stay. I just don't want to say the wrong thing and make it look like I'm throwing her under the bus, although it could easily be done. I'm just not that kind of person. That's what kills me. Cliff – its hard. And every single person is going to respond differently to you.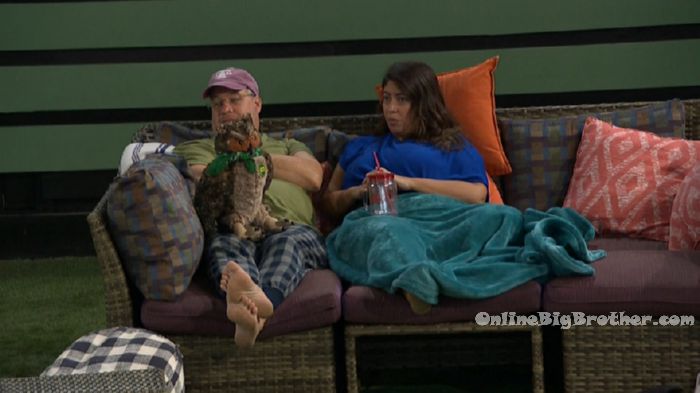 10:45pm The house guests are making cookies in the kitchen.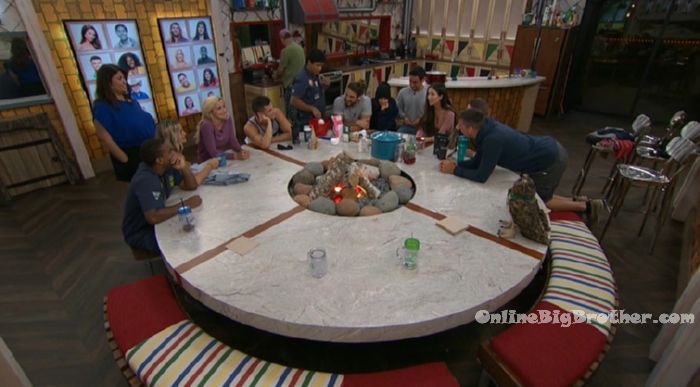 10:55pm Hammock. Jack, Jackson, Christie, Cliff, Jess and Holly akk chatting.
11pm Boat room. Nick and Analyse talking about her having $ex with Jack. Analyse – I haven't been with a guy since my ex. Nick – it has to happen organically. If they come to me then it happens. Analyse – the thing is I don't date guys and I don't hook up with guys. Nick – I know you don't. Analyse – like I literally just hang out with guys. Nick – That's what I was just trying to say earlier when you said you didn't understand what I was saying. Like you don't hook up.. but I said your number. I was shocked… Analyse – why? Nick – because I didn't think you would. Analyse – I'm not a bad person. Nick – no, I know because I didn't think you would. They whispers back and forth (can't make out what they're saying.) Analyse – I would never. That's f**king crazy. I'm not, nothing. Nick – wow! Analyse – I know scary. Don't say anything. Nick – I won't. Don't bring it up to him. Nick – I won't. Analyse – take it to the grave. Nick – I swear to god I will. I was shocked because you said you don't do that.. and then you did. Analyse – You know I'm just living life. Nick – how was it? Analyse – good, great! I was surprised. Nick – why? I wasn't he's packing heat! Analyse – really. Nick – I know he is .. you can see it when he walks around. Analyse – I mean I thought he was big but not that big. Nick – did it hurt? Analyse – no. Nick – did you actually get in the shower. Analyse – yeah. Nick – did you get butt n@ked in the shower? Analyse – yeah. Big Brother switches the feeds.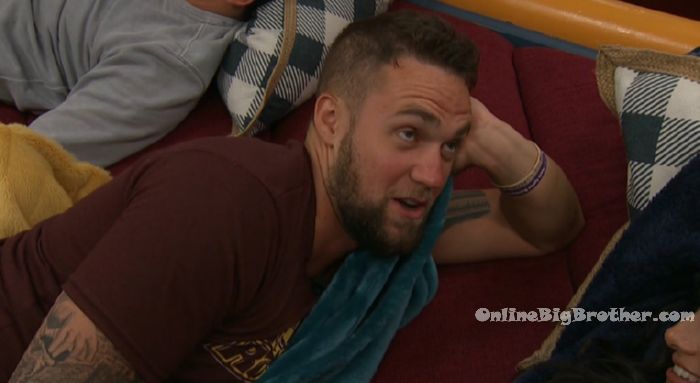 Analyse – I am very cautious. Nick – you have to be. I always have your back. Analyse – I always have your back. Nick – we could go far. I always said I would take the person that deserves it. If we got that far and we both sucked at comps, I think it would be a toss up. Analyse – I think the person that deserves to win is the person that does the most.
12:30pm Hammock. Jackson, Holly and Jess. Holly – I would feel very confident if I were you. I would feel very at peace if I were you. Jackson – you're sittin' pretty in tent city. Just don't say anything to anyone that I said anything. Jess – I know Jack isn't hell bent on anyone and I completely understand. It was a little disheartening. I had some people come up to me that haven't come up to me before and were just a little too overly nice. Jackson – where have you been the last 20 days? Jess – exactly. Jackson – I had my first conversation with someone today. Jess – holy sh*t. Jackson – straight up! About 480 hours too late. Jess – even if I did stay I know who I would be worried.. I know I'm going up. I just hope I am cool with the majority of the house before that happens again. Holly – just win HOH.
1am Bedroom.Tommy talks about how he woke up with a b*ner while sleeping next to Christie. Nick and Tommy comment on how Christie has a natural smell that smells good.
1:20am Backyard. Ovi and Kemi. Kemi – I haven't started campaigning. Ovi – people don't make up their minds until Wednesday. Kemi – I don't want to campaign too hard and start seeming paranoid. I can see how I could be seen as a bigger threat in competitions. I might do slightly better than Jess but Jess has a better social game.
1:20am – 1:40am Jack comes up to Analyse and Christie on the living room couch. He says that he's going to bed and tells Analyse the his door is always open if she wants to come up. he jokingly tells Christie that its not always open for her.Jack heads to bed. Christie asks Analyse if she is going to go up. Analyse – I don't want to seem like a clinger. Christie – he asked you. He came up to you. Holly and Tommy join them. The conversation turns to talking about how Kat never wears underwear and how her n!pples point in different directions. (see photo below) Christie – I never noticed they were off kilter.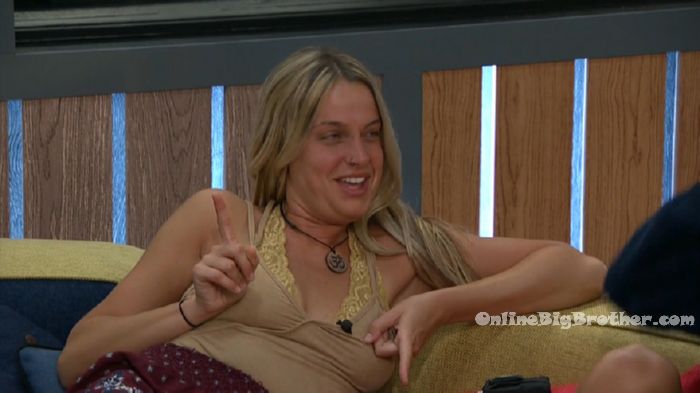 2am Holly and Jackson.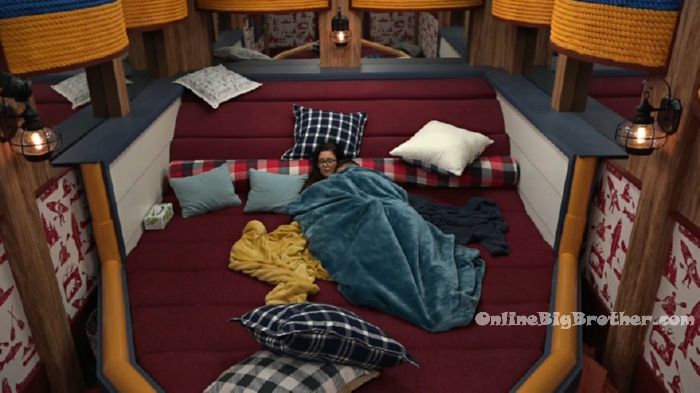 3am All the house guests are sleeping.
2:45am Kemi and Jackson. Kemi – can I ask you, if you were to vote today.. who would you vote to stay? Jackson – based off of today, probably Jess because immediately after our conversation you ran to Bella. That was kind of disheartening. But as of right now, its turning back to 50/50 because you came to talk to me. If you hadn't I probably would have voted to evict you.