POV Holder:
DAN
Next POV:
Sept 1 (Saturday)
POV Used
Yes
POV Ceremony
Sept 3 (Monday)
HOH Winner:
Ian
Next HOH:
Sept 6 (Thursday)
Original Nominations:
Jenn and Frank
Current Nominations:
Frank And Joe
Last Evicted Houseguest
Britney
Superpass Big Brother 14 Live Feeds: 3 Day FREE Trial!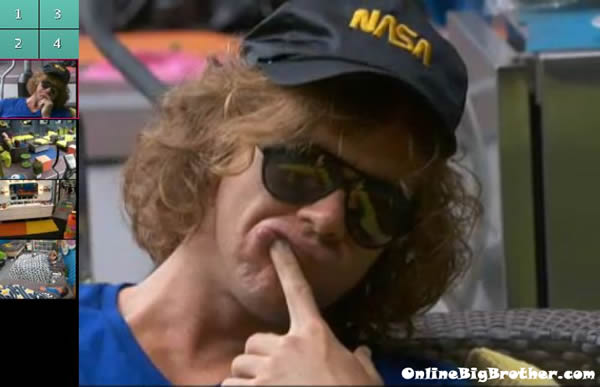 12pm – 12:15pm Frank and Jenn continue to talk about random stuff out on the backyard couch. They talk about how empty the house is getting. Frank says that he wants to be in the house when there are only 4 people. He says no one will be game talking; you can relax and sleep wherever you want. Jenn heads inside. Frank talks to the camera and says that these people are as lazy as hell. I would like to be running some game but I can't. I would like to be running game on Danielle or at least have Jenn be able to run game on her. Danielle and Dan are now awake and in the bathroom.
12:15pm Danielle and Dan are in the bathroom talking. They discuss if the HOH competition is America's comp. Like who would be more likely to save a cat from a burning building. Shane? or Frank? Danielle says Shane. Dan says that anything good or goofy with be Ian Danielle says that she thinks she is portrayed as sweet because that's what they say in the dairy room, Jessie said it like 3 times. Big Brother tells her not to talk about her diary room sessions.
Watch it ALL on FlashBack: Big Brother 14 Live Feeds – FREE 3 Day Trial!
12:30pm Frank is talking to Danielle in the bathroom. She talks about how she can't wait to be out of the house without all these cameras. She says the only reason she is putting on make-up right now is to hide the big crater on her forehead.
12:30pm – 12:45pm Dan and Jenn are talking in the backyard. Dan tells Jenn that he will never cast a vote against her or put her up. Jenn and Dan discuss needing a third person. Jenn is trying to sell Dan on keeping Frank here a little longer. Jenn tells Dan that she doesn't know any benefits to keeping Joe around for Dan. She says that he will definitely put Dan up right away. Jenn says she knows that you keep saying Dani, Dani, Dani but you have to see that it could be you, me and Frank as a final three. She says that it would be better if Danielle was on board but I don't know that she likes Frank at all. She says that she thinks it benefits him more than he knows to keep Frank around. She says hand over my heart we were talking about him wanting to trust you last night. Dan says that Frank said he wants to pitch me today so we will see what he has to say. Dan wonders if we did keep him, would that turn Danielle red.. like if we kept him and he wants to put her up she might not be too happy about it. Dan says that it will be interesting to see how your conversation goes with her. Jenn says it's not good for us if Joe stays. I know its mean but I don't see him winning, but stranger things have happened.
12:45pm – 1:05pm Big Brother puts the house guests on an outdoor lock down. Joe has his feet in the hot tub, Frank starts his workout, Dan and Jenn are sitting in silence on the backyard couch. Shane is in the kitchen making his breakfast. Danielle goes to lay out by the pool. Dan starts to tell Jenn that he didn't start thinking that way until after the veto when he (Frank) started thinking about going against the four of us. Shane joins them and the conversation ends. Ian finally comes out and joins them on the backyard couch.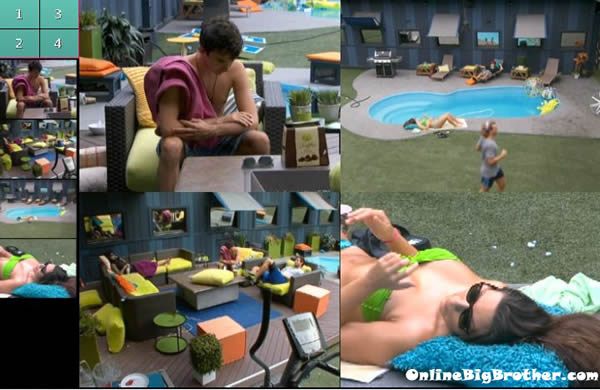 1:30pm Shane and Ian play a game of pool. Dan catches Danielle making a face. She denies it and says that she wasn't. Dan says you thought you could see yourself, you were making a face. Danielle says oh my gosh Dan no I wasn't. Big Brother opens up the door and ends the lock down. Ian runs over and says that they left a mystery box on the table. Dan goes to look and sees that there isn't anything. He tells Ian the next time he does something like the whole house is going to give him a swirly. They realize the Big Brother fixed the memory wall.

1:45pm Dan and Joe are in the kicks room talking. Joe tells Dan that Shane is Joes Memphis. Joe says that he tells him everything. Joe says that he has been with him since the beginning and says that they broke up there for a bit but then he put me up and he helped me get the votes. Joe says that he appreciated that greatly. Joe says for this week Frank is a large target and that there is no doubt he is coming after you. Joe tells Dan you can't trust him. Joe says that he can offer Dan 100% safety if I win HOH. Dan asks Joe if he has Shane's vote. Dan says that he does want to trust Joe but wonders if he is promising everyone safety to get their vote. Joe says only Danielle because I need her or it goes to tie breaker. Dan says that he doesn't want a tie. Joe says that Jenn is definitely working with Frank and I understand that I can't get her vote. Dan asks Joe if he has heard anything that makes Frank is doing or saying. Joe says that he heard from Frank's campaign that if you vote out him out then Jenn won't work with you and the fact that he can't play for the HOH. Dan asks so you don't think Shane will vote for him. Joe says no. Joe says that four weeks in a row Shane has told me the truth, I can trust him. Dan says if I vote to keep you, will you promise not to put me up, and not backdoor me. Joe says he won't.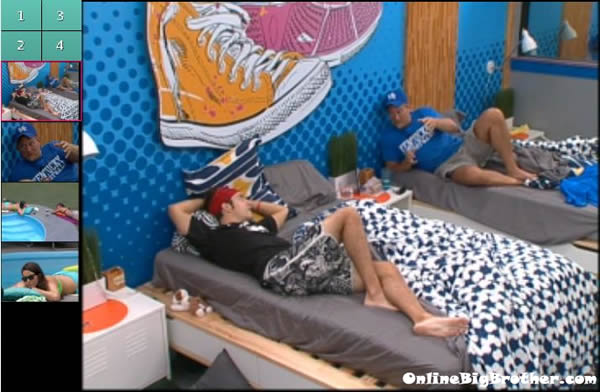 2pm – 2:20pm
Danielle and Jenn are talking by the pool. Jenn is floating the idea of keeping Frank. Danielle says that she will not keep Frank, she says that he has tried to get me out. Jenn says that Franks arrogance preceeds him. Jenn says that if Frank leaves, then I need a solid between you and I and Dan. Danielle says yup I am down with you, me and him. Jenn asks 1000%! Danielle says yes 1000%. Danielle says that she has so much ammunition against Frank and wants to unleash on him. I am going to keep telling him I am voting for him to stay just so that he leaves me the f**k alone. Danielle says that Frank told her that he deserves to be here more than she does. I want to hit him upside the head with a crow bar so bad. I know he is your friend but I am voting that carrot head out of here. Jenn says that she doesn't know what she will do but that she just doesn't want people to hold it against her. Danielle says that she understands that. Jenn says that he Frank has played an unbelievable game and that it kills her to vote for Joe. Jenn says so I can tell Dan that you are down? Danielle says yes. Jenn says that she will tell D that we are solid, Thursday will be hard for me but.. Jenn asks if Shane is throwing F out? Danielle says yes. Jenn says that she is going to Frank that Danielle is cool to roll with the four and to be real nice and to talk to Danielle one more time. Jenn says I will tell the other one (Dan) we are golden. I really see that scenario playing out. Jenn says that she doesn't really feel that bad, he was campaigning against me at one point. Danielle says that he is a douche. Danielle says that how dare he (Frank) say that he is the best to ever play this game, like how arrogant. Jenn says that you need to be humble. Danielle says I won't hold it against you, whatever you chose to do. Don't tell anyone I said this but he is leaving. Jenn says okay. Danielle talks about how she probably looks like Free Willy. Jenn tells her no she doesn't.
2:30pm – 2:55pm Danielle and Dan are talking in the bathroom. Danielle tells Dan the conversation she just had with Jenn. She tells Dan that Jenn is down with their final three deal. Danielle leaves. Jenn comes into the bathroom and tell Dan that the three of them are golden. Dan says to Jenn that he saw her and Danielle were talking, what's up? Jenn says we are golden. Dan asks what?! What did you say to her? Jenn tells Dan that Danielle is not voting for Frank to stay. Dan asks what about Shane? Jenn says that Shane is voting Frank out too. Jenn tells Dan that Dani will trust him again and they are a final three for sure. Jenn talks about how pissed Danielle is about Frank being so arrogant. Jenn tells Dan to talk to Danielle. Dan asks what should I say to her? Jenn tells Dan to talk to Danielle and tell her that he will also vote Frank out to show his commitment to their final three deal. Jenn tells Dan that the three of them need to meet together because maybe her vote will change too. Dan says well it won't be the first time you made a big move! Dan heads back outside.
Big Brother Live Feeds FREE 3 Day TRIAL: Try them and see what's happening right now!
Simon and I work 24/7 all season long to bring you all the live feed updates and spoilers, please consider donating. Any amount is greatly appreciated, your donations go directly to paying the server and bandwidth fees needed to run this site. Donation Link
Share it YO!!
Tweet