POV Holder:
DAN
Next POV:
Sept 1 (Saturday)
POV Used
Yes
POV Ceremony
Sept 3 (Monday)
HOH Winner:
Ian
Next HOH:
Sept 6 (Thursday)
Original Nominations:
Jenn and Frank
Current Nominations:
Frank And Joe
Last Evicted Houseguest
Britney
Superpass Big Brother 14 Live Feeds: 3 Day FREE Trial!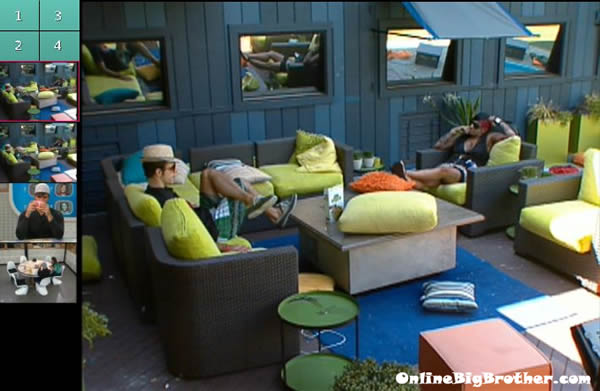 2:15pm – 2:30pm Jenn and Dan are lying out by the pool. Shane and Danielle are playing a card game, while Frank watches. Shane keeps getting bad cards and yelling out fudge packer and f this and that. Shane yells rummy and tells Danielle she can s**k it. They continue to play. Shane gets rummy again. Shane yells in your face! Danielle tells him he is horrible to play with. Dan and Frank are in the bathroom shaving. Frank wonder if it will be another double eviction this week. Dan doesn't think there will be because he can't think of other competitions they can do for the live show because one has to be mental and one physical. Dan leaves to go hang out by the pool.
Superpass Live Feeds FREE 3 Day Trial then:
Watch the last couple weeks of Big Brother 14 for ONLY a dollar a DAY!
2:35pm – 2:50pm
Dan is talking to Jenn in the backyard. Jenn says that she thinks Danielle is gaming Frank, real good. Dan asks you think, that's why I like her. Jenn says that she will talk to her tonight and find out for sure. I just hope she doesn't drink. Dan says yeah I shouldn't have been encouraging that last night. Jenn talks about doing a Dj gig at one of Donald Trump's building and 6 weeks later she still hadn't been paid. She said she had had enough and called them up telling them if her cheque wasn't ready she was going to come down there with some of her firends. She said she told them that one of her friends nick names is Nicky Knock out. She says that five minutes later she recieved a call saying the cheque would be ready for her the next day. Jenn says that the funny thing is that the high end clubs are the ones that she has trouble getting paid from instead of the low end clubs.
3:05pm Joe and Shane talk in the have-not room. Joe tells Shane that Jenn told him that she was told that if the nominations had stayed the same when she was on the block that they were going to vote her out. Shane talks about talking to Jenn to clear things up. Shane asks so if Frank comes up to me asking what you are pitching what should I say? Joe says just that he is a physical threat. Joe says and also that he is in the position that he is in, that you will never have him in this position again where he can't win HOH. They talk about how Jenn thinks we wanted to get rid of her, which isn't true. He takes every little bit of information and turns it against you. Shane says that he can't wait to see his face on Thursday, especially since Ian is still here. If anyone is going to flip out it will be him. Shane and Joe leave the have-not room.


3:10pm – 3:40pm Shane and Danielle are in the kicks room whispering. Danielle is whispering so quiet that Shane tells her that she can talk louder, I can't even hear you. Shane tells Danielle that Joe just told him that Jenn said Frank told her that if the noms stayed the same he (Shane) was going to vote her out. Shane says that he is going to talk to Jenn in a bit about it. Danielle and Shane compare what Frank has told them both. Shane says that Frank is making deal all over the place. Danielle says that Frank was all over her this morning. Shane says that when it comes down to it we could put up Ian and Jenn. Shane brings up how Frank hasn't worked in 3 years. Danielle says so he lives off the government. Shane says that he makes money of tenants. Danielle says he lives with his Nana and must run the company to make money off their rent. Shane says if you hear that I am voting the other way don't believe it, I am not switching my vote. Danielle and Shane start talking about Britney. Danielle says she misses her as a friend but not for her game talk. Shane says don't miss her at all. Joe comes in and joins them. Shane jokes that they are thinking of switching their votes. Joe says don't even joke about that to someone on the block. Danielle says we aren't going to switch don't worry.
3:50pm – 4:15pm Dan goes to lay down in the arcade room. Frank and Ian are in the kitchen talking about being locked in and bored. Shane and Danielle are in the kicks room talking about what Shane will say in his goodbye message to Frank. Shane talks about saying that he put his trust in Danielle since the beginning and he has heard that Frank has been saying conflicting things about him. Danielle tell him not to say specifically what it was he said to her. Meanwhile the backyard opens up. Ian and Dan talk about having a Renegade meeting sometime soon to catch up. Dan asks if Frank has any idea he is going? Ian says yeah, he said he isn't going to be happy to go to Ian's a**. Dan laughs. Ian talks to Dan about his HOH tweets. He says that he tweeted @HeadOfHOFFhold just trying to suck up. He says that he also tweeted for Levi to mow the lawn and that he said he hopes Kristen Bitting finds his references to her in the house amusing. He said he added the hash tag not a creeper. Dan says not a creeper, debateable.
4:40pm Sleeping Shane Meaney and Danielle
Simon and I work 24/7 all season long to bring you all the live feed updates and spoilers, please consider donating. Any amount is greatly appreciated, your donations go directly to paying the server and bandwidth fees needed to run this site. Donation Link
Share it YO!!
Tweet