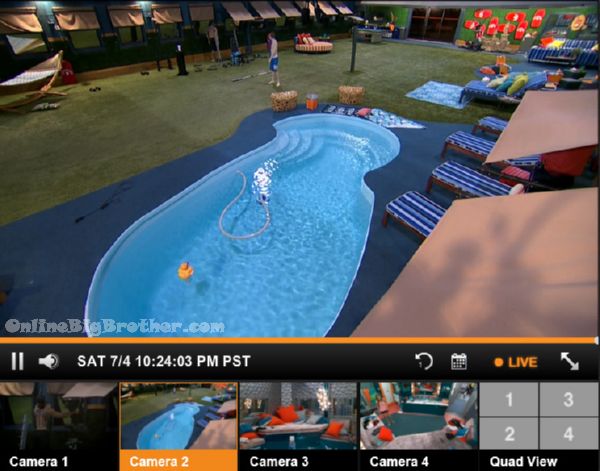 Backyard opens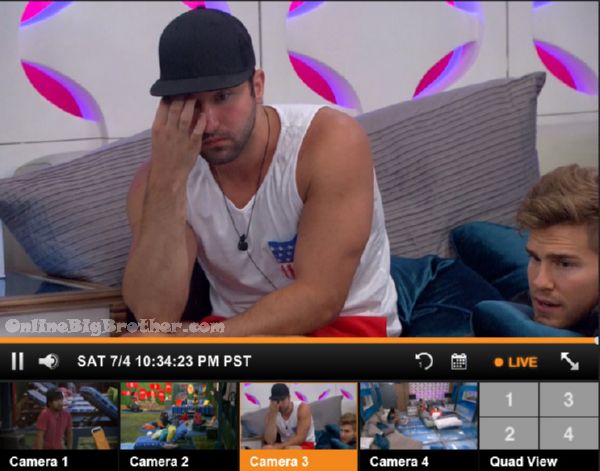 (The image above shows the look on Jeff's face when he finds out Meg is going up)
10:32pm HOH Jackie, Clay, Jeff and Shelli
Shelli saying she's worried if Liz goes up Day will be able to turn it around and send Liz home.
Shelli – My concern is not so much losing Liz it's more Day staying.. My new thought is talking to Meg and let her know I'll put her up instead..
Shelli points out that Meg and Day are allied with with same people "That's the only way Day will leave"
Shelli – Nobody will keep Day over meg.
Jeff says he thinks it's a good idea offers to be up here when Shelli tells her.
They count the votes with Meg going up and decide Da is "DONE"
Shelli – that's the plan
Jackie chimes in says they still have the numbers if they put up Liz.
Clay leaves..
Jeff – I really want us to work with Meg.. I would pick Meg over James.
Jeff says that Meg is a number and a loyal number. Again points out that Austin isn't loyal.
Shelli tells them for her she would rather Meg over James. Says she's got several steps above of trust with Meg.
Jeff – I trust Meg more than James
Jeff – I honestly think the only people she has that will vote her favour are jason.. I don't' even think James.. other than that I don't know I'm pretty sure Liz and Austin are smart enough to go with the house
shelli – ya..
10:55pm HOH Jackie, Shelli and Jackie chit chat..
Shelli says everytime she see a big black truck "There's a hot guy behind that wheel"
Jackie – Sometimes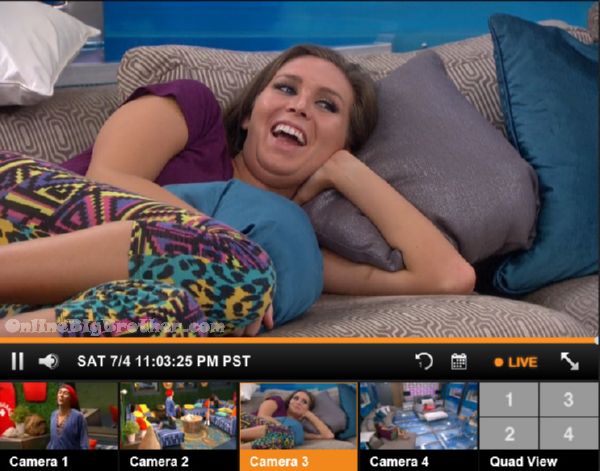 11:02pm Audrey and Shelli
Audrey had imagined Day was going to be really aggressive if she was nominated but she hasn't been. Shelli feels the same way it['s been a big surprise.
Clay come in grabs his hat and leaves..
Shelli – I will tell you this.. she didn't freak out with nominations I ran it by her..
Shelli – has she talked to you at all
Audrey says no 'She doesn't makes eye contact"
Audrey adds people are approaching her now and not afraid to be seen alone with her.
Audrey – Jason is opening up and being nice to me
Audrey has been trying to be nice with Day she doesn't want her to get the "Last Laugh" on Audrey. They start to speculate about the twist, audrey points out that kathy will award them "The last laugh"
Shelli – someone is going to be on the uni-tard.
Audrey about Becky – "I get really weird vibes from her"
Audrey – I don't think Vanessa has given up on me..
Shelli – She's a trustworthy person
Audrey says Austin and Jeff are similar but on different sides of the house.
Audrey says Jeff is bringing up Austin's name sudtley as a target.
Shelli – who's your target
Audrey – Becky.. She was going to backdoor me.. She never makes eye contact.. I feel very disconnected from her.
Audrey – The people that will target me are Becky and James
Audrey – Austin will target james
Audrey – for your game working with Austin and Vanessa is better.. (audrey has told her this a couple times)
Audrey says she's been calling Shelli "The demon slayer" in the Diary room.
Audrey points out when Day goes Jason is going to stay close to Meg, Jeff and James.
Audrey says VAnessa/Austin are more trustworthy but they don't have the numbers.
Audrey says the hierarchy of the other side has Jeff at the top. Mentions how close Jeff is to James and Jackie are.
Shelli – whats your relationship with James
Audrey – Awful
Audrey think she's good with Steve if he wins HOH he won't come after her.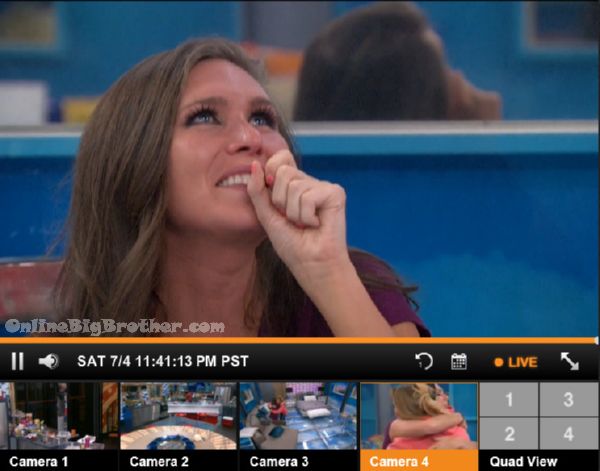 Audrey starts to cry says when Shelli stuck up for her on the bed it meant a lot to her.
[envira-gallery id="118992″]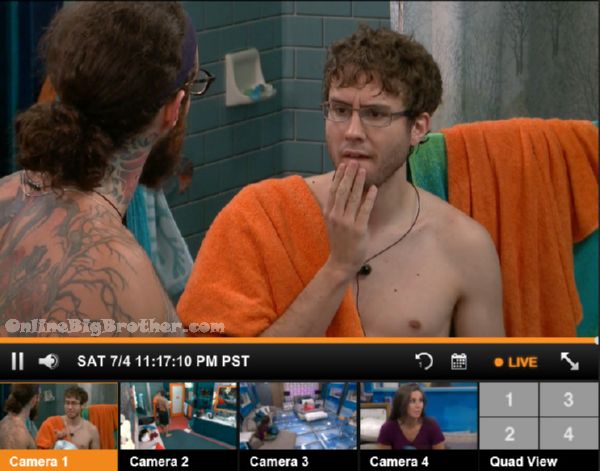 11:16pm Steve and Austin
Austin saying for all he knows they are lying to him and will backdoor him. He's worried about Liz going up because she will go thome.
Austin – A twist will f*** her
Austin says Meg will stay against Da, "Who will Vote out Meg this point in the game"
11:47pm Shelli and Audrey
Audrey says she's warming up with Jeff.
Shellie saying she doesn't talk much with jeff anymore. "If there's game talk he talks to Clay and I hear it through Clay" With that said she thinks Jeff isn't gung ho about getting Audrey out anymore.
Audrey tells her she's super loyal to her and Clay. She will go after who they tell her to. The only problem is Jeff she trusts Austin more than Jeff.
Clay joins them..
For the Honeycutt fans #BB17 @DawgsBigBrother pic.twitter.com/UIUyuU8NS4

— OnlineBigBrother.com (@bigbspoilers) July 5, 2015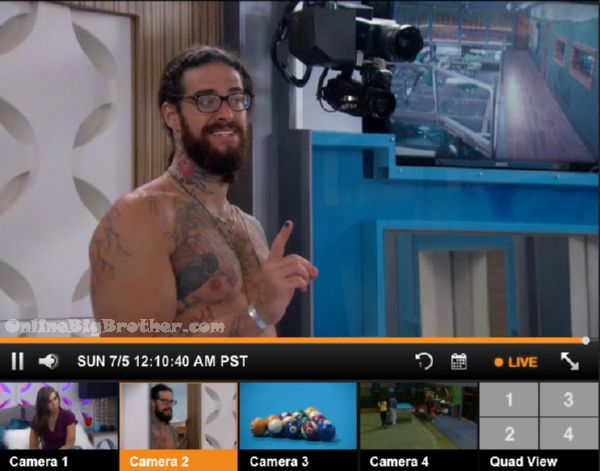 12:06am HOH Audrey and Austin
Audrey say she's still down with Working with Austin and Vanessa. Austin is to.
Austin is worried about James, thinks since the beginning James hasn't liked him. Austin mentions James is 5 3 and is envious of him. Austin is worried he James will try and backdoor them.
Austin thinks JEff wants to be in Jury with him.
Austin points out the Late night crew in Audrey's room has him freaking out
Audrey – I promise you they are never talking game..
Austin – who else is targeting you other than Day, Jason and James
Audrey wants Becky out says she's never liked Audrey and cannot understand why.
Audrey brings up Jason and Day instituting that Becky was racist in the first 3 days.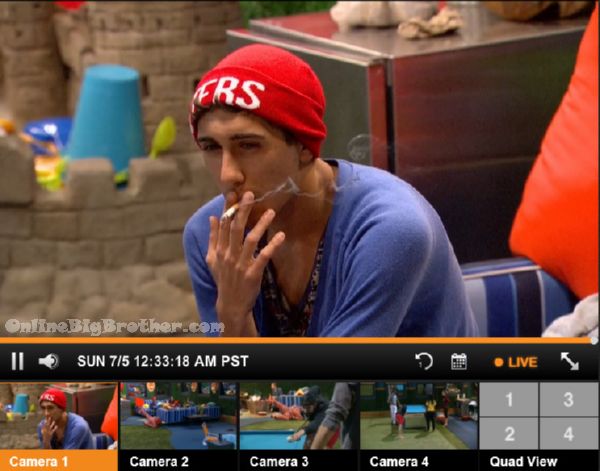 12:34am Chit chat throughout the feeds.
Jason to JohnnyMac "People have beards to hide their weak chin.. you don't have a weak chin"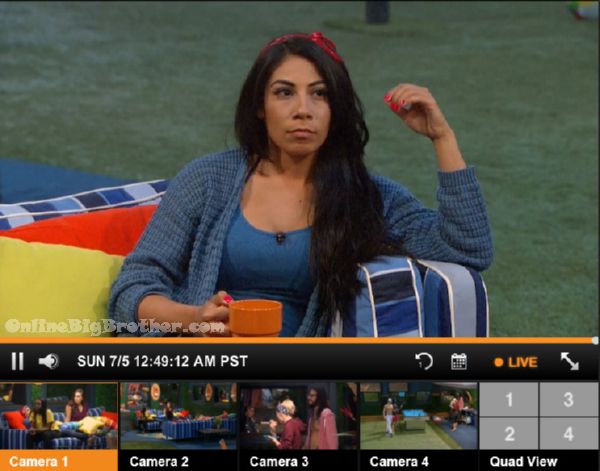 12:48am Jackie and Jason
She's telling him they only made 4 grand on the Amazing race and had to split it with Jeff. That's before taxes which she has to pay this year.. Feeds cut..
Live Feed subscription gives you CBS All Access thousands of archived shows. Live Shows like Big Brother, all the Big Brother Seasons, and 24/7 coverage of what is happening inside the Big Brother House. Plus there's flashback that lets you go back to any second of the feeds and rewatch what happened. Simon and Dawg will index the season just watch the parts worth watching. All this for $5.99 a month try it out 1 week free. Support our efforts and get your feeds via a link on this site. Live feed subscription Sign up
[polldaddy poll=8961340]
Share it YO!
Tweet