POV Holder:
JohnnyMac
Next POV
?
POV Used
?
POV Ceremony
July 5th
HOH Winner Team 1:
Becky
HOH Winner Team 2:
Shelli
Nominations 1 :
Steve, Jason
Nominations 2:
Day, JohnnyMac
Battle of the Block Winner
Steve & Jason
Next HOH/ Next BOB
July 9th / ?
Original Nominations:
Day, JohnnyMac
Current Nominations:
?, ?
Have Nots
Steve, Jason, James and Meg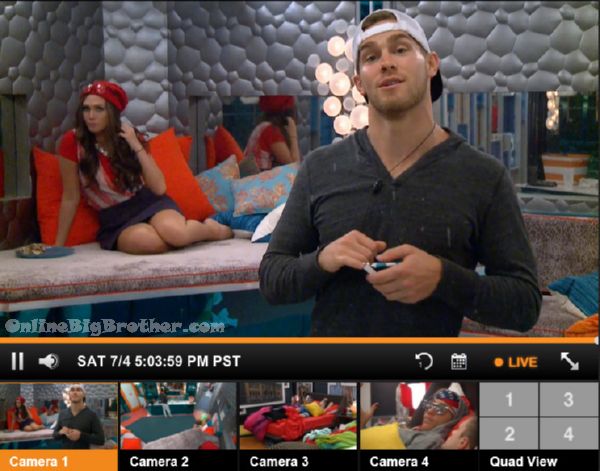 5:01pm Audrey and Shelli
Audrey says her loyalty will be unwaivable she hopes she gets to show them.
Shelli says Audrey deserves a chance.
Clay joins them.
Chit chat… Austin joins more chit chat and speculation about what is going to happen tonight. They think they'll get drinks and get to watch the fireworks.
Shelli doesn't think there's many feeders watching right now.
Austin – "They're watching"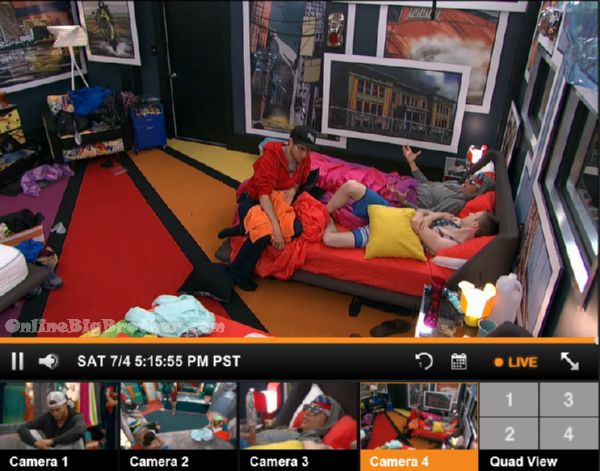 5:16pm Steve, Vanessa and JohnnyMac
Talking about digital music. Vanessa and JohnnyMac have been chatting in the bedroom for the past hour.
Vanessa brings up "Side chain bit reduction"
Steve – WHAAAT
Feeds switch ..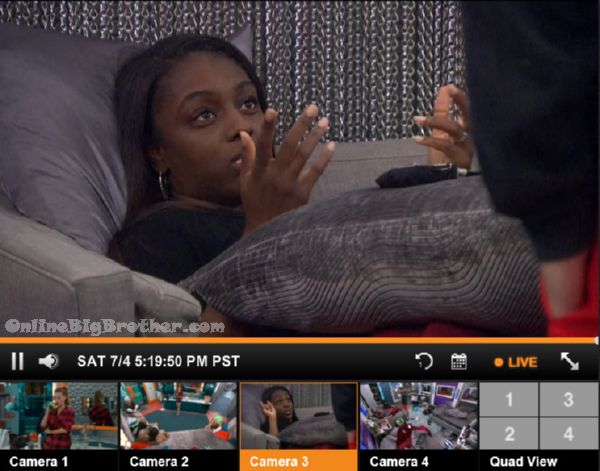 5:19pm Jeff saying he wishes he had more information for her if they wanted her out why did they put her up in the first place.
Da doesn't see a reason for them putting Audrey up because Audrey is close to Clay and Shelli
Da can tells Jeff is outta the loop she can tell who spends the most of the time in the HOH room.
DA says there's people that can't look her in the face she knows there's a plan a discussion that has been made
Jeff says he doesn't feel as comfortable going up to the HOH anymore.
Austin and Becky walk by Jeff follows them "Now the party room is in here"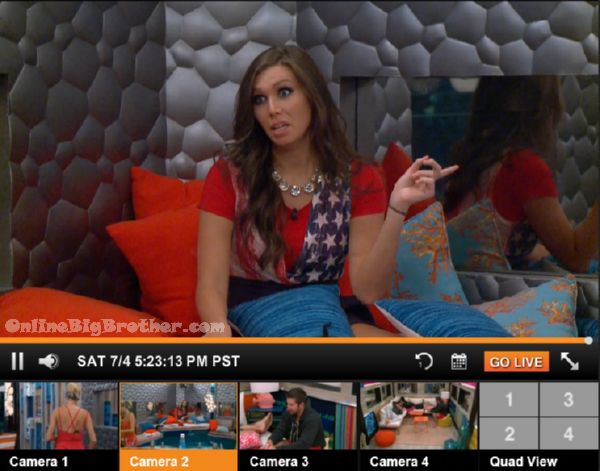 5:24pm Bathroom Audrey and Shelli
Audrey says it's best for Shelli's game to work with Vanessa and Austin
Audrey saying the only two people that will take her to finals is her clay and vanessa.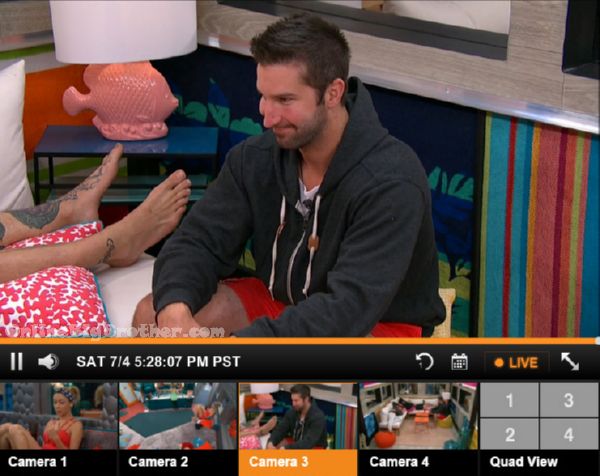 5:26pm Jeff, Austin and Clay
Jeff brings up his conversation with Day. He told her he doesn't know what is going on he's out of the loop (Jeff doesn't leave anything out) . They start talking about gyms.
Jeff says it's hard to concentrate at the gym "the girls wearing spandex with her v@g!na hanging out"
Jeff – Dude I was solid and my body fat was Looooow.. I did the pinch method the calipers.. at my lowest I was 7.3
Austin – wow
Clay – my lowest was 6… my lowest was 4
They start talking about methods to get shredded.
Clay says Protein and Sprints.. "Long cardio steady state burns muscle"
All Clay does is 'HITT cardio'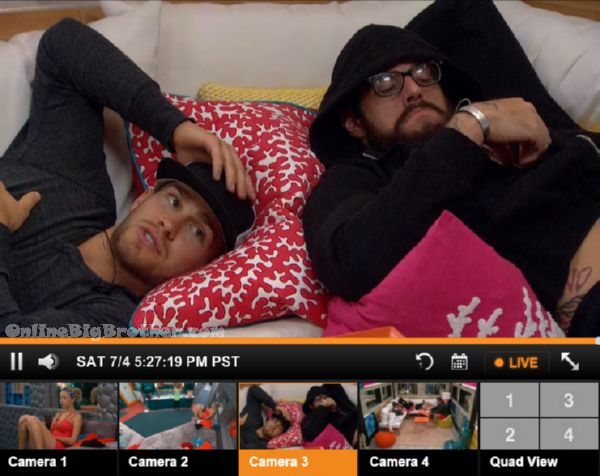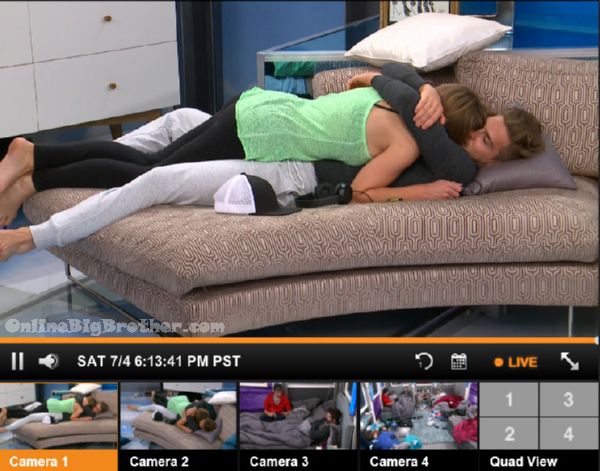 5:46pm HOH Clay and Shelli
Shelli – have you heard the latest.. instead of Liz i'm going to put up Meg
Clay – Have you talked to Meg
Shelli – If I put up liz, liz could go home .. if I put up Meg, Day's going home
Clay doesn't know how credible Austin's story is that the house is talking about getting out Liz.
Clay knows Austin and Liz are close so it's obvious they will try to keep her off the block.
Clay says Audrey is trying to spin it like they should backdoor Becky
Shelli knows that Audrey is worried because Becky is targeting her.
Clay – I don't care about Meg… I don't care who you put up honestly
Shelli is certain the only way to get out Day is if she's up against Meg.
Shelli adds Liz has their back more than Meg has their back.
Clay agrees tells her she should do what she thinks is best.

Sheli says if Liz is up against Day they could turn Jeff to vote out Liz
Clay disagrees
Shelli thinks Becky would turn
Clay now saying there's a possibility Day could flip the house is thinking maybe she should put up Meg.
Clay warns if they put up Meg he has no idea where Jeff will stand.
Shelli – Meg is saying her, james and Jeff are super tight
Clay thinks putting up Meg makes more sense now they need Day out.
Shelli hates there's a side that has Clay and a side that has Jeff.
Clay thinks it's good to stay close to Jeff for now.
Shelli – Should I talk to them together, James, Jeff and Meg about Meg going up
Clay says that would keep the story the same.
Shelli says Vanesa is a for sure(To vote ou day), She's close to Austin. Shelli says she's getting closer to Liz and Liz is tight with Austin.
Clay – John is in between
Shelli – Steve flies solo
Clay – I can get steve, steve likes me
Clay says Jeff, James and Meg will never turn on them
Shelli – they will if I put up Meg
Sheli wants to have a conversation with Meg, Jeff and James to let them know what's going to happen.. Not too early otherwise they will tell Day.
Shelli is a bit pissed that nobody has come up and "talked" to her. Nobody has tried to make deals because they all think they're "Sitting pretty". She's made is obvious she's targeting Day.
Shelli is trusting Austin, liz, Vanessa more because they are talking to her more. Shelli doesn't trust Jeff, Meg and James very much right now. Shelli tells him the people who have been making connections are Liz, Austin and vanessa they have a bond forming.
They both Like Becky and Jackie. Clay points out that Jackie is connected to Jeff, Jeff is connected to James, James is connected to Meg and Mef is with Jason.
Shelli stressing to Clay he needs to win the next HOH.
Shelli – it would be great if Audrey won HOH she would just GUN for the other side of the house
Clay saying worst case is Jason and Meg winning HOH next week.
Clay – I don't see Meg winning anything.. She's not that intelligent.. to beat out Steve, Vanessa or Jason.
(Shelli wants to break away from Jeff, James, Meg. Clay and stick with Austin, Liz and Vanessa. Clay seems fine with it but is favouring they try to play both sides)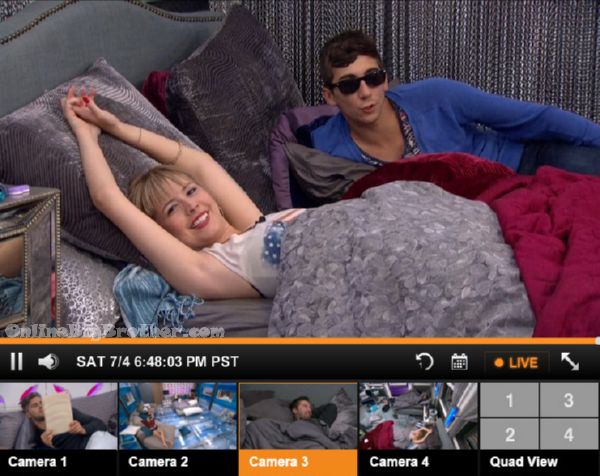 6:47pm Jeff, Meg, Jason and Austin
They're laughing about not being able to picture what Austin wears outside the house.
Apparently Austin did bring clothes to wear yet in the house he has never worn a shirt.
Jeff – can you go put an outfit on
Austin leaves to put on some clothes.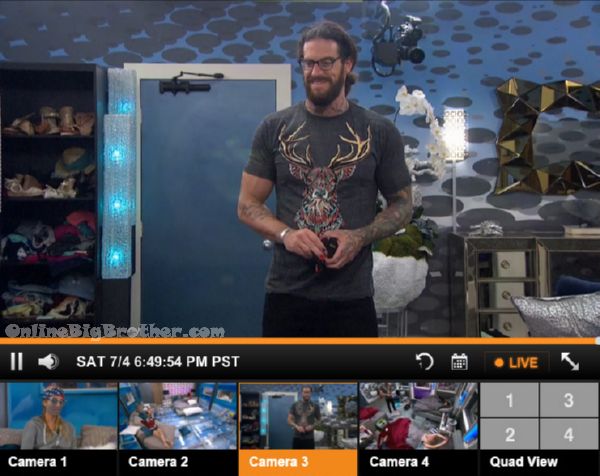 Austin comes out wearing a shirt. Jeff thinks he looks great with a shirt on.
Jeff says if he wore that shirt around people wouldn't look at Clay anymore.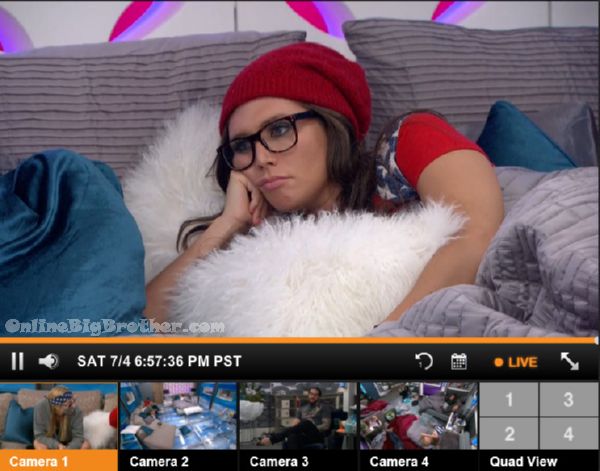 6:55pm HOh Audrey, Steve and Vanessa
Audrey says she wanted to call her child Jupiter, 'Production gave me shit for that they said That kids will get bullied"
(They were talking in other languages, Vanessa and Becky knows some German and Russian, Some Spanish is known by other. Production told them to stop and only speak in English. They have to know what is being said)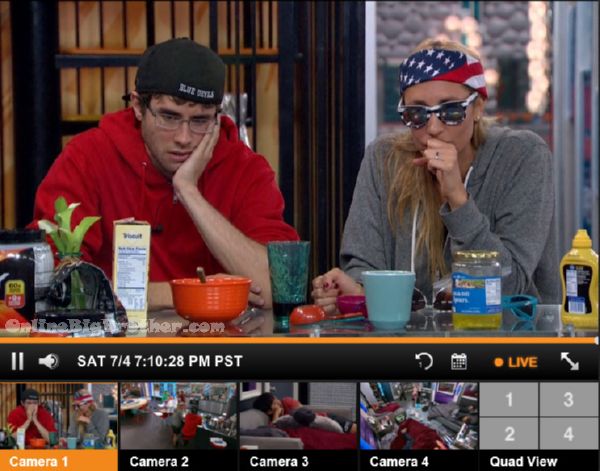 7:03pm Vanessa and Steve having a audio discussions
Vanessa saying things like Compression, limiter, increasing gain, increase perceived loudness, Bit depth reduction works by taking each individual audio wave and reduces the number of audio waves.
Steve – how is it reducing the number of waves
Vanessa – it's only taking a sample of a wave
She apologizes she has trouble thinking this late at night. Steve questions some of the things she's saying but follows along.
Vanessa – Bit rate.. bit reduction what it does on the extreme essentially,. umm… it it .. reducing the fluctuation in pitch… it reduces the amount of fluctuations in pitch.. that reduces over time..
Steve says he understands what she's talking about.. "100%"
Vanessa – I never read that I just made it up …
Vanessa says she took one computer science course during her undergrad she thinks it was c++ but now she just does 'HTML'.
Vanessa says she loves recursion asks him to explain that.
Steve starts explaining recursion but has trouble..
Vanessa goes back to talking about Compression and amplitude.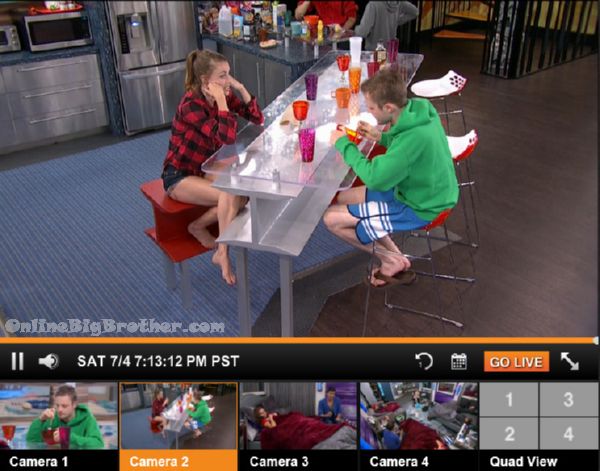 7:15pm Becky and JohnnyMac
Becky talking about spraying the "Ant Highway" "They fry up.. they didn't move after that"
She goes on to show him all the places she was spraying
"Slept with my buddies mom before.. when I was 27.. she's 50.. we all got drunk together" #BB17 @DawgsBigBrother pic.twitter.com/UMJNKfXcaS

— OnlineBigBrother.com (@bigbspoilers) July 5, 2015
7:19pm JAmes talking about Sleeping with his buddies mom he knows about it. it's a big joke back home.
Live Feed subscription gives you CBS All Access thousands of archived shows. Live Shows like Big Brother, all the Big Brother Seasons, and 24/7 coverage of what is happening inside the Big Brother House. Plus there's flashback that lets you go back to any second of the feeds and rewatch what happened. Simon and Dawg will index the season just watch the parts worth watching. All this for $5.99 a month try it out 1 week free. Support our efforts and get your feeds via a link on this site. Live feed subscription Sign up
[polldaddy poll=8961340]
Share it YO!!
Tweet