POV Holder:
JohnnyMac
Next POV
July 11th
POV Used
?
POV Ceremony
July 13th
HOH Winner Team 1:
Vanessa
HOH Winner Team 2:
Austin
Nominations 1 :
James & Johnny Mac
Nominations 2:
Jason & Meg
Battle of the Block Winner
Jason and Meg
Next HOH/ Next BOB
July 16th / July17th
Original Nominations:
James & Johnny Mac
Current Nominations:
?
Have Nots
No HAve nots this week
TRY the Big Brother 17 Live Feeds FREE for 1 WEEK:
Click here to ensure your live feed subscription supports OnlineBigBrother.com at no extra cost to you.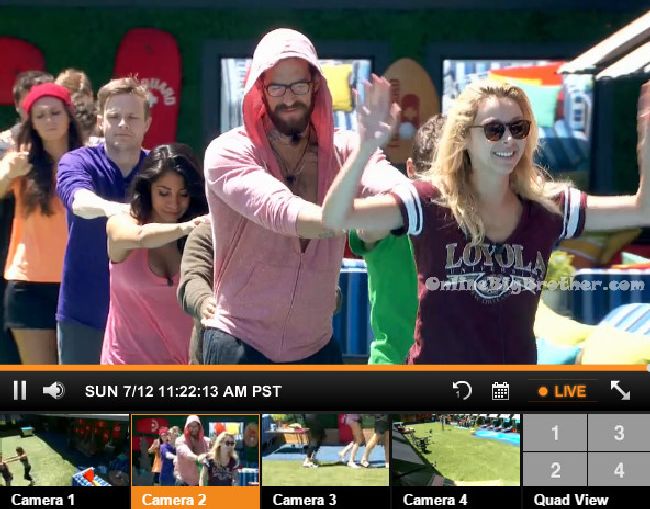 11:20am The house guests get woken up to a Gronk party. "Congo Party – Congo party in the backyard" "Gronk, Gronk, Gronk!" "You can't stop partying yet!" Austin says I used to like Gronk. "You can't stop yet!" "Keep this party going!" Big Brother ends the party and then says "Good morning house guests its time to get up for the day. James says "No sh*t!" In the bathroom – Austin asks Shelli if she is okay. Shelli says she is. Austin says it was tough (The drama from last night).
11:35am Out in the backyard – Jeff tells Johnny there were a bunch of rumors circulating about me last night? Johnny says is it better I don't know. Jeff says I literally had Austin and Vanessa mad at me last night. Audrey spent the day up in the HOH room and now I'm in trouble. Like really big trouble. Johnny says sorry man. Jeff says I think I'm going to go up. I think they're trying to get me out. Johnny says holy sh*t! Jeff says I think they're going to backdoor me. They were trying to backdoor James and now they want me out. Jeff says if you don't mind try and figure something out, what's going on and get back to me. Johnny says alright.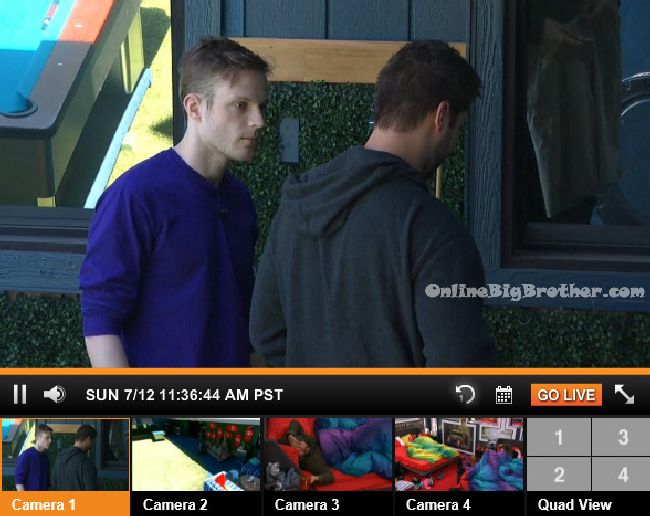 11:37am HOH room –
Vanessa, Austin and Liz are talking. Vanessa says it was the biggest blow up.. like what!?! Vanessa tells Liz about her conversation with James last night. She says that James came clean about lying to her when he originally pinned a lie on Audrey to get Jace out. Vanessa says James said I lied, I am not going to try and manipulate you, I would understand if you wanted to target me this week. On a human level I appreciated that. Vanessa says James heads down stairs and I see Jason and Jeff scampering around. Jeff ran to Clay and told him that we can't trust Austin. We need to get him out next week. Clay then came and told us. Austin went off internally. Austin goes to James and asks if Jeff is throwing me under the bus. James said I shouldn't trust him. Austin says that he went to confront Jeff. Vanessa explains the
blow up she had with Jeff in the bathroom last night.
Vanessa says Jeff literally served up his head on a silver plater. Austin says after the James conversation I told Jeff I would come up here and try and get Steve up on the block and while I'm doing that he throws my name under the bus. Vanessa says fool me once shame on you, fool me twice shame on me. Vanessa tells Liz that we told Steve you have to get to top 10… so 6 evictions. We told him that just in case he squeals. Liz says good girl! Vanessa says I am going to tell people I am putting him up and I want him out. At the end of the day he would throw his best friend under the bus. Liz says I can't believe you tired to help him out and he went around throwing you under the bus. Vanessa says he is actually exactly what we feared .. that he is the male Audrey. Austin asks what should Liz tell Jeff when he comes to get her vote. Because he is going to try and manipulate her and say he will out the twins twist if she doesn't vote for him. Vanessa says just lie to him and tell him you'll give him a pity vote. And then vote him out. You don't mind lying do you? Liz says no, I lied today.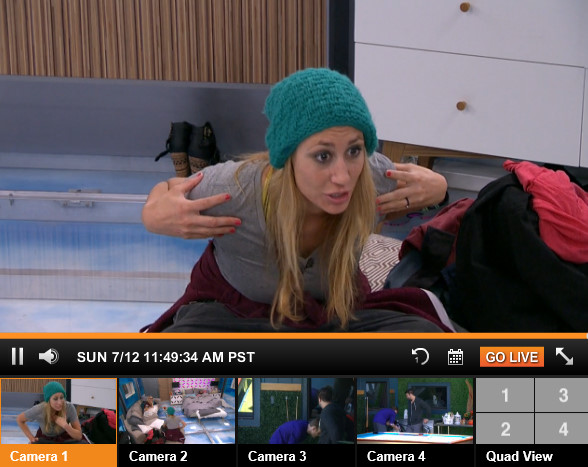 11:45am Backyard – Jeff says I'm thinking Audrey has completely brainwashed her (Vanessa). I'm going to need your help on this. Johnny says I'll talk to them and see what I can to.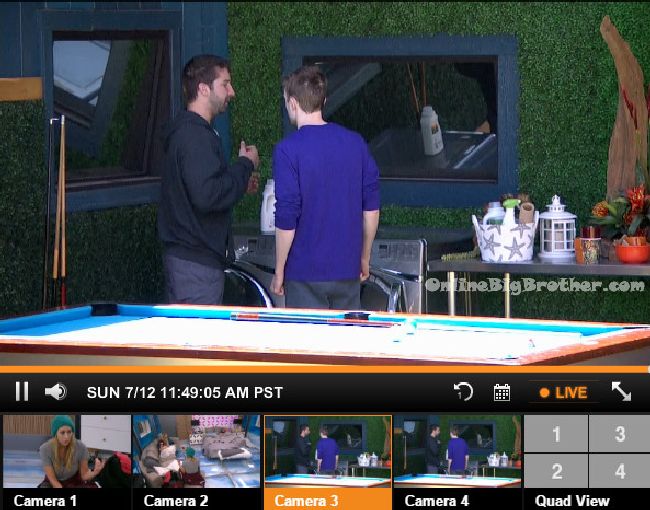 12:10pm – 12:55pm Steve heads up to the HOH room – Liz says you missed world war 3 last night. Steve says I heard what happened? Austin says I got into a fight with Jeff last night and she finished it. Vanessa says I got into world war 3 with Jeff last night. Steve gets excited and says "TELL ME, TELL ME, TELL ME!!" Vanessa then explains the whole story again to Steve starting from the beginning. Vanessa the best part was that he made the biggest mistake in big brother history! He tried to turn it around on me. Steve jumps up and starts yelling "WHAT?! WHAT?! WHAT?!! Steve says we need to start an alliance. The get Jeff out Alliance. Steve suggests Vanessa approach Shelli and Clay with out him so that he (Steve) appears to be on the bottom. Steve asks so Jeff knows he's going up? Vanessa says I told him he sealed his fate. Steve asks is this conversation confidential? Vanessa says everything that happened is public knowledge. Our alliance stuff is confidential. Steve says okay because I'm going to tell some people this. Austin says people need to know what happened. Vanessa says on a human level I don't even want to be his friend. Steve says that's the basis for this 6 person alliance that's why we're making this. (Steve, Liz, Austin, Vanessa, Clay & Shelli) He is completely moral-less. Steve says I asked Johnny if he was going to use the veto and he said yes. Austin, Liz and Vanessa says of course he would. Steve says its worth double checking. Jeff might try to get him not to use it. Liz says that would be stupid. Steve tells them that Audrey and her (Liz) are the only 2 people no one saw during the California vacation. Austin says I wasn't either. Austin tells Steve that they won't out Liz as a twin because they think like BB5 she would be evicted right away. They want to wait for an eviction night so they're safe for another week. Steve suggest Austin not stay up in the HOH room. Austin says he is going to move his stuff down.
Vanessa "I got into World War 3 with Jeff." Steve "TELL ME, TELL ME, TELL ME!!" @bigbspoilers #BB17 pic.twitter.com/0IQZ9beSsH

— Dawg (@DawgsBigBrother) July 12, 2015
Vanessa "Jeff tried to turn it around on me" Steve "WHAT? WHAT?! WHAT?!!" @bigbspoilers #BB17 pic.twitter.com/rF5ZtvGpTv

— Dawg (@DawgsBigBrother) July 12, 2015
12:50pm – 1pm Steve heads out to the backyard. And asks did you hear what happened last night? Johnny says it sounds like the script was flipped. Steve tells Johnny that Jeff got caught it a bunch of lies and was throwing a lot of people under the bus. Steve tells Johnny he should talk to Vanessa. Johnny tells Steve he is good. Just be aware of the creep status. Steve tells Johnny you will have some enemies if you do not use it. So please use it! Johnny says he will. Steve says good because Jeff will probably try and get you not to use it.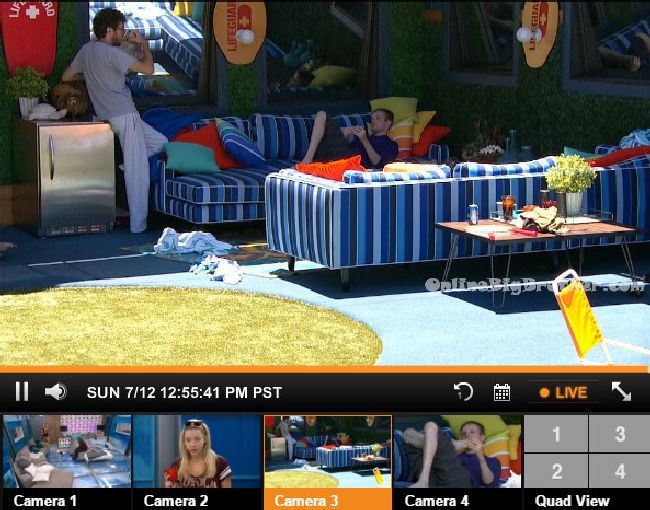 Julia says I'm cool sleeping with James. Julia says if he asks me who I am voting for I will tell him I don't know and will come to him to tell him. Austin says if he doesn't respect that they tell him you'll vote him out. Austin tells Julia just so you know I did all this to protect you. She (Vanessa) was ready to get James out. He has to go so that he leaves you alone. It makes me sick! It's got to stop. Steve says I think the vote will be close this week. Johnny says I think James, Meg and Jason are really tight. Like if I was up against Jason I don't think James would have my back. Steve tells Johnny I don't think Audrey had anything to do with it last night. But I'm not the primary source, talk to Vanessa.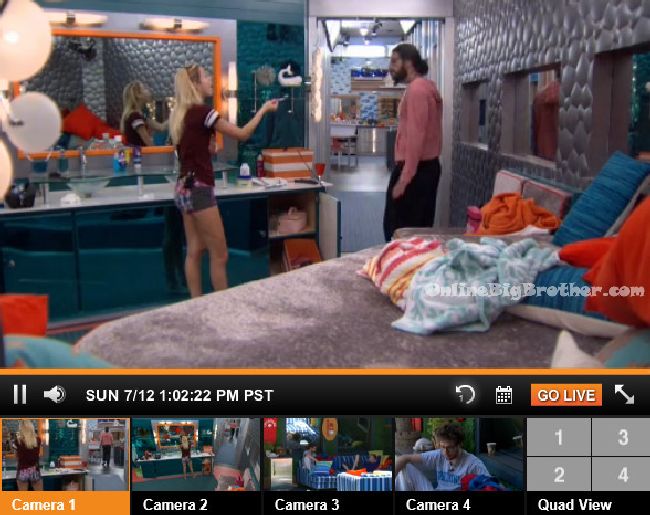 1:15pm – 1:30pm The music starts "Count down to a Gronk down! Costume party! Find a costume and get to the living room. All the house guests find things to wear as a costume and head to the living room. Meg asks Clay what are you supposed to be? Clay says you!
Live Feed subscription gives you CBS All Access thousands of archived shows. Live Shows like Big Brother, all the Big Brother Seasons, and 24/7 coverage of what is happening inside the Big Brother House. Plus there's flashback that lets you go back to any second of the feeds and rewatch what happened. Simon and Dawg will index the season just watch the parts worth watching. All this for $5.99 a month try it out 1 week free. Support our efforts and get your feeds via a link on this site. Live feed subscription Sign up
[polldaddy poll=8972565]
Share it YO!!
Tweet