POV Holder:
JohnnyMac
Next POV
July 11th
POV Used
?
POV Ceremony
July 13th
HOH Winner Team 1:
Vanessa
HOH Winner Team 2:
Austin
Nominations 1 :
James & Johnny Mac
Nominations 2:
Jason & Meg
Battle of the Block Winner
Jason and Meg
Next HOH/ Next BOB
July 16th / July17th
Original Nominations:
James & Johnny Mac
Current Nominations:
?
Have Nots
No HAve nots this week
TRY the Big Brother 17 Live Feeds FREE for 1 WEEK:
Click here to ensure your live feed subscription supports OnlineBigBrother.com at no extra cost to you.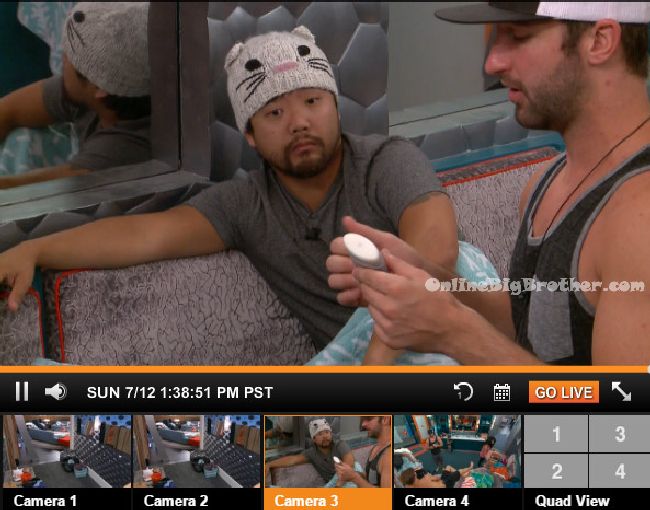 1:35pm In the bathroom – Clay tells James I still trust him. It's not like I don't trust him. James says he was probably just scared he was going to go up. Clay says this all started last week. James says she might still throw up Audrey. After I had a talk with her she said she was working her way to putting Audrey up and then she had a blow up with Jeff. Clay tells Jeff he should apologize and smooth things over. Jeff says I am going up against the master manipulator. Jeff heads out side.

1:40pm Backyard –
Johnny tells Jason I wasn't there last night what do I need to know? Jason says I'm not even sure what I need to know. Jason says James was the target and then all of a sudden Vanessa and Jeff had a huge blow out. Jeff says we need to figure out how to get her to continue with the game plan. Jeff says during the hot tub party Audrey was looking so guilty. Jeff says just like the fight with Meg what was that all about?! What does it have to do with anything you're doing right now? What does that have to do with your HOH. She's like you're dragging Austins name through the mud. What does that have to do with your HOH. Jason says she is very emotional. That's what I told Jackie when she went to go talk to her .. let her do more of the talking. Jeff asks how is Audrey once again skating!? How am I about to go up. Jason says she is always skating. Jason says I've been racking my BB history brain about how other people have gotten out of things similar to this. The only thing is Dan throwing his funeral. Jackie joins them. Jeff says everything about last night had nothing to do with Vanessa.. it had everything to do with breaking my trust with other people. Now I have to have a talk with Austin. I just knew Audrey was guilty when she smirked at me and then looked down during the hot tub party. Jason says she's evil. Jeff says she is evil. Clay joins them. Jeff says I'm not saying its all Audrey's fault. I think she got into a few peoples ears. She is trying to find any reason to not put up Audrey. She is harping on the 10% lies and not looking at the 90% truth. Jason says screwing over 9 people for 1 ally is not a good idea.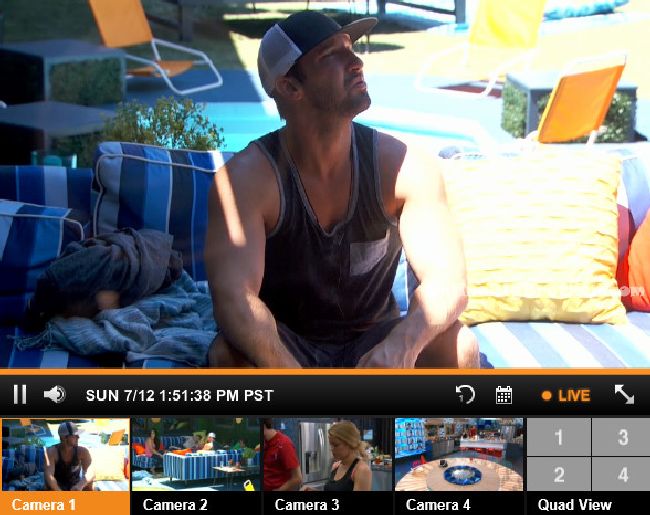 2pm In the cabana room –
Jeff talks to Jackie. It was apparent that they were looking for someone else to put up. They were going after James for a lie he told in week 1. Jeff tells Jackie what happened last night. Jeff says she told Clay and Shelli that I trust Clay and not Shelli. When she called me out in front of Clay and SHelli it put me in a very bad position. That lie was just suspposed to be smoke and mirrors so I didn't need to be in an alliance with her (Vanessa). Jeff says I have to figure out a way to not get put up. Jackie says you need to go apologize to her. She literally said she can't believe you're not going up there to apologize. Jeff starts to get up and Jackie says wait wait wait …where are you going. We're going to finish this conversation first. Jackie tells Jeff about her conversation with Vanessa. You need to suck it up and go apologize to her. Jeff says I was waiting for her to cool down. Jeff says Jackie this is really bad and I don't know if I can get out of it. Jackie says she really wants you gone and said she will do anything to make sure you go. Jackie says just apologize and make it really sincere. And another thing I keep hearing that you don't care if I'm in this game and you don't care if I go. I get it you don't want it to look like we're together but there are other ways to say it. We came here to represent the (Amazing) Race and we don't want to be seen doing each other dirty. None of these people are your friends. I am your only friend. Jackie says it just looks bad because I am saying amazing things about you. Jeff says maybe I need a girl to come up there with me to talk to her. Like you or Meg. Jackie says you need to do this on your own.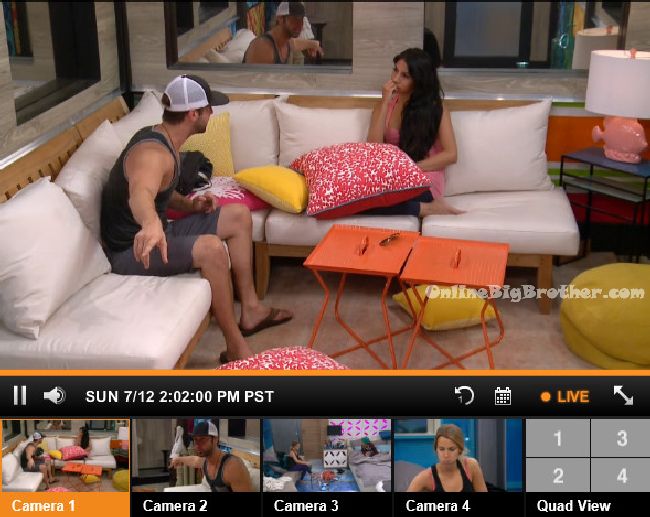 2pm – 2:20pm HOH room –
Vanessa talks to Shelli about the events of last night. Vanessa says in the kitchen Jeff admitted he lied in front of everyone. Vanessa says he has no credibility now. He threw everyone under the bus. John is the only one he didn't throw under the bus. Shelli says we talked to Jeff for probably an hour and 95% of that he only had eye contact with Clay. Vanessa says because he only wants to work with Clay. Vanessa tells Shelli we have Steve's vote and Audrey's vote. Shelli says Audrey might be America's player so we cant count on her vote. We need to make sure we get Becky's vote. Jeff heads up to the HOH to talk to Vanessa. Vanessa asks if they can talk in 15 minutes after she's finished talking to Shelli. Jeff leaves. Shelli says he wants to talk again you should be ready for another convo. Vanessa says there is nothing he can say that will change my mind. I hope he says something on a human level that will make me want to be his friend again because at this point I don't even want to talk to him again. Clay joins them. Vanessa reiterates Jeff admitting he lied in front of others in the kitchen. If you have any doubt you can verify it with them.
Watch the live feeds for the next week FREE: Get your 7 day TRIAL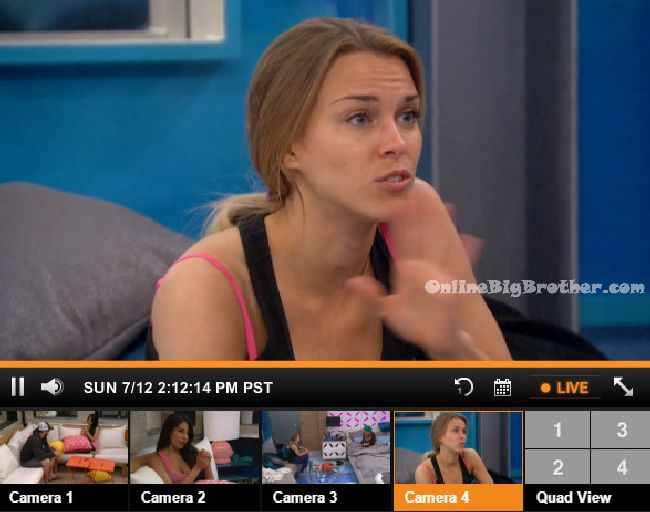 2:20pm – 2:35pm Jeff talks to James in the backyard. He says I don't know if Clay and Shelli have my back any more. Jeff says this is going to get really dirty. We are going to come out looking a lot more dirty than when we came in. James says Audrey is running around the house feeling so safe. Jeff says we need to go up there with a big group. Not just me and you James. We need to get the people that we care about to go up there. We need to take a stand. We need to let her know that we will back her if she does that. We will be the ones to vote her out not you. Jeff says she doesn't want to be the one to get out someone from a special interest group. Gay / lesbian / transgender or whatever. Its almost a slap in the face to that group. James says its almost like don't send me out because I'm Asian. Jeff asks how James apologized because I'm going to have to do it. James tells him what he said and how he apologized. Jeff says if we go up together it will be sending someone home that doesn't deserve to go home. Jeff asks so when I'm up there I shouldn't talk about Audrey? James says I wouldn't. James says just admit that you were wrong and hopefully she will save you.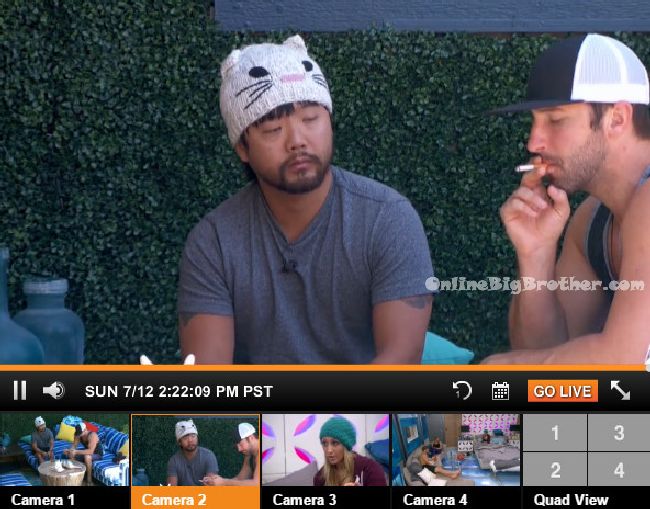 2:35pm – 2:50pm HOH room –
Jeff head up to talk to Vanessa. He says I wanted to wait for both of us to talk because we were both pretty heated. I want to sincerely apologize to you for what happened. I felt like my back was against the wall and I was scurrying backwards. I want to apologize for lying and making it seem like you were the one that was lying. Jeff says when you guys were attacking me. Vanessa says first of all I never attacked you. You attacked me so if you want to start like that you can leave right now. Jeff says when I said I was attacked I meant Austin. Vanessa asks what changed between the time you approached me for an alliance and then didn't talk to me about it. Jeff says I felt like I was being baited. Jeff tells Vanessa that he is sorry for making it appear like she was the person who approached him for an alliance when it was him. I didn't know if it was Audrey trying to spin stuff. Vanessa explains how James handled being confronted about lying. Jeff starts to talk and Vanessa cuts him off.. let me finish. She tells Jeff that James said everything right and was a stand up guy. I was ready to put up Audrey but I've been checking what she says and everyone else says. If I'm the one that sends her home I need to be okay with it. Honestly Jeff you had zero chance of going up. In that moment you threw your closest friends under the bus and then you tried to pin what you had said on me. If you go home I am okay with it. Jeff says you are 100% right. I've had a deal with Clay since I walked in the door. The things I said about Clay were to deflect us working together. I had to admit to both of them that yes I did this and this is why. It was to protect us working together. Vanessa ask you and Clay or you, clay and shelli? Jeff says Clay and Shelli because they're together. Vanessa says I had never heard such a rumor .. you came to me to tell me that Clay and SHelli can't be trusted together. So why would you feel like you needed to say such a rumor and that they needed to be protected. Vanessa says the best thing for you would have been if you had pulled me into that meeting.. then you wouldn't have had to make up a lie.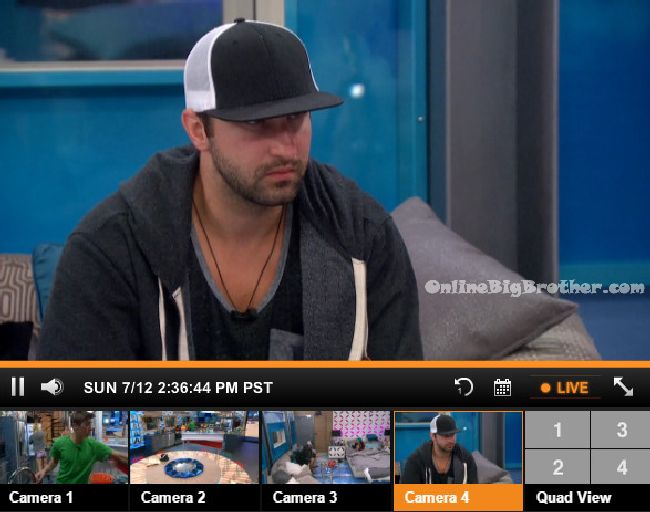 Live Feed subscription gives you CBS All Access thousands of archived shows. Live Shows like Big Brother, all the Big Brother Seasons, and 24/7 coverage of what is happening inside the Big Brother House. Plus there's flashback that lets you go back to any second of the feeds and rewatch what happened. Simon and Dawg will index the season just watch the parts worth watching. All this for $5.99 a month try it out 1 week free. Support our efforts and get your feeds via a link on this site. Live feed subscription Sign up
[polldaddy poll=8972565]
Share it YO!!
Tweet