POV Holder:
JohnnyMac
Next POV
July 11th
POV Used
Yes
POV Ceremony
July 13th
HOH Winner Team 1:
Vanessa
HOH Winner Team 2:
Austin
Nominations 1 :
James & Johnny Mac
Nominations 2:
Jason & Meg
Battle of the Block Winner
Jason and Meg
Next HOH/ Next BOB
July 16th / July17th
Original Nominations:
James & Johnny Mac
Current Nominations:
Jeff & James
Have Nots
No HAve nots this week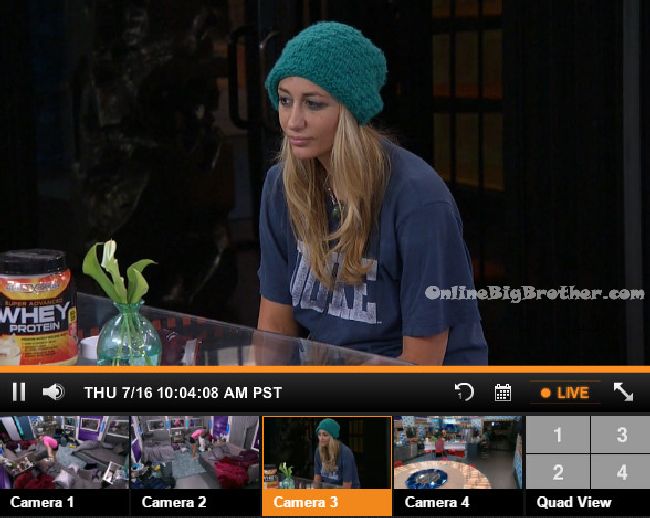 TRY the Big Brother 17 Live Feeds FREE for 7 Days!:
Click here to ensure your live feed subscription supports OnlineBigBrother.com at no extra cost to you.
9:50am
Big Brother wakes up the house guests. When the live feeds return – Vanessa, Steve, Clay, Becky, Jason, Johnny Mac and Meg are in the kitchen. Steve comments that the HOH lockdown will be in one hour. Audrey takes a peasant shower for the first time. Up in the HOH room – Austin says James is throwing it today. Vanessa says the only people we need to worry about (winning hoh) are Jason, Meg and Jackie. Austin asks what about Johnny Mac. SO Rogue. Such a wild card. Maybe he will throw it to us because we have that deal with him. My only worry is Jackie coming out for vengeance because Jeff probably programming her right now. That's why as soon as he leaves I might want to tell her that story about what he said about her. If we need to! Vanessa says to de-program her. Austin says I don't want to use his strategy but we may need to. De-program her. It would be a start. And then Meg and Jason I am hoping hoping, hoping would target Clay and Shelli before us. But its tough. I'm hoping. I'm thinking they all think Liz comes in next week. Vanessa says Julia you mean. Austin says yeah, I think they think that. Vanessa says it might be. Austin says we just need to get through this week first. And America's Player sh*t is just too much! Austin leaves.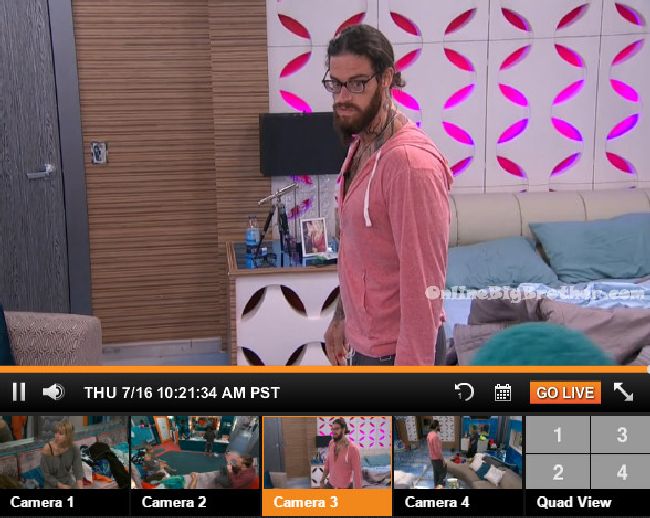 10:30am HOH room – Vanessa asks Shelli – Do you think Jackie will honour our deal that if I didn't put her up this week she wouldn't put me up next week. Shelli says hopefully she will honour that deal if she wins but if she starts talking about it I will talk to her. And if she is thinking that I will know. Anyone that comes up to talk to the HOH would have that chance.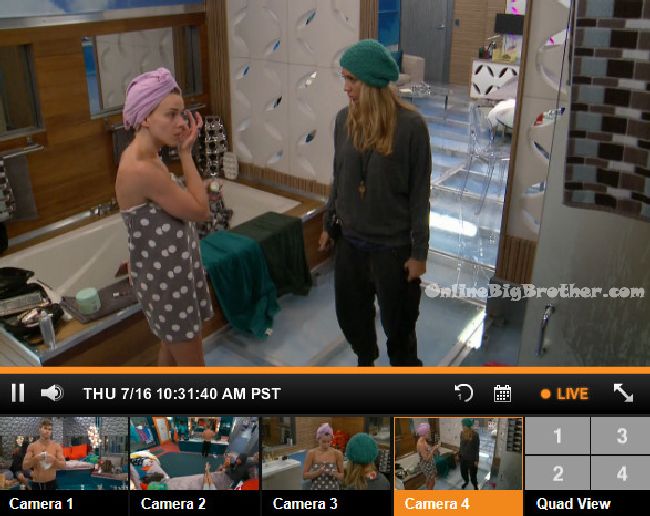 10:35am Jeff and Liz head into the cabana room. Jeff comments on how Austin will probably come in and get mad we're together? Jeff tells Liz I am 90% sure I'm out the door. I thought Austin was going to vote for me but now I know he's a little bit*h. One of the things that you brought to my attention that was a rumour and I just wanted to revisit it. I never talked sh*t about you and Jace. I said you can tell a persons character when they're backed into a corner and they're against their friend. Austin squeeled like a little bit*h when he was backed into a corner against his friend. Honestly I would rather have Liz on my side than Austin because he was willing to sell his friend out and he didn't even give him a sympathy vote. Which is another piece of sh*t trait. Austin is a little bit*h. And he can know that I said that. And for whatever reason I stay in the house he can know that. I gave him so many opportunities and second chances to do me right and all he would do is do me wrong. One thing I want you to know is that people are starting to notice that about him.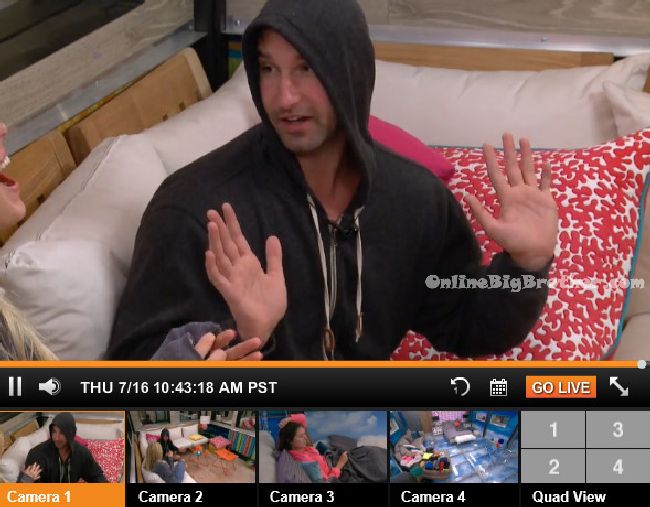 Jeff says Austin will become a target and it will be a lot sooner than you. Granted there is a lot of speculation about you and the whole twin thing. And Liz you don't have me fooled I 100% know you have a twin. You can never tell me otherwise. I am 100% convinced you have a twin that is playing this game. That's fine. And I don't care. I'm about to leave and I don't even care if I was going to stay. I knew it wasn't going to affect my game and I might be batsh*t crazy by saying that to you but if you do have a twin I feel like you're the nicer one. Liz laughs. And your sister is cool and everything but maybe she just isn't as down to earth. I'm just throwing that out there. I wish you guys the best. I hope you go far and kill it. Honestly there's no reason for you to admit anything to anyone because honestly there's so much speculation but who cares because they're going to leave it at that because no one has the balls to come up and tell it to your face. You know Austin knows about it and has been talking about. Vanessa knows about it. Audrey knows about it. Liz asks Audrey knows about it to?! Jeff says everybody in this house knows about it but you. I am telling you I am 100% convinced I have been studying you for a while. Johnny Mac noticed one of you has a crown on your number 9 tooth. We had different types of professionals looking in to it. Jeff says you're cute and I would have flirted with you more but you have a psychopath clinging to you so I just can't. Liz says I know. Liz says it sucks because I don't feel the same way. It sucks because I am aligned with him. It sucks because I would want you to stay over James. He promised he would keep me, Vanessa and Austin safe and then two hours later I heard he is going to throw the HOH. Jeff tells Liz to watch out for Vanessa.
Try the Live Feeds FREE for 7 DAYS! Click here for your: Big Brother 17 FREE Trial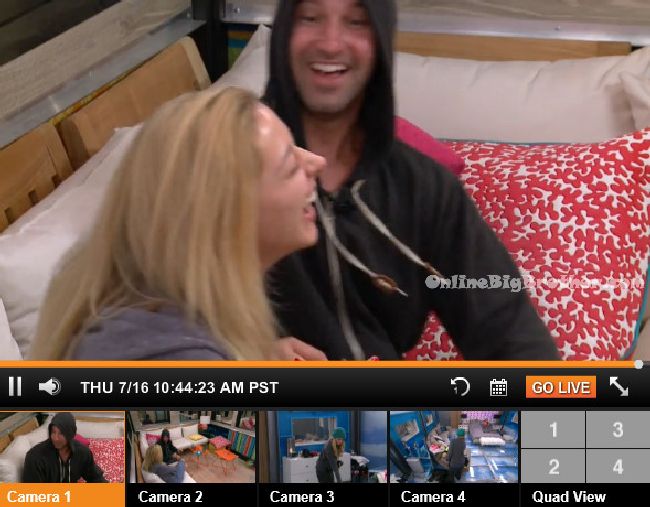 10:47am Big Brother switches the live feeds to the live feed highlights for the HOH lockdown.
12:40pm The feeds are still blocked.

1pm – 1:25pm The live feeds return.
Jeff climbs into bed with Meg. He tells her that he wants to take his time and say goodbye to the people he cares about. Meg starts crying and says I hate today! He asks why she is always so cold. Meg says because I have a cold heart. Jeff says all my friends are voting against me.. its sad. Even Clay is voting against me. I talked to him last night.. I think he feels bad like he wants to vote for me but Shelli wasn't about it. Jeff is whispering really quietly and blocking his mic. Jeff says everyone is throwing my name under the bus. If I don't get the votes don't trust them. Jeff says you learn a lot about people when you're about to leave. People true colours come out. I know if I got to stay they know it would be really bad. A lot of people games would be in trouble. Stay close to Jackie. I've made it very clear with Becky my main concern is Audrey and Austin. Jeff asks did James know all along that I was the plan to go home? Meg says no. You're being paranoid. Jeff wonders if Liz would vote for him. Meg says she won't because of how close she is to Austin. Jeff says I was working her (Liz) so hard today. How are you going to feel when you vote against me today? Meg says stop! Jeff says I have 3 confirmed votes. Do you have a good idea with who you are going to vote for me or James. Meg says I feel like James would take me further. This is just game related. Jeff asks why? Meg says because you're closer to Jackie. Jeff says James doesn't have connections like I do. If you keep me you get Jackie too. James doesn't have a sidekick helping him. Austin's like her daddy always checking in on her. I asked her about it. I was just so curious about their relationship. I asked her if her and her dad had a good dinner last night. She was like shut up! I was like I saw you cuddling last night .. did you guys seal the deal. She said she is terrified of him. I think its because her sister really does like him. I told Austin that one of them that's into you and the other sister is into me. You need to stop getting jealous about it. So basically we're going to have to take terms f**King with her. I've been f**king with her. I've been saying things like you've been really hot and cold with me. It's like you have a split personality. Its like you're two different people. Meg says oh my god. Jeff says she would never admit it though. Yesterday I thought I had a chance but then every time I turned around I had to extinguish a fire someone set. I got in big big trouble for not relaying conversations. That's why Clay and Shelli don't trust me because I didn't relay conversations. Honestly its better to just play like Steve and not say and just keep your f**king mouth shut and not have a friend.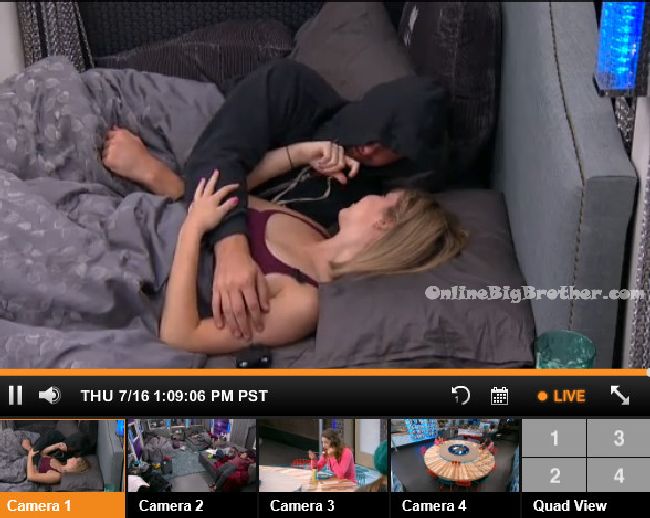 1:45pm Bathroom – Austin comments on how Jeff was crying about being blind sided but he called out Jace for crying when he really was blind sided. Vanessa says a true mans character is when you're at you're worst not at when you're at your best. Austin says if he tries to say some speech to attack me I am not going to let it happen. Julie is going to have to tell us to sit down. Vanessa says well don't hit him. Austin says I won't, I'll just tell him to stop. His tactic is to bully people. Vanessa says you should just go sit in the room with him so he can't talk sh*t. Austin says I can't stand being in a room with him.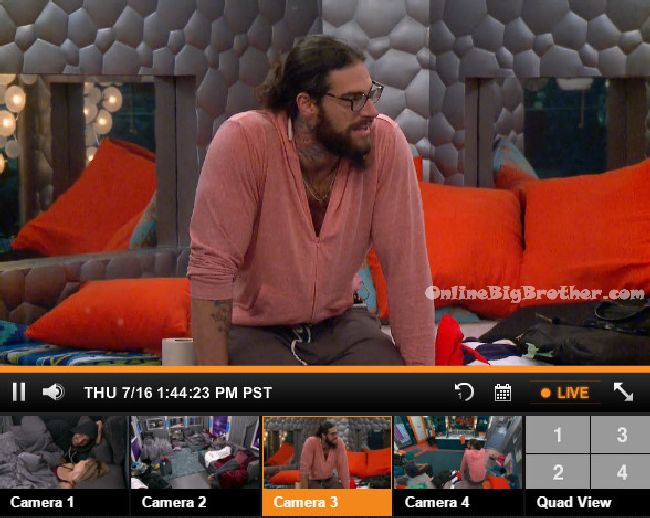 1:50pm In the kitchen – Austin tells Audrey there would have to be a lot of people lying for him to stay. Audrey says I think it would be really stupid to do that. He is really convincing though. Austin says I don't think so. Audrey says well you and I see right through it but other people don't. Austin says it just made me sick when he was crying.. because week one he called Jace a pu$$y for crying. Audrey says I think we should just be around him so he can't talk. Austin says except I can't because then I would do something I'm not allowed to do.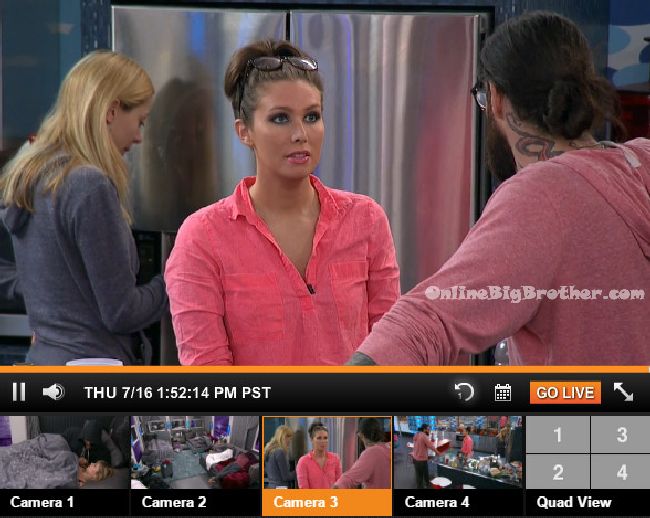 Share it YO!!
Tweet