POV Holder:
JohnnyMac
Next POV
July 11th
POV Used
Yes
POV Ceremony
July 13th
HOH Winner Team 1:
Vanessa
HOH Winner Team 2:
Austin
Nominations 1 :
James & Johnny Mac
Nominations 2:
Jason & Meg
Battle of the Block Winner
Jason and Meg
Next HOH/ Next BOB
July 16th / July17th
Original Nominations:
James & Johnny Mac
Current Nominations:
Jeff & James
Have Nots
No HAve nots this week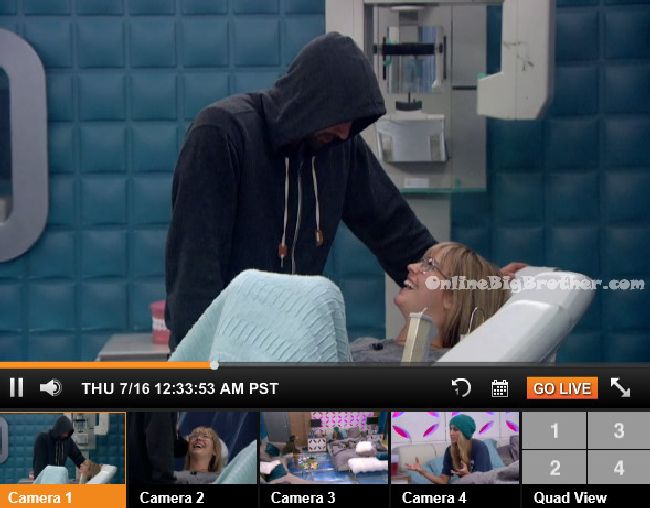 TRY the Big Brother 17 Live Feeds FREE for 7 Days!:
Click here to ensure your live feed subscription supports OnlineBigBrother.com at no extra cost to you.

12:35am Jeff and Meg are in the havenot room talking. Jeff asks do you owe James anything? Meg says I don't owe James anything. Jeff says exactly. Jeff says I have friends in this house that James doesn't have. Why was Johnny Mac so committed to voting for me. I have loyalties that are unspoken. Meg says that sounds so shady to me. Jeff says its not like an alliance or even a group. People like trust me. It's something as simple in passing like I know you're going up on the block you just need to relax. Don't worry about it. Just play it cool and then when nothing bad happens you think oh wow that person didn't give that much information. I have a lot of good working relationships in the house. What happened with Vanessa was very strategic. I don't know who was behind it but it was genius. You put up two people that no one couldn't have seen us working together. Then Vanessa felt like I was a threat to her game and she thinks I'm brilliant and a manipulator. Everything felt so f**king staged. That person (Audrey) likes to stage things. Even if it was true was it really that bad? Jeff says I guess what I am saying is James and I both have your back. Long term-wise it might be smart for you to help me out. Meg says I know. Meg says I wish I knew what I was doing. Jeff says I don't even know if I'll need your vote. I'll tell you if I need it. I'm waiting for people to get back to me. I'll probably know by the end of the night. Just think about what's best for you. Meg says this is going to kill me. If James finds out that I voted for you. I just see a sad face. Jeff says I didn't want to have this conversation. I wish it was someone else because then I could slander them. Jeff says I would just hate to go and all I needed was your vote. I'll let you know if Shelli and Clay aren't on board.

1:15am
Austin and Liz sleepging: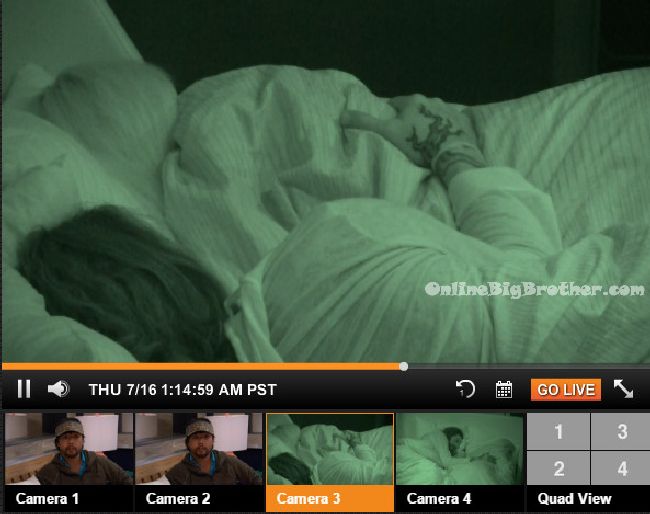 Jeff talks to Steve in the havenot room. Jeff notices that Steve is down. He asks him if he is okay. Are you just thinking about family? Steve says yes. Jeff tells Steve if I would be someone that you think could help you. Just keep that in mind. Jeff says if you do plan to vote for me don't tell anyone. Jeff says a lot of things have changed in the last hour.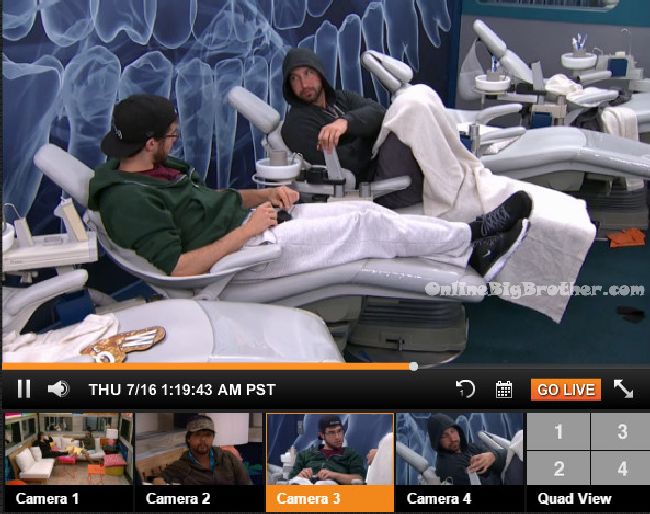 1:25am Cabana room – Jackie talks to James and tells him that she wasn't trying to do anything sketchy. I am just trying to be there for Jeff in a time like this. I want you to know that I love you just as much and going forward I want to be so loyal to you. I am not trying to, Its just a weird situation and I want to back off from it. James says I would be an a$$hole if I told you not to be there for Jeff. Jackie says I think we know how it's going to end. James says I want you to be there for Jeff. Just be there for him. I'm fine with it. You don't have anything to worry about, I'm not coming after you. I've got your back. Jackie says either way I think my vote doesn't matter. It comes down to a respect thing. James says if it was me I wouldn't want to leave with zero votes. I just hope things aren't awkward between me and him.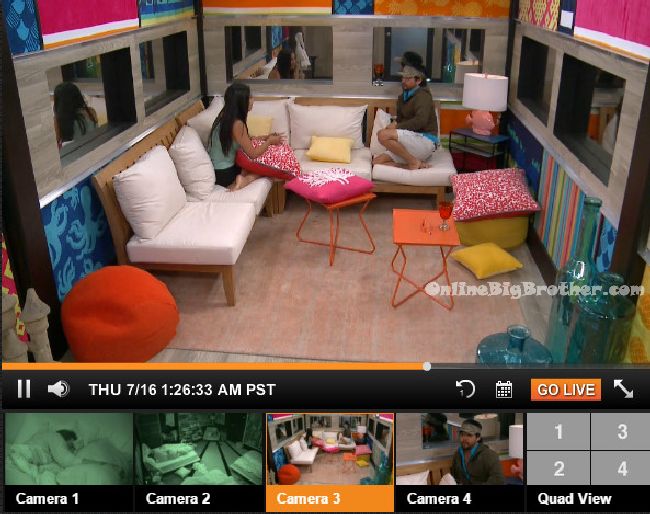 1:35am Bedroom – Jeff talks to Audrey. Jeff says I feel like I'm fighting a never ending battle. I've never had so many rumors be brought up about me. I just don't know any more. What the f**k man. That's why I'm venting to you because I know you know how it feels. Every time I turn around I feel like some one is attacking me. Jeff says that Steve was in the havenot room upset. He said it was just family but don't believe it. I think someone said something to him.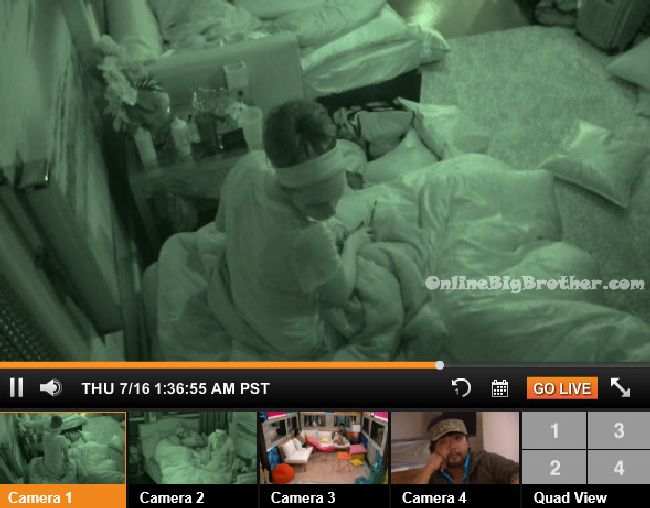 1:45am Cabana room – Jeff and Jackie are talking. Jeff says that Steve asked if it was my plan to get out him, Audrey and Becky? He said multiple people told him that. Jeff says there are too many fires to put out. I just have to accept that people want me out of here. Jeff says I told Steve if I'm not here to help you out just stay close to Johnny and Jackie. Jeff says people are f**king a$$holes here! F**king God! I think its people that are closer to me. Jeff gets called to the diary room.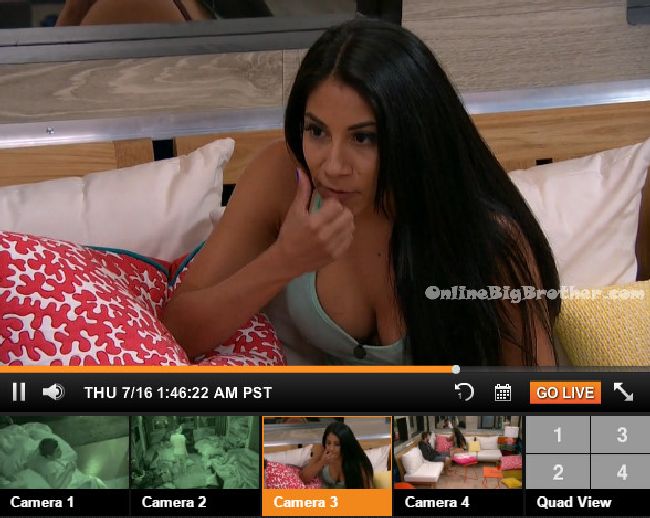 1:55am – 2:30am Havenot room – James is talking to Shelli. Shelli says we asked him (Jeff) if he was targeting us. He said 100% no. He looked us right in the eye … well looked Clay in the eye and said he didn't. James says that Clay was worried about it. He asked me about it and I said gods honest truth. I couldn't tell you right there but then I pulled Clay into the cabana room and told him about it. Shelli asks so you told Clay this several nights ago? James says yeah. Right when that fight happened, that's when I told him. SHelli asks you told Clay that Jeff threw out Clay's name. James says yeah. Shelli asks why has Clay not told me that? James says I don't know. Shelli says I don't know trouble in paradise. I spoke with Jeff tonight and he said you had thrown our names around as well. James says na, I haven't thrown ya'lls names around. James says Clay's been my buddy since day 1 I wouldn't be that dumb to say things about him. James says I'm guilty of association. The person that has initiated that a lot has been Jeff. Shelli says one thing that Clay and I have said about you is that you're an honest player. James says first Clay has never been on my radar and then you haven't been on my radar. I don't want to loose your trust. If I loose it I might as well pack my bags and go home.
Try the Live Feeds FREE for 7 DAYS! Click here for your: Big Brother 17 FREE Trial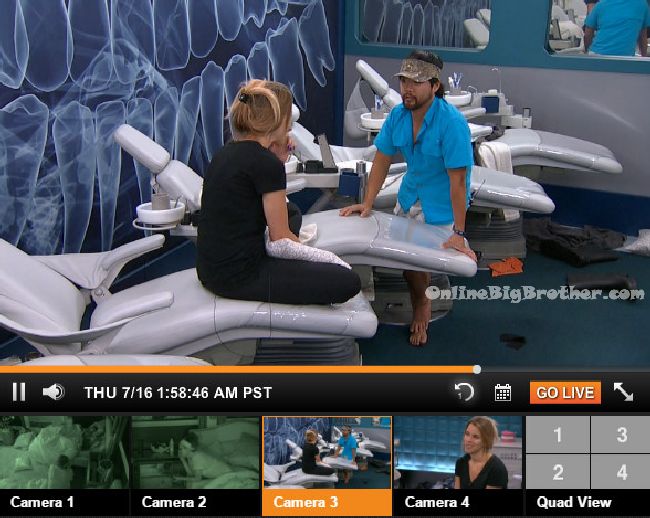 2:50am – 4:25am Jeff talks with Jackie. Jeff says at the end of day Vanessa you're a piece of sh*t. Jeff says You, Johnny Mac and Becky should get into an alliance. Jackie says I just want to be in little groups like that. Jeff says don't do that, that's what happened to me. Jeff says that Vanessa is obviously worthless and needs to go, Austin needs to go, Liz because of the twin thing she needs to go. Jeff says he's going to ask Liz about the twin thing again tomorrow. I'm just going to say I know you have a f**king twin and then see who she reacts. I want to ask Austin what his problem is with me. He is the fakest person in here. This house has been annoying the f**k out of me. Jackie says I hate being fake. Jeff says people are clowns. These people are f**king clowns. You better believe they better have booze lined up for me when I get out or I'm going to throw a bitch fit. The only good thing about leaving is that I get to go on that interview and start school. I feel like such a piece of sh*t for leaving this early. Jackie says about Austin .. obviously if he is treating his girlfriend like that he is a liar and a cheater! How is Liz okay with that. He controls her. He better not try that with me. You know me I don't get controlled. Jeff asks is that the twist .. is he her dad?! Jeff says I feel like I fought as hard as I could and now I'm just trying to be realistic about things. Austin says if I leave just make sure a piece of sh*t doesn't win this game. Jackie asks who he would want to win this? Jeff says other than me or you.. someone like Jason. Jackie says me too. He lived and breaths this. Jeff says I've used flirting as a hardcore tactic. Liz is that fun-est girl to f**k with. She doesn't give a f**K. I was in bed with her and pulled her leg in like that. She will let you do whatever! She told me today that she is going to miss flirting with me. Someone who doesn't talk to anyone is basically giving me a goodbye. Everyone knows more than you and I. Jeff says I almost feel like if I stayed it would be unfair because of all the information I know. Jeff says James, Jason or Meg has been ratting me out this week. I think its been James. Jeff tells Jackie if she wins HOH she should put up Austin & Vanessa and then backdoor Audrey. Just throw them all up there. Jackie says backdoor doesn't work so you can figure it out. Jeff says please make sure Vanessa doesn't make it to jury.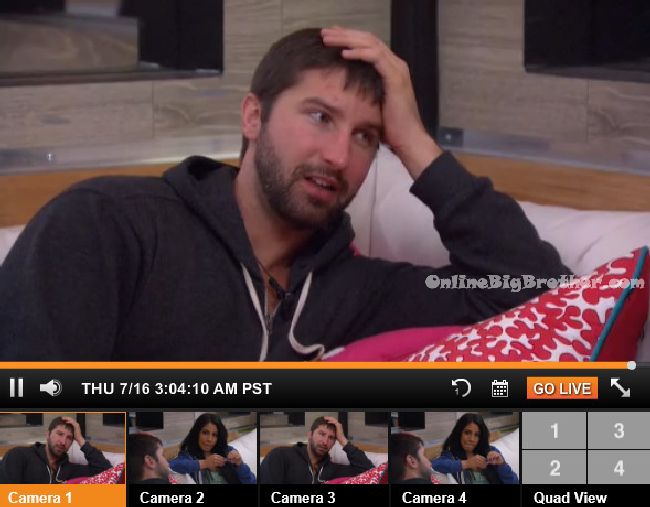 4:35am All the house guests are sleeping..
Live Feed subscription gives you CBS All Access thousands of archived shows. Live Shows like Big Brother, all the Big Brother Seasons, and 24/7 coverage of what is happening inside the Big Brother House. Plus there's flashback that lets you go back to any second of the feeds and rewatch what happened. Simon and Dawg will index the season just watch the parts worth watching. All this for $5.99 a month try it out 1 week free. Support our efforts and get your feeds via a link on this site. Live feed subscription Sign up
[polldaddy poll=8972565]