POV Holder:
JohnnyMac
Next POV
July 13th
POV Used
Yes
POV Ceremony
July 6th
HOH Winner Team 1:
Becky
HOH Winner Team 2:
Shelli
Nominations 1 :
Steve, Jason
Nominations 2:
Day, JohnnyMac
Battle of the Block Winner
Steve & Jason
Next HOH/ Next BOB
July 9th / ?
Original Nominations:
Day, JohnnyMac
Current Nominations:
DaVonne, Meg
Have Nots
Steve, Jason, James and Meg
TRY the Big Brother 17 Live Feeds FREE for 1 WEEK:
Click here to ensure your live feed subscription supports OnlineBigBrother.com at no extra cost to you.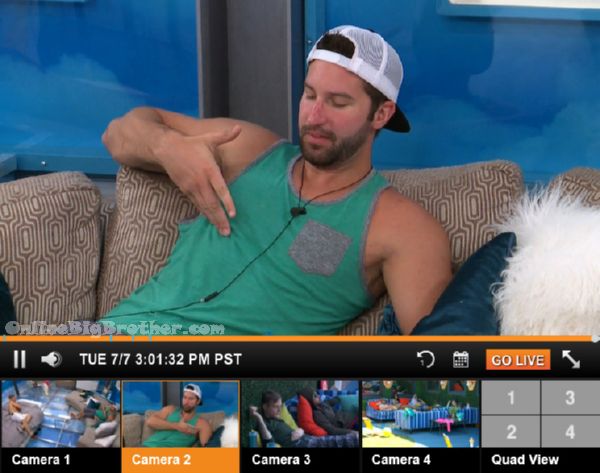 3:02pm Jeff and Clay
Jeff says this version of Liz was wearing a "Skanky" bathing suit then was hiding her stomach. Jeff shows us where this liz hides her stomach see images below. Clay notices that this one isn't as much into being in the house she hides a lot more. "She's not the main one"
Jeff says Liz has a birthmark on her left Shoulder.. feeds cut..
[envira-gallery id="119585″]
3:17pm Backyard JohnnyMac, jason and Liz (Julia)
Talking about the have nots and how hey got the worst beds to sleep on. Jason thinks the ones last year would have been more comfortable than this year because it was a flat surface. Johnnymac wonders how he's going to do on Slop.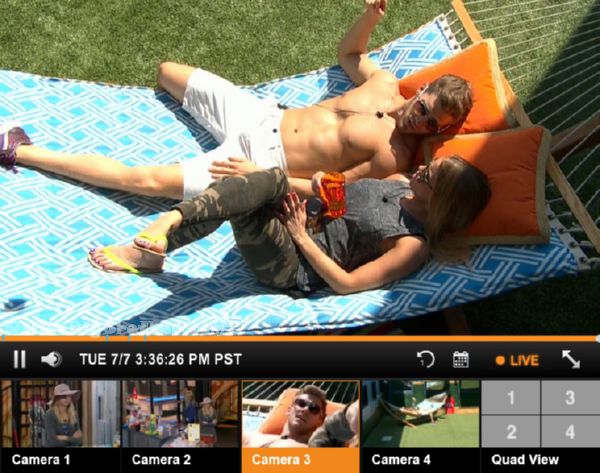 3:19pm Clay and Shelli
Clay tells her Vanessa wants to talk to him tonight.
Clay wants her to tell him if he's coming on strong or trying to tell her what to do. Shelli says she will.
Clay is worried he's looking like he's on a powertrip. Audrey came up to him to warn him that he might get edited as the villain.
Shelli says there was time when Clay is all "I, I, I, I, I" mentions the time when Jason came into the HOH crying and Clay acted like he was HOH.
Shelli says she made a joke that the house thinks her and him are Head of Household this week.
Clay says that Audrey made a reference to Hitler and did the "Hitler sign" (Heil Hitler)
Shelli – She made the hitler sign.. If she's calling you Hitler in the DR's… STOP IT RIGHT NOW.. that is so disrespectful to anybody. That's disrespectful to you and the jewish community
Clay says it was more a subtle thing that Audrey did..
Clay says if Audrey jeopardizes their game they'll take her out. Clay doesn't think right now Audrey is a threat. Clay adds a lot of people in the house are pissed at Audrey so he's playing along with it.
Shelli says tells him he's still got time to change how he interacts with people the game is early.
Feeds cut to Audrey alone in the Kitchen..
3:37pm feeds come back to them in the hammock
Shelli and Clay agreeing they want to keep Audrey in the game but cannot be too obvious about it.
Shelli tells him to tone it down when he's talking about getting rid of Audrey with the other houseguests.
Clay saying if they team up with the other side of the house the outsiders
Shelli says she's leaning towards going with the outsiders
Shelli – Jeff floats between both of them (Both sides of the house)
Clay thinks they can pull Jeff away from James
Shelli thinks they won't have to talk to Jeff he'll organically drift towards them.
Shelli says Austin giving a massage to Jackie is pretty sexual she would be pissed if that was her girlfriend.
Shelli and Clay agree they trust the outsiders more. (Outsiders are Vanessa, Liz, Austin the other side is Jason, James, Meg and Da)
Clay says they need to get rid of Meg and James.
Shelli – we need to talk to Vanessa if she wants to bring Jeff on
Shelil adds that Jeff told her he wants to get the outsiders out
Austin joins them
Shelli – what's on sexy man
Clay – we're just being sketchy
Austin says that Steve is being a sketchfest always hiding behind doors and following him around everywhere.
Austin – He's asking me about game.. I'm like dude you tell me something .. what are you doing dude
Austin points ou when they had the phone booth Steve looked at Day and gave her a node. It was very suspicious
Clay wonders if the house can flip.
Austin doesn't think it'll happen because anyone who would want to keep Da is also close to Meg.
Austin – that was checkmate.. that was a checkmate move
Austin mentions how he's made nice with James yesterday.
Clay asks who Austin's target is.
Austin says if he was going no blood scenario the easy target would Be steve.
Shelli chimes in saying James is a bigger threat.
Clay – who is your biggest threat.. think it could be James
Austin doesn't know he thinks James will leave him alone but on the flip side james is the type of person that will target strong guys, "He lied to my face."
Austin – jason is the wild card.. he might come out for revenge
Austin says he has no bad blood with Jason.
Clay – where do you and Audrey stand now
Austin is scared of Audrey says she's thinking he's her best friend but knows if 2 weeks if it's between the two of them she would be looking to cut his throat.
Austin – I just don't trust her .
Clay – how do you feel about Jeff
Austin – I feel good about him .. he wants us all to get to Jury which is cool especially when there's twists every week.. I'm down with being cool with him at least a few weeks.
Austin says if he wins HOH he wants Clay and Shelli to help him make the decision.
Austin doesn't know how close the other side is when it comes from the game. (Jeff, Meg, James, and jason)
Austin – I don't know how they are really aligned.. who's in the group and who is on the fringe
Audrey joins them..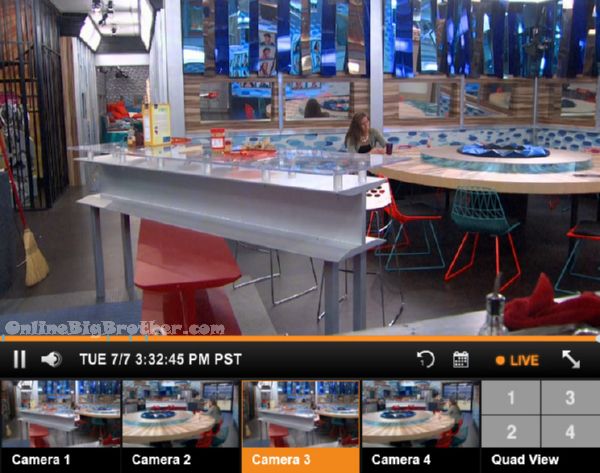 3:33pm Audrey Alone
Vanessa joins her says she feels better thinks the Fish didn't agree with her.
Audrey says she's stress eating.
Liz (Julia) comes in asks Vanessa how she's feeling
Vanessa – Feeling better.. I just passed out.. did I miss anything
Liz – there was bubbles in the backyard.. Literally I think they were testing something.. maybe it's for tomorrow.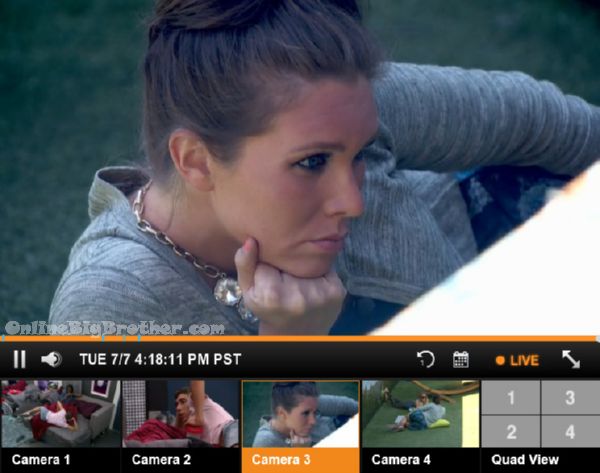 3:55pm Hammock Audrey, Shelli and Clay
Audrey tells them about her Diary room talk where production asked her about Clay "Does it feel like he's trying to take over the HOH"
Feeds cut…
When we come back.. Audrey is saying people have flat out made up "Sh1t" about her. She says it looks to the outside that she's being bullied by Hypocrites.
Audrey – I was an advocate for both of you..
Audrey warns them that Shelli's name comes up a lot less it's all on Clay because he's part of a group of guys.
Audrey says there is nothing she is able to do in the game unless she wins competition. Audrey tells them whoever is saying they will make it to Jury will be ridiculous
Audrey says Jeff is subtly telling her to target Steve.
She warns them the people who are forming alliance that make it too Jury is not a good thing for Clay/Shelli. Points out the jury will be filled with "Meg, Jason,James, Jeff Becky, Jackie" (Jeff is stacking the jury)
Audrey says Vanessa is really trustworthy
Audrey – Austin is eating up with everything Jeff is feeding him.. he really trusts you
Audrey thinks the best case is for her and Austin/Vanessa win the HOH.
Audrey stresses that Jeff is in the best position in the game.
Clay asks if Jeff is going to target them. Audrey doesn't think he'll do it himself he'll get the people that have loyalty to him will do it.
Clay calls the other side of the house 'Jeff's Group' doesn't think Vanessa/Austin/Liz are very close to them.
Audrey – Becky is delusional.. I think she's like the Nicole playing someone else's games.. I think she thinks she's with them.
Audrey says the other side of the house has a lot of numbers "everyone is coming together and mutually agreeing on targets.. I'm one of them Steve is one of them"
Clay thinks the target on Audrey has been reduced this week.
Audrey says she always thought Shelli and Clay were with the other side because they told her they can't target Jeff, JAson etc..
Shelli – I guarantee you I'm not in a group with them
Clay says they are just trying to get Da out this week
Clay adds they have to watch out how public they are showing they are still with Audrey.
Audrey – Why did you say that to me If I won HOH this week I can't target those people
Clay explains he wanted it to be convincing (He didn't trust Audrey)
Shelli – I have no ties with that group .. they bounced around making alliance those two weeks when James was HOH and they never invited me .
Audrey tells them she's not targeting Jeff.
Clay leaves..
Audrey says she's kinda wanting to take out James once he's gone all that's left from that side is Jason and Meg.
Audrey saying she could put up Meg. They agree it's hard to strategize with all the twists.
Shelli thinks Steve is the name people throw out when they don't know who to target.
Audrey thinks Austin is a loose cannon. Shelli says they are sold with Austin they can trust him for awhile.
She asks who Vanessa will target.
Audrey doesn't know
Shelli – what do you think of Steve
Audrey – I want to trust him
Shelli thinks Steve has two personalities..
[envira-gallery id="119599″]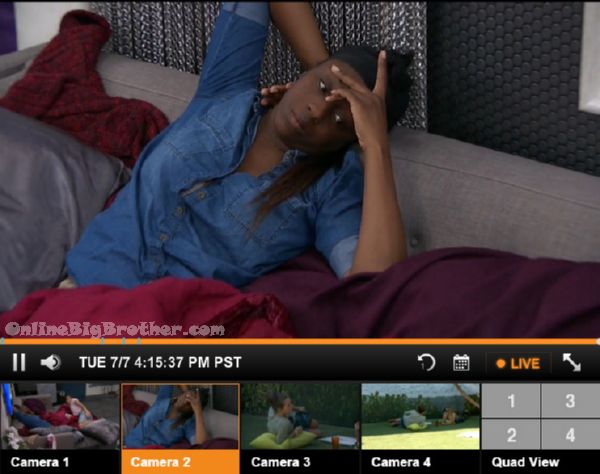 4:16pm Jason and Da'Vonne
Talking about the Liz twin and planning for next weeks HOH.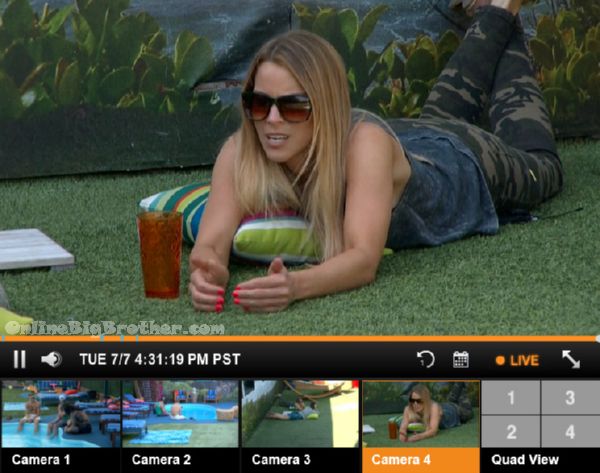 4:31pm Shelli and Audrey
Shelli – I'm totally onbord with Vanessa
She says there hasn't been one conversation since we formed Sleeper cell "I've forgotten about it"
Shelli – I'm down with having another Sleeper Cell meeting.. I'm HOH we can have one in my room
Live Feed subscription gives you CBS All Access thousands of archived shows. Live Shows like Big Brother, all the Big Brother Seasons, and 24/7 coverage of what is happening inside the Big Brother House. Plus there's flashback that lets you go back to any second of the feeds and rewatch what happened. Simon and Dawg will index the season just watch the parts worth watching. All this for $5.99 a month try it out 1 week free. Support our efforts and get your feeds via a link on this site. Live feed subscription Sign up
[polldaddy poll=8961340]
Share it YO!!
Tweet