POV Holder:
Vanessa
Next POV
July 18th
POV Used
Yes
POV Ceremony
July 20th
HOH Winner Team 1:
Liz
HOH Winner Team 2:
Shelli
Nominations 1 :
Jackie & James
Nominations 2:
Jason & Johnny Mac
Battle of the Block Winner
James and Jackie
Next HOH/ Next BOB
July 23rd / July17th
Original Nominations:
Jason & Johnny Mac
Current Nominations:
JohnnMAC and Audrey
Have Nots
Jackie, Audrey, JohnnyMac and Becky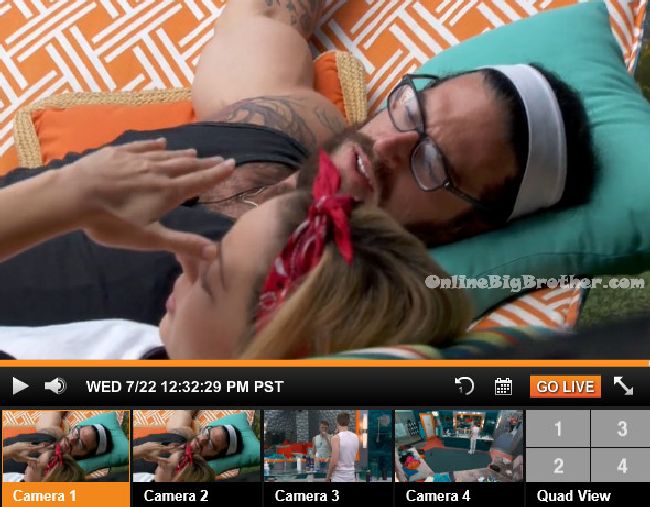 TRY the Big Brother 17 Live Feeds FREE for 1 WEEK:
Click here to ensure your live feed subscription supports OnlineBigBrother.com at no extra cost to you.
12:30pm – 12:50pm
Austin and Liz head over to the hammock. Austin says wait until he leaves them I'm going to implement operation Jason. I'll do that once you leave. Are you sure you can get a heads up. She (Julia) didn't get heads up last time. That's how things got messed up. Liz says I know its coming today. Austin says I know its going to be today but will they bring you in and let you out again. Liz says no. So we will have to say our goodbyes. Austin says me and her will work on it together. The only fighting point we have is wouldn't you rather have us than someone coming back. ..but the thing is we would always be together. Austin says we can say I've never lied to anyone. You can trust me. And I will always be a target above everyone. Stage one will be talking to Jason. (Making a deal with Jason & basically letting him know his suspicions about the twins is correct.) I won't tell Jason too much. Hopefully he won't betray my confidence. Only what he already knows or thinks he knows. Stage two will be the JUDAS vote tomorrow. (Austin plans to vote for Audrey to stay to then blame it on Steve and him being America's Player.) Liz says don't tell anyone. Austin says I don't think anyone has the guts to do it. That will be our backup ace in the hole in case the Jason thing goes to hell. There is an America's Player that needs to be dealt with. Liz says then we can blame it on Steve. Austin says and honestly I don't feel bad about this because Steve if you don't win HOH what are you doing. Liz says he's going to be like the Dan Gheesling and if he gets to the top 5 he will win. Austin says I have to talk to Jason. Austin says I think Becky was mad at me. Liz asks why? Austin says for dumping Jackie. Liz says Jackie had Jeff. Liz says we need you here. Austin says I'm going to try and protect both of you the best I can. The thing is to try and make it to jury and once we're there its going to be hard because both of you will probably go up.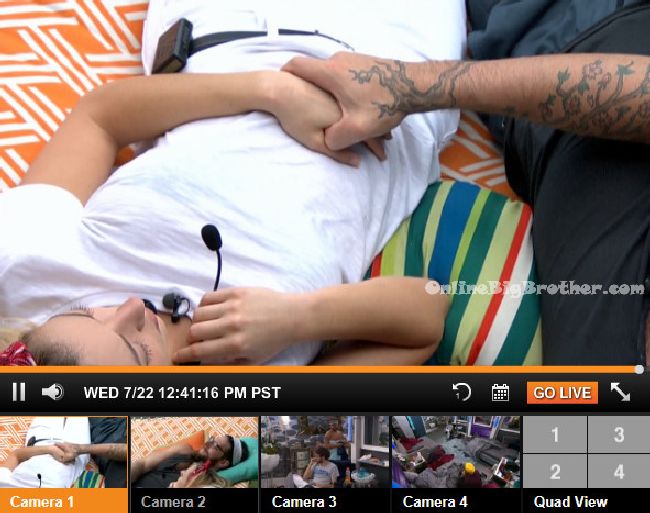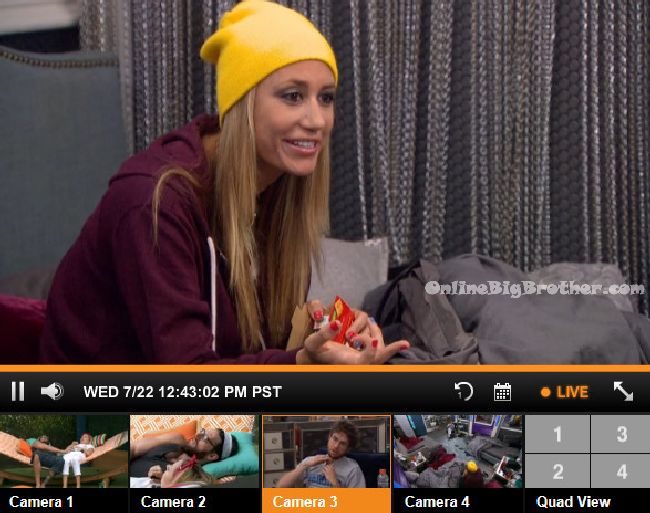 Steve says I have a girl crush on the DJ from season 17 but she's a leabian. I can change that though. Vanessa says but you wouldn't though because he girlfriend is so sweet. Steve says but this would make her bi not completely straight. Vanessa says I've been with men before and enjoyed it. Steve says homo-lenient?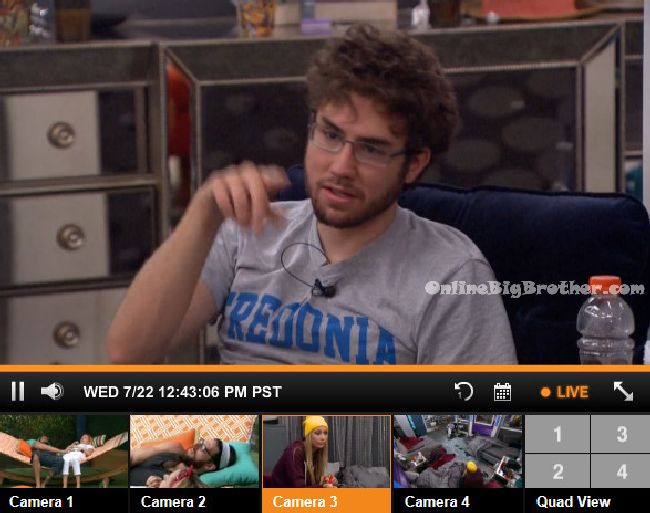 JMAC & Shelli High Five @bigbspoilers #bb17 pic.twitter.com/kJr9X7woZk

— Dawg (@DawgsBigBrother) July 22, 2015
1pm – 1:10pm Bathroom – Austin tells Meg that Audrey packed her suit case today put it in the storage room and then went back to bed. Austin says when all that went down there was all these bad omens .. it was raining in July. I bet it wasn't raining anywhere else. Meg asks what if she doesn't show up? Austin says maybe she'll stay in the dentist office until she has to walk out the door. Its craziness. I've never seen anything like it in the history of the world. Meg says one person wins this .. you come in here knowing that. There are a lot of other people in this house and a lot of random things happen. Austin says I'm just glad she's not in jury. I would be happy just getting there.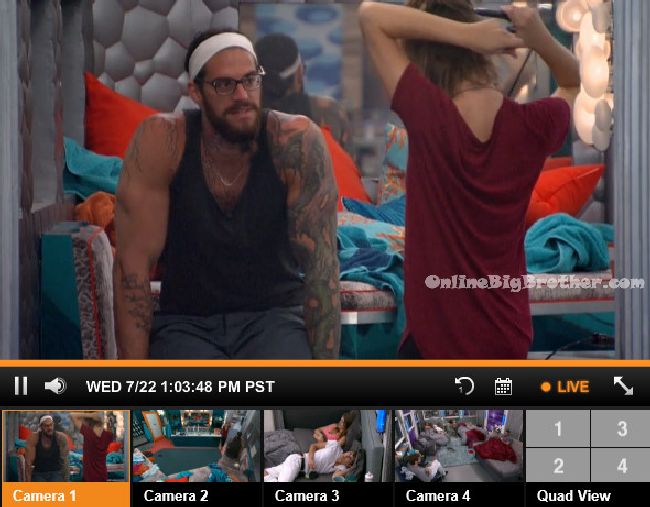 Bedroom talk – Meg, Steve, Vanessa, Jason, James, Becky, Liz and Austin. Jason says that gay people are like dinosaurs where he's from. Steve says wait do you're never been in love? Jason says I've never been in love. Sorry guy from Florida.
1:30pm – 2pmShelli says I can't help but think that she has spent so much of her life being sad and lonely and not out with other people. She has so much of a harder time struggling with her emotions… its probably very very hard for her to put herself out there and then to be like oh I messed up. Her situation is just so unique.

2pm Austin & Meg in the storage room notice Johnny Mac & Audrey's packed suitcases. Austin heads to the bathroom. Liz comments on how she gave Audrey's hat back and she responded MMMhhMM. Liz says I never did anything to her. Austin says same, I wasn't in any of the fights she had.
2:10pm Kitchen – Austin, Meg and Vanessa are talking. Meg says that she will be shocked, shocked, shocked if she (Audrey) is up there (HOH room during the lock down tomorrow).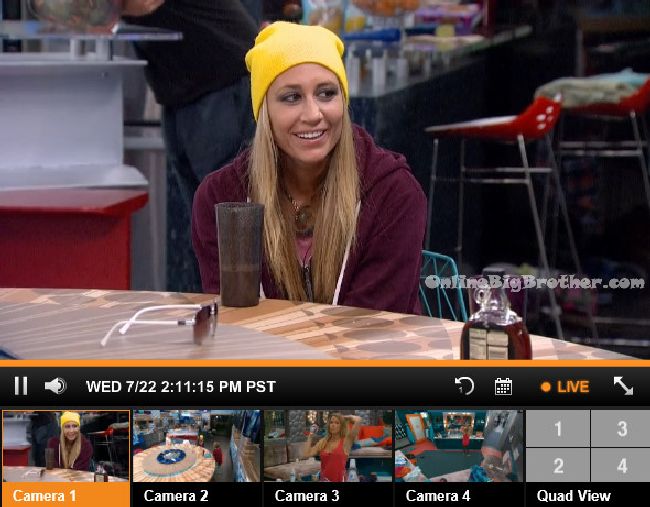 2:35pm Its pretty quiet in the BB house this afternoon. Liz, Shelli and James in the kitchen cooking/eating. Meg in the living room using the foam roller.
2:50pm – 3pm Bathroom – Austin says I have to really have a heart to heart with him (Jason). He's got no where to go. I need to really make him understand where I'm coming from. Liz asks are you sad I'm going (Twin switch is today). Austin says yeah. Austin says its going to be really scary when you come back. Liz asks for you? For me! Austin says that's what I'm saying. Like I wouldn't want you to be disappointed. Liz says I'm nervous. She's (julia) got to pull through. Austin says one of us does.. and Vanessa too. Liz says she'll manipulate the other HOH too. Then after this one more week!!! Austin says don't even tell Julia that I'm voting the other way. It's a strategic move for you. Unless someone else does it too but that wouldn't be that bad because then people will try to figure it out. It will have to go back to a Steve. Liz says well he better win HOH, I'm not even playing around. Austin says that Steve said so you're showmancing 2 girls?! I was like what?! He's so un-perceptive of things. Liz says what I don't want America to think that. Austin says they don't, I act totally different with her then with you. Even people in here see it. Liz says that Jackie is growing on me more than Becky. It was cool she was there for the performances last night. (Whack Street routine at 5am).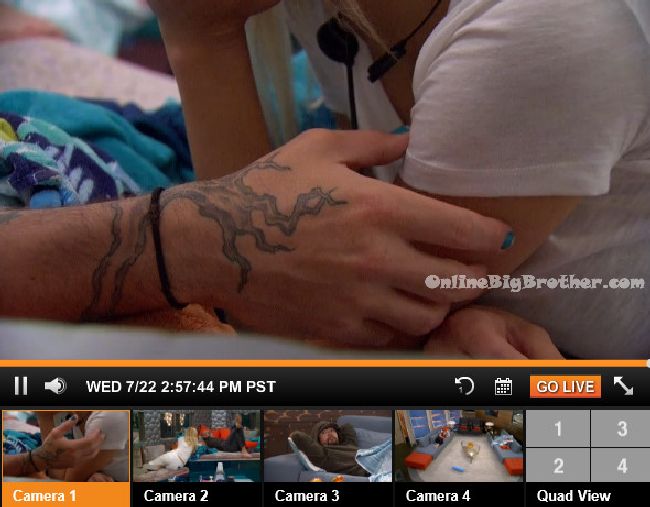 Live Feed subscription gives you CBS All Access thousands of archived shows. Live Shows like Big Brother, all the Big Brother Seasons, and 24/7 coverage of what is happening inside the Big Brother House. Plus there's flashback that lets you go back to any second of the feeds and rewatch what happened. Simon and Dawg will index the season just watch the parts worth watching. All this for $5.99 a month try it out 1 week free. Support our efforts and get your feeds via a link on this site. Live feed subscription Sign up
[polldaddy poll=8983592]
Share it YO!!
Tweet