POV Holder:
Vanessa
Next POV
July 18th
POV Used
?
POV Ceremony
July 20th
HOH Winner Team 1:
Liz
HOH Winner Team 2:
Shelli
Nominations 1 :
Jackie & James
Nominations 2:
Jason & Johnny Mac
Battle of the Block Winner
James and Jackie
Next HOH/ Next BOB
July 23rd / July17th
Original Nominations:
Jason & Johnny Mac
Current Nominations:
?
Have Nots
Jackie, Audrey, JohnnyMac and Becky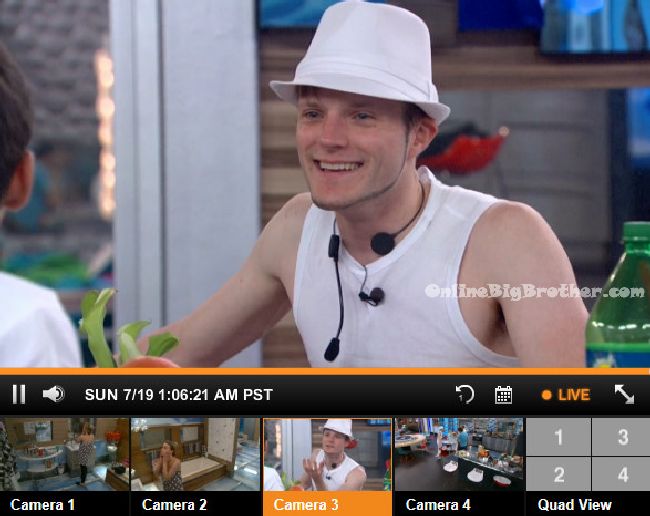 TRY the Big Brother 17 Live Feeds FREE for 1 WEEK:
Click here to ensure your live feed subscription supports OnlineBigBrother.com at no extra cost to you.
12:55am Kitchen – Vanessa asks have you guys had another dance since I was in there? Johnny Mac says we're not going to dance until we're all asleep. Jason says they're going to wait until we're all asleep. Then they're going to call us all night. That's why I'm not going to change so maybe they won't call us. Johnny says why they call us to do it we should act really pissed at Liz to get it together. Jason says the last day of it Jason is going to have people pour gravy all over him. Jason can't wait to be in a messy outfit. Jason asks aren't you waiting for the backyard show? Steve says I don't think your dancing is good enough for a backyard show. Johnny says damnit Steve! Do you know what its like to be in a band? Steve says yes I've been in several. Steve says you have to smash over 50 pumpkins to be in this band.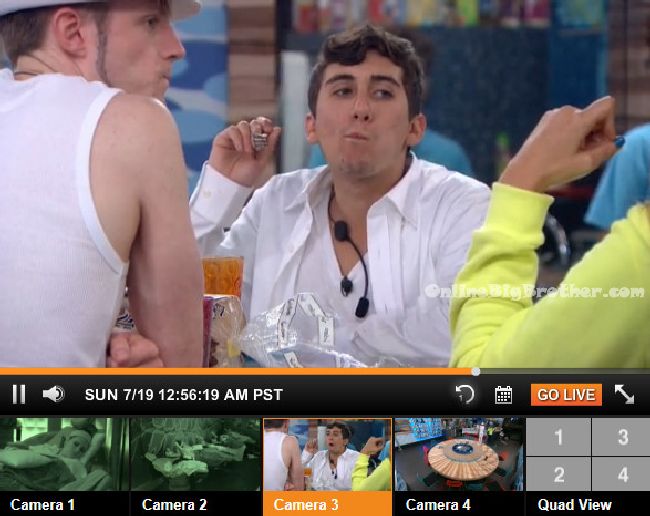 1am Bathroom – Vanessa talks to Austin. Vanessa says when he wants his cigarettes back he has to ask me for them. I'm a good deal maker. If DJing doesn't work out, wheeling and dealing you know! James and Meg have guaranteed me safety for their next HOH whenever it is. Austin says okay. I can't get you 3 for them. Its too hard. I'm going to try and get you and Liz at least 1 week. Austin says I know you have to get Liz at least 1 week. Vanessa says I'm not even worried about Jason coming after you. What if I just say Liz and Jackie and keep you out of it? So he has no idea we work together. You could make a deal with him separately that you won't put him up. Austin asks how? How do I do that? Vanessa says If you win you won't put him up and if he wins he won't put you up. Austin asks do I make the deal before or after he comes off the block? Vanessa says after. You don't want him to think we're all together. It better to deflect all that. If you think of any offers, think about it. Anything is a possibility.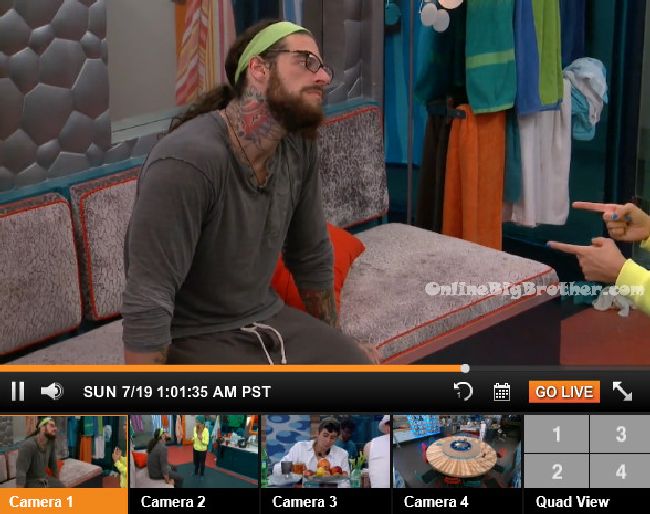 1:10am Cabana room – Steve is in the photo booth humming himself. He comments on how the camera is following him. He says I'm so sorry that your job is to follow me around with the camera at one in the morning.
Steve @bigbspoilers #bb17 pic.twitter.com/E2gMhqCvJF

— Dawg (@DawgsBigBrother) July 19, 2015
1:35am Bedroom – James, Jason, Meg, Steve, Vanessa are talking. They talk about all the couples that have had s*x in the BB house. Meg says that's really creepy. James says I like going home with chicks and waking up in their houses and seeing their pics and sonority signs.

1:37am Meanwhile –
Clay gets into the shower and PEES into the shower drain…
Empirical Evidence @bigbspoilers #bb17 pic.twitter.com/iHAyC47YX4

— Dawg (@DawgsBigBrother) July 19, 2015
1:45am Kitchen –
Audrey tells Jackie I had a dream Day moved back in. Jackie comments on how this is the first time someone else has won the veto. It will be interesting who she would use it on. Audrey says its a weird position to be in because if Vanessa takes someone down then it makes Shelli get more blood on her hands to nominate someone. Jackie says you would have to be sure that person went home. Like the house was 100% okay we're going to take this person out. Audrey says yeah and either way if they didn't go home no one wants to be a pawn and in that position. Jackie says for the first time John seems worried. He's been a pawn this whole time and killing it but at the same time you can't win everything. Yeah he's a bada$$, he's smart. Physically he can do it all but you can't win everything. Audrey says if I won I wouldn't put him up. Jackie says and I don't have a target .. If I was up there. I haven't ever had one. If the house didn't like someone I would be like okay as long as its not me. James, Steve and Jackie join them. The conversation turns to speculation about the twins. Audrey asks what empirical evidence do we have on the twins? Where would their memory wall picture go? Maybe its one of them together.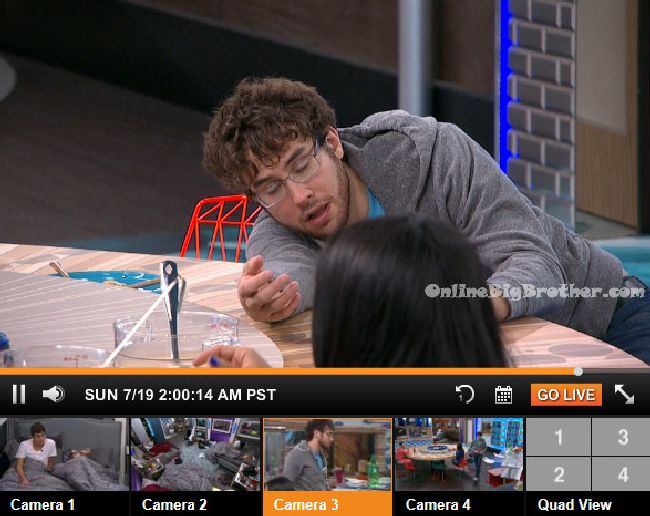 2:30am Meg and Jason talk in bed. Jason says that she (Audrey) said she would be disappointed if they were talking trash about her in the diary room. She tried to guilt trip us being like my family is going to see this. But now that I know she was calling her Mama Demon… I'm even more like this f**king bit*h! She's psycho! She is definitely the villain! Day is going to bust her face. Day I love you, don't bust her face at finale! Jason says Day was calling her slytherin in there. I've been calling her Lucifer. Meg comments on Audrey going up. Jason says its redemption. Jason says Mama demon, I can only imagine Day's reaction to that. I can only imagine what she is calling us.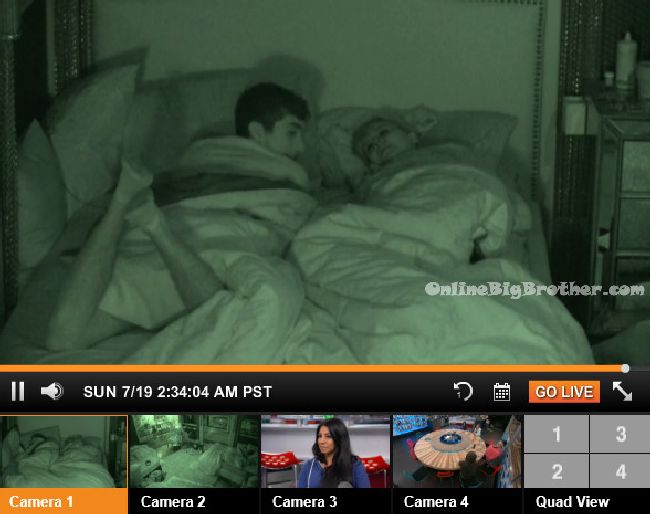 2:35am – 3am Big Brother opens up the backyard. Big Brother gets the wack street to do a routine again. James says Liz looks pissed! While Julia is getting ready she says I am so over this sh*t! Julia can't find her headphone. Julia says I have everything. I can do it without it. Johnny asks how are people going to hear you sing? Big Brother blocks the feeds for the dance.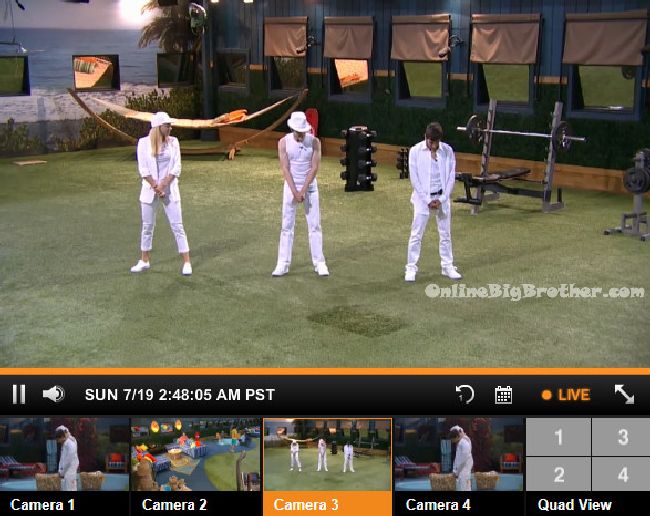 3am – 3:30am Kitchen – Audrey asks if there is a backdoor plan? James says he doesn't think so. Audrey says I feel like Jason would be knocking on her door more. Audrey says since week 1 I've been on the defence. James says pretty much the 3 people that wanted you out have left the house. Audrey says if I stay I'm going to win HOH next week. I can feel it. Audrey says I'm a fair person, I will never take the first gab. He was just not pleasant to me? James asks have you talked to Shelli to find out what she wants to do? Audrey says I don't think she knows? James and Audrey talk about getting HOH next week. Audrey says you can let me get the blood on my hands. I have more empirical evidence on people. Audrey heads outside and sits with Jason and Steve.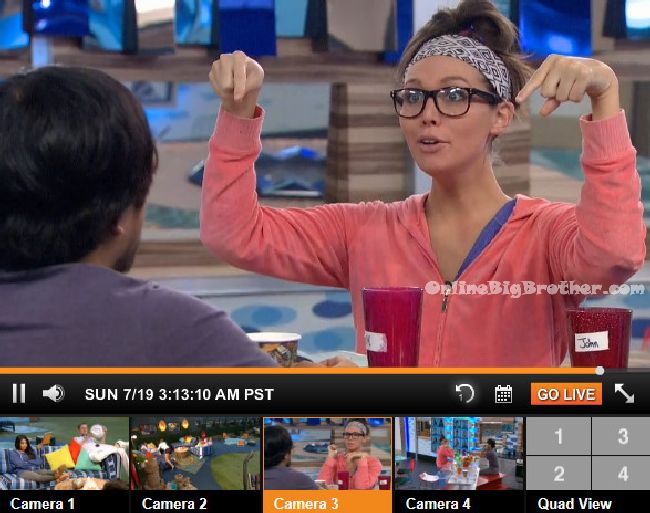 4am Backyard – Becky, Steve, Jason and Jason are talking. Steve comments that he always thought he wouldn't be liked if he got on big brother. Jason tells Steve the he's sure he's loved. Audrey says this definitely the most LGBT on one cast. Jason says I thought there was going to another gay guy by how much they asked me about hookups.
4:20am – 4:50am James and Audrey want to play a prank on someone. James gets into a trash bag and lays on the floor. Audrey gets Liz and brings her into the storage room. Audrey tells Liz that James really likes her. Liz says that James is adorable. James then moves and scares Julia.
Trash Bag James Scares Julia @bigbspoilers #bb17 pic.twitter.com/KH8h0i7gvY

— Dawg (@DawgsBigBrother) July 19, 2015
James then scares Steve
Trash bag James scares Steve @bigbspoilers #bb17 pic.twitter.com/8847ZpgIhG

— Dawg (@DawgsBigBrother) July 19, 2015
James scares Jason. Jason beats James with a banana …
Trash Bag James Scares Jason @bigbspoilers #bb17 Jason beats him with a banana pic.twitter.com/Nhj5V8Veve

— Dawg (@DawgsBigBrother) July 19, 2015
5am James, Steve, Jason and Jackie are still up talking about being scared by James.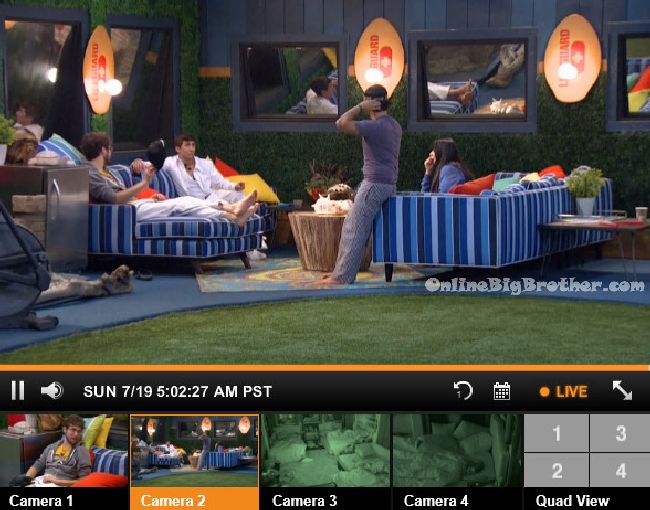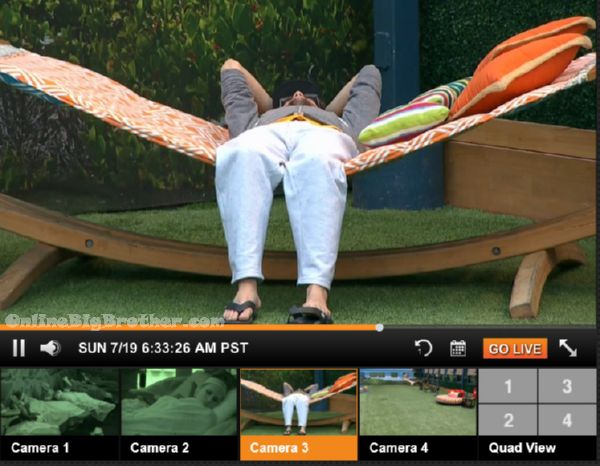 6:24-6:35am Steve talking to himself saying he wants Vanessa to use the veto on Jason preferably. Meg, James or Audrey to go up. He wants Meg gone. He'll strike a deal with Jason. He doesn't want Jason or JohnnyMac to go this week.
Steve saying the person that gets out Audrey will be super liked and super respected he doesn't want that going to Shelli he wants to have that glory. His goal for the day is Jason off Meg nominated.
Steve comments how everyone on Freaks and Geeks has one the HOH, It's really fishy he doesn't have one, "Do I keep throwing"
Steve is concerned if Audrey goes and he win HOH next week who would he target. James and Meg or James and Becky?
He wishes he won HOh this week, He wants Audrey to stay because he wants to evict her that will be a great "Card" to hold. He decides his plan B may be to backkdoor James in the event Audrey leaves this week.
(Steve wants Meg out this week and will be working towards that. )
Live Feed subscription gives you CBS All Access thousands of archived shows. Live Shows like Big Brother, all the Big Brother Seasons, and 24/7 coverage of what is happening inside the Big Brother House. Plus there's flashback that lets you go back to any second of the feeds and rewatch what happened. Simon and Dawg will index the season just watch the parts worth watching. All this for $5.99 a month try it out 1 week free. Support our efforts and get your feeds via a link on this site. Live feed subscription Sign up
[polldaddy poll=8983592]
Share it YO!!
Tweet