POV Holder:
Vanessa
Next POV
July 18th
POV Used
?
POV Ceremony
July 20th
HOH Winner Team 1:
Liz
HOH Winner Team 2:
Shelli
Nominations 1 :
Jackie & James
Nominations 2:
Jason & Johnny Mac
Battle of the Block Winner
James and Jackie
Next HOH/ Next BOB
July 23rd / July17th
Original Nominations:
Jason & Johnny Mac
Current Nominations:
?
Have Nots
Jackie, Audrey, JohnnyMac and Becky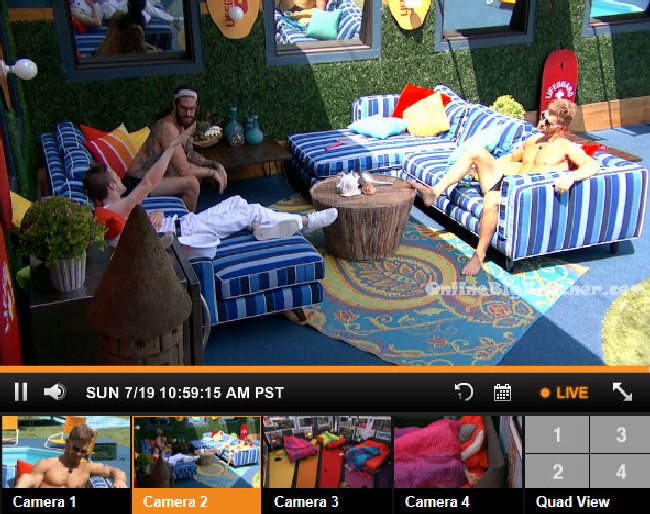 TRY the Big Brother 17 Live Feeds FREE for 1 WEEK:
Click here to ensure your live feed subscription supports OnlineBigBrother.com at no extra cost to you.
10:25am
Big Brother wakes up the house guests. Clay joins Johnny Mac in the backyard. Johnny talks about the Wack Street performances they've done. Johnny asks do you know what the plan is? Clay says I don't know, I'm assuming use it on you. Johnny says Vanessa said she wanted to get your permission first. Clay says I haven't talked to her. I know she has talked to SHelli. I know that Shelli was more upset at Audrey yesterday. She came upstairs after her journal balling. Then last night she was more on board with it. She will talk to you for sure today. But that's looking like the plan. She's (Audrey) got to go. You know. Johnny says she's gotten by 2 weeks. Clay says I won't even take credit for saving her. You got to look at it like is she helping or hurting our game. Everyone's game damn near. She's not doing anything to help, so what is she doing? Johnny Mac says driving us crazy. Clay right! Lying. Clay talks about his mom who is 5'2″ and sweet but if you want to see her mad .. lie to her. Clay says that Audrey was up there swearing and lying to our faces. She was looking at our faces and swearing to us that we're the only ones she's been loyal to and never said anything bad about ya'll. Right before someone had come up and said she is lying to us. She is back to playing the same game she did the first week. This is big brother you can lie and cheat but I'm not going to play like that. Clay asks Austin did they ask you about her in your journals? Austin says they haven't asked me much about her. Clay says they asked me.. Big Brother blocks the feeds.
11am – 11:30am Backyard – Austin asks if Johnny can work out in his outfit. Johnny says yeah boy bands take their shirts off some times. Austin goes to workout. Johnny brings up how he notices Audrey trying to plant seeds. Clay says she uses her dreams to manipulate people. Clay says she is digging her own grave. She says things like what if its the rewind week. I know exactly why she is saying that. Clay says you have to look at someone and see if they're hurting your game or helping it. Audrey is playing the game the way she wants to .. that's fine ..its just not the way I want to play and I don't want to be associated with that. Shelli and I have an off switch with her. Clay tells Johnny the best thing for us is if no one knows we're working together. She came to us and said that you're really pissed at Shelli and if you win next week you would come after us. Like if you won she would be in your ear influencing you to put us up. Getting you to do her dirty work. She plants seeds. If we weren't as close as we are that might work. She is trying to orchestrate getting us out while telling us she's with us. Shelli feels really bad about putting you up. Its not like we're going to keep putting you up each time. Probably never again. Johnny says had to be done. Clay says we don't want you to think you're expendable to us. You're not. We never doubt anything you say. Johnny says I feel the same way. Clay says if there is anything we can do to help you, let us know. Clay says its hard to trust people in this game. They have no idea you're as close to us as you are. Clay says no one has every said anything negative about you. Like we need to get out Johnny Mac out. No ones ever said anything like that. Johnny says that's good to hear. Clay says I'm sure we'll all talk today. You, Me and Shelli. Johnny says Jason is handling it like a champ, he thinks he's going home. Clay says we see that we can potentially work with him and why would we send someone home that we could potentially work with versus someone who is hurting our game. Johnny says you can't play with fire. Clay says as soon as she gets put up.. Johnny says she is going to go ape sh*t. Clay says when she goes up and starts to self destruct and throwing people under the bus. Austin says it just validates it even more. They talk about how Jeff handled it really well. If Audrey decides to go ape sh*t and make up all these crazy lies and rumors …which she is going to do, then she isn't the person we thought she was. Johnny says everyone in the house would feel better. Clay asks how can you like and root for someone like that. I can't imagine me watching the show and seeing what Audrey has been saying and want to root for her. Shelli just wants confirmation that if some magical why if she ended up staying that people would go after her. Johnny says I've been saying it for weeks. Johnny says well I'm down. Clay says Vanessa is firey down. Johnny says that Jeff got cheers. Austin says I think unless someone is saying racist things people won't boo.
11:55am – 12:05pm Austin says 24 hours and we can get this going. I wonder what she is going to do today. This is her busy time of year. Christmas rush! That's how I felt about Jeff when he was all over Liz before he went. Clay says that's what I told Shelli if we put her up and she acts a certain way.. it just proves it. Austin says she's at checkmate. Clay asks who could she flip. Austin says no one.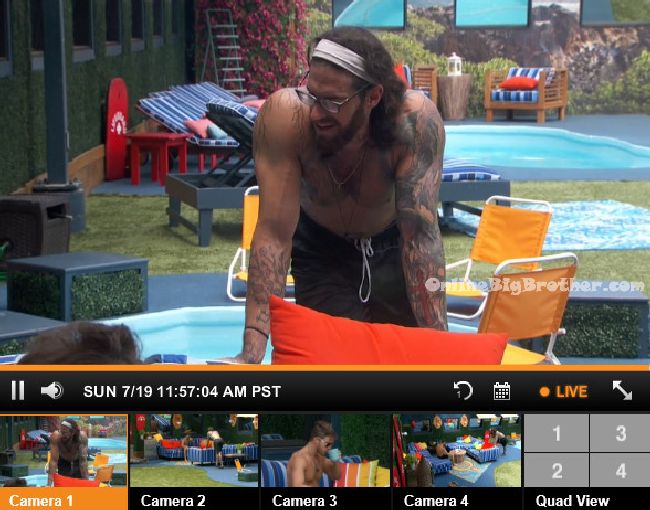 12:10pm Clay "Mom, Dad I miss you, I love you! Mom send me some clothes and a picture of my long hair!"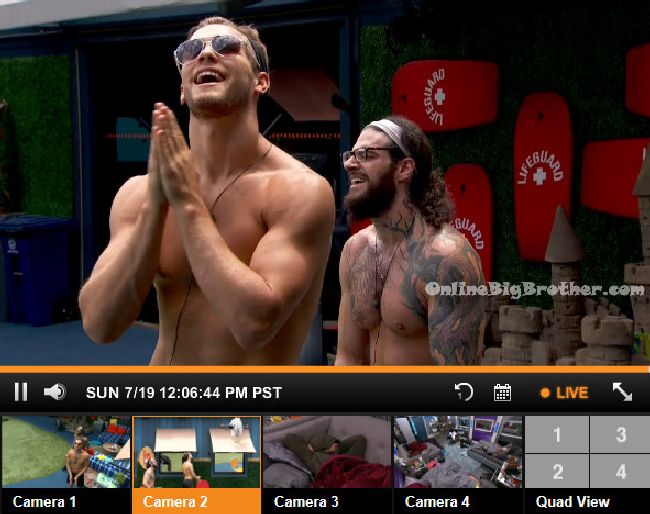 12:20pm – 12:40pm Audrey tells Austin .. I had a nightmare Day came back. Austin says oh please no. Austin heads out to the backyard and talks to Clay. Austin talks about Steve coming into the bedroom looking for the beach ball last night waking him up. Austin says Steve just can't sit still. This is why people get sketched out about you. I kind of want to tell you that but I don't. Austin says its hard for me because she is gone for 3 days. I feel like I loose her and then get her back, lose her and get her back. We had that date up there and I feel good about it. I was worried about how Julia would feel but now that she knows its good. Its hard to make natural moves on her in here. Clay says its tough. Austin says with her out there I wonder if she misses me. Clay comments on how its tough with Shelli and him too. We both live in totally different states. Audrey joins them and lays on the lounge circle couch.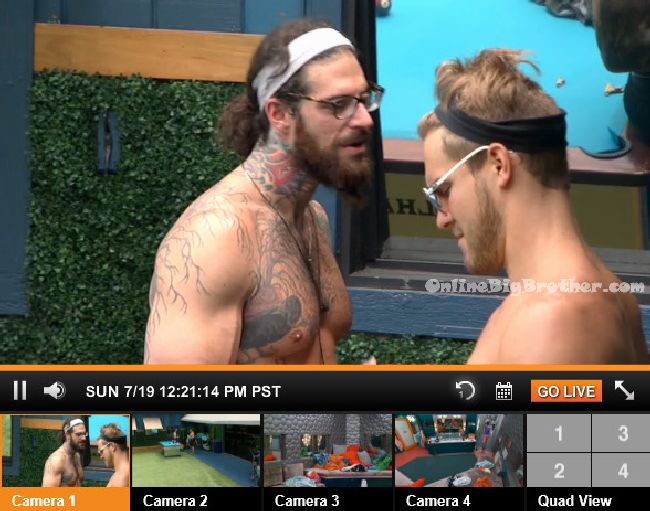 Live Feed subscription gives you CBS All Access thousands of archived shows. Live Shows like Big Brother, all the Big Brother Seasons, and 24/7 coverage of what is happening inside the Big Brother House. Plus there's flashback that lets you go back to any second of the feeds and rewatch what happened. Simon and Dawg will index the season just watch the parts worth watching. All this for $5.99 a month try it out 1 week free. Support our efforts and get your feeds via a link on this site. Live feed subscription Sign up
[polldaddy poll=8983592]
Share it YO!!
Tweet