If you plan on buying anything from Amazon. Use this link Amazon home
Doesn't cost you anything and we get a small cut.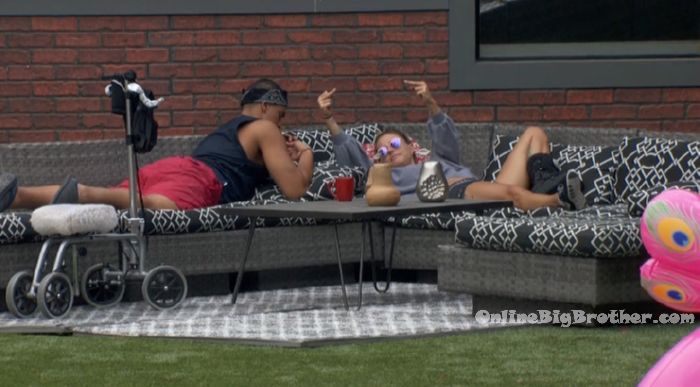 3:18pm Backyard. Josh joins Christmas on the backyard couches. Josh – how are you sunshine!? Christmas – I'm just enjoying this beautiful day. Did you guys (Paul & Josh) work things out? Why are you so down today? Why are you sad? Josh – I'm not sad. Josh – this is a bad look… them seeing us lying here. Christmas – well we have to be really conscious of the door. Josh – if we have tied in Kevin and Raven .. why does he just not use the veto? Isn't that better? Christmas – because we don't want Alex to gun for it. And if he does then he might be able to get her to throw it to him. Josh – what do you think Paul's pecking order is? Not mine and yours. Christmas – Alex, Raven, Kevin. Josh – me and you need to …… I'm going to chill, I'm done with the plan. Christmas – you're thinking about it. Did he explain to you why he would need to pull Alex in? Josh – he wants to have a big blow up with me. This is all to his benefit and not .. if I have a fight with him. Christmas – Josh, us all working together is for all of our benefit. Josh – I know.. I'm going to go nap. Christmas – no. Josh – I'm going to go nap. Christmas – Josh!? Josh gets up and walks away.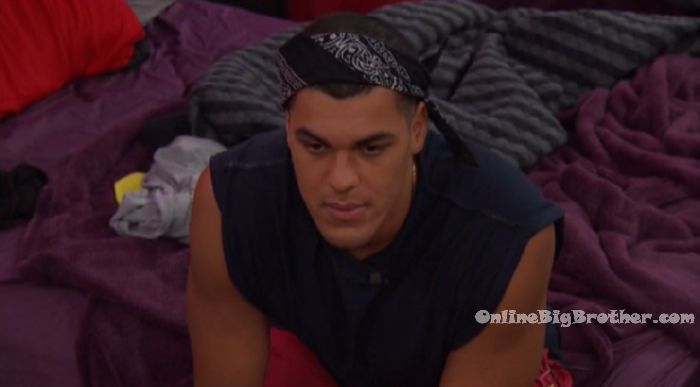 3:25pm Bedroom. Christmas & Josh.
Christmas – have a seat! Two things! You ever pull a poor little f**k boy move like that again and walk away when we're having a conversation. You say f**k you Christmas! I don't give a sh!t about you, I don't give a sh*t about what you say. I am not one of these little club whores that you can treat like that! I am a grown a$$ f**king woman and you do not treat me like that. Josh – I was going to the bathroom. Christmas – Do not interrupt me until I'm done! Josh – okay. Christmas – we can have conversations, we can have discussions, we can have arguments. You walked away from me!! NOT F**king okay! Don't f**king do that again! Josh – okay. Raven comes into the room. Raven – what did he do? Christmas – he knows! You don't need to know. Christmas leaves. Raven – what did you do? Josh – I'm over it!
FLASHBACK and watch everything you missed: Live Feed 7 day FREE Trial!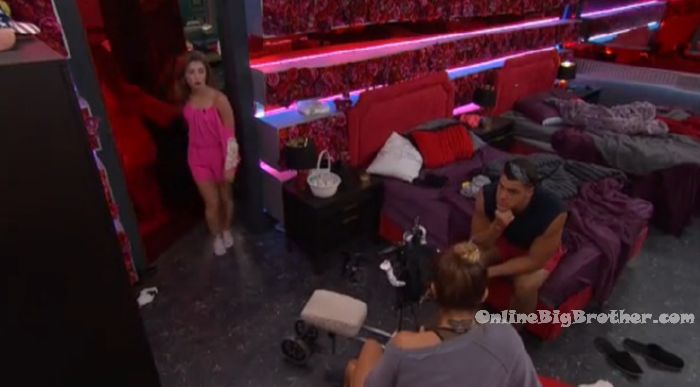 3:32pm Lounge room – Josh and Paul.
Paul – I was just planting the seed of what's going to happen. I was like alright I am using it on you (Alex). Starting to build that … so like I can blow up on you. She was like Josh asked us if we trust you. BUT I know what your conversation was. She made it into like why did he ask us. I don't know why he just asked us. Josh – do you want to pull her in? Paul – no fool! But you see what she is trying to do? I know it was when they were freaking out about the veto. I was like what was the context of the conversation and she said he just pulled us in and asked if we trusted you. See what she is trying to do? Its okay, we're good. The seed is planted.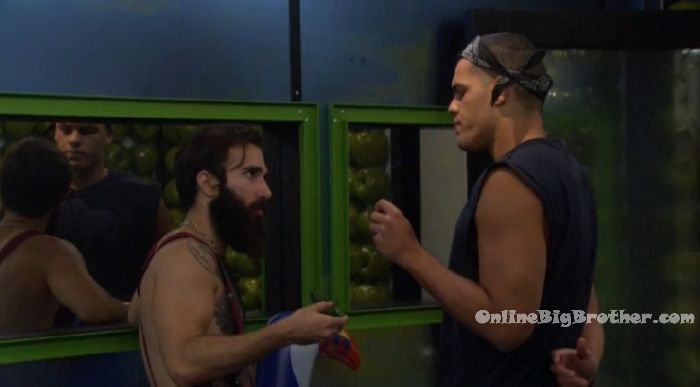 3:35pm Backyard. Josh to Christmas – I am sorry. Christmas – do you know why you're sorry? Josh – I just didn't want to continue the conversation so I walked away. Christmas – NOT ACCEPTABLE! Not acceptable behavior for a grown man. You are more of a gentleman than that! For any woman. Josh – I really did have to use the bathroom though. Christmas – no, you said you were going to go take a nap. Josh – I am sorry, I didn't mean it. Christmas – teammates, friends, family members .. you respect what they have to say even when you don't want to hear it. Josh – yeah I just feel like its the same conversation over and over again. Christmas – yeah it is the same conversation over again. Do you know why we are having the same conversation again.. because you have either not accepted it or not moved on. Josh – he just told me that he has planted the seed.. Christmas – listen Josh, you either make up another f**king plan that makes you more comfortable. I'm fine with the plan because it does put blood on his (Paul) hands. He is going to have to take HOH next week. ALex is going to know that we f**king duped her. You think that she isn't going to go to jury and talk sh*t about all of us?



Christmas points out how Josh gets fixated on things and doesn't listen to anything else. And you get reactive and defensive. Paul is going to have to show his cards next week. Josh – he is going to have me win it next week. Christmas – did he tell you that? Josh – yes. I am done with the plan. Christmas – then think up another one. Josh – no I am done with the plan. I'm over it, I'm done. Christmas – if you don't like it then we pivot. Josh – you and Paul are good with it, then I am not going to f**k it up. Christmas – did you have this conversation with him? Josh – I did and he dismissed it. Christmas – you have to push it. Josh – I think we don't use it (Veto). Christmas – then that shows our cards to her. Christmas – she (Alex) can not win (HOH) period! Alex joins them. Alex – I cannot wait for tomorrow (when Kevin goes on the block and she comes off). Christmas – you're going to die when you hear my speech. You're going to want to get some motherf**king popcorn.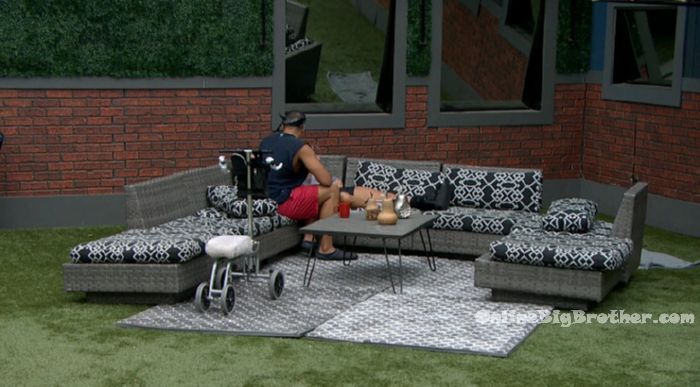 3:40pm Pool – Jason and Alex talk about Raven lying about her health issues. Alex – she definitely threw yesterday. Jason – that's f**king weird, like why would she do that.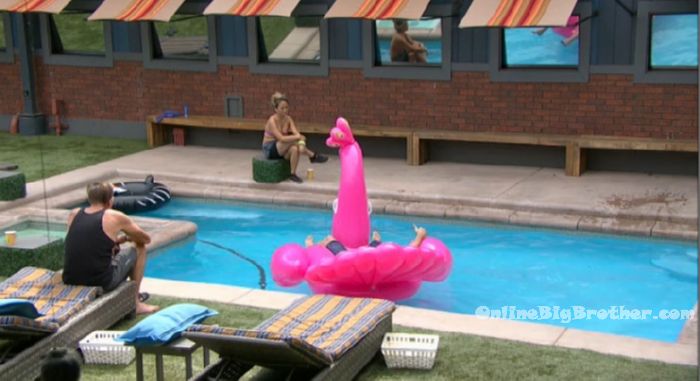 4:35pm Paul working out. Meanwhile Josh is reading the bible..

4:45pm Lounge room – Paul is studying the dates / events of the season. Josh, Raven Jason join Paul. They talk about how many tattoo hours he has. Paul says he has 120 hours. Josh doesn't believe it. So Paul goes through all his tattoos and how long each one took.

4:50pm Havenot room. Jason is reading his HOH letter..
5:12pm Bathroom. Christmas tells Jason that Paul has a new puppy. Jason – who? Jason then laughs and realized that Christmas is talking about Raven following Paul around. Jason – we all called that she was going to attach herself to him. She probably cries about everything and she didn't cry when he (Matt) left.
5:40pm Josh and Paul play chess. Josh had to promise he wasn't going to cry when he loses.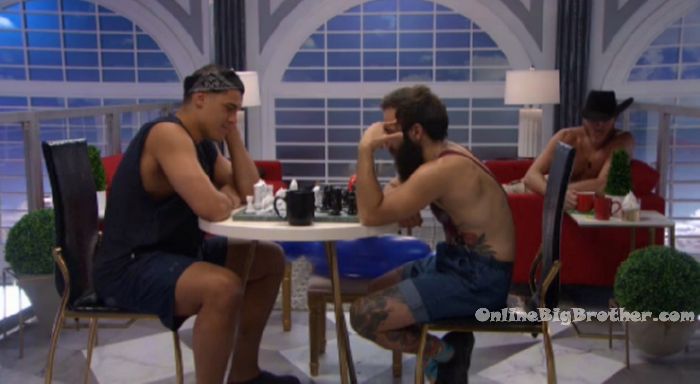 6:10pm – 6:30pm Kitchen – Raven tells Alex that she is on her third pacemaker and each of them cost $25,000 each so that's $75,000 and that doesn't even include the costs of surgeries and anesthesiologist. All the tests are experimental. Like I've had a 7 inch needle shoved up my rectum. Gastroparesis has caused me to get other diseases like hyperthyroidism, acid reflex, arthritis, knee problems. Alex – god damn. Raven – some people can live with it but that's not the case for me.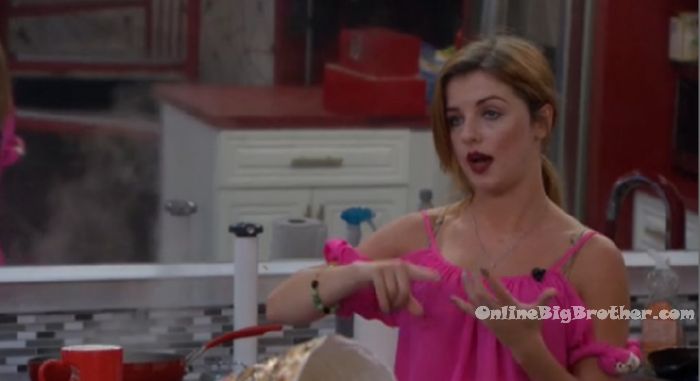 6:50pm – 7:15pm Bedroom – Christmas and Josh.
Christmas – I push back in different ways to make him see different options. I just don't want you to feel like I don't have your back. Josh – I don't feel like you don't have my back. Christmas – we can't show our cards until after the next HOH. We are in the best position and I promise you he will have blood on his hands before the end of this game .. okay? We have one more major competitor to get out. The way you walked out on our conversation earlier was so rude. I really didn't want to come back and talk to you that way but I was just so mad! I don't get that mad. I'm not like some hoochie momma that he can just pull my hair. Raven joins them. Josh – I think we're doing a double on Thursday (Yup). Paul and Jason join them.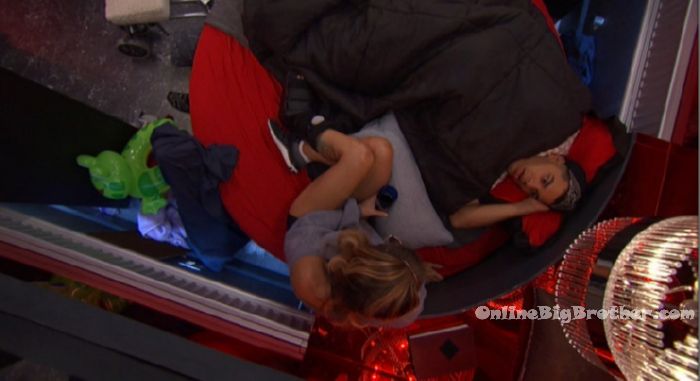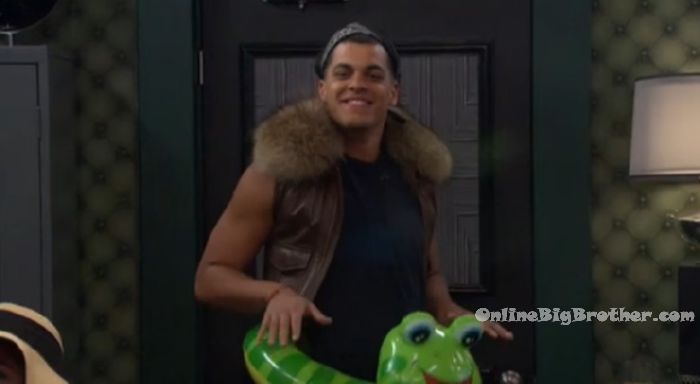 8:10pm All the house guests are lounging around. Josh puts Paul's furry vest and parades around with it on. Paul gets annoyed and asks him repeatedly to take it off. Josh – take it off. Paul – I'm not taking it off for you. Why did you put it on? Josh – because I wanted to. Paul – why are you going through my personal things? Take it off. Josh dances around and then heads to the bed room to take it off. Paul – seriously don't wear my clothes fool! Paul gets up and hides behind the door. When Josh opens the door Paul rushes him and jumps on him as Josh runs away.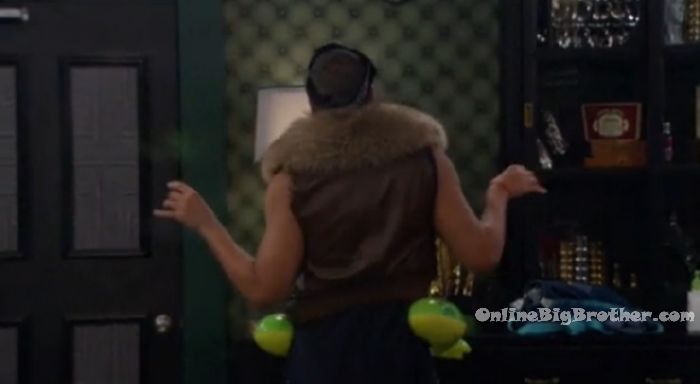 When gnomes attack @bigbspoilers #BB19 pic.twitter.com/GpjR5GC4GR

— Dawg (@DawgsBigBrother) September 4, 2017
8:37pm Bedroom. Paul is lying down. Josh joins him. Josh – what happened? Paul – he (Kevin) was just b***hing something about a sandwich. Paul – Jason said walk away, walk away. Alex joins them. What did he say? Paul – something about it being disrespectful that someone didn't ask him about making a sandwich. If people want to call him out on other sh*t you can add that in.

8:55pm Paul and Josh talk. Paul – its getting close to the end and you're gassing yourself out. I get it, its hard. Josh – I am going to take that shot. Paul – I know but you need to feel comfortable. Josh – my position in the plan .. ya it is f**king hard. Paul – its the safest plan. And you have to see that Alex isn't going to take a shot at you and Christmas because she doesn't see you as a threat. Josh – I know. They end the conversation because they hear people coming. Alex and Christmas join them.
9pm Raven is raving out in the lounge room..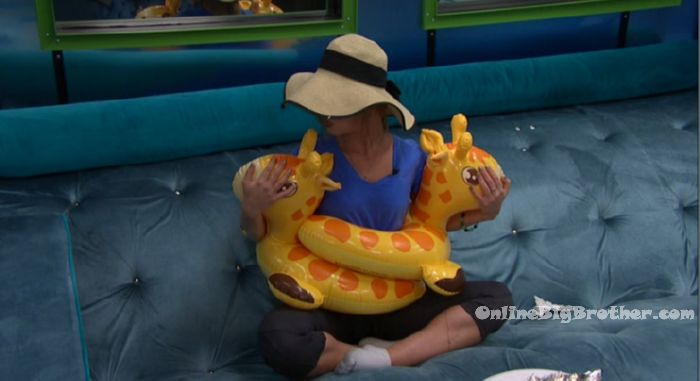 If you've enjoyed our live feed updates this season, please consider donating.
Simon and I work 24/7 all season long to keep you updated on everything that happens inside the house. Any amount is greatly appreciated! Your donations go directly to paying the fees required to run this site.
Links to the ranking system
Rank your house guests here
For those of you that like Statistics here are some expanded reports.