POV Holder:
Vanessa
Next POV
July 18th
POV Used
?
POV Ceremony
July 20th
HOH Winner Team 1:
Liz
HOH Winner Team 2:
Shelli
Nominations 1 :
Jackie & James
Nominations 2:
Jason & Johnny Mac
Battle of the Block Winner
James and Jackie
Next HOH/ Next BOB
July 23rd / July17th
Original Nominations:
Jason & Johnny Mac
Current Nominations:
?
Have Nots
Jackie, Audrey, JohnnyMac and Becky
TRY the Big Brother 17 Live Feeds FREE for 1 WEEK:
Click here to ensure your live feed subscription supports OnlineBigBrother.com at no extra cost to you.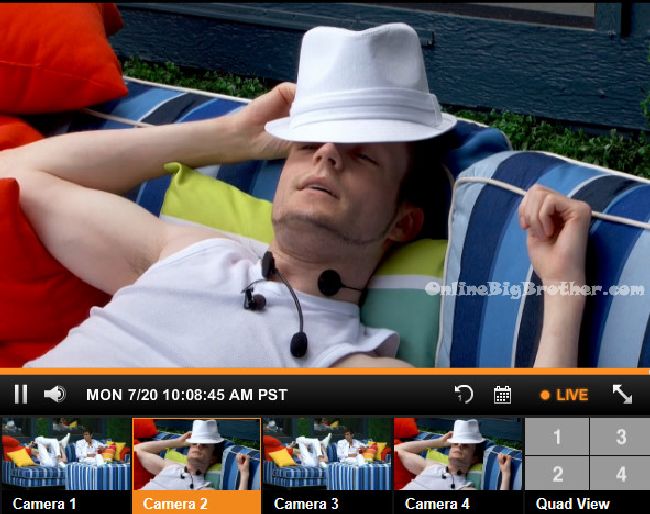 ** FYI – The time stamp on the live feeds is currently approximately 26 minutes behind. It is a technical error on CBS's side. The time is wrong when it should read 26 minutes faster. To flashback use what time we post / the time that is on the screen captures.

9:55am Big Brother wakes up the house guests. All the house guests are awakes and getting ready for the Power of Veto ceremony that will happen this morning. Jason heads outside and tells Johnny that James is a crazy man. I knocked on the bathroom door and no one said anything .. then I opened the door and James was sitting there? I'm like why didn't you say anything and he said Meh! Johnny says my speech isn't that convincing but I'll say it anyway. Jason says his isn't either. All the dramatics last night I hope didn't change anything. Johnny asks what happened. Jason says Audrey had a panic attack and ran to Vanessa's bed. The thing is if it was after the veto ceremony she would have been crying in the HOH bed. I don't think Vanessa was affected by it though. Fool me once. She doesn't cry for anyone unless its for her damn self. Johnny says you're right. She put herself there. Jason says she was worried her family would get terrorized .. no America will love you. Even if you came out the winner that could still be a possibility. Johnny says you never know America could love her and hate us. Jason says America could think we're really boring without her. Johnny asks who do you think they're going to take down? Jason says probably me because there's nothing anyone can say against you. I'm afraid she will sway a few people and people would think this is a good time to take out Jason. Johnny says that makes sense. Johnny says either way I'm pretty sure she's going to use it on one of us. Johnny says I'm pretty sure it wouldn't be good if she didn't use it. Jason says especially after last night. Jason says Shelli isn't the backdoor type. Johnny says it never feels good but I know I'm not getting backdoored this week. Jason says Johnny has nothing to worry about Baby Jesus would get evicted before Johnny MAC. I even told Audrey that. Jason says you're like the guy Meg. Johnny Mac says I should make out with Meg. Jason says that even when Audrey was crying Vanessa looked at me and it showed Audrey wasn't getting to her. She wasn't crying along with her.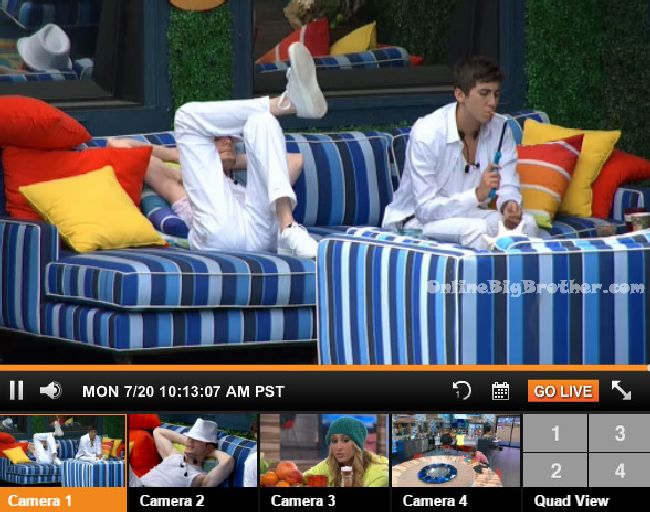 10am In the kitchen – Vanessa tells Shelli about Audrey's panic attack last night. Shelli says right before I supposed to put that person up you tell me this? Vanessa talks about how she tried to comfort and calm her down. Vanessa says she said it was chemical, like what was going on with her. Vanessa talks about how she told Audrey to use this as a platform to inspire and inform people. Shelli says this game could ultimately lead her down a bad path but if she leaves now she could leave on a good note. Vanessa says this isn't healthy for her.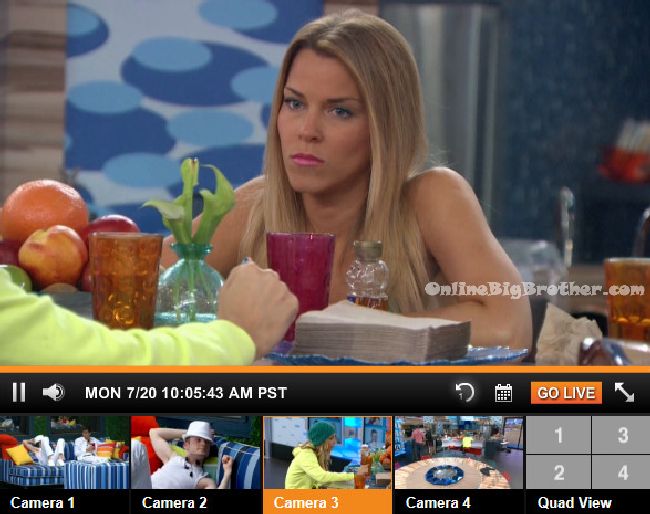 10:20am Clay comes out and sits with Jason. Jason brings up how Audrey crying in Vanessa's bed was game too. She also said to James that it was chemical like what was wrong which means a chemical imbalance. Clay says she's taking all those hormone pills. Jason says if it was really chemical like she was on psychotic meds .. she wouldn't be here. Clay says yeah and you feel if you don't side with her you the a$$hole. Clay says that Shelli told him to have some sympathy.. I had to bite my tongue… she's had a lot of sympathy this whole time.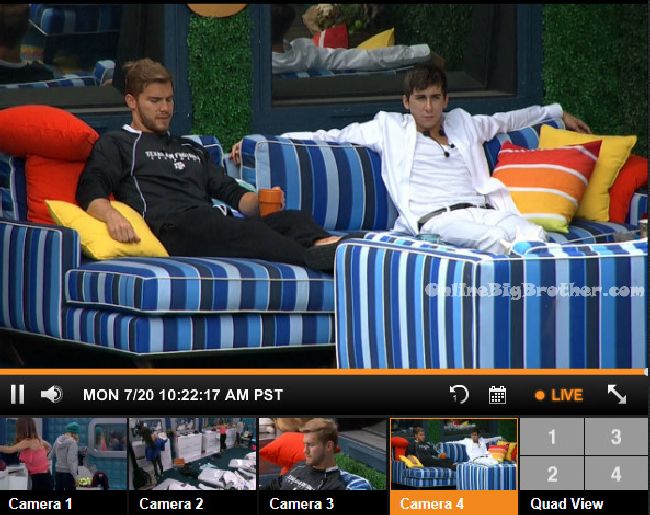 10:25am Vanessa pulls Johnny Mac into the cabana room and tells him that she has to take Jason off. She says the decision was stripped from her and its something the house wanted. Its literally out of my hands. Johnny says I wouldn't want you to do stuff that is going to mess you up. Vanessa says I am already in this incredibly uncomfortable situation.. my POV has essentially been stripped .. this is the houses. Johnny says I feel that's good for you. Vanessa says I just wanted to let you know what's coming. Johnny says its okay. They hug and leave the room.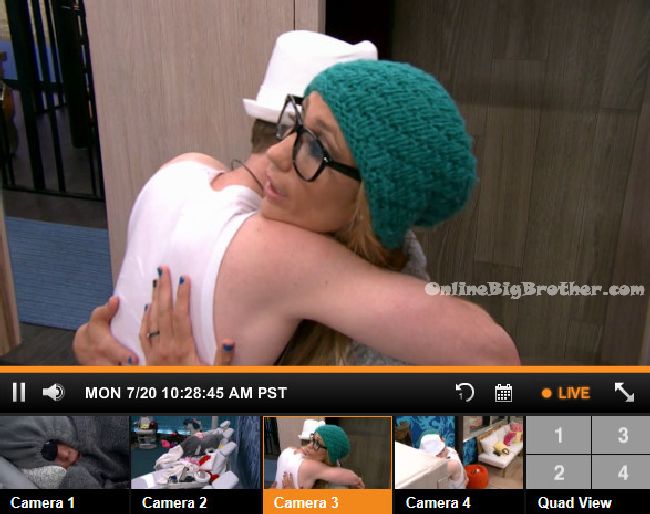 Vanessa talks to Jason in the bathroom. Jason explains how what Audrey did last night was game. She picked your bed specifically because you have the power to not use it. If it was after the POV she would have been up in the HOH bed.
10:40am – 10:50am Becky says that Audrey bites the hand that feeds her. Today is going to be hard for her and I am hoping that before she leaves we get to see the funny Audrey. Clay says she's not going to .. she is going to be like this the rest of the time. I told her that she isn't even enjoying this opportunity. She is going to look back and wish she had enjoyed it more. We can't even talk to Audrey because all she talks about is game. You need an off switch. Becky says that James is like that he has a game mode but knows how to turn it off. Johnny says she'll be alright. Clay says she gets to go home to her family. Becky says its like what Jason said .. she picked the right bed .. she did not pick Meg's bed, Jason's bed. .. and next she'll pick Shelli's bed. She knows exactly what she's doing.
11:10am Clay says that Audrey doesn't appreciate. Clay says she went to Vanessa's bed and I am telling you right now either tonight or tomorrow night she will be up in your bed. SHelli says I didn't think about that. I wondered why she didn't come up to me but I didn't have the power Vanessa did.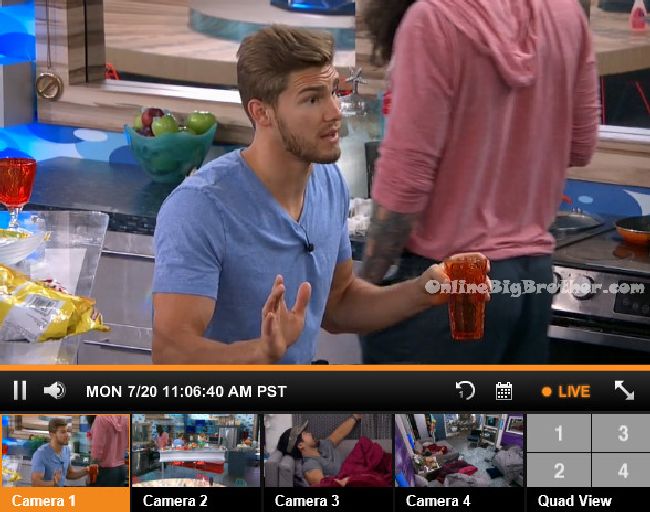 11:45am The live feeds return from being blocked. In the bedroom – Vanessa, James, Clay Becky and Austin are chatting about random things. They discuss having another Podcast on Wednesday at 10pm while the havenots are waiting to get off being havenots. James says that Audrey has been in the diary room for 30-40 minutes and that's the reason why they haven't done the veto meeting yet. Meanwhile out in the backyard – Jason and Johnny Mac are sitting on the backyard couches. Jason heads inside and talks with Shelli and Jackie about Audrey's chemical imbalance. Jackie says that Audrey got some Advil and said she was starting to feel better. Big Brother blocks the feeds and when they return Wackstreet had jsut finished performing their routine.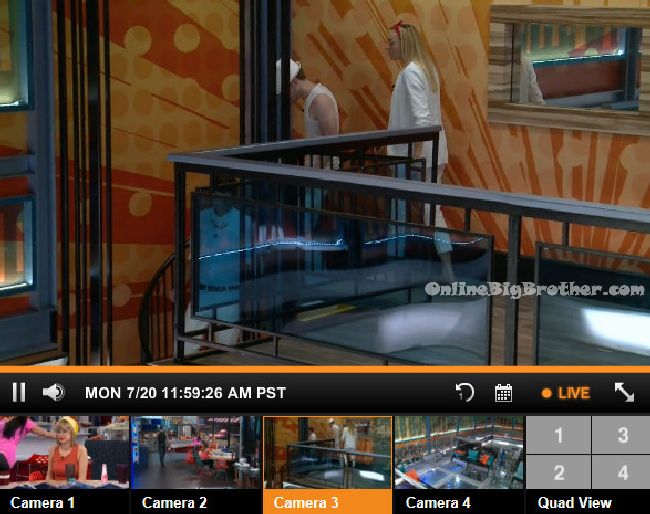 12pm – 12:15pm
Austin tells James I think the next time we get alcohol its your chance to get with Meg. Wait until she drinks the whole bottle, you just have cranberry juice.
Meg says its rigged if they get a #TAKEOVER after this veto meeting @bigbspoilers #bb17 pic.twitter.com/lhcgRtvr4j

— Dawg (@DawgsBigBrother) July 20, 2015
12:40pm The house guests are waiting around for queen Audrey to finish her apt with the psychologist so they can get the veto meeting under way… Shelli says I just couldn't talk that long about the same thing. When we would talk she would talk about the same thing for hours and I would have to end it. Steve says if she does leave the producers would have the sole power to decide how this … Big Brother blocks the feeds. Jason says I came in here and thought I was going to get "Jodi'd out in the first 5 minutes"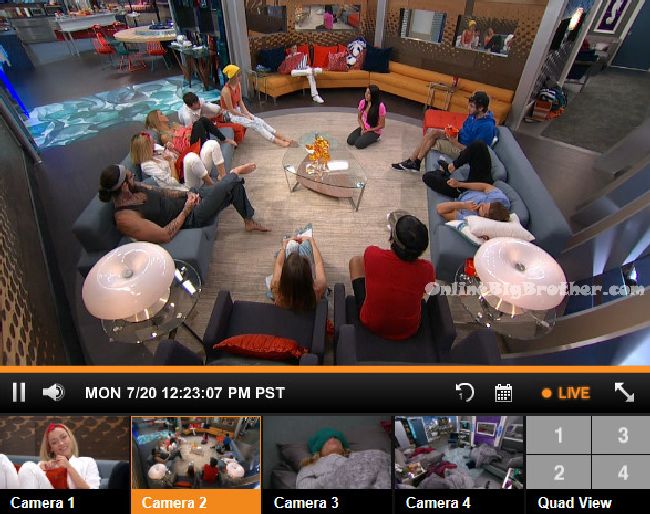 1:20pm Queen Audrey is still holding up production having her session with the psychologist.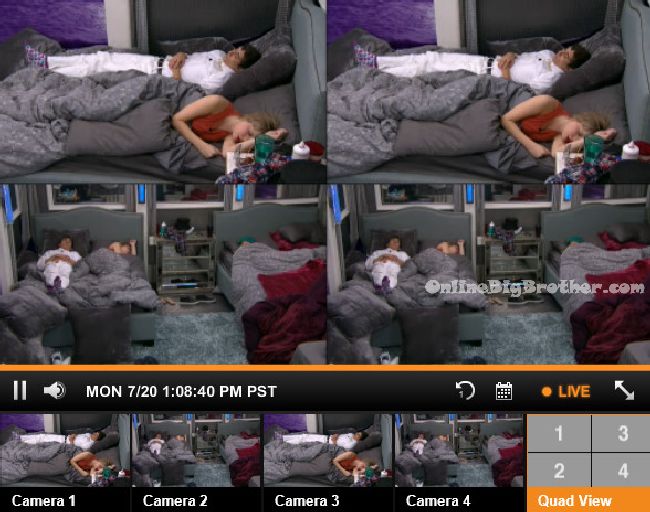 1:30pm Austin tells Shelli that the twin switch is supposed to happen today but Julia can't even get a warning because Audrey is still in the diary room. He says she's been in there for over an hour and a half.
1:35pm Kitchen – Vanessa says a man was walking along a side walk and fell into the hole and screamed help, help help. A doctor walks up to the hole and writes a prescription and throws it down into the hole then walks away. The man continues to yell for help. A psychologist walks up to the hole next and he tells him he's stuck in a hole. They talk about his childhood, he does an hour and it doesn't really seem to help. The psychologist walks away. Help Help I'm stuck in a hole. A priest comes up to the hole the priest prays with him and tells him to do 3 hail marys and tells him everything will work out. The priest walks away. Help I'm stuck in a hole. And finally up walks his friend and his friend looks down and the guy says help help I'm stuck in a hole .. there's been a doctor, psychologist and a priest and no one can help me. I need to get out of here or I'm going to die. The friend jumps into the hole and the guy looks at him asks why the f**k did you do that? And his friend looks at him and says well I've been here before and I know the way out.. Shelli says AWE!! Vanessa says is that not the best story ever!! I love that story, I love it, I love it. I told her that story. When I was down I woke up the next day and everything was okay so I told her I'd been there before and maybe I know the way out.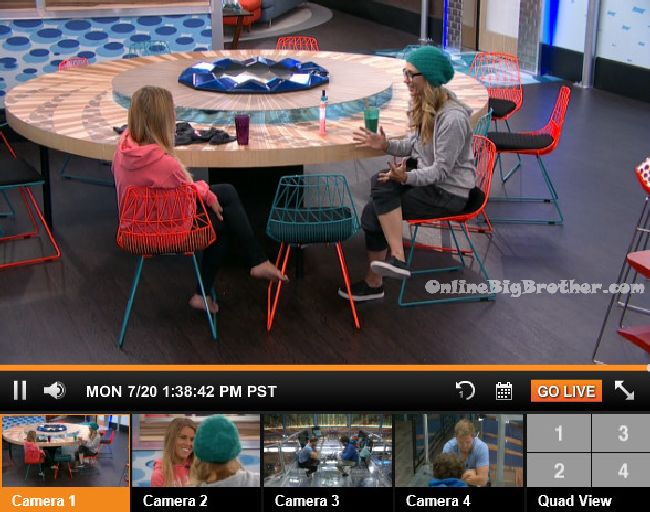 2pm Backyard – Austin says that its almost a reset for everyone's game. I'm worried she will get attention for winning HOH because people have that in the back of their minds. Vanessa asks for next week. Austin says they have it big time in the back of their minds and since everyone else has kind of cleared the slate with everyone it would be easy rational for everyone to target. Vanessa asks what people going to do for their targets. I think people are still going to stay on their sides. Austin agrees. Vanessa says well you better win this week. Austin says I'm going to die trying. Vanessa says you really really really need to. Audrey was trying to make me the target when I had the pov and then she tired to turn it onto you. Austin says she was fine doing this to everyone else but as soon as it happens to her she is ready to walk out. That whole thing yesterday she went nuts on Clay out here. Austin talks about how Shelli and Clay have a mature relationship and realize it might not work out after because they're in two different stages in their lives and live so far a part. He says they're going to see what happens. Austin then talks about him and Liz and how she seems receptive to his feeling for her. Vanessa asks who do you not want to win HOH this week? Austin says Jackie. She would likely put you and Liz up with me as the backdoor. Or me and you with Liz as the backdoor. Jason comes out and they comment on how they think Audrey is leaving. Big Brother blocks the feeds. When the feeds return – Jason and Vanessa talk about Audrey being on hormones and how that likely affects her so much. Johnny joins them and asks if they think Audrey is quitting? Vanessa says I hope not. Jason says she's panicking because she knows she got caught.. she wouldn't be doing this if none of this didn't happen. Steve says he tired to go into the diary room and they wouldn't let him in.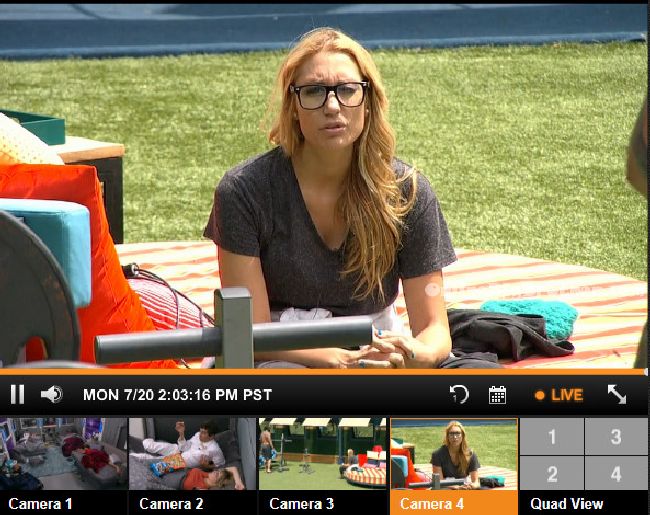 2:15pm HOH room – Shelli thinks Audrey is in the diary room talking to them for so long saying its because of all these lies she's been put up to do (They think she's America's Player and that's why she's lied so much.) Clay says she got caught .. she can't sit in there and beg to be put back in.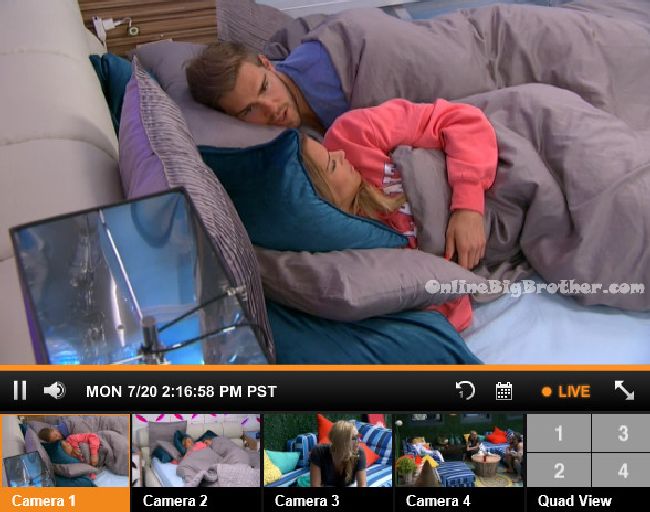 2:35pm Austin "I'm 85% sure she's (Audrey) gone! I think she walked! Everything's been held up all day" Johnny "You lose your stipend if you walk! There's no way I would do that I have bills to pay!" Austin says you can't go to the finale either.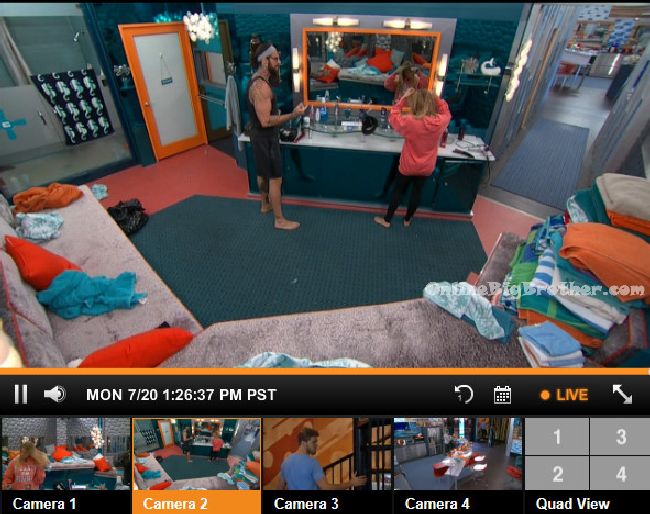 3:30pm Audrey hasn't come back yet.. nothing major happening in the house yet most of the house is sleeping, there's some speculation.
I'll update once we know what happened to Audrey or anything happens worth posting.
Live Feed subscription gives you CBS All Access thousands of archived shows. Live Shows like Big Brother, all the Big Brother Seasons, and 24/7 coverage of what is happening inside the Big Brother House. Plus there's flashback that lets you go back to any second of the feeds and rewatch what happened. Simon and Dawg will index the season just watch the parts worth watching. All this for $5.99 a month try it out 1 week free. Support our efforts and get your feeds via a link on this site. Live feed subscription Sign up
[polldaddy poll=8983592]