POV Holder:
Clay
Next POV
July 25th
POV Used
Yes
POV Ceremony
July 27th
HOH Winner Team 1:
Jackie
HOH Winner Team 2:
Vanessa
Nominations 1 :
James & Liz
Nominations 2:
Clay & Becky
Battle of the Block Winner
James and Liz
Next HOH/ Next BOB
July 30th / July 24th
Original Nominations:
Clay and Becky
Current Nominations:
Jason & Becky
Have Nots
Shelli, Clay and Steve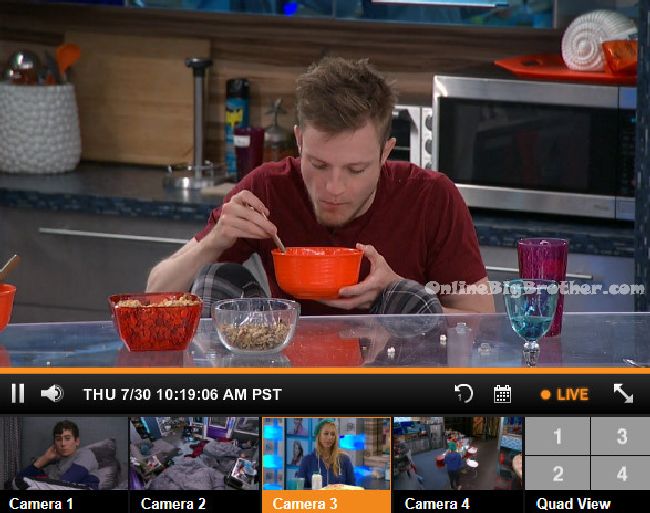 TRY the Big Brother 17 Live Feeds FREE for 1 WEEK:
Click here to ensure your live feed subscription supports OnlineBigBrother.com at no extra cost to you.
10:15am
Big Brother wakes up the house guests. Vanessa, Clay, Shelli and Johnny are in the kitchen. Shelli says she's excited to not be a havenot any more. Johnny tells Shelli they have less than 14 hours of being havenots left. Steve, Liz and Austin join them. Steve says he slept on the floor of the "prison" (sequester), I don't know why but I did. I slept on the floor between the beds.
In the bathroom –
Clay tells Becky you're worried because of what you saw last night? (Jason talking to Clay and Shelli in the havenot room) Clay tells her not to worry about that. You're okay.
10:35am In the bedroom – Jason talks to Steve in the comic bedroom. Jason says I don't need your vote at this point because I know I don't have them. Becky is going to target you next week against Austin so that she can flush out you and Austin will keep you to stay. And then she wants to put up Clelli during the double eviction. I told Clelli this last night .. the only real ammo I have. I don't think they're going to vote for me either way but like I told you the other day you're in a good spot but if Becky wins.. this today .. you're not! Becky is going to target you this week. Steve says okay. Jason says so just so you now that. Steve says thank you. Jason says you're welcome.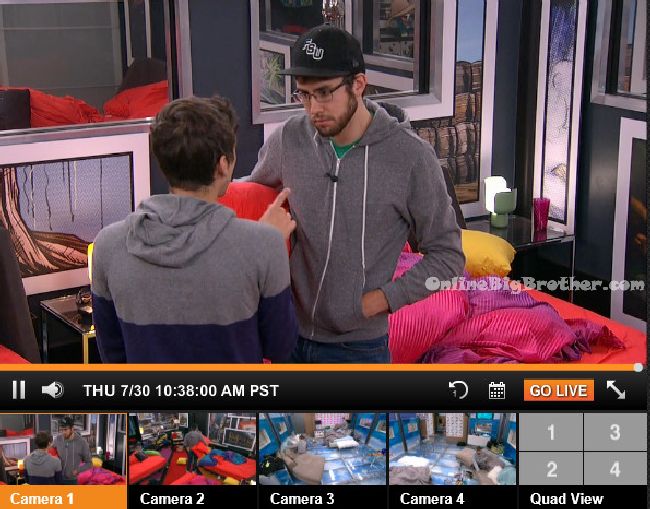 10:40am Big Brother blocks the live feeds for the HOH lock down.
11:40am The live feeds are still being blocked.
12:45pm Still blocked..
1:25pm – 1:30pm The live feeds return – Jason, Becky, James, Jackie and Meg are already back in bed. Meanwhile Austin, Clay and Shelli are in the kitchen. Vanessa is bringing the rest of her things down from the HOH with the help of Clay. Steve is playing with the hula hoop.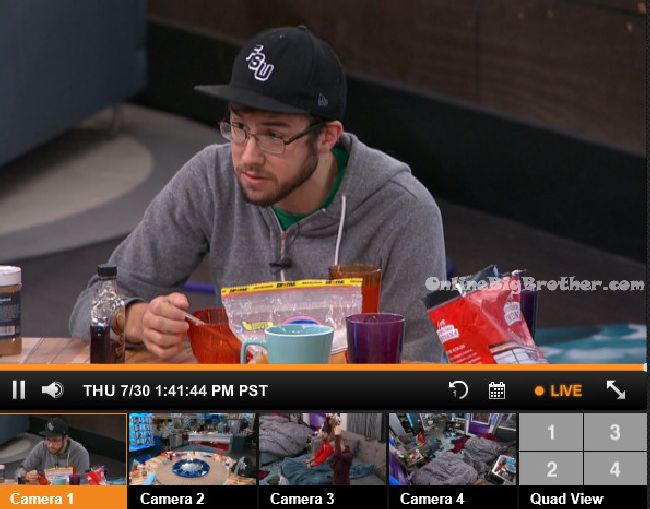 1:45pm In the kitchen –
Vanessa asks Steve if he is pumped? Athletic challenge! Steve says he is, I was correct.
1:50pm – 2:05pm In the bedroom – James says physical comp! My type of comp! Meg says that she gets nervous for athletic comps. Jackie says it could be like the puzzle one. It doesn't mean its really physical it just means its not a question one. Jason says good luck with it tonight. Meg says I'm going to suck at it. James says you're already talking negative. Meg says you two better win it. Jason asks oh so its up to them now? Jason says that if they (Shelli and Clay) were going to keep him they would have come to Jackie. It doesn't look like they're trying to. Meg says its putting a lot of effort into their hands. Jason tells Jackie I will tell you if they are (voting for him to stay so that she can vote with the numbers) but I also won't tell you they are if they aren't. I'll talk to them again.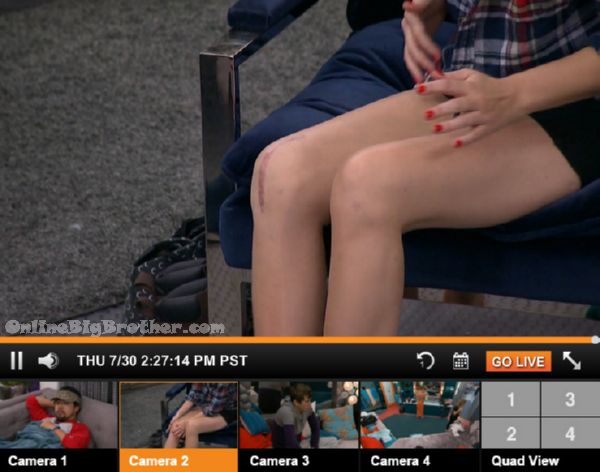 2:25PM Meg, James and Jason
Steve – I don't know if physical means like actually physical like physical or a bit of running back and forth collecting puzzle pieces
James – probably puzzles pieces
Steve – I mean really physical or just a little bit of running
James – doesn't matter what it is regardless.. Meg, she's got it no reason to play it today
Steve – Meg you going to win
Meg – I don't know I get so many butterflies when it's physical
Steve says she's a dancer she's good at physical comps is in shape,
Meg says she doesn't dance much anymore she did when she was in college. Her arthritis made her stop. explains that is why she got surgeries on her knees. She show him the scars on the knees. She says one of the surgeries messed things up so they had to go in to correct it. She had three surgeries in total. ONce the scar turns white she's getting a cosmetic procedure done that will make the scare very small pull both ends of the skin together.
James – why don't you colour it with a sharpie
James – I like your scars it brings personalities to you.. it's a story .. if I saw you in a bar I would be like DAMN
Meg – Ya I fell in a mountain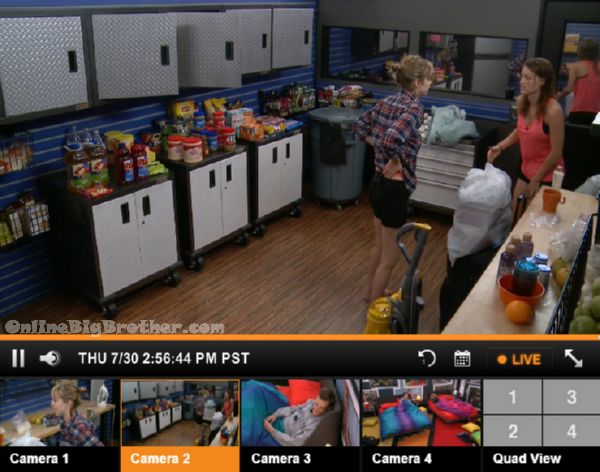 2:56pm Storage room Becky and Meg
Becky saying that jason is saying nasty things about her it's a hail mary. She knows he's going home but it's hurting her going into next week
Meg says she hasn't talked game to anyone, "Becky we're all dying our peeps are dying fast.. we want you I'm begging on you jackie and james to win this you know my legs will die"
Becky says she plans to win it tonight
Becky says the vote will be 6 / 3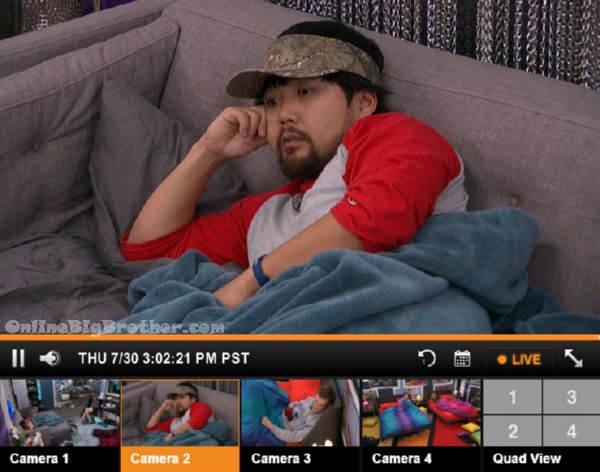 3:01pm Meg and james
James – well it's just us three.. unless we can pull Jackie in
James asks if she thinks that other side of the house is allied
Meg does think so she thinks they are all just teaming up in the short term that's why they have to start taking them out piece by piece.
James says when he wins HOH he's making deals "You can't touch Jackie, you can't touch Becky you can't touch Meg"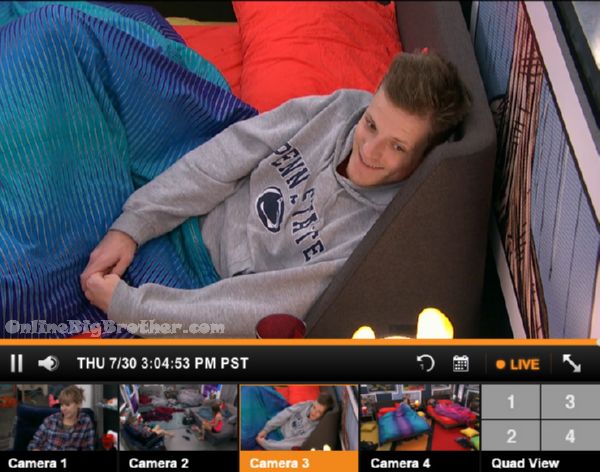 3:07pm Vanessa and jmac
Vanessa telling him that "those three" are really trying to win HOH and if they do they will be coming after their side. She says their side is very tight and loyal. She shares that her and Austin are really tight even after he lied. After he explained to her why he lied she called him a idiot "But it worked OK.. My word is good"
Vanessa about Jason being nominated "It was just a game move"
Vanessa warns Jmac she can see James winning a lot of competitions she believes he's been throwing them lately.
3:20pm feeds are cut most likely until the the end of the live show
[polldaddy poll=8994045]
Share it YO!!
Tweet