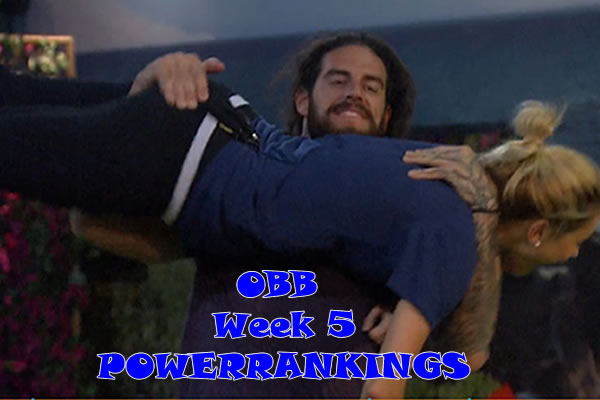 The general trend is a weakening of everyone's game, this week got messy. After the Jason blindside a lot of interesting power shifts occurred. Basically the lion share of the blame for the blindside fell on Shelli and Clay making them a major target for the one side of the house. Whether that side can win a competition then formulate a plan is doubtful but at least they are talking about making a move and have identified the snakes in the house.
This week's biggest downward movers were Shelli, two points and Jason four. Shelli had taken the lion share of the blame for being the mastermind behind the Jason blindside. She's also being seen as having a major part of controlling the HOH for the last 4 weeks. She's a target and she knows it which is affecting her Social game negatively. As Jason put it Evil personified. Jason knows the game better than anyone but socially he wasn't as good. He only really made connections with one group: Meg, Jeff, Da, James and Jackie group. He spent too much time sleeping and slinging insults at everyone not in his inner circle. His group was unable to win competitions and formulate any kind of resistance to the other side of the house. They lost their number advantage.
The biggest increase this week was Austin, Liz, jmac, and Vanessa up 1 point. Everyone was targeting Austin and the twins last week but somehow they were able to recover. Vanessa gained a point for largely coming out of this HOH with few people targeting her. Post first Blindside of the year Vanessa came out looking pretty good. We're witnessing Jmac social game improves as he starts making connections with fringe players while trying to maintain their inroads with the heavy weights. (Much like Steve is doing)
As always the scoring breakdown is at the bottom give us your take on the rankings in the comments below.
Entertain-ment

Social

Strategy

Bonus

Total

Vanessa

3

4

5

+1(0)

13(12)

You are employing your tried and true HOH tactic. Make up a lie pin it on someone get them out. +1 for not having Jason's blindside all on your hands

Shelli

3

4(5)

4

0(+1)

11(13)

Socially and Strategically killing it but good things can't last forever. You're now a target people know you're running the show they'll be coming after you before your meat shield.

Clay

3

4

3

-1

10

Shelli's the general you're the field commander. You and now a potential target for some people on the opposite side of the house but lucky for you Shelli is the bigger target.

JohnnyMac

3

4(3)

3

0

10(9)

You're popular with everyone outside/inside the house.. Please win a HOH so we can see you play.

Liz (Julia)

3

4 (3)

3

0

10 (9)

Your social game is improving, When Julia comes in get ready to be a target but rest assured Austin will move heaven and earth to protect you.

Steve

3

3

4

0

10(10)

Building relationships with the fringe players and heavy weights. Everyone says you're a target but you really aren't, win some HOH's I wanna hear "Get to steppin"

James

4

3

3

0

9(10)

You're likable and funny on the feeds, Social game is alright, strategy middle tier. Doing pranks makes feeds fun. I swear you have things figured out more than people give you credit.

Austin

3(4)

2(3)

3(3)

0(-1)

8(7)

You were given a second chance. +1 having a horseshoe up your butt. -1 for still being clingy with liz

Jackie

2

3(4)

3(2)

0

8(9)

What can I say you won HOH, got dethroned now someone in your alliance goes home. You want to make big moves but like Meg I'll believe it when I see it.

Jason

3

2(4)

2 (4)

0

7(11)

You almost pulled it off and got Austin out this week. You're big mouth got you in trouble. Not building relationships with anyone other than your goblinkin and not winning comps was your downfall.

Meg

2

4

1

0

7

You say you want to make a big move. I'll believe it when I see it.

Becky

1

3

3(2)

0

7(6)

You are participating in the BB17 live feeds.
Our scoring criteria is as follows
There's three main categories, Entertainment value, Social Skillz and Strategy/game with each category ranging from 1-5 with a 0 value being used for exceptional cases. A bonus category is also added worth 3 points for those special scenarios that don't fit the 3 main categories.

1/3 – Entertainment
0- You're not entertaining – I turn the feeds off when you're on
1- Offensive, Rude, unlikable are some words that could describe your behaviour on the feeds
2- Maybe you're laying too low. Right now everyone on OBB is joking about not knowing your name
3- Neutral
4- You're a likable person and showing it on the feeds
5- You're making these feeds Very fun to watch

1/3 – Social game
0 – Your social game is non existent go back to blogging in a basement
1 – Most of the house dislikes you. You'll see yourself a target soon
2- You're building some relationships but not enough to keep your ass safe if you or our close few friends don't win a comp
3- Neutral
4- You're building a lot of relationships but also some enemies
5- Most if not all the house likes you. Nobody has thrown your name out there as a target yet

1/3 – Strategy
0- Strategy .. HUH? what does that mean
1- You have a short term plan that will get you by the next 20 minutes
2- Your plan is to to make it to Jury to get the stipend
3- Neutral
4-You have a Short term or Long term plan and a couple ideas plans on how to execute it
5- You have a clear plan for the short or long term and a clear plan to execute

Bonus
+/- 1-3 points can be awarded to players that has done something incredibly awesome or stupid. Maybe they turned their game around after being universally hated or squandered away a strategic asset because they couldn't keep their mouths shut..
Live Feed subscription gives you CBS All Access thousands of archived shows. Live Shows like Big Brother, all the Big Brother Seasons, and 24/7 coverage of what is happening inside the Big Brother House. Plus there's flashback that lets you go back to any second of the feeds and rewatch what happened. Simon and Dawg will index the season just watch the parts worth watching.
All this for $5.99 a month try it out 1 week free. Support our efforts and get your feeds via a link on this site. Live feed subscritpion Sign up

Share it YO!!
Tweet