Quick Big Brother Spoilers
Big BroChella SIDE
Brochella HOH (Inside the House):  Michael
TEAM BroChella:  Brittany, Jasmine, Monte, and Taylor.
Nominees: Jasmine and Monte
POV Players:  Michael, Monte, Jasmine, Brittany, and Taylor
POV Winner: Brittany
Veto Ceremony:
Havenots:  None this week
Dyre Fest SIDE
Dyre Fest HOH (Backyard):  Terrance
TEAM Dyre Fest: Alyssa, Joseph, Kyle, and Turner
Nominees: Joe and Turner
POV Players: Terrance, Alyssa, Joe, Kyle, and Turner
POV Winner: Terrance
Veto Ceremony:
Havenots:  None this week
Lock your ranks in before midnight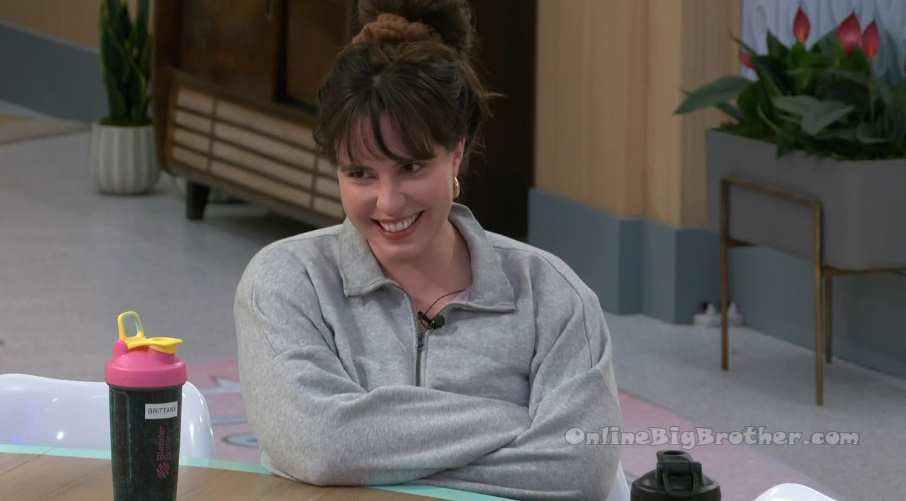 8:15pm – 8:40pm Kitchen – Brittany, Michael, Jasmine, Monte and Taylor.
Brittany – I think I finally got them (production) convinced that I am a fun girl and then I went in there (Diary room) and they asked me fun things I just bombed. And I was like well that was your chance! You're not fun. Straight back to explaining how comps work. Monte – what is bombing though Brittany? Brittany – I don't know what you (production) want from me!? Like what?! Monte – feed me the line! Jasmine – I don't even let them… I just start talking. Taylor – here are the people that never have a script in the DR… You (Jasmine), Joseph and maybe Pooch when he was here. Jasmine – well I think its just because I start talking. Monte – I could see Turner going in there and just rambling. Taylor – he is made to be on camera. Monte – oh yeah he does youtube and stuff. Jasmine – he does youtube, like that is his background.
Jasmine – Speaking of… whatever happened to my muffin?! Anybody got an ideas while we're separated? Michael – you said you knew who did it. Jasmine – I knew who did half of it. Taylor – who did half of it? Jasmine – Turner. Taylor – he told you? Jasmine – Nope, he lied to my face. Taylor – what happened? Jasmine – I asked him some questions and I have a tactic to know when someone is lying to me. And he was lying to me. I will make a bet right here.. I will let you know right now, he lied to my face and he had something to do with it. I am not going to say it was the muffin, I am not going to say it was the cookie but I know it was one of them. Just remember this moment! I know for a fact it was two people. Monte – what made you realize he was a part of it. Jasmine – I asked him questions right here in the kitchen and when I was asking him questions I reading his face and body language… I knew he was a part of it.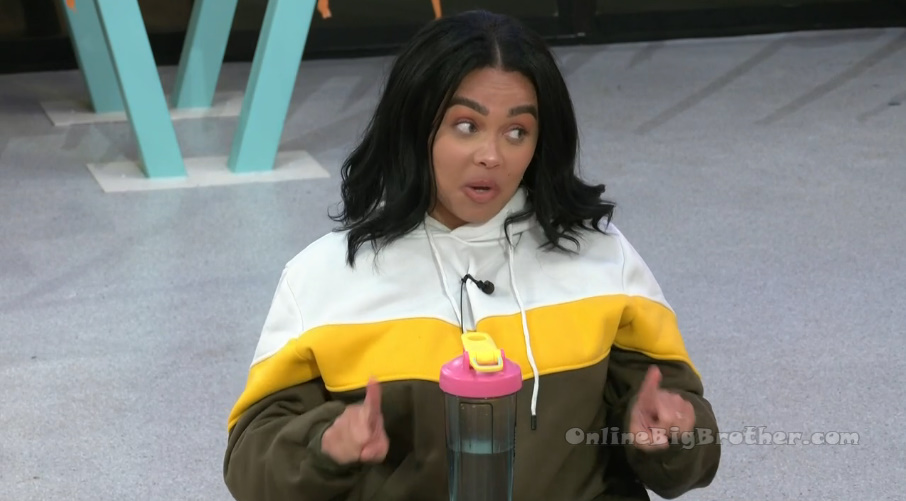 8:45pm Taylor – I know they'll never say it to our faces but I do wonder who "Big Brother" has as their favourite. Michael – yeah. Taylor – Who the many different "Big Brothers" have? Michael – oh yeah they have people they like more than others. Taylor – MMmhmmm. Jasmine whispers – I better be one of them.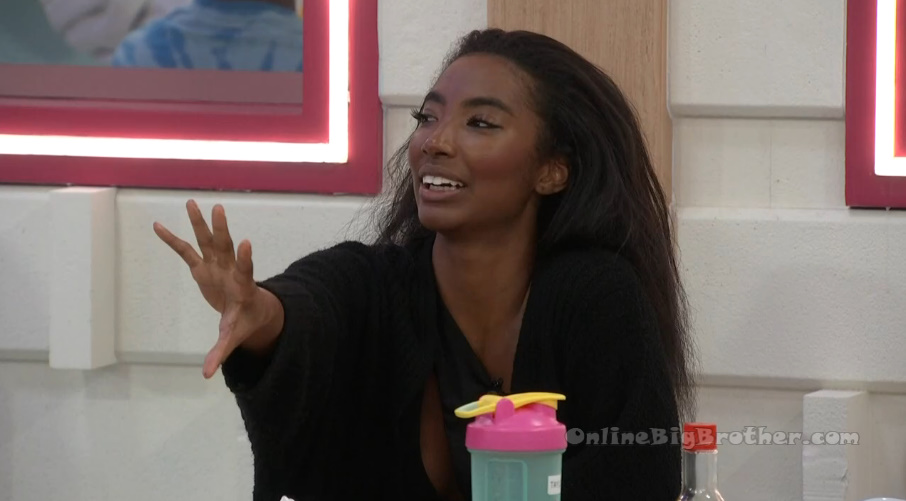 9:03pm Kitchen.
Taylor – when do we get our friends back big brother? Michael – I don't know .. this week. I will say that I made a reference (in the diary room) to Thursday and was asked to resay it without using Thursday. Taylor – yeah me too. Jasmine – you make me nervous.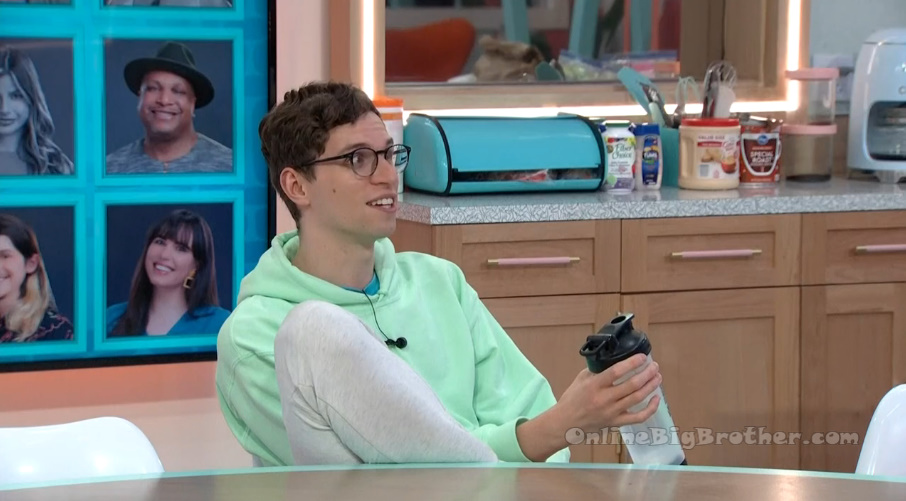 9:30pm – 10:20pm HOH room – Brittany and Michael.
Michael is taking a bath. Michael – you can hang out .. unless its weird for you. I have my swimsuit on. Brittany – no, okay. Its funny with less people in the house I was thinking it would be more time for us to hangout .. but its been like less. Michael – yeah because everyone …we're back to week one where no one wants to leave anyone alone. Brittany – I was thinking about that last night like I was like I guess its just easier to like oh go out in the hammock or.. Michael – how are you feeling today? Brittany – talk me off this ledge if it needs to be talked off of. Jasmine's been on her best behaviour this week. Michael – she has. Brittany – Do you think she deserves a more straight forward conversation of why she is going home? Maybe not detailed but .. maybe a straight shooter .. like this was the plan. Michael – There is like no one that she can run to and like blow us up so I am okay with that honestly .. I think for all of us for jury management ..like I know she preaches honesty and loyalty ..and we're like ahhh… but in the end when it comes down to jury votes that doesn't bother me. Brittany – yeah, I just don't know if it makes sense to .. well we don't know when the eviction is but say Wednesday or Thursday morning be like Fly Swatters, Girls Girls.. Michael – Like I would like to ask her like if there is information that she would give up because what if we find out like oh there is this other alliance, and like okay is there anything else we need to know about? And she does tell us something that we didn't know about.. Brittany – I almost feel like she would be more apt to do that if we were to just be straight up. I also just want to be clear headed about it too. Its just something about it being a smaller group.. something about there just being no chance, no hope.. Michael – for me personally I am okay letting her know because once she know she is going to be like Michael picked me first to send me home. So I am okay being a little more upfront and straight forward because she is going to be pissed when she finds out. Brittany – yeah. Yup. Yeah, Yup. And she still thinks we're still in an alliance plus Turner. Michael – right, she's been saying that for weeks. Brittany – it just sucks because this week we've been doing a lot of not game talk. I've had a lot of fun with her. She's been nice. And you realize she actually is a pretty great person. There might be things that we don't enjoy about her but also it might be just the company she was with. She's also said that there is personal and there is game. It just makes sense… like it could be just me and Taylor or you, or it could be all of us. Michael – and we could just be like hey we know about Fly Swatter, we know about Old School, we know about two weeks ago when you tried to bring you, Indy, Terrance, Monte and Joseph together. Brittany – yeah we know about that.. we know about you throwing me and Monte's name under the bus to Turner. Michael – but you (Jasmine) saying we can create a lie, flip the votes and pin it on Brittany. And if she says no, none of that is true we can be like well Joseph .. and then she goes to jury being mad at Joseph and not us. Brittany – and by the time Joseph would ever find out about it.. he would be in jury. Michael – yup. Brittany – I think she would respect it at the end of the day. They talk about how they hope its Joseph or Turner who go home from the backyard crew.
10:40pm – 11:20pm Bathroom – Taylor and Monte.
Taylor – its just funny because I never felt closer to Kyle game wise than when we were at the end of the wall and by the end of the week it was just like (gestures far a part). Monte – MMmmhmmm… same though. I always felt cool with Kyle up until that day. I don't think he ever gave me any reason to.. like outside the showmance.. like it doesn't make sense for you to your game .. like this is something that you're doing ..like for more love from America or whether it being wanting a relationship or whatever it is that's fine. I just think that like there are people that have done it right. And is past season there have been people who are more discrete about it .. and I don't think Alyssa is really giving him a chance to be discrete because she is literally telling everybody. Taylor – she thinks that being in a showmance is something she can dispose of .. like she wants her cake and eat it too. Monte – When I talk to Kyle he was like oh my god how is she calling this a showmance? Like I guess!? You know what I mean? And to me I am like as a man you should and as a person .. not just as a man but as a person you should go with things at your own pace. Now its like everyone knows and since everyone knows everything thinks that your decisions are being based off that. Taylor – meanwhile America was like it was right there you idiots. They move to the kitchen and reminisce about past events of the season.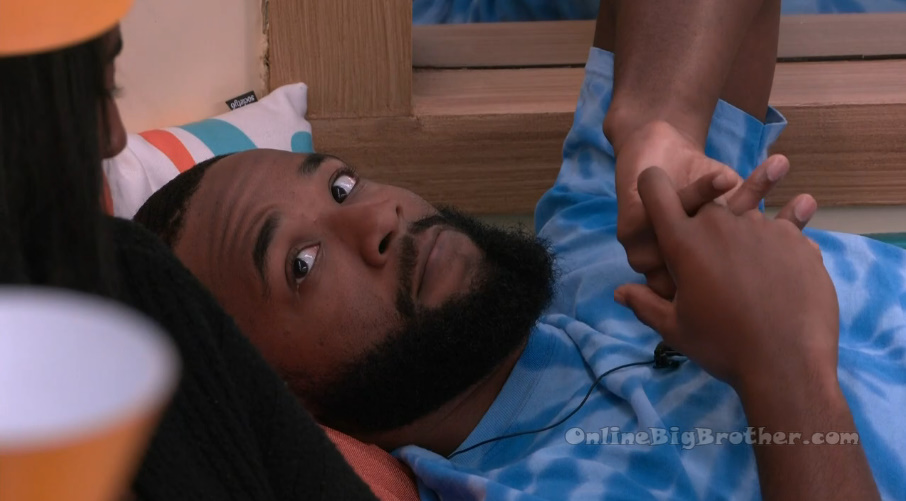 11:23pm HOH room – Michael and Jasmine.
Michael – Pooch has been our only unanimous vote. Jasmine – we can make it the second one this week!? We can make the second unanimous vote this week! Thank you, another point I can make.. Michael – with 12 people you would think that would be the least likely to be unanimous. Jasmine – I still can't believe that happened. Michael – I just want to know what is going on over there? (backyard) Jasmine – same. If best case scenario .. I feel like .. like possibly if it stays like this where everybody is like I am closer to this side now .. and I am closer to this side ..which I can't really because you still have to play the game. Like underneath it all, like what if you are still like that, then I have Alyssa over there and Alyssa pretty much tells me what Kyle is thinking sometimes so I am definitely going to put that in my pitch to y'all. Because then I could get information and bring it back. Michael – yeah. Jasmine – and I don't have anything with Kyle at all. And Y'all know Alyssa is my girl so that is that.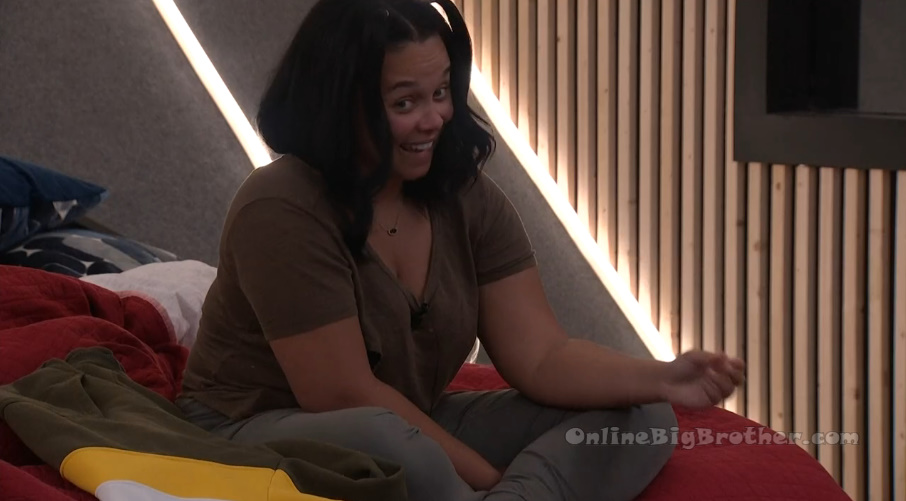 11:39pm Kitchen – Brittany and Taylor.
Brittany – we know that Jasmine has been on her best behaviour this week. Taylor – yeah. Brittany – so could it help us with jury management. It it wasn't such a you did this, this, this, explain yourself conversation. We know you out of everyone separates game from personal and we want you to know that its been real but we know this, this, this, and this. Taylor – yeah, that's how I was going to approach it anyway. Taylor – I have been informed (by production) the most we can say is that I cannot promise you my vote.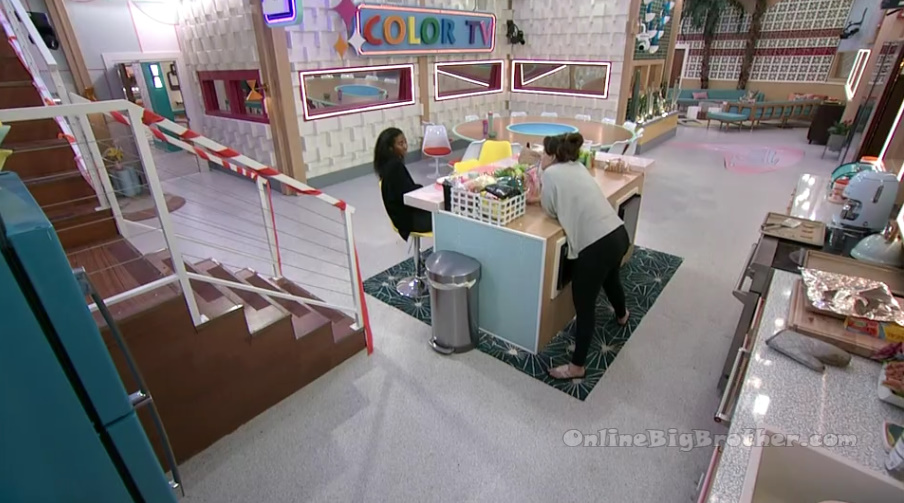 11:58pm – 1:43am Kitchen – Monte, Taylor and Brittany chatting. Jasmine has gone to the storage room to "scavenge". She comes back with pitas. They all sit around chatting. They start reminiscing about the season.